Dave and Betsy Frye are one of many Chesapeake Bay-based powerboat owners who enjoy the cruising life. The couple, who live in Calvert County, feel fortunate to have the Patuxent River and the Bay so close to their home. In fact, the Bay is only about two blocks from their house. The Fryes have spent many years cruising near and far aboard their 42-foot MC (Monk) 42 Fryedaze, which they purchased in May 2010 and keep at Solomons Yachting Center in Solomons, MD.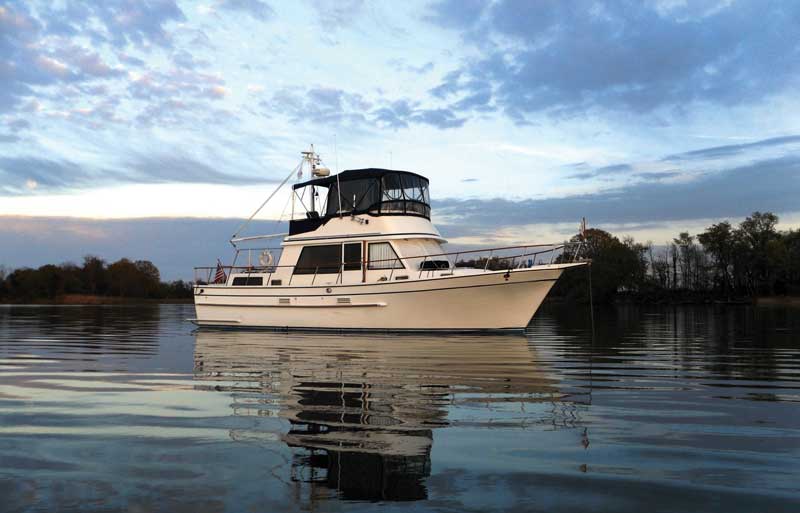 Dave and Betsy each enjoyed boating as kids, and after marrying, the couple continued the tradition, boating with their own children. Dave says, "Betsy and I both grew up boating on lakes in Pennsylvania. Shortly after we were married, we purchased a 20-foot Shark catamaran. I refinished the entire boat and sailed it for about four years. During that same time period we also purchased an 18-foot Riviera bowrider, which was the family boat for many years. We used it to water ski and go tubing with the kids."
The kids got older and the boating slowed down for the family. But then Dave and Betsy began chartering bigger powerboats and dreaming about traveling the Great Loop.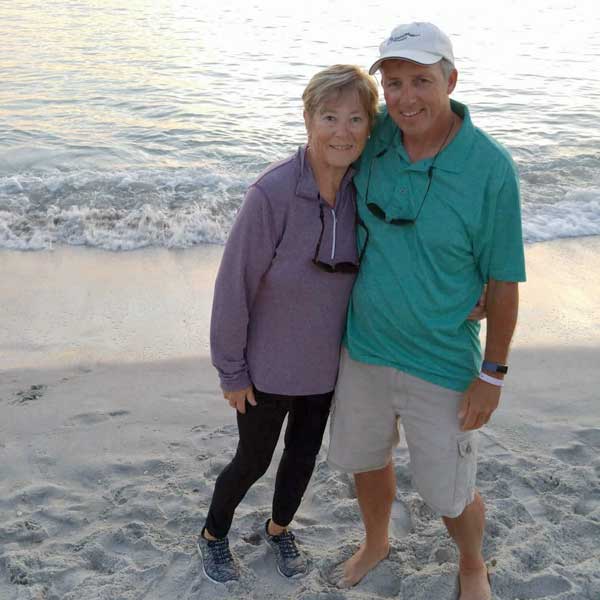 Learning to handle a large boat
Dave explains that he and Betsy gradually made the leap from the family bowrider to their current 42-foot cruiser. "Before we pulled the trigger and bought Fryedaze, we had to learn how to handle a large boat," he says. "To that end, we chartered for four years on the Chesapeake Bay and Gulf Coast of Florida. 
"Our first charter was a single engine 35-foot Senator trawler out of Anchorage Marina in Baltimore. It included the training we both needed to operate and manage the boat, but our first day on our own was not all sunshine and roses. No sooner had we entered the Bay headed for Rock Hall, than the skies opened up, and we couldn't see a boat length ahead of us. The trawler only had a handheld GPS device, and it only provided latitude and longitude. For the next hour or so we had to use our newly learned skills of charting to pick our way across the Bay. We got within 400 yards of the Rock Hall entrance and still could not see the marina. Thankfully, the marina staff gave us the heading, and we slowly made our way into the harbor. When we tied up, Betsy kissed the dock!" 
Having overcome that challenge, they chartered again out of Baltimore, as well as in Florida. Dave says, "In Florida we chartered a 36-foot twin engine Grand Banks out of Fort Myers, and we also chartered another 36-foot Grand Banks out of Bradenton."
Cruising Life on the Chesapeake
Dave continues, "When we purchased Fryedaze we were still both working, so we cruised the Chesapeake Bay on the weekends and took week-long trips during vacations, doing shorter cruises to waterfront town marinas. In the last 10 years we have visited many of the ports of call on the Chesapeake, and we have been up all the rivers on the Eastern Shore. In fact, some of our favorite experiences have been the adventures we've had going up the Bay's rivers.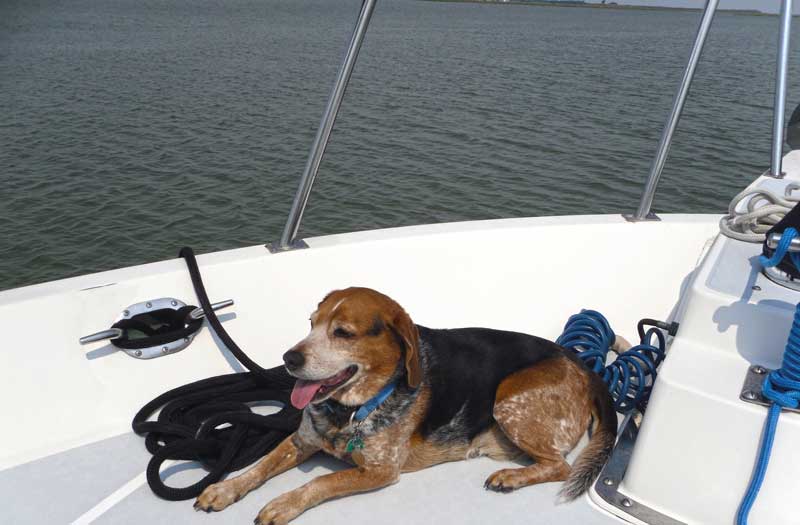 Great Loop adventure
The Fryes have traveled over 25,000 miles aboard Fryedaze, including a Great Loop trip in 2015-16. "Every time we are on the boat cruising it is special," says Dave. "It's very hard to narrow down favorites, but both of us always say that our 6500-statute-mile, Great Loop adventure was the best 13 months of our lives. It included a lot of territory, but our favorite legs of the trip were probably the ones on the Tennessee River and the North Channel in Canada. 
"Although we normally cruise solo, on the Great Loop we routinely cruised for a few days with friends we met, and as we went along, we would pick up new friends and cruise with them for a while. We have also "buddy boated" with our friends Jon and Bonnie Bryant from Iowa when traveling north and south on the Atlantic ICW or from a Marine Trawler Owner Association (MTOA) Rendezvous.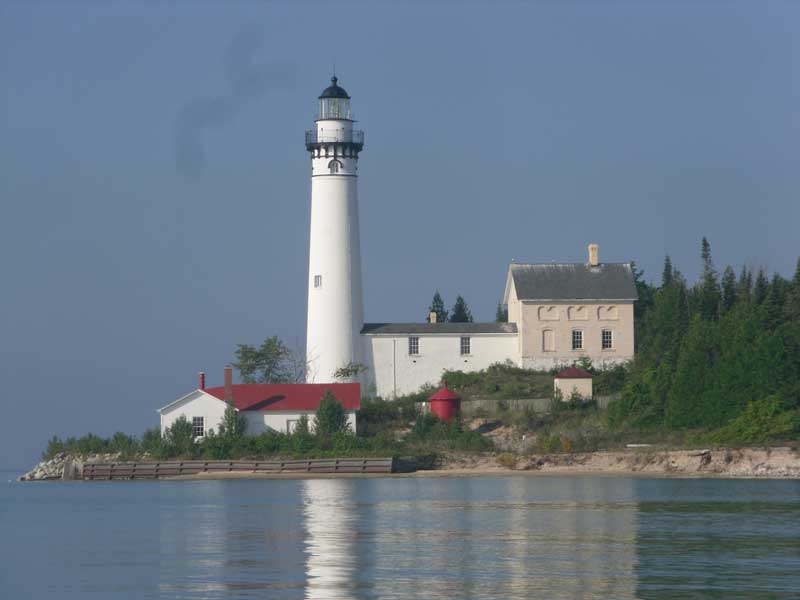 Not every mile of the Loop was easy, but the couple says that once they committed to doing it, they learned to plan for the "what if" scenarios, and now feel equipped to handle both personal and boat emergencies. While on the Loop, Betsy tore the meniscus in her left leg, and then had a retinal detachment while they were on the Tennessee River. Dave also had a kidney stone. "We had some medical emergencies, but we were prepared," says Dave. "We have also practiced man overboard drills to formulate our plan."
Snowbirds
After completing the Loop, Dave and Betsy became snowbirds and took the boat south to Florida in November. They now cruise every fall down to Longboat Key, FL, and last winter was their fifth season at Longboat Key Club Moorings. "We love pushing off the dock and exploring the wonderful Gulf Coast. To entertain our visitors, we cruise to different locations," says Dave.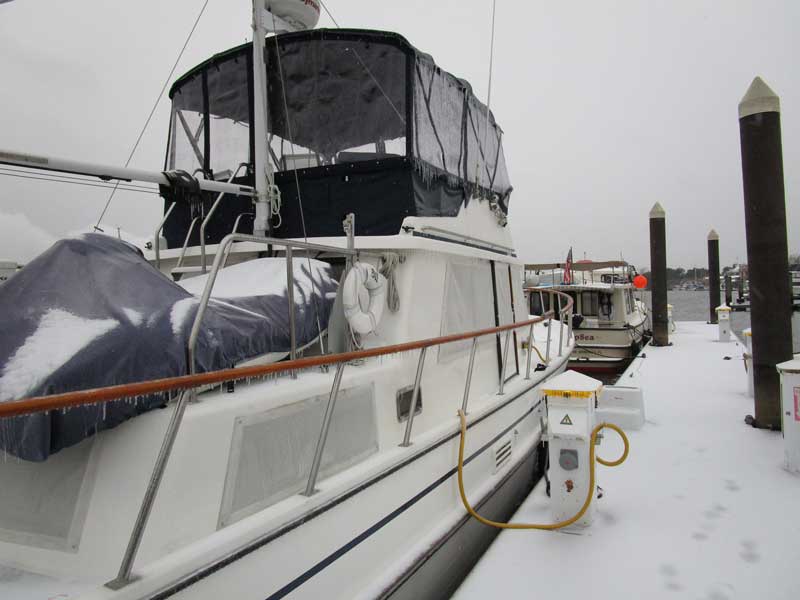 Betsy says, "This spring we plan to start our return to Solomons, in early May and take three to four weeks to get back home, if the marinas are open for fuel. (Editor's note: all boaters' plans this spring are subject to social movement restrictions during the current pandemic in the U.S.). For us, isolating is the easy part, because we love to anchor out. The trip is 1200 miles. We have made this round trip four times now, and it never gets old for us. There are always new places to visit and wonderful things to see along the way. Some of our friends who have been doing this longer than we have, grew tired of the trip. They just keep their boats in Florida and fly down each year. We don't see that happening to us; we love it too much."
What does the future hold?
If it were up to Betsy, the couple would live aboard full-time and sell their dirt house, but for now they will continue as snowbirds. Maintaining the boat is fun for Dave, who was an electrician on a nuclear submarine and a nuclear power plant operator, so boat systems and modifications are his entertainment. He likes to do his own boat repairs and any needed woodwork. They consider themselves very fortunate that he is able to do a lot of the maintenance. In the last few years he has cut out and replaced the starboard fuel tank and replaced three air conditioning units. This summer they hope that he is able to build a new stand-alone table for the salon.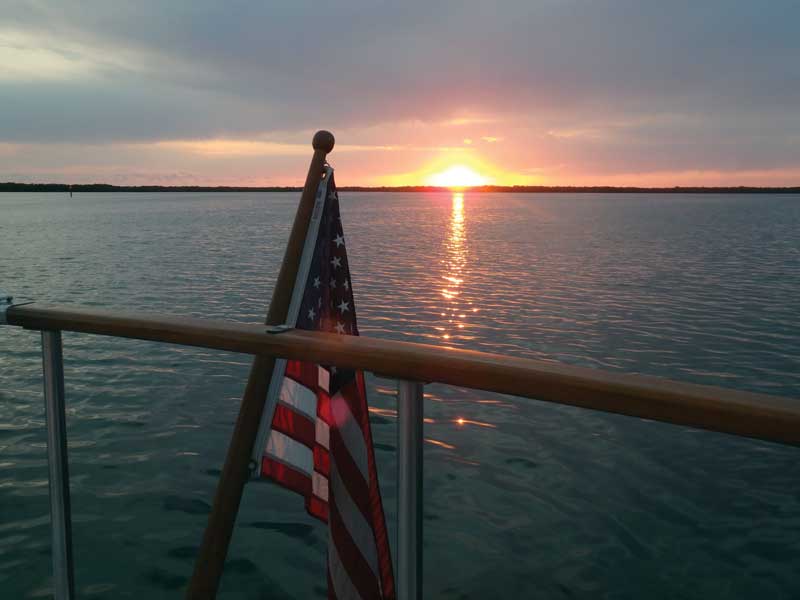 This summer Dave and Betsy anticipate cruising on the Bay, with no set plans. They will hang out on the boat with friends at Solomons Yachting Center, where they boast having the best slip because they can overlook the harbor while sitting on the bridge of Fryedaze. "We will attend the National MTOA Rendezvous at Herrington Harbour North in September," says Dave, "and we may stretch that trip to Havre de Grace, Chesapeake City, and Cape May. Long range... we will do the Great Loop again!"
By Beth Crabtree
---
Interested in learning more about the Great Loop? Check out our other articles below! 
Or visit our Cruising section for more articles related to living aboard and cruising the Chesapeake Bay and beyond.