For boaters who cruise the Bay and beyond, the Great Loop is synonymous with exploration and adventure. The Loop is a series of navigable waterways that totals more than 6000 nautical miles and allows boaters to circumnavigate the eastern part of the United States. It includes the Intracoastal Waterway, Hudson River, Erie Canal, Oswego Canal, Rideau Canal, Ottawa River, St. Lawrence Seaway, Trent Severn Waterway, Georgian Bay, North Channel, back into Lake Huron, then to Lake Michigan and on to the Illinois, Mississippi, Ohio, and Tennessee Rivers. It's the dream of many cruisers to complete the Loop. For Bay boaters Kurt and Susan Smith that dream was realized earlier this year.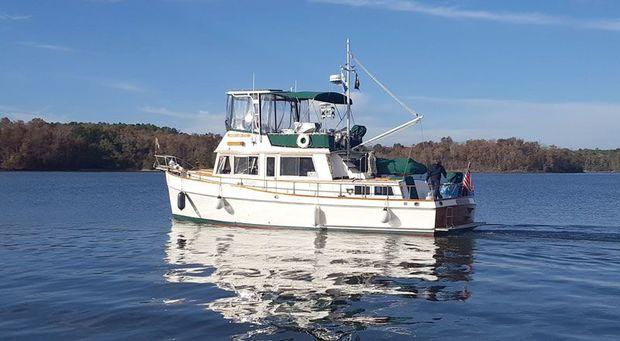 The Great Loop had been on Kurt's bucket list for many years. As a trawler owner with decades of powerboating and sailing experience, he was intrigued and inspired by the stories told by veteran "Loopers." Kurt and his wife Susan, who live on Nabbs Creek off the Patapsco River, began exploring the Bay as sailors, but they wanted to go places; and all too often they found themselves motoring their sailboat. So, in 2002 they purchased a 42-foot 1979 Grand Banks Classic, Irish Lady Too, which would eventually take them around the Loop. In 2014 they made the decision to do the Loop and spent a year preparing for the trip. The process included prepping the boat, leaving their jobs, and saying goodbye to friends and family. They shoved off in May 2015 and completed the Loop this past May.
Although the trip as a whole was fantastic, they got off to an inauspicious start. "The first night we stayed in Chesapeake City, DE, where we discovered a leaking fuel filter," says Susan. "For a short time we considered going back home." But Kurt, an aerospace engineer who does his own engine work, was able to fix the problem, and they carried on. "Although we had the same problem two other times, in general, the boat performed flawlessly for the whole trip," says Kurt. "This was the only real maintenance issue we had."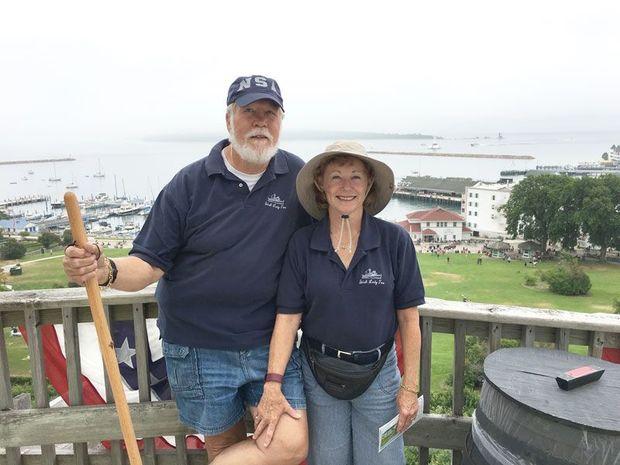 Everyone does the Loop their own way, and for Kurt and Susan this meant they did not stick to a strict schedule (although they did set a course each day). At some stops they spent just one night; in others they stayed a month. They also took time out to come home whenever they needed or wanted to.
"Early in our trip, in an effort to stay with a group of boats, we left port when I wasn't comfortable with the weather," recalls Susan. "The passage was most uncomfortable, and we wished we hadn't left when we did. We decided from then on, we would rather leave by ourselves at the right weather window than leave with a questionable forecast just to stay with other boats. Sometimes we travelled with others, but we didn't travel continuously with anyone. We did, however, make great friends along the way, many with whom we still keep in touch."
"Sue took over all the weather planning," says Kurt. "She became quite skilled at finding the best weather windows, and I really came to rely on her for weather reports. If she said go, we went. If she said wait, we waited."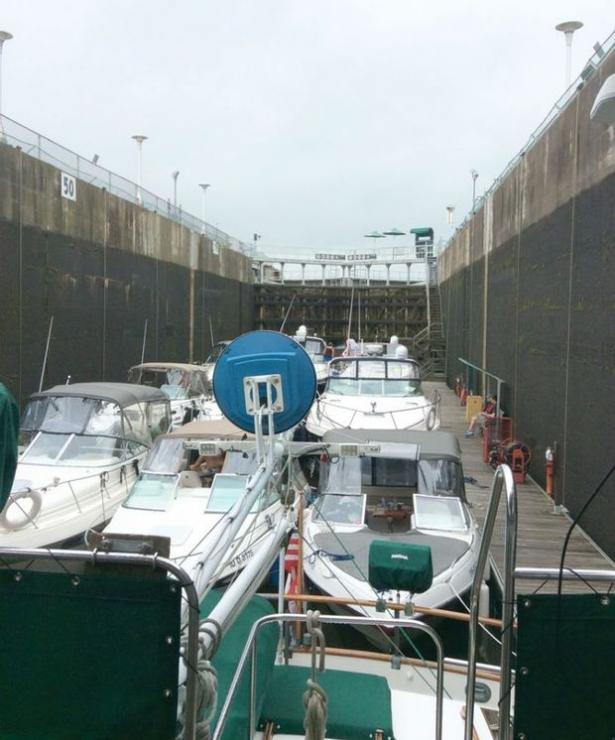 Heading northwest from Albany, NY, a few route options are available for the passage to Chicago. Kurt and Susan chose to take the most northern route through Canada, keeping in mind that they wanted to get to Sturgeon Bay, WI, by a certain point in time based on the change of seasons. For the first winter they tucked Irish Lady Too into a climate controlled boatel in Wisconsin and came home, although Kurt did travel back to Wisconsin several times to complete some boat projects.
The next spring they travelled back to Canada to further explore the North Channel before heading south to Chicago and on to the western portion of the Loop. As they made their way down the Tennessee River, they stayed for a month at Joe Wheeler State Park in AL, where each year the park hosts the Fall Rendezvous of the America's Great Loop Cruisers' Association (AGLCA) for boaters doing the Loop. As many as 250 people on 90-plus vessels dock at the marina, and the Loopers attend a conference in the resort lodge on the shores of Wheeler Lake.
For many, crossing the Gulf of Mexico is the most daunting passage. "There are two main ways to cross the Gulf," says Kurt. "One option is to transit overnight from Carrabelle, FL, directly to Tarpon Springs, FL. We did not choose this option because we didn't want 20 straight hours of driving. We chose instead the second option: to make three hops. We went from Carrabelle to Steinhatchee; from Steinhatchee to Cedar Key; and finally, from Cedar Key to Tarpon Springs."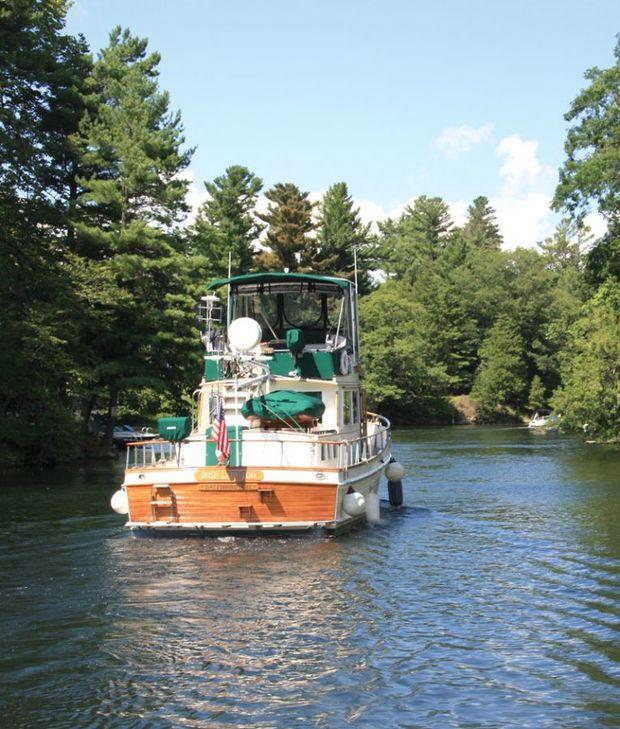 "The Gulf crossing was my biggest fear," says Susan. "We waited a week for a good weather window." That's not uncommon. Some Loopers wait two or three weeks in Carrabelle. In the end, Kurt's trust in Susan's weather skills paid off. "The water was perfectly flat for the three days we crossed," Susan says happily.
The second winter the couple planned to be in Florida, where they could enjoy the warm weather and visit Susan's family in Fort Myers. Thanksgiving was spent at a free dock in the panhandle of Florida, with six or eight other Loopers, and by Christmas they were in Panama City, where they rented a car, left the boat, and drove home to Maryland for the Holidays. They eventually stayed for a month at a marina in Punta Gorda, FL.
Finally last spring they were heading home, travelling north up the East Coast, which at times presented some real navigational demands. "The tides and currents in Georgia and South Carolina were six, eight, sometimes 15 feet, which could be very challenging," recalls Kurt. "After handling the shoaling, currents, and tides there, traveling up the Chesapeake Bay seemed easy."
Now that they are home, both have new jobs. Susan has returned to practicing law in Baltimore. Kurt, who retired after 26 years as a private contractor at the Goddard Space Flight Center and 18 years at the National Security Agency, is now employed at West Marine, where his employer seems to think he was a good hire. "I got promoted to assistant manager very soon after starting," he says with a chuckle.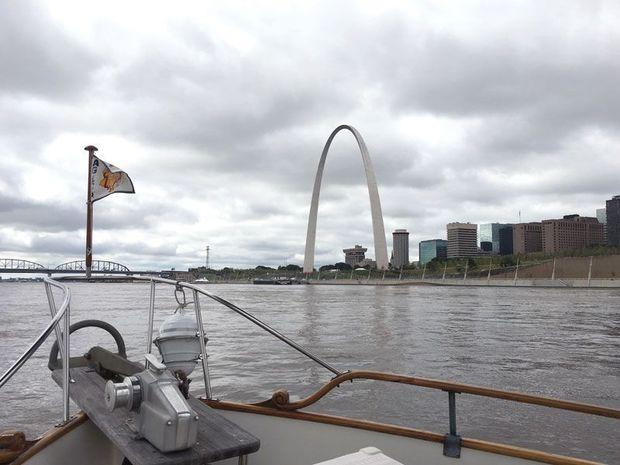 What were your sources for weather information?
"We used wind alert, NOAA, local marine weather stations, and Eddy's Weather Wag through the America's Great Loop Cruisers' Association.
Was it difficult being in close quarters for such a long time, and how did you divide up the boat and household duties?
We did not have any problems getting along or dividing up duties. Kurt was generally responsible for all the work below the deck, including the engine and electrical systems, and shared laundry and dish-washing duties. Susan did the woodwork, waxing, cooking, laundry, and dishes, as well. She also served as chief weather forecaster.
What advice do you have for someone considering doing the Loop?
Do it beofe you're too old. (Kurt just turned 70). You can always go back to work.
Know your boat and have experience operating it (before the trip Kurt took an engine class in which he took apart a diesel engine, and rebuilt it, all in one day).
Don't try to rush the trip. Stop and smell the roses.
Use AIS to see and communicate with shipping/tug traffic on the Bay, the Gulf, and especially in the rivers.