Did you ever wish you could take a sabbatical, sell your car, throw a bunch of stuff away, rent out your house, and embark on a yearlong adventure? So did Tom Debacco and his fiancée Kate Payne. In late June, the Baltimore couple cast off the lines of their new Bavaria 44 Sport Baywash for a Great Loop cruise.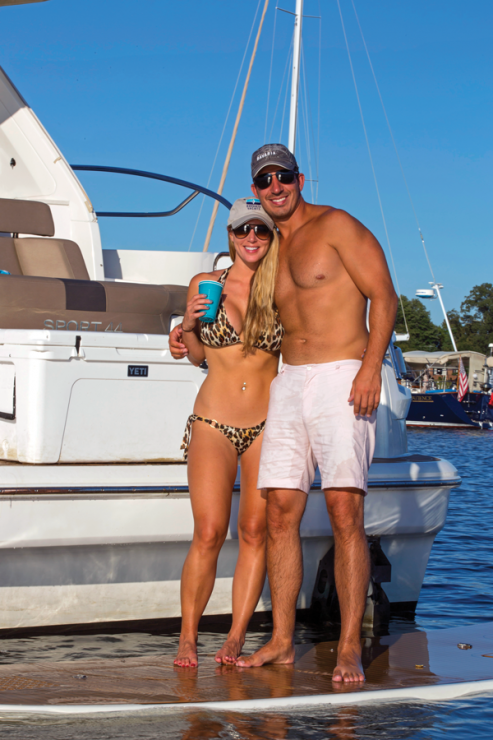 They bought the boat last year and brought her up from Florida via the Intracoastal Waterway. "It took about 10 days," says Tom. It was kind of a test for us, whether we wanted to do the Great Loop in 2016-17 or not. A sort of honeymoon before the honeymoon." He means that in more ways than one, as the couple got engaged at the end of that cruise.
Tom and Kate used to have a 28-foot Bowrider Chaparral "…which was a lot of fun, but we always had to go home at night. We bought a cruiser so that we could stay on her. We really wanted a boat with fuel-efficient engines that either of us could operate, so we went with Volvo IPS. The joystick makes docking a breeze."
They first heard of the Great Loop when some friends at a raftup discussed doing it when they retired. Talking about it later, Kate Googled it to see what it was. Tom convinced her that it was best to do it now, before they had kids. "Tom not only loves boating but has a 'why wait' life motto and a thirst for travel outside of the typical tourist hotel room," says Kate. "With that brief comment last summer, we both started daydreaming… What will it cost? What will we do with our home? Our cars? Our mail?! We started researching, talking to others, and implementing the suggestions."
To learn more, the couple went to a Great Loop convention in Norfolk earlier this summer. They noticed that most of the attendees were older than they were—he's 37; she's 30—and planned to do the cruise as part of their retirement. Tom says, "We saw a lot at the convention to help us decide our route."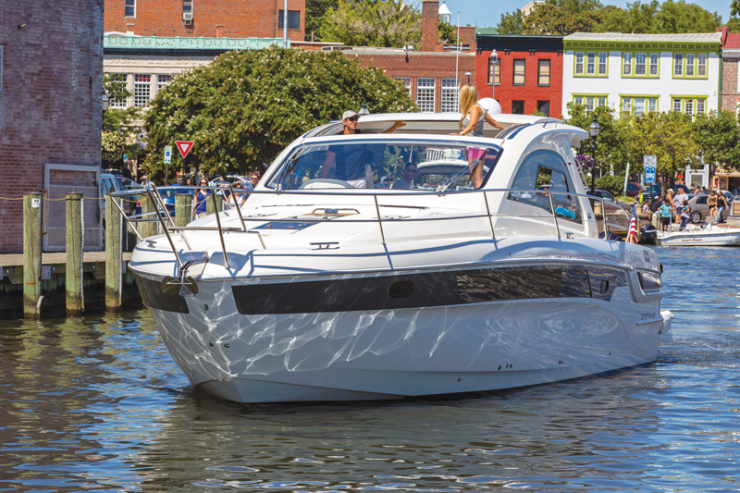 Kate says, "The longest trip to date on the boat lasted approximately two weeks, so determining the necessities for a true liveaboard experience has required a little adjusting on many forefronts." For two months, the couple worked nonstop to get the boat ready. They added many personal items, stocked up on toiletries, purchased extra oil filters and the like, checked electrical connections, bought extra anchors, anchor line, a drone, and cameras.
Tom says, "I did a lot of the work myself, but when it came to the stereo, I wanted top of the line, so I went to Fusion and had their signature series equipment installed. As for maintenance, I try to do a lot myself so I have a general idea of what's going on in case of an emergency."
Preparing to put their life on land on hold took some time and thought as well. "We're taking a year off, so we put our house on VRBO (Vacation Rental By Owner) and are renting it out. We rented it during the (Baltimore college) graduations, and that went well. We're able to make a couple of mortgage payments while we're gone." When asked if he needed to get a storage space, Tom says, "We threw a lot of stuff out to make our house into a rental property. Now, it sort of feels like a hotel. That was one of the big things. Kate sold her car. We got rid of as many monthly expenses as we could."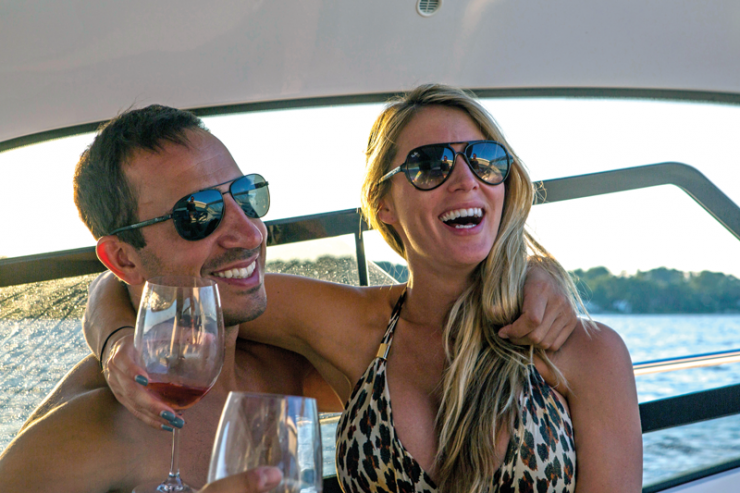 Of the different Great Loop routes they could take, the couple decided to go north through Canada. "There are a couple of milestones you need to hit," says Tom. "For example, you need to leave Chicago by September and then start heading to Mississippi. Insurance companies don't like you arriving in the Gulf before hurricane season… Eventually, our plan is to go to the British Virgin Islands and then back up. We also want to hit Cuba."
Kate's version sounds more romantic. She says, "The summer of 2016 in the Great Lakes, and then chasing the fall foliage through the Midwest until it turns into dancing palm trees in the West Indies as we shift into the winter months. At the top of the bucket list is a swim with the pigs in the Exumas (Bahamas)."
Kate and Tom plan to track their miles and funds spent on gas and other items on their adventure. They'd like to show other younger boaters that it's "doable." You really can take a boating sabbatical. They will blog along the way "not only about our anchorages but about how we're staying fit, what healthy entrees and apps we're preparing in the galley, and of course, where we find the best happy hour scenes," says Kate, whose blog can be found at firstmatekate.com.
---
Click to Baywash's Latest Adventures to read part II in this series.