Cruising the Great Loop is the ultimate for many of us power cruisers, and each year the list of Loopers seems to grow. Circumnavigating the eastern half of the U.S. and Canada at the helm of our own boat isn't a trivial endeavor, and we were lucky enough to make the trek in our 36-foot trawler.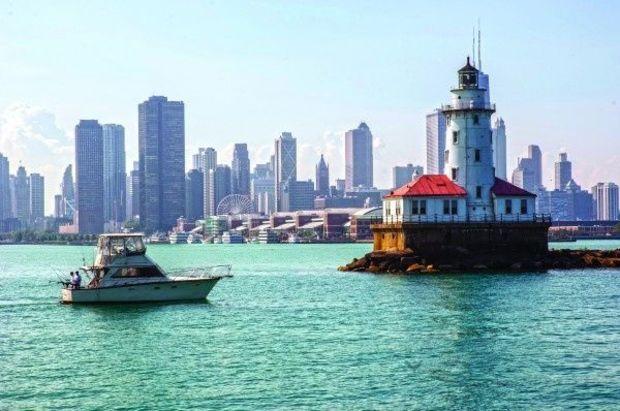 We followed a string of red and green markers to some amazing places where we relearned the history of our country, met interesting new friends, and savored every sunset at a pace all our own. If doing the Loop is on your wish list, here's what we learned from others we met along the way.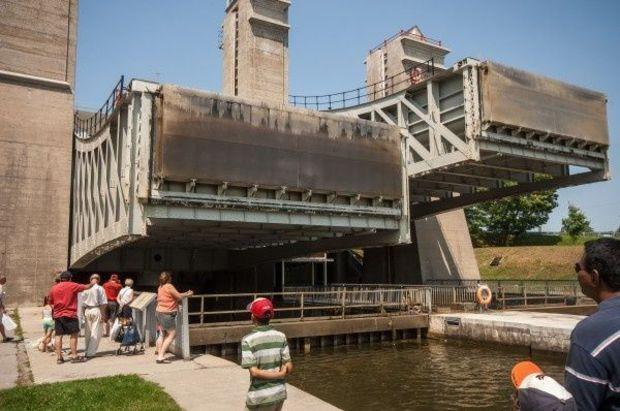 If you look at a U.S and Canada road map you'll get an overview of the 5-6,000 miles that make up the Great Loop Cruise. Beginning on the East Coast, the Atlantic Intracoastal Waterway, or ICW as it's known, runs from Miami, FL, to Norfolk, VA, where a turn to port takes you up the Chesapeake Bay and across to the Delaware Bay then down to Cape May, NJ, on the Atlantic Coast. Head north up the coast to New York Harbor and the Hudson River and go north until it ends at a junction at Troy, NY, where you can go west on the Erie Canal or north to Lake Champlain. You can choose either route because they both lead to Lake Ontario and Canada's Trent-Severn Waterway that flows into Georgian Bay and North Channel of Lake Huron.
From there, cruising south on Lake Michigan leads to Chicago and the Illinois, Mississippi, Ohio, and Tennessee Rivers to the Tennessee-Tombigbee Waterway that flows into Mobile Bay and the Gulf of Mexico. The Loop follows the Gulf coast of the Florida Panhandle to Southwest Florida and crosses the state on the Okeechobee Waterway, or go further south to the Florida Keys and down and around the southern tip of the state, where you're back on the ICW at Miami. You complete the Loop when you cross your wake where you began, which for us was St. Michaels, MD, on the Chesapeake Bay. You'll meet countless other Loopers and re-meet them time and again along the way.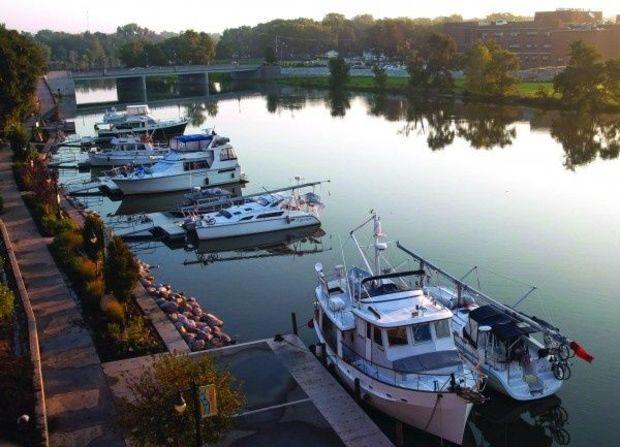 Timing a Loop Cruise
While we completed the cruise in 11 months (leaving in June and returning the following May), other Loopers planned to be aboard for summer months and cruise an area, storing their boat until the next season. Many doing the Loop in a continuous cruise took a boat break and returned home for the holidays or for family events, while others went back to work after some flex-time off from their jobs. Some folks sold their house and moved aboard full-time, using the Loop as a new beginning, while others rented their homes.
John and Sue Winter of North Carolina made their Loop cruise on Miss Liberty, a 39-foot Cruisers motoryacht. John says, "Most folks we talked to, including us, went too fast during the first two months of the trip and then discovered they should slow down." Pacing the cruise and knowing how long to stay in a place is something you discover as you're underway. The proverbial Looper wisdom for timing the cruise pivots on being in northern waters in the summer and southern waters in the winter.
The cost of boat insurance is another incentive, since most insurers issue policies requiring you to keep clear of southern waters until after the hurricane season ends in November. And they want you to be north of Cape Hatteras by June 1, when the season begins. For many that means being in Florida during the winter months, heading north on the ICW in spring and spending summer months traversing the Chesapeake Bay, Canada, and Lake Michigan. In September and October, Loopers are trekking down the inland rivers from Chicago en route to points south, namely Mobile, the Gulf Coast, and Florida, or a sidetrip to the Bahamas, for the winter months.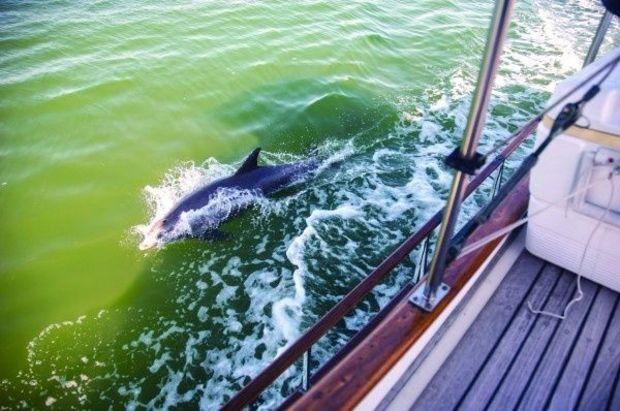 Not-to-be Missed Side Trips
The variety of side trips off the main Loop keeps Loopers cruising or returning to favorite destinations discovered along the way. For example, in the summer many follow Canada's Rideau Canal to Ottawa and then on to Montreal, while others explore the Chesapeake Bay, Lake Champlain, or the North Channel. Still others meander up the inland rivers. When their time's up, they store their boats for the winter and return next season.
Loopers are an adventurous and independent lot. For example, Gerry and Tom Clare of Florida have racked up 16,000 miles doing the Loop (and various side trips) first on a 34-foot Mainship Pilot followed by Sea Knight, a 30-foot Camano trawler. "We loved our stay in Ottawa, Ontario, right downtown on the wall in the center of city life and the old markets." And on the inland rivers they enjoyed the small towns and friendly people on the Cumberland and Tennessee Rivers. Car rentals expand the range of places you can visit, and a one-way rental is a preferred way for many to return home for a boat break, especially for those traveling with pets. John Winter said they can't imagine anyone missing the Big Bend Route of Florida's Panhandle. "Crystal River was a favorite of ours, where I swam with the manatees," says John. "And the St. John's River is another area we loved. It was easy to navigate and gave us an Old Florida experience we wouldn't have wanted to miss."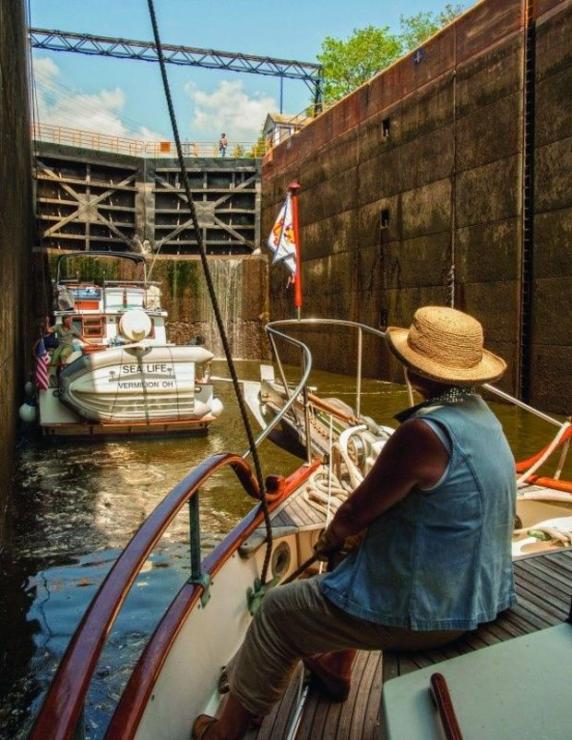 Knowing Your Boat
When you're underway, your boat is your home, your shelter, and your transportation, so knowing how it works is important. Many Loopers are new to boating and have the added dimension of learning how to operate the boat and its systems under fire as they experience new and different conditions. When we asked veteran Loopers about what features they liked on their boats, New Jersey cruisers John and Susan Hauge who co-captain La Garza Verde, a 45-foot Ocean Alexander, answered "the covered side decks: they keep us dry while line handling at docks and in locks."
They use wireless headsets to communicate with one another when approaching a dock, lock, or anchoring, especially when there's limited visibility. We saw this often especially on larger boats when high freeboards made it impossible for the person at the helm to see what was happening on deck. When we bought our boat, we didn't notice the mid-ship cleats, but we use them for spring lines whenever we're approaching a dock. These come in handy docking when there's no one to catch a line. Barry and Sheryl Lilly of Michigan appreciate the upper deck of Seaquel, their Mainship 390. "It provided us with good visibility to see crab pots and identify obstructions in the water which can be a challenge." And they liked having a wide stairway to the bridge and a deck with a secure walk-around.
Cruising Style Tempered by Mother Nature
If you're a cruising veteran, you know how long you like to be underway, whether you prefer marinas or anchorages, and how much time you like to spend ashore. We found the long stretches of the Loop different from a typical cruise because it was our way of life, not a vacation. You'll learn how it works best for you and your crew. You'll meet Loopers who mosey along at six knots and stop at every port of call and others who blow by you at 30 miles an hour. Some will try to follow a rigid itinerary. Others will be so laidback you'll worry about them.
You'll develop your own pace, but remember it will be tempered by things you can't control. We've been delayed for hours by a fire aboard a freighter in Morehead City, NC, by a Georgia bridge that couldn't open because it was damaged when a loaded cement truck slammed into it, and by railroad workmen fixing the track on an Amtrak bridge over the Chicago River. And then there's Mother Nature who plays an uncanny role. A spring flood in upstate New York damaged locks and closed the flood gates on the Erie Canal stopping all traffic for weeks; a week-long late summer rainstorm in the Ohio River Valley can swell the Ohio river to dangerous heights. If there's a fluke of Mother Nature it'll probably happen while you're on your boat, and the only way to handle it is go with the flow.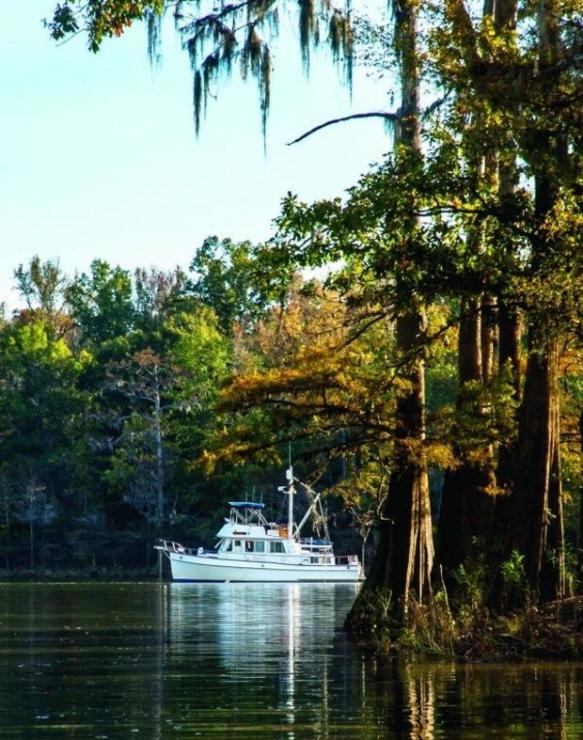 Boat Operations and Keeping Them Working
Even if you're mechanically challenged, it's a good idea to have a basic understanding of how the engine and systems aboard your boat work. You may be able to troubleshoot a problem talking with others, and you'll feel less vulnerable dealing with a mechanic. If you're unfamiliar with these basics, take a course or read a book about diesel engines, or buy a few hours of time from a mechanic to understand how your boat works and what to do if it doesn't. Learn how to operate a holding tank pump out system, which you'll find in many of the fresh waters on the Loop. When there's not a marina service nearby, you'll be glad you know how to pump out. There's not a spare part Gene doesn't covet, but it doesn't make economic sense to carry major parts that are available from the engine distributor who ships them out the next day. You should have on hand plenty of fuel and oil filters for the engines and generator along with a change of oil. Also replacement parts for all the pumps aboard including the engine, generator, fresh water system.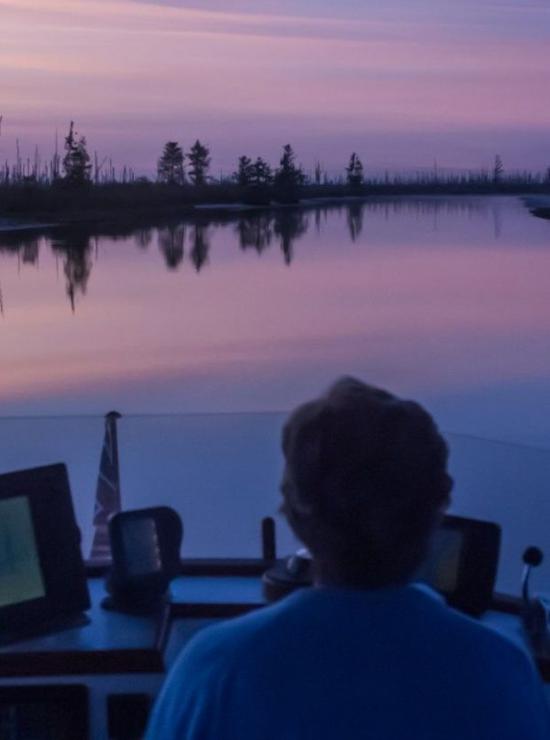 Scheduling Visitors
Sharing a Loop experience with family and friends is one of the joys of cruising, and during the holidays many kids and grandkids want to join their wandering parents or grandparents. However, weather can be the linchpin in getting a boat and its guests together. John Hauge says "It's a lot easier for guests to come to you, rather than having to be in a certain port at a certain time." Loopers have learned to tell visitors to get tickets to fly into an airport in the general vicinity of where they'll be and then rent a car. On our Loop adventure, we didn't make plans to meet someone at a specific place on a specific day because we know too well how the weather gods and Murphy's Law often conspire to make a mess of them. We have general intentions to be somewhere at an approximate time but always carved in sand, not stone.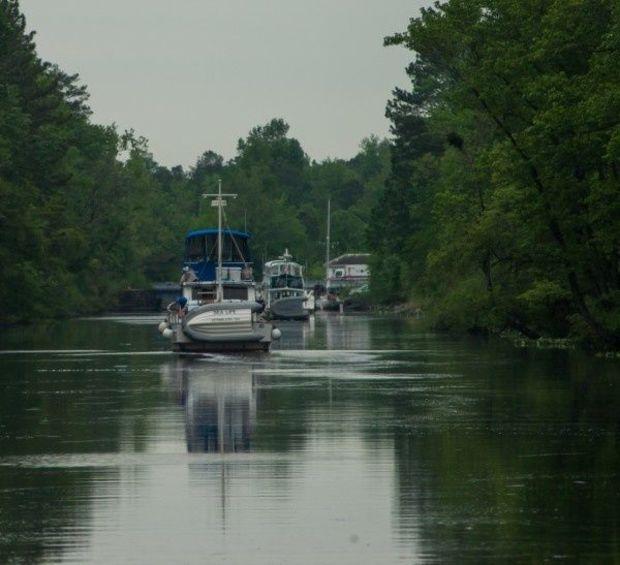 Ties that Bind
We've been cruising since 1969 and have always enjoyed meeting other cruisers along the way, but those ties were nothing like the camaraderie we shared with our Looper friends. The shared trauma of surviving a violent storm or delight of discovering an idyllic anchorage made fast friends among us. We often joked that doing the Loop reminded us of living in a college dorm – frequent challenges, plenty to talk about, and always a reason to party. And party we did. There's an unwritten protocol that when more than a few Loopers are at the same marina or anchorage, someone suggests a docktail party, a spontaneous event around 5 p.m. with everyone arriving at a designated boat or picnic table with drink in hand and food to share. The chatter ranges from solving someone's engine malady to sharing the scuttlebutt about upcoming marinas.
Molly Beardsworth and her partner Russ Achzet cruise Total Return, their Nordhvn 57, out of Florida. When we asked her about doing the Loop, she recalled a get-together we had with them on the Tennessee River, where we spread a blanket on a sandy beach tucked behind Double Island and all enjoyed the setting sun. These informal and impromptu get-togethers are what memories are made of. As Molly says, "We hold dear the many friendships we made, they're the very best experience the Great Loop has to offer."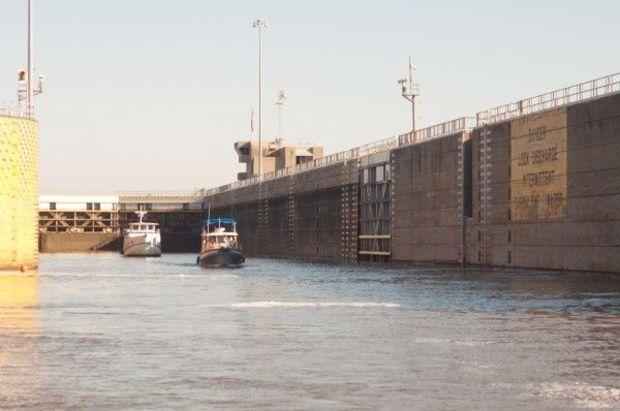 About the Authors: Gene and Katie Hamilton are authors of the e-book Great Loop Cruising: Two on a Trawler available at Amazon.