When we first purchased our 17-foot Boston Whaler Montauk, I had assembled an ambitious list of boating and fishing destinations that I wanted to explore someday. After three years of "Whaler Weekends" behind us, my family and I had managed to cross off most of the ports of call on that initial list (to catch up on those previous adventures, visit proptalk.com and type "Whaler Weekends" into the search bar). Therefore, year four was mostly comprised of repeat visits to some of our favorite locations. Juggling between a busy work schedule and family events, we try to plan one expedition on the Whaler every month between April and November. This past year lived up to my expectations!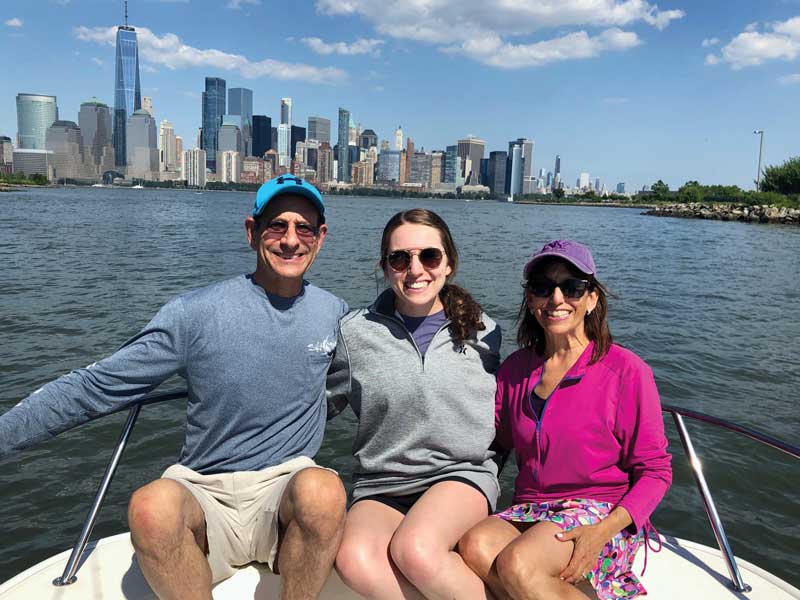 Fishing Missions
The 2022 boating season started off with three consecutive trips to Atlantic Highlands, NJ. After a four-hour drive from the Washington metropolitan area, this port offers easy access to Sandy Hook, Raritan Bay, New York Harbor, and the Hudson and East Rivers. The first two journeys in April and May were solo fishing missions. The striper fishing did not disappoint. There's nothing like fishing off Staten Island with an Amtrak train passing by on a bridge right in front of your eyes. Early season striped bass target small baitfish in Raritan Bay before making their migratory run up the Hudson River. A few hours of light tackle fishing resulted in a dozen beautiful stripers that I safely released. Some would say driving 500 miles to spend four hours fishing on the boat is crazy; I call it fun!  
The second solo trip consisted of a combination of trolling and topwater plug fishing. The morning started off with dense fog which limited my safe boating range. While the boat is equipped with a GPS chart plotter, I was uncomfortable navigating in New York Harbor without radar, so I stayed close to port until the fog eventually lifted. I picked up a nice 33-inch striper on the troll before switching to topwater fishing off Coney Island at the entrance to Jamaica Bay. I attribute much of my local fishing intelligence to the Fisherman Magazine's weekly online fishing reports. Just like the report predicted, I spotted schools of breaking striped bass off Coney Island. I had a blast catching and releasing countless 24- to 28-inch fish.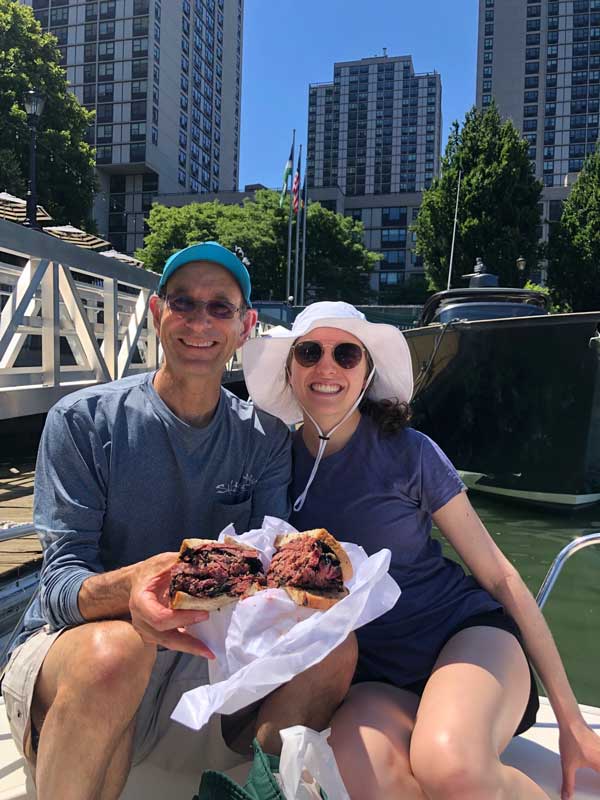 I was joined by my wife, Barbara, on my third trip of the 2022 season. We were excited to pick up our daughter, Carli, and her boyfriend, Eric, who both live in New York City, and spend the day together on the boat. With a perfect weather forecast, we were easily able to launch and motor to North Cove Marina in Lower Manhattan in time for our scheduled 11:30 a.m. meeting.  
Upon our arrival at the marina, Carli and Eric were there waiting with hot pastrami sandwiches from Katz's famous delicatessen for a quick lunch before heading out on the boat. We had a great time exploring the area's famous sights from the water including the Statue of Liberty, Ellis Island, and the "BMW" Bridges on the East River before trying our luck fishing. This time our fishing focused on jigging for some feisty bluefish. After a few exciting light tackle battles, Eric was soon "hooked" on fishing. We explored Jamaica Bay and Rockaway Beach before returning to Jersey City to fuel up, drop off Carli and Eric, and return to Atlantic Highlands. Before hauling the boat, we had a nice dinner of steamed lobster and swordfish at Bahrs Landing, a New Jersey tradition since 1917. 
After spending the night in Princeton, NJ, we headed out for a day of exploration around Long Beach Island (LBI), NJ. We launched at an excellent boat ramp just off the causeway onto LBI. While the wind was blowing 20 knots, we stayed on the bay side making our way north to Barnegat Inlet for a perfect view of the famous lighthouse. On the next trip we will head south and check out the lower end of the island.  
Adventures in Montauk, our Whaler's Namesake.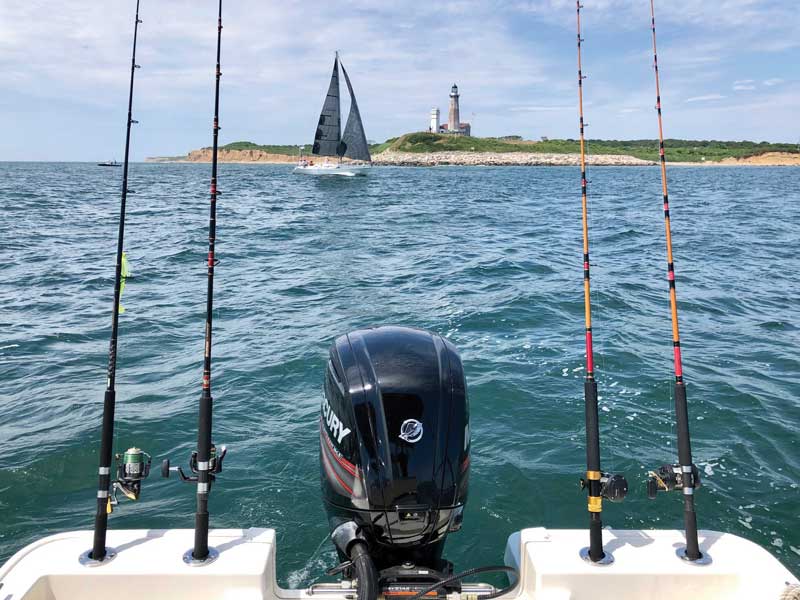 The first extended trip of the season was a four-day adventure back to Montauk on the eastern end of Long Island. Montauk has a special meaning since it is the namesake of our beloved Whaler. Carli and Eric were able to take the Long Island Railroad from NYC to meet us for the weekend. Gurney's Star Island Resort was our base of operation for the long weekend. It is an outstanding location with terrific accommodations, a boat ramp and marina, and excellent outdoor dining. Over the next few days, we enjoyed exploring eastern Long Island, including Sag Harbor, Greenport, and even a quick trip to Block Island, RI. While the weather forecast was 10 knots or less, upon arrival at Ballard's Beach Resort, the flag flew straight out! I nervously ate lunch fearing we would be facing 20 miles of rough seas on our way back. Miraculously, the seas were flat and our return trip to Montauk was smooth and uneventful.   
After catching his first bluefish a month earlier, Eric was excited to fish in Montauk. While there can be a lull in fishing during the dog days of summer, I always bring a variety of fishing tackle for whatever I might encounter. Keeping a watchful eye out for birds, I spotted a few over a sandbar near the famous Montauk Point. I immediately tied on a topwater plug, and in no time, Eric had hooked into the first of many, gator-sized bluefish! We had a morning of epic bluefishing, surely solidifying Eric's love of fishing.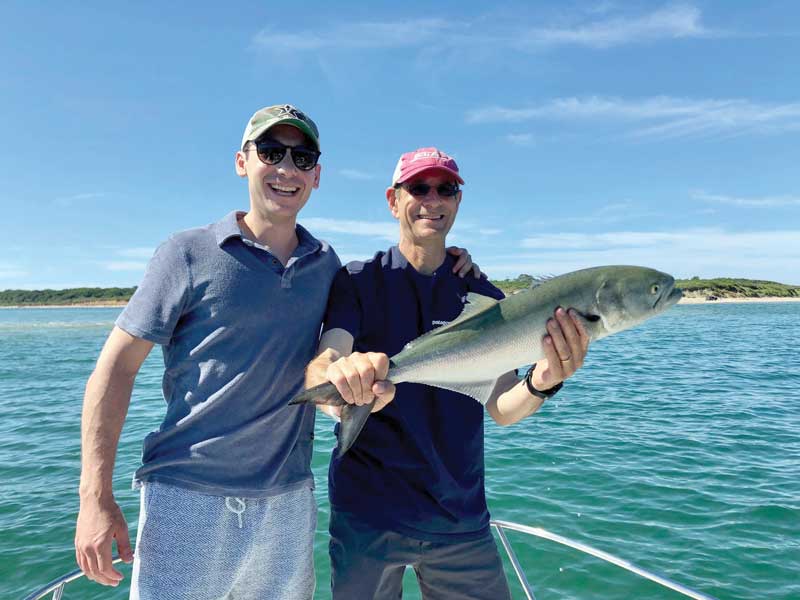 Coastal New England
Our big trip of the summer was a return to coastal New England over an extended Labor Day weekend. We drove from Maryland to Mystic, CT, our first destination. After terrible traffic in New York and Connecticut, we finally arrived just in time for dinner at A&P Lobster House on the Mystic Harbor waterfront. The next day we launched at Port Judith, RI, looking to score on the fall run of false albacore or "Albies." While we didn't locate any fish, we had a nice, but rough ride to Newport for lunch. Having been to Newport several times by boat, we have found the perfect small boat transient dock in the heart of Newport, RI.
The next day we trailered the boat two hours to Falmouth Harbor on Cape Cod, MA. The weather was perfect, with calm seas and abundant sunshine. While we were able to find the Albies, we, along with many other fishermen, were unable to get them to bite. After a few hours of unproductive fishing, we switched gears and decided to explore Martha's Vineyard's terrific port cities: Vineyard Haven, Oak Bluffs, and Edgartown. Each one is a special gem with great history, dining, and shopping. We had a great time despite not catching a single fish. While it always pays to have a game plan, it doesn't mean you have to stick to it. 
After spending the night in Hyannis, we again launched the boat in Falmouth, but this time at the Green Pond Town Landing. Google Maps can be a great tool for locating boat ramps in new areas you might be unfamiliar with. One of the problems with some of the boat ramps we have discovered is limited parking options. On a busy day, trailer parking can be full by 7 a.m.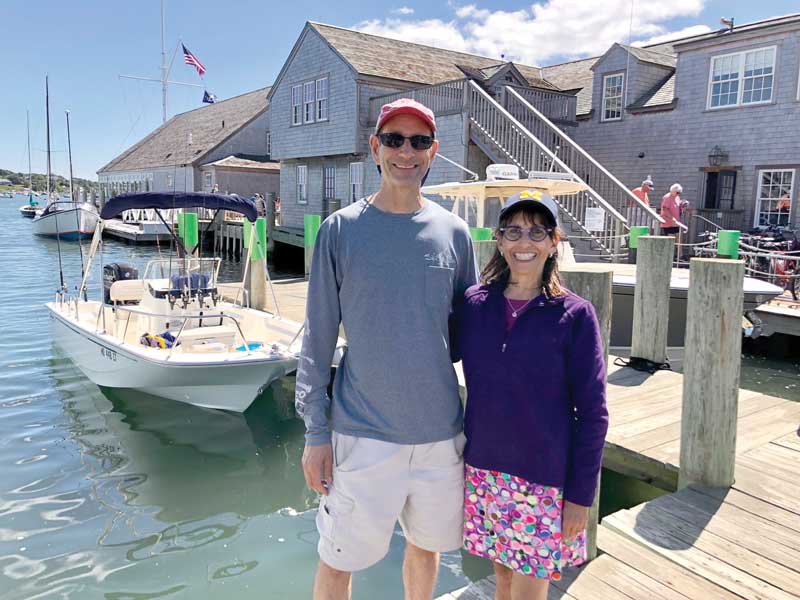 We immediately found the Albies near Woods Hole, but just like the previous day, they were not interested in any lures. After spending an unproductive couple of hours fishing, we decided to move on, this time exploring for the first time the undeveloped Elizabeth Islands before crossing Vineyard Sound to the little fishing village of Menemsha. Cruising such spectacular waterways on your own boat is certainly an exceptional experience. With each new voyage comes more familiarity and comfort with the area. 
The final destination on our New England adventure was Old Saybrook, CT. A short run down the Connecticut River puts you in Long Island Sound. After a short crossing of the sound, we were back in Greenport, on the North Fork of Long Island. We were able to tie up at the municipal marina and stroll the beautiful town streets and have a wonderful lunch at Claudio's Waterfront restaurant. All in all, we were able to explore a large cross section of Coastal New England on a 17-foot boat. Truly an extraordinary experience!  
Back to Beaufort
We had planned to return to Beaufort, NC, for the third year in a row. This gem of a location on the "Crystal Coast" feels like a perfect blend of the Florida Keys and the seaside towns of New England. While Barbara had planned to join me on this trip, her busy work schedule got in the way, and I had to go on this trip alone. Luckily, I have a good friend, Gary, who now lives in Morehead City, just adjacent to Beaufort, who was able to join me for three days of intense fishing. 
Over the years, Gary has kindly equipped the Needle family with a virtual tackle-shop-equivalent of rods, reels, and lures. Well, we had an epic fishing experience! We "warmed-up" the first afternoon with some school-sized bluefish under the birds. We were blessed with perfect weather on the second day which allowed us to head to Cape Lookout in search of the Albies. They did not disappoint this time. We managed to catch eleven reel-screaming Albies before switching it up to catch countless bluefish and Spanish mackerel, completing the Cape Lookout Grand Slam!  
On the third day, the winds picked up and limited our fishing opportunities. We navigated from Beaufort through the skinny water of the backside channel to the "Hook" of Cape Lookout. Fishing in three- to five-foot seas on a 17-foot boat was at times challenging but we always felt safe, and we even managed to catch two additional Albies. All-in-all, I had another awesome trip to North Carolina's Crystal Coast. The Beaufort Hotel and adjacent Loggerhead Marina offer a perfect setup for the small boater.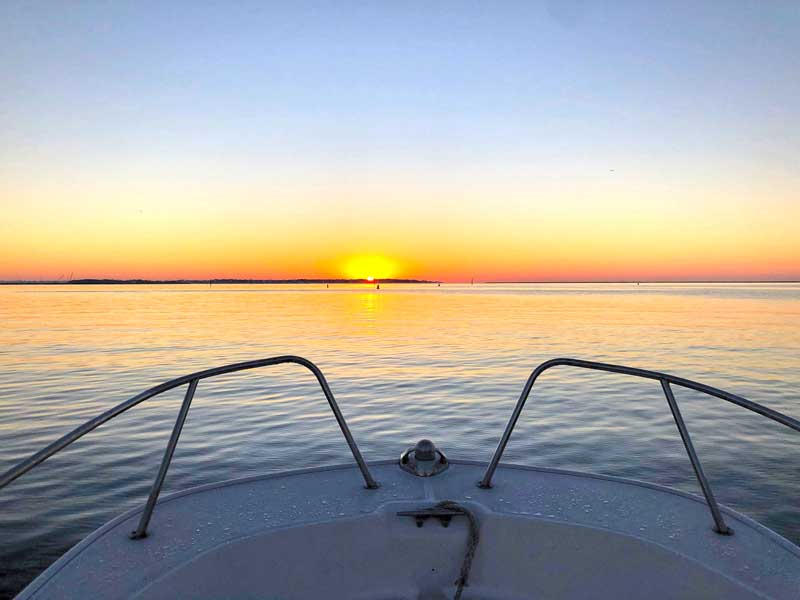 The final trip of the year was a late-season fishing trip out of Chesapeake Beach with my son, Ryan, who was home from college for Thanksgiving Break. Our morning started out great, after finding the birds and quickly catching two striped bass. Our luck ended as quickly as it started, and we ended up cutting our trip short to grab lunch at our favorite, The Boatyard Bar and Grill in Annapolis. It was certainly nice having my first mate out with me again!
With another season in the books, our Boston Whaler has logged 300 hours and visited 14 states and the District of Columbia since 2019. A close look at my "trails" on the GPS chartplotter would resemble a spiderweb of activity up and down the East Coast. Our 17-foot Boston Whaler Montauk has provided our family with countless precious memories and has allowed us to explore waterways both near and far. It has truly been one of the best purchases we have ever made! We look forward to many more exciting adventures in the years to come. 
By Martin Needle
---
To catch up on past Whaler Weekend articles, check out:
A Family's Small Boat Adventures Year 2