I have many fond memories as a child exploring far-away destinations from Lake Winnipesaukee, NH, to Islamorada in the Florida Keys with my mom and dad in our beloved 15 foot MFG trailer boat. From learning to waterski to catching my first sailfish, I grew up loving the water and the sense of exploration that goes along with boating.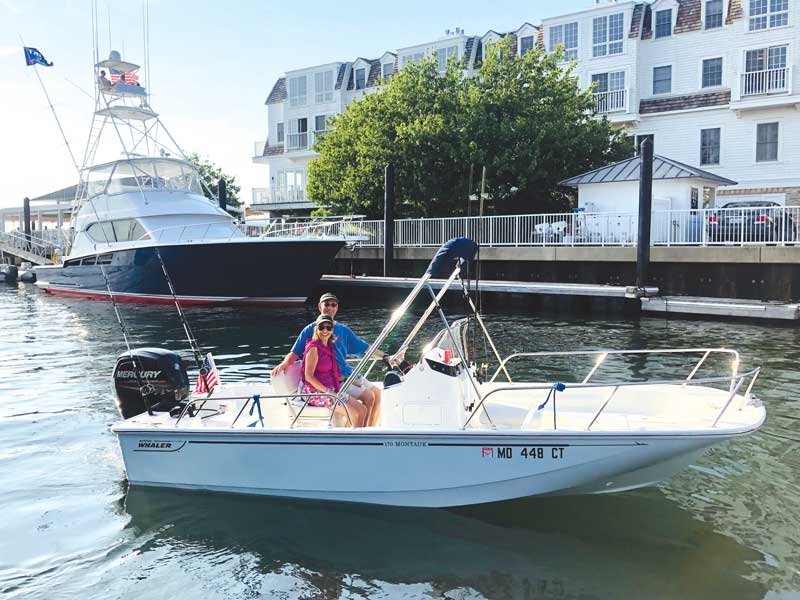 While my home port is Annapolis on the Chesapeake Bay, I longed to explore with my own family many of the same destinations that I once visited as a child along with some new ones, too. After years of visiting boat shows, reading the latest boating magazines, and scouring used boats for sale, I was ready to make my move and purchase another boat (in addition to my existing 23-foot Parker) that would allow me to reach more distant locations.
Being around boats my whole life, I realized that the cost of owning a boat is much more than the initial purchase price—expenses related to dockage, insurance, maintenance, and fuel can add up quickly. Initially, I wavered between a 35-foot convertible that would allow me to fish offshore and a downeast-style boat geared more toward cruising. When I analyzed the numbers, the math didn't seem to add up. Even buying a used boat, I would be spending tens of thousands of dollars per year, and I would still be limited by the weather and our busy schedule. 
It dawned on me one day that a trailerable boat might actually solve my dilemma. I needed a boat that was seaworthy but also small enough to be easily trailered behind my Honda Pilot. There are many boats in this category, but I soon realized that one in particular made perfect sense: a Boston Whaler 17 Montauk. This classic has a rich tradition and provides an excellent platform to fish, waterski, or just cruise around. The 17 Montauk was recently redesigned, adding additional beam, more freeboard, and a built-in fuel tank. 
This past winter, working with Bart and Tom at Chesapeake Whalertown, I ordered the Montauk, adding several personalized options. I took delivery of the boat on my 55th birthday. The initial sea trial proved to be challenging with gale force winds that even included white caps on Spa Creek. While we had to cut the sea trial short, everything operated flawlessly. As with any new boat, there is a factory-recommended break-in period. This proved challenging this past spring with all of the wind and rain we experienced. However, bundled up with ski jackets, we successfully completed the break-in period. Our first real adventure took us to Deep Creek Lake, MD, where we skied, swam, and explored the lake. We were now ready for our next big journey: New England.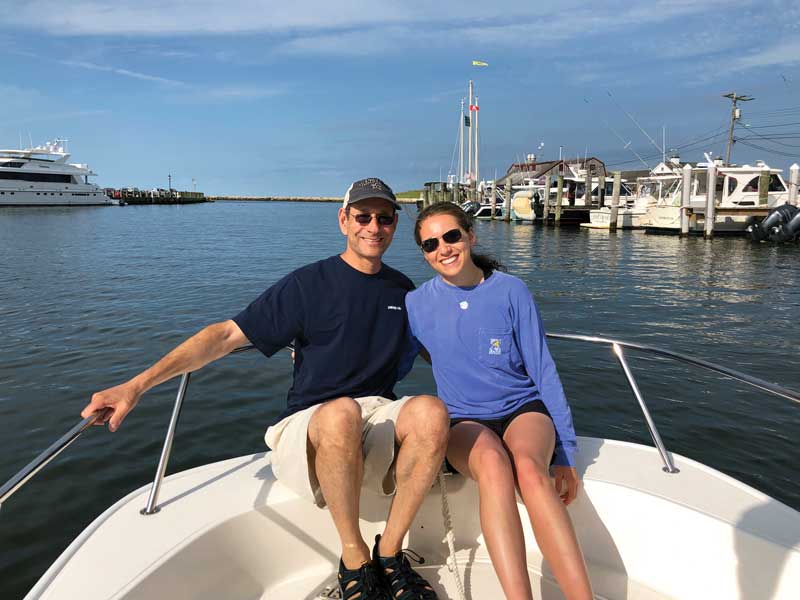 With the boat in tow, my wife, daughter, and I headed off for a five-day expedition to coastal New England. Our goal was to visit Block Island, Martha's Vineyard, and Nantucket. The first day we left our home in the suburbs of Washington, DC, driving seven hours to Mystic, CT. We checked into our hotel, unhooked our boat, and explored the lovely seaside town of Mystic. 
The next morning, we got up early and headed off to Port Judith, RI. We launched the boat and headed to Block Island, a 10-mile ride across Block Island Sound. Light winds and calm seas prevailed, allowing us to effortlessly navigate the 10-mile crossing. Our first destination on Block Island was the Great Salt Pond, a beautiful protected body of water on the west side of the island. Knowing Montauk, NY, was only 12 miles away and equipped with our good weather forecast, we decided to head in that direction. 
Equipped with a GPS chartplotter, we were easily able to navigate the new waters. We spotted the famous Montauk Lighthouse and cruised by the numerous marinas in Montauk Harbor, admiring the beautiful boats. We left Montauk and headed back to Block Island, where we tied up in the harbor at New Shoreham and had lunch at Ballard's, a beachfront restaurant, bar, and live-music venue. 
Being early afternoon with six hours of daylight remaining, Newport for dinner was a viable option. After passing the famous mansions, we entered the bustling harbor of Newport. We tied up and strolled the streets, eventually settling on one of the many waterfront restaurants for dinner. Following dinner, we headed back to the boat, where we had a 12-mile run across Rhode Island Sound back to Port Judith. The winds had finally picked up to 10 to 15 knots, creating a two- to three-foot chop. While being a little wet and bumpy, we made it back safely. It was hard to believe that in just one day and burning only 20 gallons of fuel we had covered so much territory and seen so many interesting and exciting places.
Day three of our adventure began at dawn when we drove from Mystic, CT, to Falmouth, MA, our next launch destination (a little homework ahead of time ensures good ramps with adequate parking). A short five-mile trip across Vineyard Sound had us arriving at Vineyard Haven, our first location on Martha's Vineyard, before 9 a.m. After tying up at the public dock, we had breakfast at the famous ArtCliff Diner, walked around town, and visited the original Black Dog. Our next stop was a quick tour of Oak Bluffs Basin.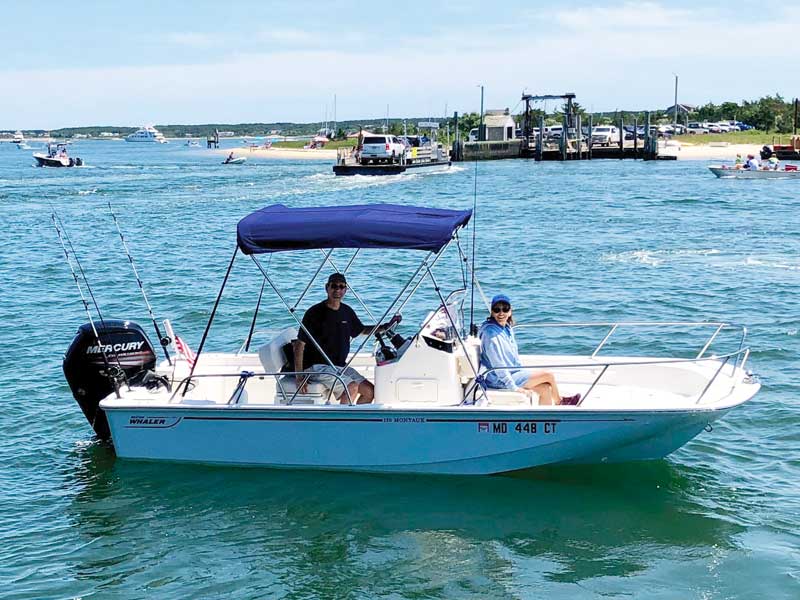 Our third stop on the island took us to Edgartown. The town dock was full, so we had to radio the Harbormaster to secure a mooring in the harbor. We hailed the launch, which was operated by a young and skilled captain, who maneuvered the boat with amazing seamanship around the tight harbor (at a high speed and often a bit too close for comfort). We ate at the Seafood Shanty overlooking the harbor, enjoying an excellent meal while watching the parade of boats in front of the Chappaquiddick Ferry. 
We departed Edgartown and tried our luck fishing some of the rips off Chappaquiddick, but unfortunately we did not have much luck. We headed back to Falmouth, where we pulled our boat and drove to Hyannis for the night. 
As an experienced boater, I always keep my eye on the weather. Our good fortune with the weather eventually ran out, as the next day's forecast called for 15- to 20-knot winds. This called for Plan B, taking the high-speed ferry from Hyannis to Nantucket for the day. After the one-hour crossing, we spent a fabulous day on the island, strolling the streets and exploring its wonderful restaurants, shops, and galleries. We returned that evening on the last ferry, having completed our mission, visiting New England's three special islands in three days. 
We woke up early the next morning for our ride home. The GPS showed approximately eight hours, but you never know on this notoriously busy stretch of I-95, especially around New York City. Traveling with a small boat in tow opens up unlimited possibilities for new adventures. Doing your homework in advance, keeping up on maintenance of the boat and trailer, and having a little luck with the weather allows you to do a lot with a little. Future destinations include Lake George, Lake Winnipesaukee, and the fall albacore blitz off Long Island.
End Note: I want to personally thank my dad for exposing me at such a young age to the world of boating. It is a lifelong passion of mine that I hope to pass on to my children.
By Martin Needle
---
To check out this family's second year of adventures, check out Whaler Weekends Year 2.