Like many families trying to stay safe in the midst of a pandemic, we found boating on our Boston Whaler to be the perfect option. Without competing activities on the calendar, boating became our "go-to" activity to occupy our free time. Boating provided a great escape from the long hours we put in working from home and offered an opportunity to enjoy the great outdoors. With our 17-foot Boston Whaler in tow, we were able to enjoy familiar spots and also explore some new destinations.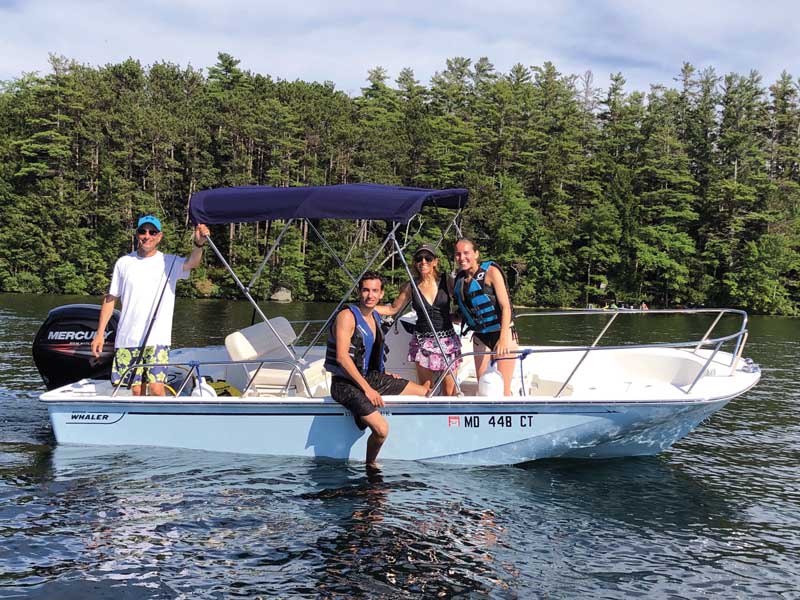 My first trip of the year was to Ocean City, MD, with my son. Waking up early on a Saturday we arrived in Ocean City by 8:30 a.m. and launched the boat at the ramp in West Ocean City. With smooth seas and abundant sunshine, we were able to make the eight-mile run to the Bass Grounds in pursuit of bluefish. After trolling for a while with no luck, we made the run to Fenwick Shoal and in no time were catching some small Blues on light tackle. 
We returned to port and stopped by our longtime favorite Anthony's Carryout for their famous hand-carved roast beef sandwiches which we enjoyed on the boat. The next day, the winds picked up, and we ended up trailering the boat to Crisfield, MD, where we launched at the municipal ramp and headed to Smith Island. Luckily it was a short crossing since the winds were now blowing in excess of 20 knots and the seas were building. The good news is that we always feel safe in a Whaler. Even though it is only 17 feet, it offers a very smooth and dry ride.  
The Southeastern Coast
After this "shakedown" trip we were ready to get a little more adventurous. My wife and I had planned a five-day trip to the southeastern part of the country including costal highlights in South Carolina and Georgia. Conscious of traveling during a pandemic, we adjusted our travel plans to include booking rooms with a kitchen if possible, requesting a first-floor room, and largely staying to ourselves. When we ate at restaurants, we either got take-out or ate outside if the tables were sufficiently distanced. With a little internet research, I was able to find the most convenient boat ramps and some interesting sights. 
Charleston proved to be a great destination to explore by water. Appreciating Charleston's rich history, we were able to explore the harbor, downtown waterfront, Fort Sumter, U.S.S. Yorktown aircraft carrier, and the very picturesque Shem's Creek, a Venice-like canal lined with restaurants and commercial fishing boats. Navigating unfamiliar waters can be a daunting experience, so having a good GPS and chartplotter certainly allows one to feel comfortable exploring.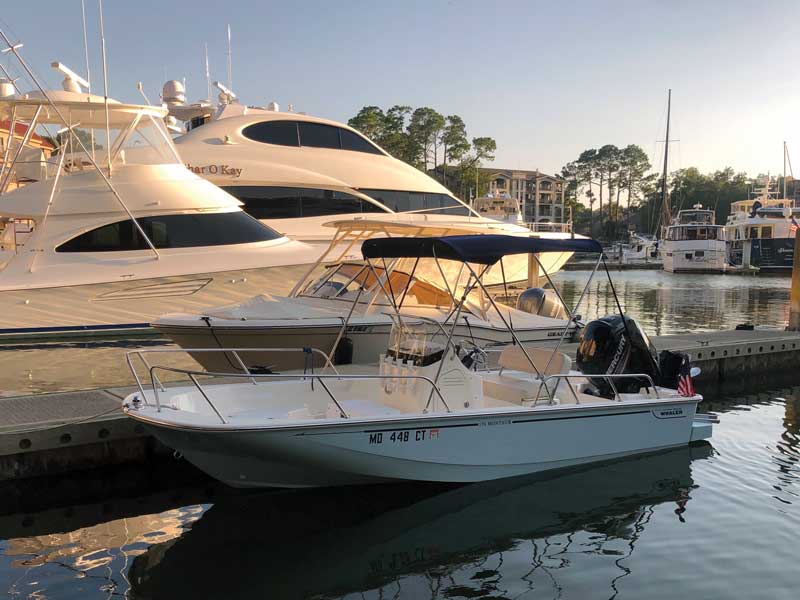 After Charleston, we hauled the boat and headed an hour and a half south to Hilton Head. We spent the next day circumnavigating the island and checking out some interesting spots, including the famous Harbour Town Marina, where we tied up for the night. While we were one of the smallest boats in the marina, we received the same great service and complimentary bottle of wine that came with the transient slip. We also had lunch at the famous Salty Dog Café where we ordered take-out and ate on the boat. 
The next morning, we decided to head to Savannah by boat. It was quite a feat to navigate through the snake-like marshes that comprise the Lowcountry, but what an incredible way to see historic Savannah. We returned to Hilton Head following the main shipping channel. In just five days, including travel days, we were able to experience three very interesting and distinct destinations along the Southeast coast.    
Heading North
The next adventure was our family's long-awaited journey to Lake Winnipesaukee in New Hampshire. Driving the Northeast corridor can certainly be challenging, especially trailering a boat over the George Washington Bridge connecting New Jersey and New York and through the Bronx. The key is avoiding rush hour. 
Lake Winnipesaukee is one of the most beautiful lakes in the country, surrounded by spectacular mountains and punctuated by quaint towns, including Meredith, where we stayed. Over the next four days, my wife and I and our two college-aged children enjoyed waterskiing, wakeboarding, swimming, and exploring the lake. It was great to share this destination where I recall having many fond memories of when I went there with my parents and grandmother over 40 years ago. Other towns we explored included Wolfeboro, Alton Bay, and Center Harbor. Each town has its own ramp and a town dock where you can tie up for a few hours and explore on foot.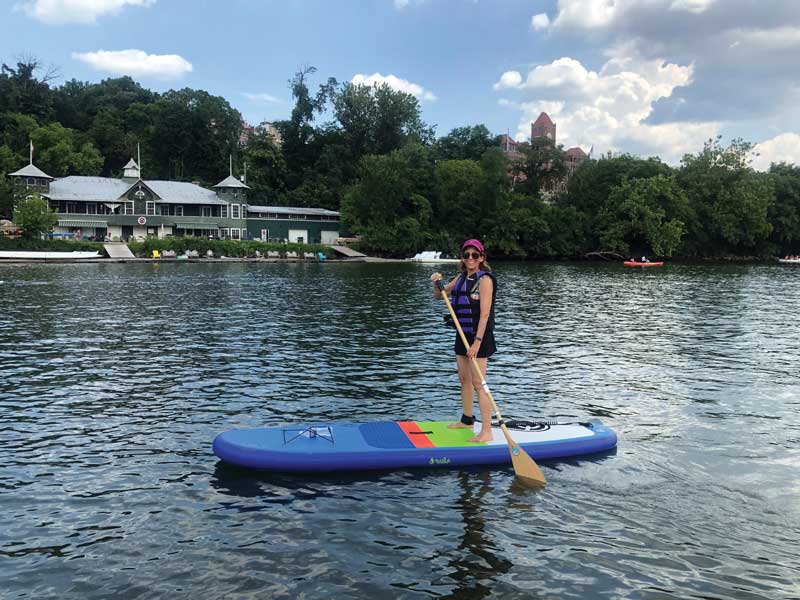 The Mid-Atlantic
A quick but interesting excursion close to home started with a launch in Occoquan, VA, followed by a one-hour run up the Potomac River past the Alexandria Waterfront to Washington, DC. After exploring the redevelopment of the Maine Avenue (Wharf) Waterfront, we headed past Washington's many famous monuments to the Kennedy Center and the Georgetown Waterfront. We anchored the boat just north of the Key Bridge and after a picnic lunch, my wife and I paddled on our inflatable stand up paddleboards (SUPs). 
It was hard to believe that the summer flew by and we were already nearing Labor Day Weekend. Looking at a map, we wanted a destination that was within four hours and would not be too crowded. We settled on Cape Charles, VA. This turned out to be a true hidden gem of the Eastern Shore. We stayed at Kings Creek in a villa that overlooked the marina. Cape Charles is in the midst of a rebirth. It has numerous great restaurants, unique shops, and art galleries, and is home to one of the most spectacular sunsets on the Chesapeake Bay. 
After sitting out the first day because of high winds, we launched the boat and headed in the direction of Virginia Beach. This nearly 30-mile crossing parallels the Chesapeake Bay Bridge-Tunnel. It's hard to believe how wide the Bay is at this point. We enjoyed taking in the abundant wildlife, including dolphins and pelicans, and ended up pulling into Lynnhaven Inlet on the northside of Virginia Beach to refuel. Our trip back took us past Fisherman's Island on the very tip of the cape and back to the town of Cape Charles, which interestingly is not at the very bottom of the DelMarVa Peninsula. One of the great things about Cape Charles is the local ordinance that permits golf carts on the city roads. What a fun way to explore the town!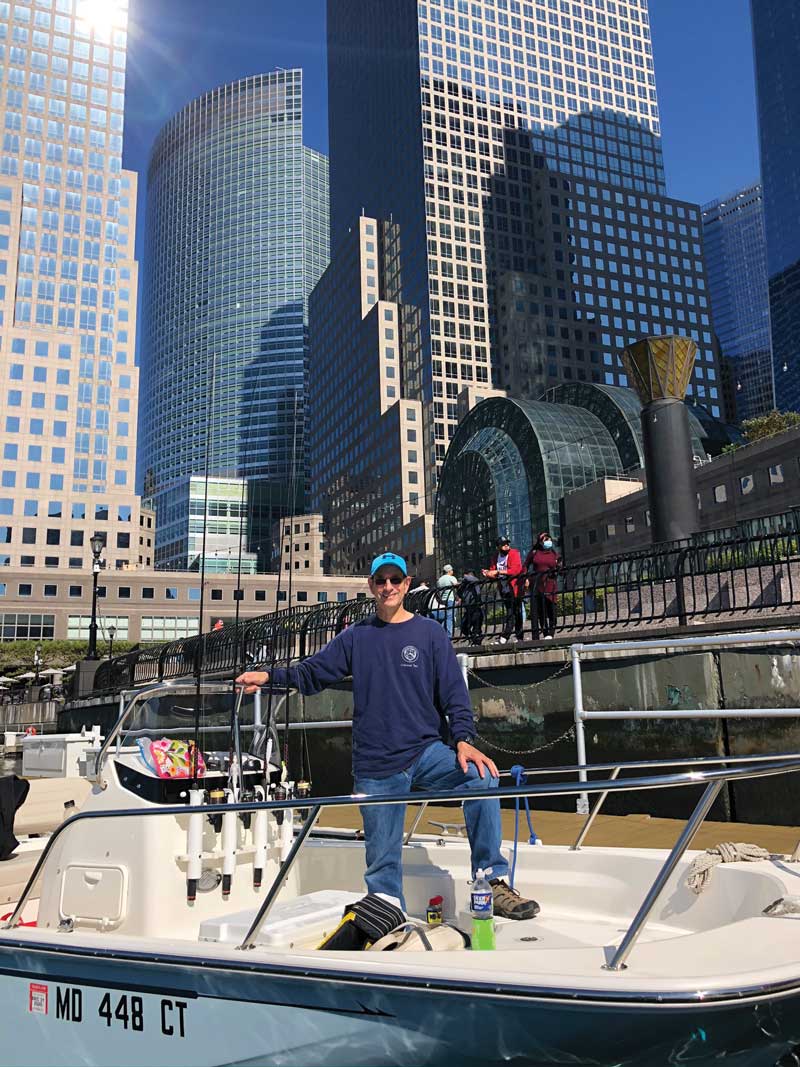 The Bucket List
In October and November, my wife and I got several lucky breaks with the weather, which allowed us to cross some more destinations off our bucket list. The first was exploring New York City by water. After studying a map closely, I zeroed in on Atlantic Highlands, NJ, as being the most strategic location from which to launch. After a short three-and-a-half-hour car trip from the Washington, DC, suburbs, we were already at the ramp. In less than twenty minutes from the marina we were crossing under the Verrazano Bridge on our way to the city. 
Our first stop was by the Statue of Liberty and Ellis Island. How exciting to just motor right up to Lady Liberty! Next, we headed up the East River under the Brooklyn, Manhattan, and Williamsburg Bridges to the United Nations. We then headed back to lower Manhattan where we secured a transient slip at North Cove Marina. With a little homework, we were able to have two hot pastrami sandwiches delivered from the famed Katz's Delicatessen directly to our boat. After a wonderful lunch, we headed up the Hudson River and viewed the unique architecture of the New York skyline before turning around. Leaving New York Harbor, we passed by Coney Island and Brooklyn on our way back to New Jersey for the night. This was such an exciting way to see New York City from the safety of our own boat.    
The first weekend in November again blessed us with a good weather forecast. This time we headed to Lewes, DE, where my wife and I launched our boat. Our destination was Cape May, but we had to delay our trip by an hour until the dense fog lifted. After a short half-hour crossing of the Delaware River, we headed to the Lobster House Restaurant for lunch. We enjoyed a fresh clam bake with lobster and grilled swordfish, again on our boat. After a quick detour to Rehoboth Beach, we returned to the ramp, hauled the boat, and were home by 7:30 p.m. Quite the adventure in a mere 12-hour period.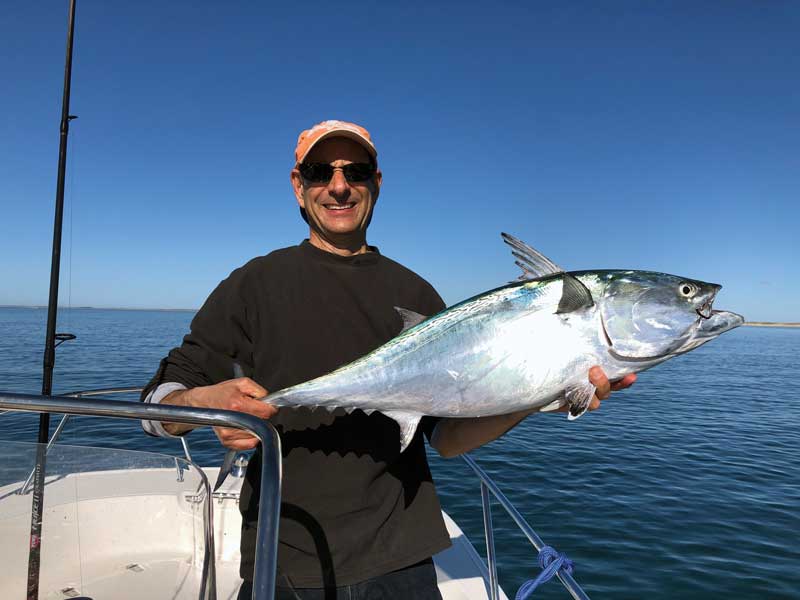 The final excursion of the year was to Beaufort, NC, for the famous fall False Albacore or "Albie" run. Having never been to North Carolina's Crystal Coast, we settled on Beaufort as the most strategic launching point. We stayed at the beautiful Beaufort Hotel which is adjacent to the marina and launching ramp. This truly was a great facility that proved very convenient to have our lodging and marina right next to each other. The weather was perfect. My wife and I managed to tire ourselves out catching so many of these amazing gamefish. The waters surrounding Beaufort, Morehead City, and Cape Lookout are truly beautiful and full of life. We discovered several great restaurants that had abundant outdoor dining and fell in love with the whole area. We can't wait to return! In many ways it is like the Florida Keys (palm trees and all), yet only six hours from home.  
Despite the pandemic, we had a very busy year on the water. In just six months, we had successfully boated in 10 states up and down the East Coast. My mother appropriately named our adventures "Whaler Weekends." We believe we truly made the best of this very challenging year. Our trailer boat allowed us to visit some great destinations, all within a reasonable drive from Washington, DC. Future destinations include Lake George, the St. Lawrence Water Way, and Mackinac Island, MI.   
By Martin Needle
Always be sure to check local state guidelines directly regarding travel restrictions for the most current information.
---
To read more about this family and their other small boat adventures, check out Martin Needle's article, Destination New England. For the next year's adventures, check out Whaler Weekends Year 3.