After our exciting second season exploring destinations near and far, I couldn't wait to start planning our next list of seaports for 2021. Hesitant to travel on airplanes and abroad as the global pandemic raged on, we had an ample number of vacation days to devote to our beloved 17-foot Boston Whaler Montauk. This season's itinerary included some of our perennial favorites as well as some new locations.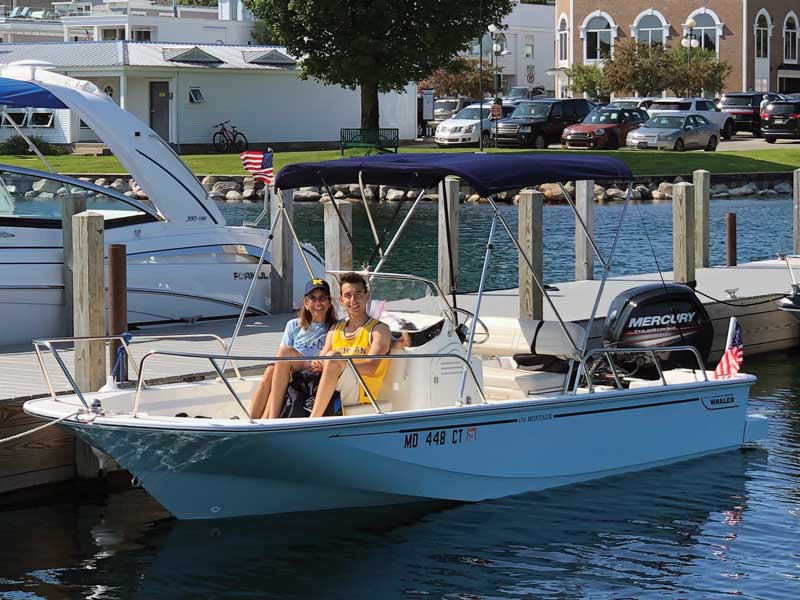 VA Beach, New Jersey, and NYC
With our son, my former first mate, in college, my inaugural trip was a solo mission to Virginia Beach. I had read about an early season redfish bite, so I thought I would check it out. The first weekend in April I headed to Rudee Inlet which is on the south side of Virginia Beach and offers easy access to the Atlantic Ocean. Without traffic I was able to make it in four hours from the Washington suburbs. After launching at the Owl Creek Boat Ramp, I explored the marinas and homes that lined the harbor as I made my way to Rudee Inlet. While the weather was perfect and the seas were flat calm, the redfish did not cooperate. I did manage to cruise up the coast past Virginia Beach and Cape Henry on my way to the western side of the Chesapeake Bay Bridge-Tunnel. The boat performed flawlessly on its shakedown cruise and was now ready for another season of fun.  
In early June, we decided to repeat a trip my wife and I had taken the previous fall to Atlantic Highlands, NJ. This location, which is just inside Sandy Hook, gives you easy access to New York City and all its amazing sights. Just 20 minutes from the boat ramp we passed under the Verrazano-Narrows Bridge and could see the Manhattan skyline lying straight ahead, with Brooklyn and Coney Island just off to the right. After a quick photo stop at the Statute of Liberty and Ellis Island, we made our way past the Financial District on our way up the East River.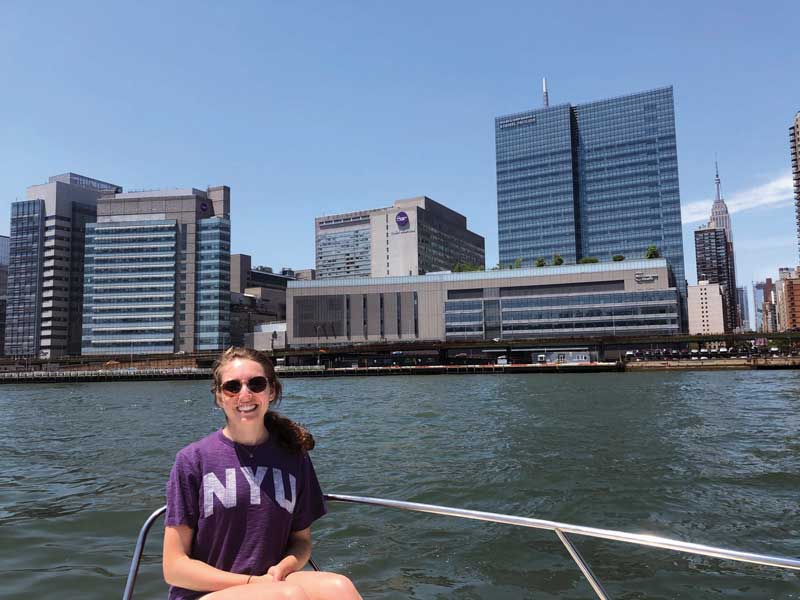 The trip was extra special since our daughter was with us and she was able to take in a unique perspective from the water of where she would be attending medical school for the next four years. NYU's medical campus is located right on the East River between 30th and 34th Streets. After going as far north as the split between the East and Harlem Rivers, we turned around and headed back down around the tip of Manhattan and up the Hudson River nearly to the George Washington Bridge. Seeing New York City from the water is truly spectacular! We really didn't know where to look first—from the Brooklyn Bridge to the United Nations to the Freedom Tower, just to name a few landmarks. 
We decided to top off the fuel tank at Liberty Landing Marina near Jersey City, NJ. It's always nice to have sufficient fuel reserves when traveling in unfamiliar waters. I routinely carry a few fishing rods and an ample variety of tackle on the boat. This time it paid off, as we found a nice school of bluefish off Sandy Hook as we made our way back to the boat ramp. Knowing that we might be fishing, I always obtain the necessary fishing permits ahead of time. A little internet research will clue you in to the state's license requirements.      
The next day we decided to head down the Jersey Shore to the beautiful seaside town of Stone Harbor. After launching at the Avalon Bay Park Marina, we headed down the intercoastal waterway past Stone Harbor and Wildwood on our way to Cape May. No trip to Cape May is complete without a stop at the Famous Lobster House Restaurant and Market where we enjoyed a wonderful seafood lunch. A good GPS chart plotter is a must when navigating the marsh lands that comprise the South Jersey Coast.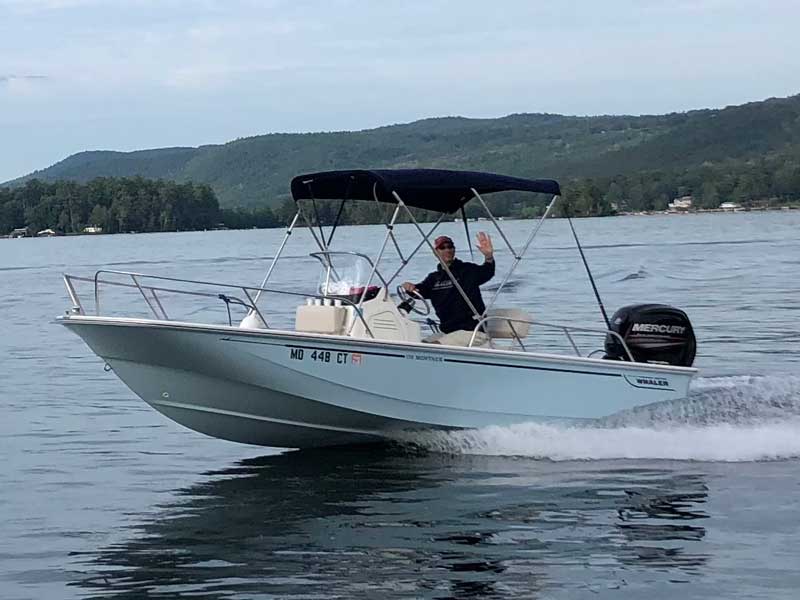 Lake George, Thousand Islands, and the Great Lakes
Our long-awaited family trip of the summer finally arrived in July. With grown children, it is increasingly difficult to arrange times when everyone is available. This year's trip came in two parts. Part one was to Lake George, which lies on the edge of the Adirondack region of New York State. It is certainly one of the most beautiful lakes in the United States. We stayed at the Sagamore Resort that is situated on a bluff near Bolton Landing on the western shore of the lake. We were able to launch and dock the boat during our stay at Norowal Marina, a short walk from the Sagamore. One thing to note about Lake George is that it can be very busy during the short summer season, so you must make reservations far in advance. Also, be prepared to pay high fees for almost everything including lodging, launch fees, docking, and even trailer parking.  
Boating in Lake George's pristine blue waters is truly amazing! Surrounded by mountains and incredible houses, the lake's scenery is spectacular. One area of particular interest is the "narrows" section of the lake that is made up of numerous small islands and rocks. A good chart or GPS plotter is a necessity as any wrong turn could be catastrophic. We enjoyed four wonderful days that included sunrise waterskiing and wakeboarding, cruising, swimming, and terrific dining at some great restaurants, including family owned Beyond the Sea, The Chateau on the Lake and the Algonquin.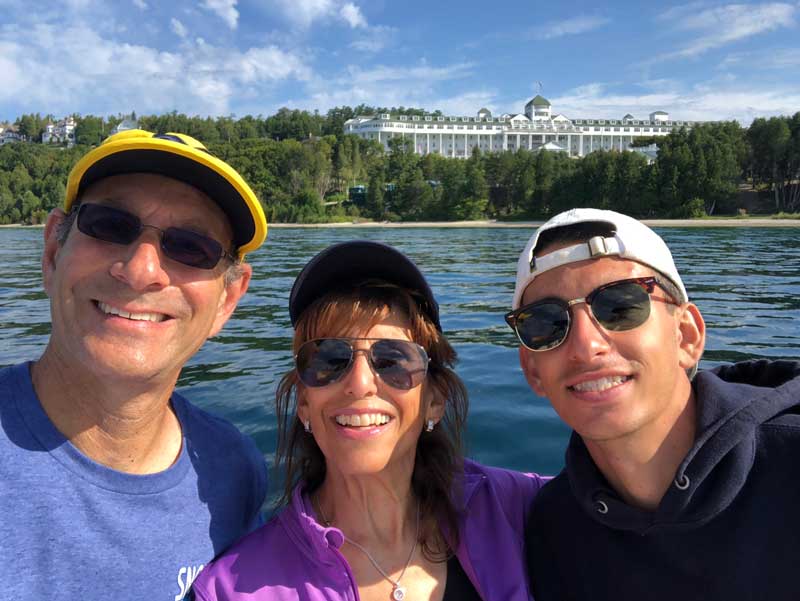 Part two of the family trip included a three-hour drive through the Adirondack Mountains to Clayton, NY, and the Thousand Islands region that lies on the St. Lawrence Seaway. This body of water separates the United States and Canada at the entrance to Lake Ontario. We stayed at the 1000 Islands Harbor Hotel, which is located on the water and a short walk to the Clayton Harbor Municipal Marina, where we docked our boat during our stay. Clayton is an old town which is going through a refreshing renaissance. The waterfront has been largely redeveloped and has many wonderful restaurants and shops. The Antique Boat Museum, home to one of the country's most extensive collection of mahogany speedboats, is a must see. 
With Clayton as our base of operation, we cruised the St. Lawrence Seaway to Alexandria Bay, stopping by the impressive Boldt Castle and literally thousands of islands. Heading in the opposite direction, we passed Cape Vincent on our way to the entrance to Lake Ontario. How exciting to actually be boating on one of the Great Lakes for the first time! With our 17-foot Whaler in tow, we were easily able to explore many of New York's most noteworthy boating destinations.   
Michigan
To end the summer, we had our long-anticipated trip to Michigan. We find that much of the fun of these adventures is the advanced planning that is required. Having just visited Lake Ontario, the idea surfaced—why not try to visit as many of the Great Lakes as possible? So, on our way to Michigan, we squeezed in a quick detour to Sandusky, OH, which lies on the shores of Lake Erie. After launching at the Shelby Street Boat Launch, we passed by the Cedar Point Amusement Park and Marblehead Lighthouse and headed into Lake Erie.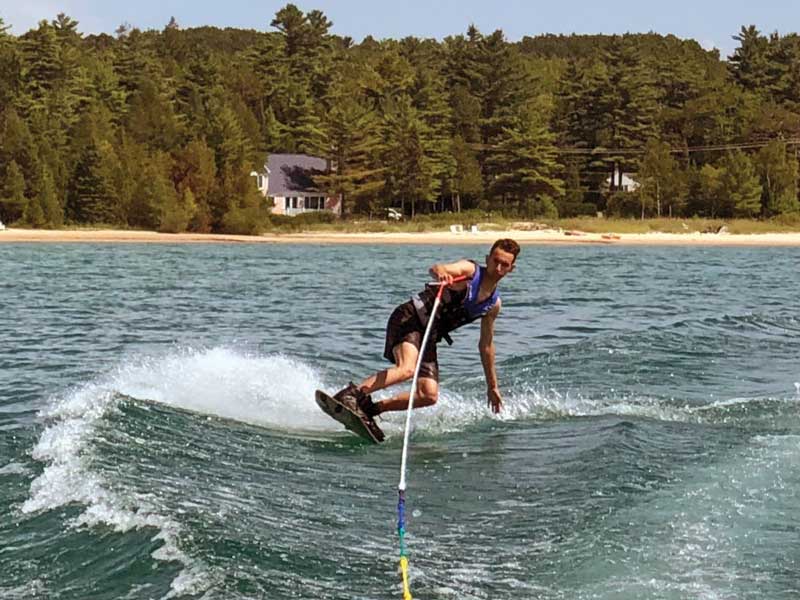 Compared to our home waters of the Chesapeake Bay, the Great Lakes feel more like an ocean. The wind was blowing 10-15 knots, so we had to deal with some bumpy seas, but our Whaler kept us safe and dry. After reading a local tourist brochure, we were intrigued by an island called Put-In-Bay. What a surprise! Often described as the "Key West of the North," this island in Ohio was a real treasure.  
After a day on Lake Erie, we headed for a quick overnight in Ann Arbor, MI, on our way to Petoskey, a town situated at the top of the lower peninsula of Michigan. We had made arrangements in advance using the Dockwa app to dock our boat at Bay Harbor Marina, which sits on the south shore of Little Traverse Bay on the north side of Lake Michigan. Our son, a junior at the University of Michigan, joined us for this part of our trip. We enjoyed the next few days cruising between the towns of Petoskey, Harbor Springs, and Charlevoix. Having boated around the country and many destinations in the world, we found this little slice of Michigan to be truly special. The water resembles the crystal-clear waters of the Bahamas, and the towns that line the shores are so unique and beautiful, similar to the Mediterranean. We even managed to arrive just in time for an art fair that occurs only one day each year in Charlevoix. The port of Bay Harbor is a must see for any boater; the launch ramp is ideal, and there is free trailer parking a short distance away. 
Before heading home, we had one more stop, a one-hour drive north to Mackinaw City. We launched the boat at the Mackinaw City Marina and headed across Lake Huron to Mackinac Island. After circling the island, we tied up and toured the Grand Hotel, a National Landmark since 1887. We had a wonderful lunch on the impressively landscaped outdoor terrace at the Hotel Iroquois before heading back to the boat. On our journey back to the ramp, our son strapped on his wakeboard, and we towed him from the Island all the way to the Mackinac Bridge that separates the upper and lower peninsula of Michigan. With this trip complete, we had now boated in four of the five Great Lakes this summer!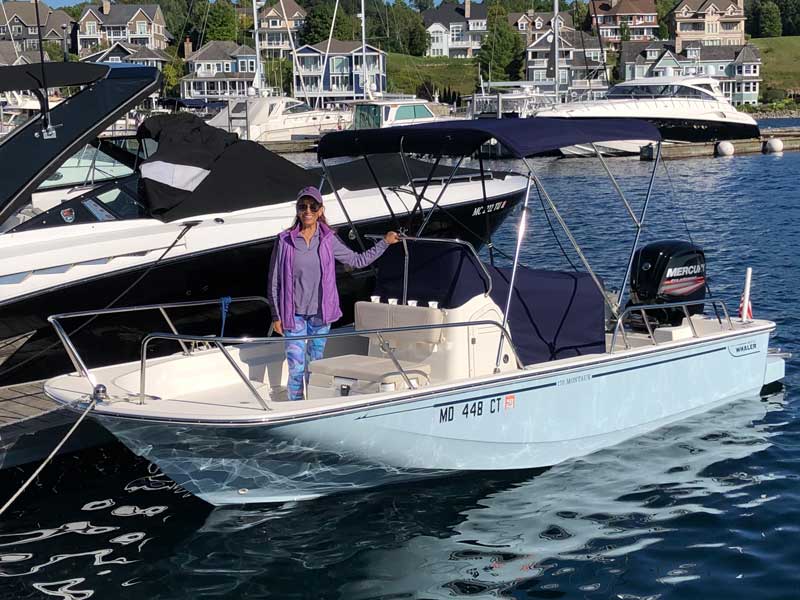 Connecticut 
With fall upon us, my wife and I decided to return to one of our favorite destinations, Mystic, CT. As we like to think of it, Mystic is the gateway to coastal New England. After experiencing more traffic than we would like on I-95 North through New York, we were able to squeeze in a few hours on the water after launching in Old Lyme, CT. Old Lyme is situated on the east end of Long Island Sound and a short distance from the "North Fork" of Long Island. After a short 30-minute crossing we were rounding Orient Point Lighthouse on our way to Greenport, NY, a quaint seaside town. After a quick stroll through town, we headed back before sunset passing Shelter Island to the south. After hauling the boat, we traveled the short distance to Mystic, our base for the next few days. 
The next day we launched in New London, checked out the Coast Guard Academy, and headed past the shipyards of Groton on our way to Mystic and ultimately Watch Hill on Block Island Sound. After a morning of cruising, we tied up at Abbott's Lobster in the Rough for a terrific seafood lunch. Heavy winds kept us from exploring beyond the coastline. The next morning, we headed about an hour east to Port Judith, RI. 
Knowing that we were in the middle of "Albie" season, I was fully prepared with an array of lures. The false albacore did not disappoint. Despite adverse conditions with winds gusting over 20 knots, I managed to catch and release several of these speedsters. We were able to stay in protected waters while we hugged the shoreline of Narragansett Bay on our way to Newport. Nothing like maintaining my "trails" on the GPS chart plotter from a prior trip which allowed me to head straight to a small municipal pier to tie up for an hour while we grabbed some lunch. After a quick four days we were able to add this trip to our list of fond Whaler Weekends.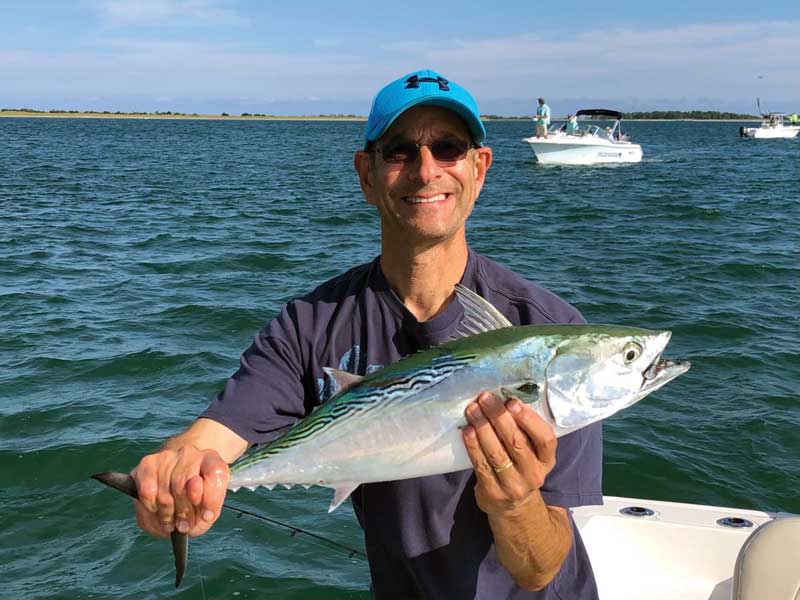 North Carolina
Our final excursion of the season was a return trip to Beaufort, NC. Situated seven hours from Washington, this gem of a boating destination lived up to our great expectations. The boat ramp and Boat House Marina are adjacent to the Beaufort Hotel. The set-up could not be easier. The next few days were spent cruising and fishing the beautiful waters around Cape Lookout down to Morehead City and Atlantic Beach. The Spanish mackerel and blues were breaking everywhere, while the albies proved a little more challenging. I did manage to catch and release two false albacores along with countless mackerel and blues. We enjoyed wonderful meals at some of the area's best restaurants, including Moonrakers, Aqua, City Kitchen, and Bahia Beach. The Crystal Coast of North Carolina has earned its spot on our annual "must visit" list!  
After another terrific year on the water, we look forward to next year's adventures. Possible new locations include the Gulf Coast and Florida along with return trips to New England and North Carolina. Our 17-foot Boston Whaler has proven to be a wonderful purchase that is affordable to operate and allows us to explore a wide array of exciting boating destinations. After three seasons, we have logged over 200 hours and boated in 15 states. 
By Martin Needle
---