This recipe comes to us courtesy of Caroline Foster's blog, Galley Pirates, a great resource for cruising chefs and landlubbers alike. Find more great recipes at galleypirate.com.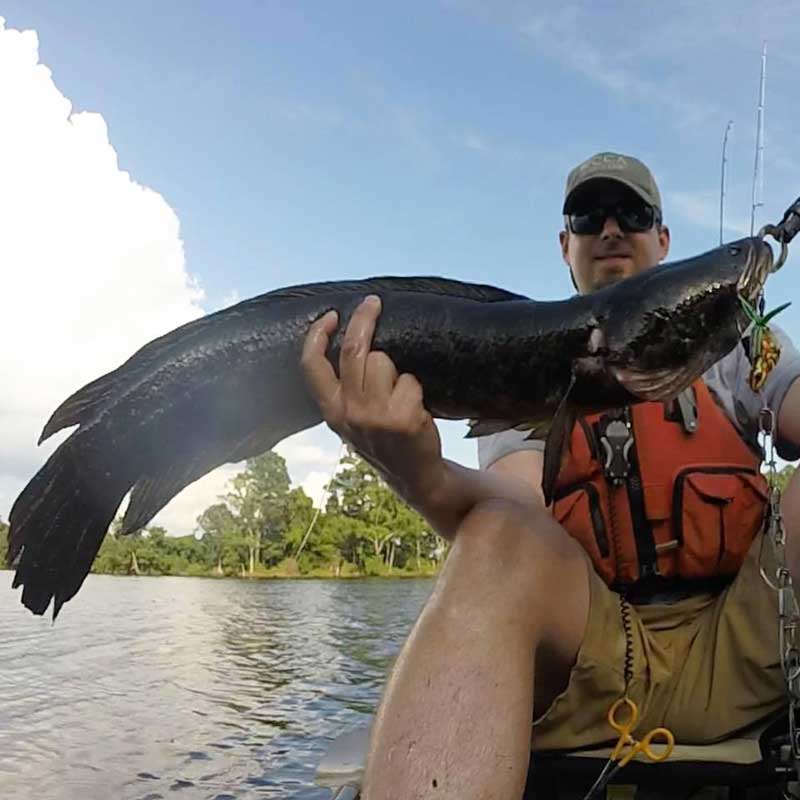 Snakeheads are an invasive Chesapeake species indigenous to Asia. They have firm white meat similar to tilapia or cod and are a staple in many Asian dishes. A restaurant in Hanoi with its namesake has been operating for over 130 years and serves only one dish, Chả Cá Lã Vọng. There's an old Vietnamese saying that this is "one dish you need to try before you die!"
Ingredients
Cha Cá Lã Vong Marinade:
4 snakehead fish filets (or tilapia, hake or cod)
3 inches fresh turmeric
2 inches fresh ginger (or galangal)
2 tsp fish sauce (nuoc mam)
2 tbsp canola oil
1 tsp salt
10 scallions
1-2 cups fresh dill
Nuoc Cham:
1/4 cup fish sauce (nuoc mam)
3-4 garlic cloves, pressed
2-3 cayenne peppers, minced
1/3 cup fresh lime juice
2 tbsp sugar (superfine works best)
1 tbsp water
To Serve:
1 pkg Vietnamese or Thai rice noodles
1 head bibb or Boston lettuce
1/2 cup cilantro leaves
1/2 cup Thai basil leaves
1/2 cup mint leaves
1/2 cup peanuts (roasted, salted, coursely chopped)
Instructions
Cha Cá Lã Vong:
1. Cut the snakehead into two-inch pieces.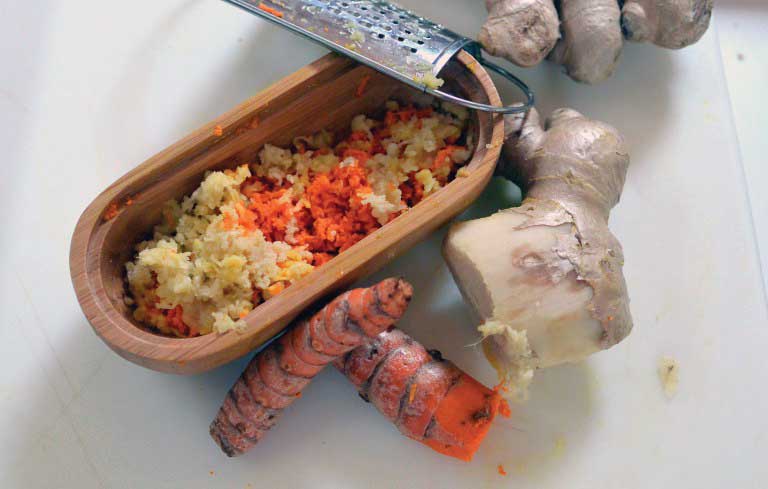 2. Next, make the paste of turmeric and ginger. It's best to wear gloves to avoid turmeric stains. With a food processor or fine grater, grate the fresh turmeric and ginger into a paste. You'll want to end up with about a half cup. Transfer to a stainless-steel or glass bowl. Add the powdered turmeric and fish sauce. Place the snakehead chunks in the marinade and rub mixture all over fish. Refrigerate for at least one hour or overnight.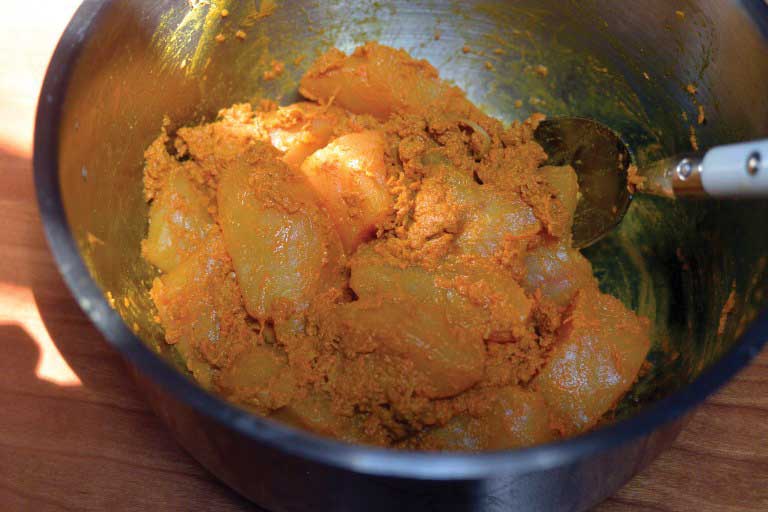 3. Chop the scallions into two- to three-inch pieces. Slice lengthwise into long slivers. Roughly chop the dill, removing large stems. Mince the mint, Thai basil, and cilantro.
4. Cha Cá Lã Vong is traditionally pre-cooked by grilling or baking before frying, but it's not necessary to pre-cook. Preheat your oven to 400 degrees. Lay a non-stick sheet of aluminum foil on a baking sheet. Bake in your preheated oven for eight to 10 minutes. Remove to a dish while you prepare the rice noodles and stir fry.
5. Bring a pot of water to a boil. Place the rice noodles in the water and boil until al dente, about five minutes. Drain.
6. Place bibb lettuce on individual plates. With tongs, lay cooked rice noodles on the lettuce.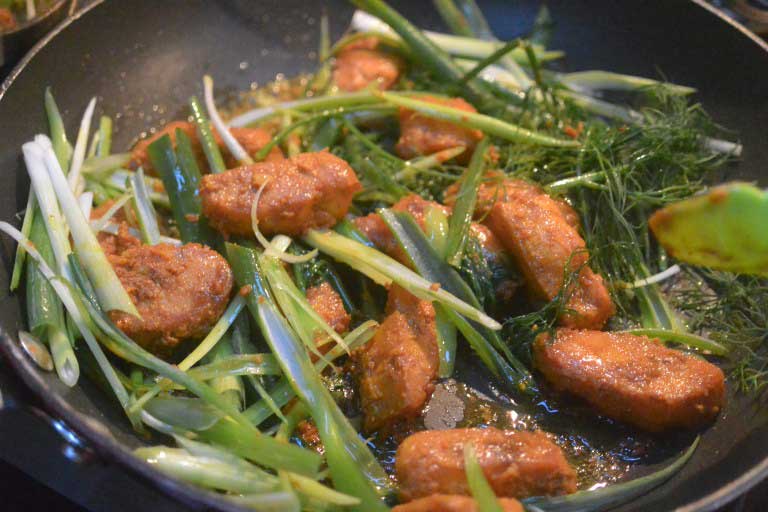 7. In a large skillet, heat up the canola oil. Fry the snakehead pieces for one to two minutes per side. Add the dill and scallions, turn off the heat, and stir the ingredients together until the greens have softened a bit.
8. With tongs, place the Cha Cá Lã Vong on each plate, on top of the noodles. Add chopped peanuts, minced cilantro, Thai basil, and mint on top, and serve with spoonfuls of nuoc cham.
Nuoc Cham:
9. Juice 1 lime. Press the garlic cloves and mince the cayenne peppers. Combine all ingredients in a jar and shake well. Refrigerate.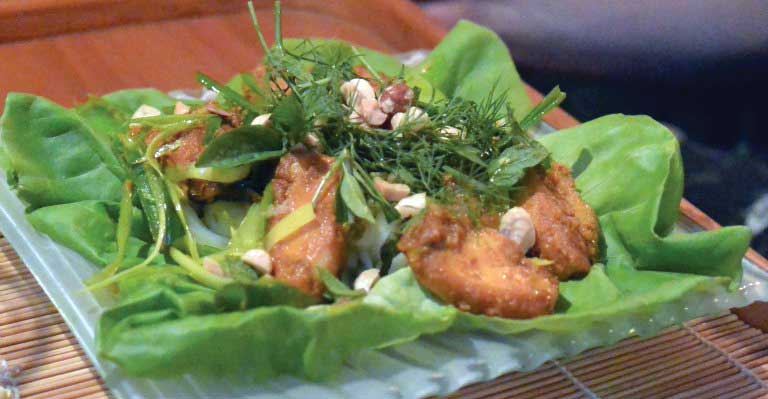 For our Oysters Rockefeller recipe, click here.