It is shaping up to be a jam-packed weekend on the Chesapeake Bay! In Maryland and Virginia there will be powerboat racing, fishing tournaments, clean ups, and more. What's on your calendar?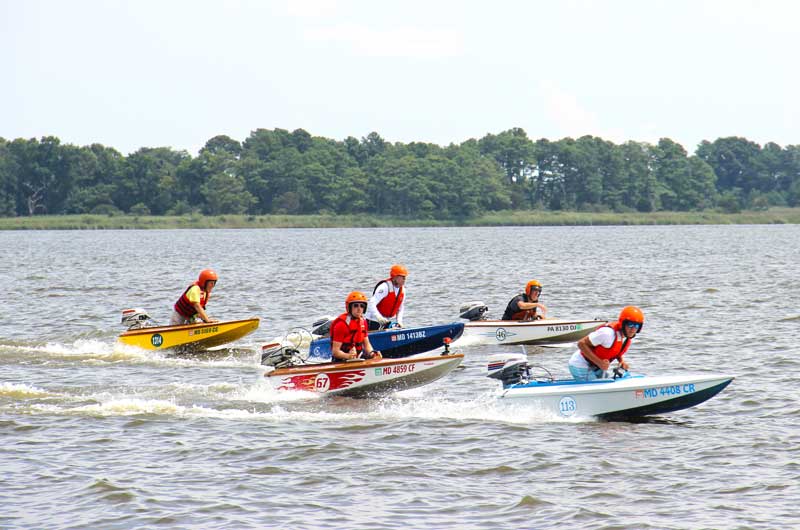 September 21: Maryland Rod and Reef Slam
This fishing tournament is a little different: you don't just win by catching the biggest fish. Prizes will be awarded for how many species you catch, and then how big your fish are. This tournament celebrates variety, and the return of some of these great reef species that we've been missing.
The tournament focuses on six restoration areas: the MARI Tilghman Island Reef, Clint Waters Reef at Cooks Point, the Harris Creek, Tred Avon, and Little Choptank oyster sanctuaries, and the reef balls at the Bill Burton Fishing Pier. Multiple partners have worked together to build these reefs, including the NOAA Chesapeake Bay Office, Coastal Conservation Association Maryland, Chesapeake Bay Foundation, and Maryland Department of Natural Resources.
Entry fee is $40 per individual, $120 per boat (up to six people). Only $10 to get into the after party with food, live music, giveaways, demonstrations, and activities for the kids at Lowes Wharf Marina Inn in Sherwood, MD. Register at cbf.org/slam
September 21: Cocktail Class Commodore's Cup
The Cocktail Class Wooden Boat Racing Association (CCWBRA) will host its first ever Commodore's Cup at Maryland Yacht Club in Pasadena, MD. Races begin around 10:15 a.m. with classes for men, women, and youth. Spectators are welcome! PropTalk's Molotov will be out on the course racing. There are currently two boats for sale if you're looking to jump right in to the racing action.
September 21-22: 12th Maryland Lighthouse Challenge
10 lighthouses, one lightship, two days for the 12th annual Maryland Lighthouse Challenge. Mandatory lights include: Concord Point, Seven Foot Knoll, Lightship Chesapeake, Hooper Strait, Choptank River Replica, Drum Point, Cove Point, Piney Point, Point Lookout, Fort Washington, and Sandy Point Shoal Lighthouse. Bonus lights include: Millers Island Lighthouse and the Blackistone Ligthouse replica. 
Complimentary souvenirs will be given at each challenge location. You are welcome to visit any number of lighthouses along the Challenge route, but you will have to visit all mandatory stops to be able to proclaim "I've seen the lights!" and collect a specially designed souvenir to mark your accomplishment.
Find driving directions and updates at cheslights.org. 
September 21-22: 94th Annual Hampton Cup Regatta
The 94th annual running of the Hampton Cup Regatta, the oldest continuously run motor sport event in America, takes place September 21 and 22 in Hampton, VA. This year's event will run concurrently with the Summer Nationals. Between 60 and 70 teams in 12 different classes are expected to compete. 
September 21-22: International Coastal Cleanup Day
CCA Maryland has partnered with several organizations throughout the state to help bring awareness to the issues of single-use plastics and marine debris and to help with participation at each cleanup site statewide. For more details on each cleanup site and to register, visit CCA's Facebook event. 
Eastern Shore sites (8 a.m. to 12 p.m. Saturday, September 21): Romancoke Public Landing and Pier, Kent Narrows Public Landing and Pier, Old Love Point Park, Ferry Point Park, Terrapin Beach Park, Centreville Public Landing, Hemingway's Restaurant Beach, Matapeake Beach, and Matapeake Fishing Pier. 
Washington, DC (10 a.m. to 12 p.m. Sunday, September 22): Pierce Mill
Annapolis (Saturday, September 21): TBD
Baltimore (9 a.m. to 12 p.m. Saturday, September 21) - Help clean up and earn beer! (Must be 21 for beer; Trash Free Maryland and Blue Water Baltimore): Gwynns Falls Trail, Highlandtown/Baltimore St., Johnston Square/Ambrose Park, Jones Falls/Medfield, Greater Charles Village, Belair-Edison.
Upcoming: 
September 24-28: TrawlerFest Baltimore
September 26: Barkin' on the Bay Cruise
October 3-6: U.S. Powerboat Show in Annapolis