It's never too early to start planning for fall boat shows on the Chesapeake Bay in Annapolis. The U.S. Powerboat Show roars into town October 11-14 with more than 650 boats expected! Need more convincing? Check out our Top 10 Reasons to Attend the U.S. Powerboat Show. For tips on where to eat and fun things to do while you're in town, check out our Local's Guide to Annapolis.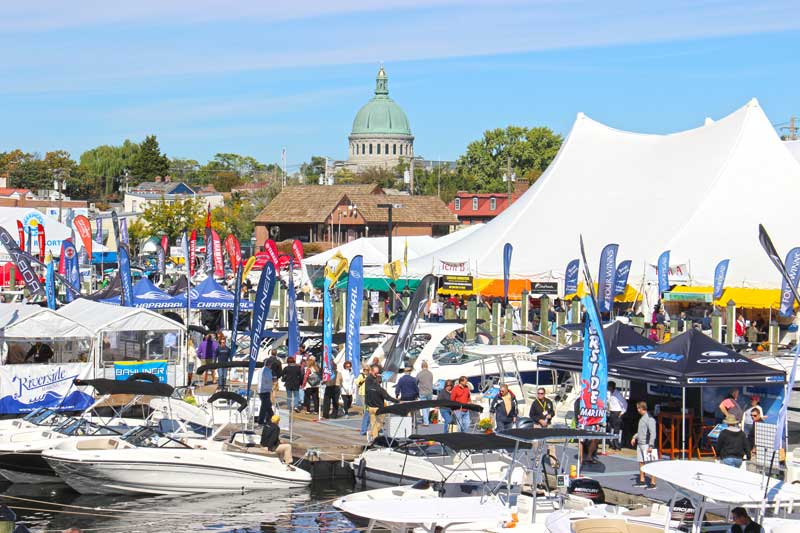 Dates and Times
Thursday, October 11 (Preview Day): 10 a.m. to 6 p.m.
Friday, October 12: 10 a.m. to 6:30 p.m.
Saturday, October 13: 10 a.m. to 6:30 p.m.
Sunday, October 14: 10 a.m. to 5 p.m.
Tickets
Thursday, Preview Day: $35
Preview Day + Additional Day: $48
Adult One Day: $18 in advance, $20 at gate
Adult Two Day Combo: $31
Children: $5 (6 and under free)
Tickets may be purchased at the gates or online and printed at home. No pets, and for safety reasons, strollers are strongly discouraged.
Details
Parking
Parking downtown is limited. We suggest parking for $10 at the Navy-Marine Corps Memorial Stadium and taking the free shuttle bus to the show. Buses run continuously from 9 a.m. until one hour after the show closes. Parking is also available at Eastport Elementary School for a fee; it's only a short walk across the Spa Creek Bridge to the show. You can also park at local Annapolis garages with transport to the show via the City Circulator.
Getting Around
On land, use Annapolis's Circulator trolley for $1. Regular stops at City Dock and Church Circle, or just raise your hand to hail it anywhere along the route. Goes to all four city garages. On the water, we love the water taxis; catch it at the water taxi stop between the Marriott Hotel and Spa Creek Bridge, or call (410) 263-0033. You can even hail "water taxi" on VHF radio channel 68. Rates are $3 to $8 per person depending on destination. Check online at cruisesonthebay.com and click to Water Taxi for an updated schedule closer to show time.
Meet Team PropTalk
We'll be in our usual spot, Booth F7, along Ego Alley. Stop by during the show and enjoy popcorn and happy hour in the evenings with our writers, editors, publishers, graphic designers, distribution drivers, and photographers. We love to meet our readers!
Bathrooms
Fancy port-a-johns are centrally located within the show. However real toilets are located on the first floor of the Harbor Master;s office, just outside the show gates. They're free and open to the public.
---
New and Exciting Boats
Belzona 400
The 400 is Belzona Boats' first 40-foot center console. The 400's open design makes for a boat that's exceptional for entertaining and fishable from end-to-end, all while providing a beautifully clear view of the horizon at the helm. Classic body lines combine with show-stopping innovations and features, like the patented Easy Open sliding gunnel doors, moisture-wicking forward-facing windshield, and sprawling modular seating with customizable upholstery and stitching. Dock B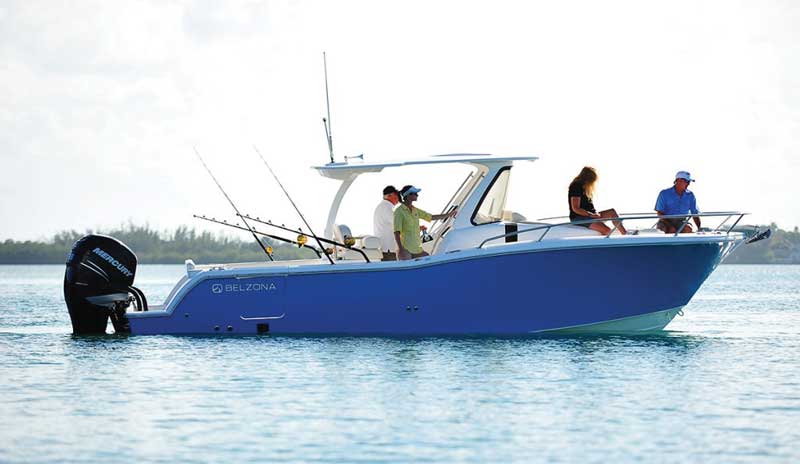 Puffin Edendriver
Puffin Boat Company draws on Maine boat-building traditions to deliver quality and durability for boaters who prefer the unique over mass production. Standard features on the Edendriver include hydraulic steering, bait well with pump, a Yeti 35 cooler, and in-rail navigation lights, among other features. Edendrivers are 17-feet long and powered by a 70-hp Yamaha outboard. Land 49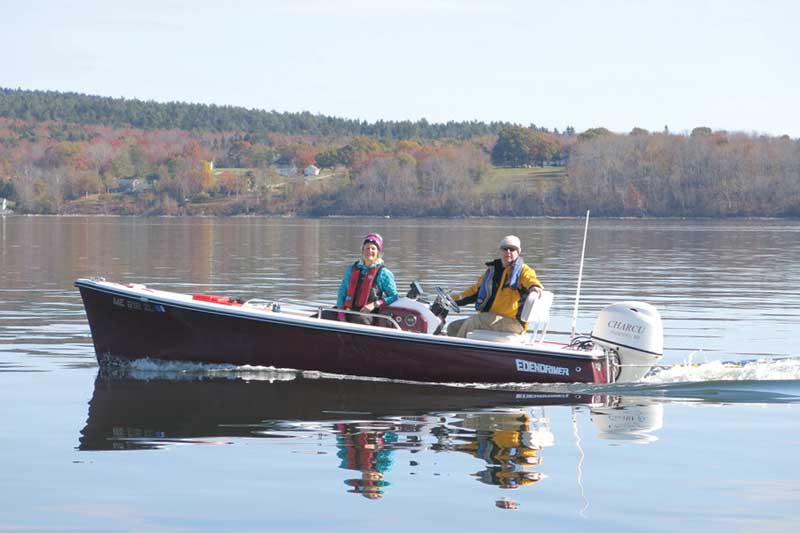 Grady White Canyon 336
Attention to detail makes the Canyon 336 a solid saltwater sport fishing machine. This 33-foot center console is featured with the new 425 Yamaha four-stroke, pearlescent white Yamaha engines. This beamy boat has innovative helm seating, a huge cockpit, and a big console with berth. This boat has two insulated fish boxes and a rigging station with freshwater wash-down and a livewell. The lockable console has a stand-up head, shower, sink, and berth. A side door with boarding ladder is optional. Dock I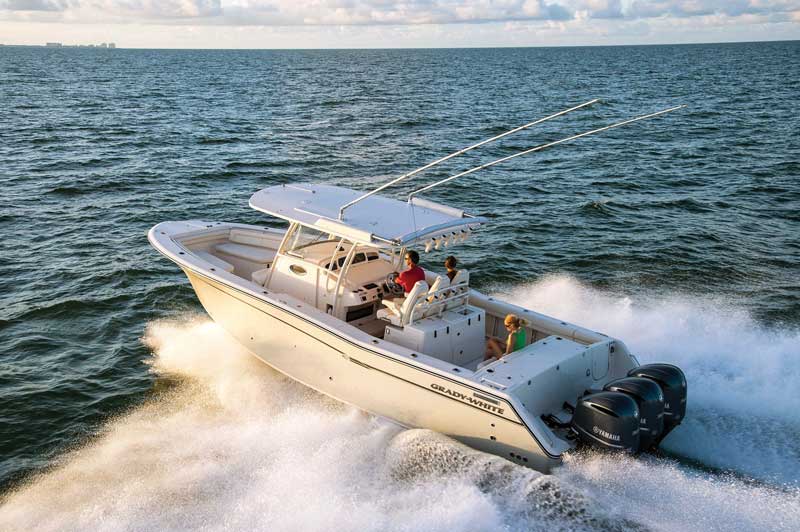 HYSUCAT 28 and HYSUCAT 23
Foiling Ribs, the exclusive U.S. Hysucat dealer, will display the HYSUCAT 28 and 23 RIBs (Rigid Inflatable Boats). The Hysucat name is a composition of the words "hydrofoil supported catamaran." Foils enhance performance resulting in significant reduction in engine horsepower, which means increased fuel efficiency. With an advanced catamaran hull and foils that raise most of the boat above the water, these powercats produce minimal wake. Twin 115-hp engines propel this vessel to 50 mph at full speed. Dock K2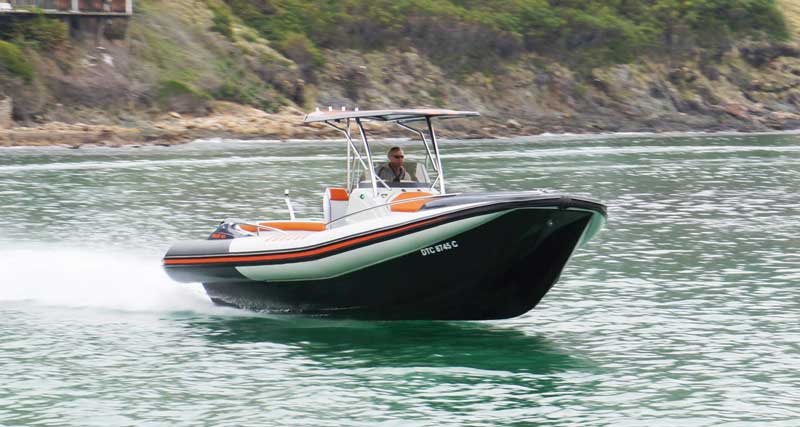 Boston Whaler 380 Realm
Boston Whaler launches this new family of boats designed to deliver all the open-cockpit versatility of a center console and the comfort-minded amenities of a cabin cruiser. This boat's special features will enhance fishing, diving, and entertaining. With an outdoor built-in grill and cooler under cockpit seating, the below-decks area has plenty of room for a V-berth and stand-up head. State-of-the-art navigation and propulsion technology add to ease of operation for this new Whaler. Dock J
Bertram 61
Bertram 61
Taking the sportfishing line into the future while paying homage to the original Bertram 54, the new 61 is designed and fully equipped for tournament sportfishing, while offering luxury accommodation for those looking for a fast and smooth long distance ride. The open galley-saloon layout features a custom, frameless, near military-grade wraparound window, allowing a 360-degree view of the horizon. The Seakeeper 16 gyro stabilizer and Propspeed coated running gear are just two of the standard specifications that set this boat above the industry standard. Dock E1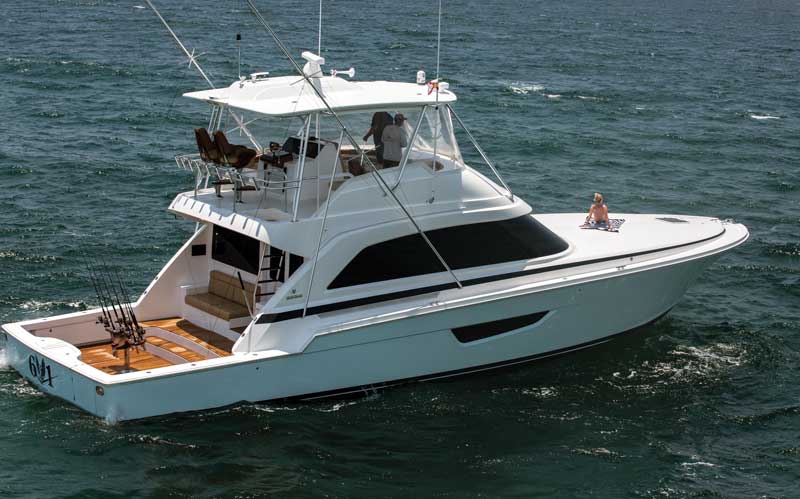 Beneteau Barracuda 27
With its four-seat forward lounge, large walkways and protective pulpits, the Barracuda 27 delivers both safety and comfort. Her panelled freeboards promise comfort during fishing trips, while a starboard side access gate makes drawing alongside and climbing aboard easier. With the latest Airstep hull, the Barracuda 27 is as comfortable to live aboard as it is easy to handle. Powered by two engines delivering up to 500 hp, two fuel tanks are available. You can confidently put out to sea with up to 10 people on board. Beneteau America will have the Barracuda on Dock F2, along with the Azure 27, GT 40, MC 5, Swift Trawler 30, and Swift Trawler 44.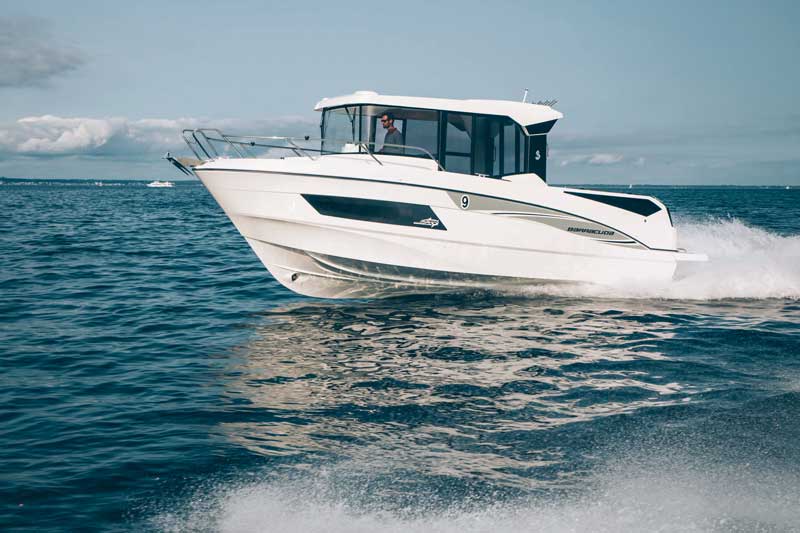 Axopar 28 Cabin
Less sportsboat, more Gran Turismo, the Axopar 28 Cabin opens up a world of possibilities for extended voyages and longer average journey times and with the Aft Cabin option, this is the biggest selling Axopar model so far. East Coast Yacht Sales will be exhibiting the Axopar 28C and 37E - find them on Dock B.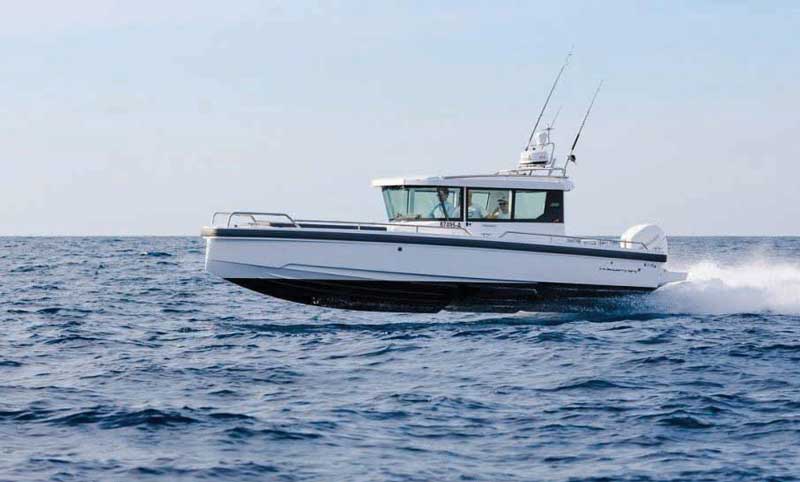 Hylas M44
Hylas Yachts International LLC will be exhibiting the Hylas M44 on Dock D. Strong, capable, and comfortable are synonymous when describing the new Hylas M44 power yacht. Collaborating with globally renowned New Zealand yacht builder Salthouse, this new Hylas design reflects the finest handcrafted quality and tradition that power boat owners have come to revere and expect. The new M44 offers fuel efficiency, functional design, and maximum space while providing the power and performance that is unprecedented.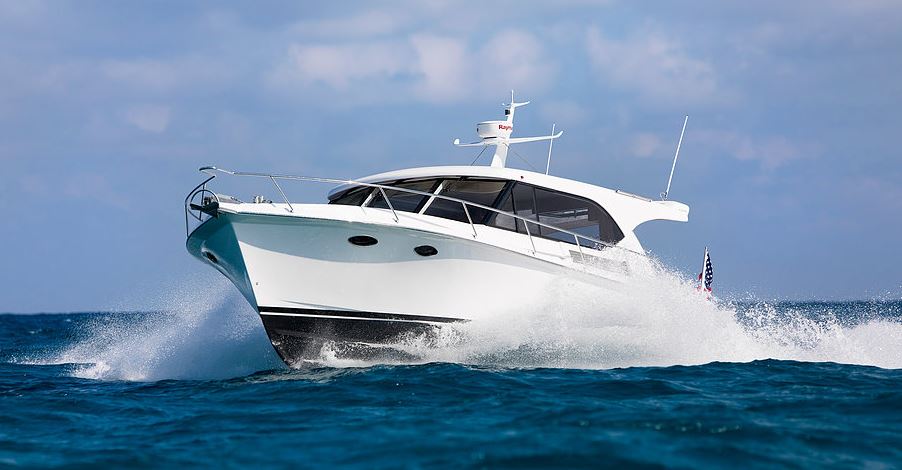 Lekker Boats
Lekker Boats USA will be exhibiting the Lekker 24 on Dock D. When designing these boats, Lekker combined the comfort and socializing aspect of the well know "sloep" design in Amsterdam with the striking power and durability of speedboats in Sydney.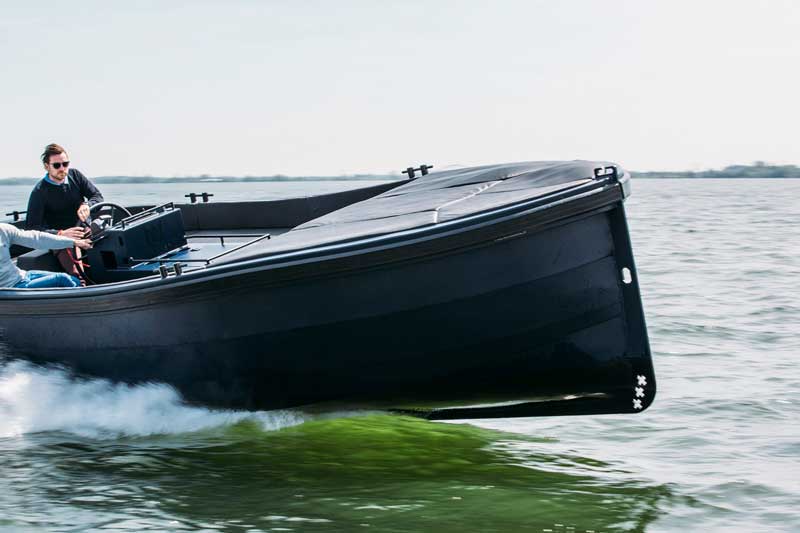 Keizer 42
Chesapeake Yacht Center will be exhibiting the Keizer 42 on Dock C. The Keizer 42 combines beauty, style, comfort, great seakeeping, and large interior spaces. In a runabout, the interior space is generally limited but not on the 42; she has the largest open cockpit of its market segment. Because of the hull design the Keizer 42 offers a very stable and dry ride. Getting on to the plane is extremely smooth with no use of trim tabs needed and cornering at high speeds is a joy to experience.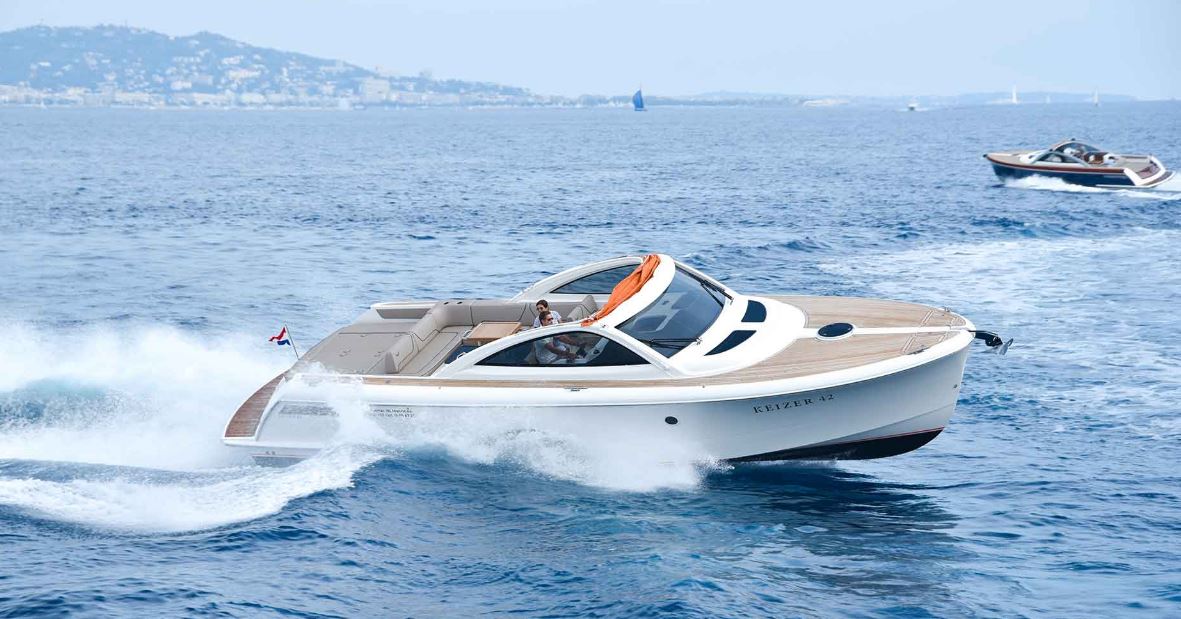 Back Cove 340
Back Cove Yachts will be bringing the 32, 37 DE, 41, and the 340, the first Back Cove with outboards, to Dock F2. The 'O' in 340 is for outboards. Her entirely new hull, fitted with standard bow thruster and designed specifically for outboard propulsion, offers cruise and top end speeds approximately 10 knots faster than the traditional single diesel engine.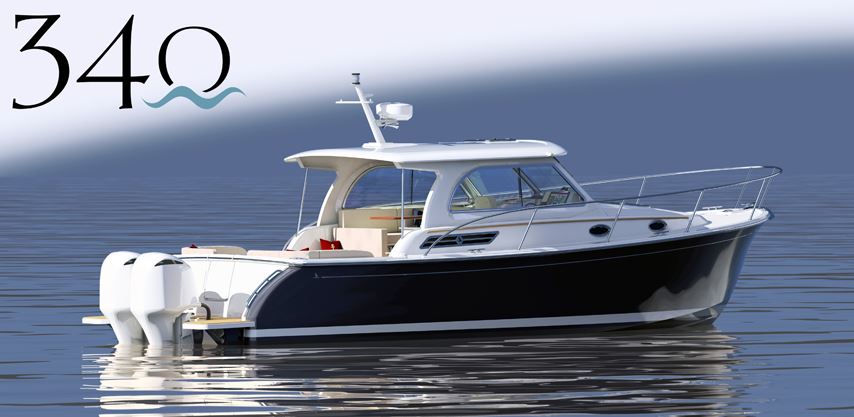 Aspen Powercat
Aspen Power Catamarans will be exhibiting the Aspen C100 and the C120 on Dock K1. The 10,000 Mile Journey: From May 2017 to October 2018 the owners of a brand new C120, David and Sue Ellen, will take their new 40 footer on a journey of epic proportions. Partnering with Aspen and David's brother-in-law, Blake of Bristol Boat Delivery, the team will deliver the C120, Knot Wafflen', 10,000 miles from the Pacific Northwest to Annapolis, MD. The goal of the trip is to demonstrate the strength and all-weather capabilities of Aspen Power Catamarans. Stop by their booth at the show to hear how the journey went!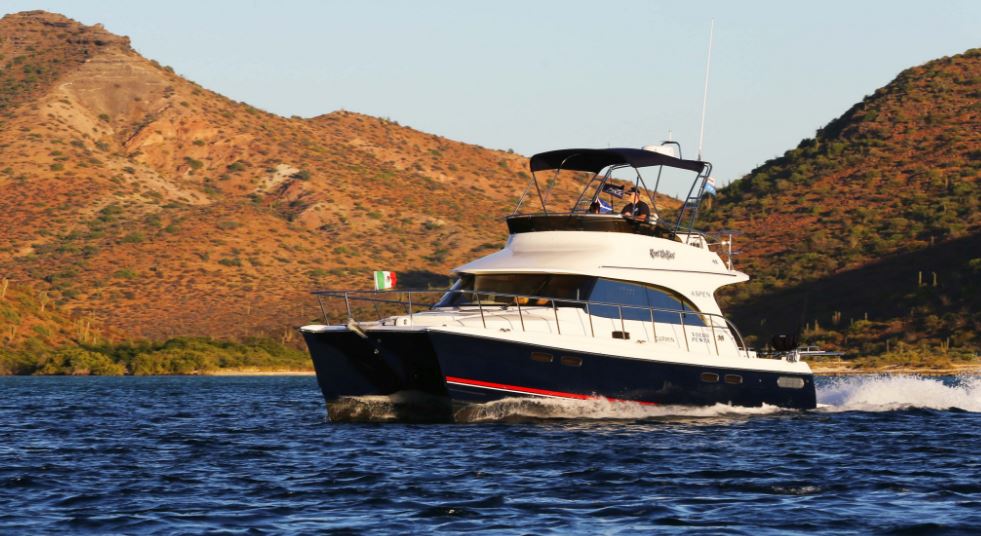 Try Before You Buy: Demo Dock
Because there's nothing quite like taking a ride on a boat that interests you, the Powerboat Show provides a demo dock. Among the boats show goers can try is the Brig Navigator 610, designed and built with adventure in mind. A reinforced deep-V hull, wide console, comfortable helm seating (or optional ergonomic jockey seats), and rear bench seat give this boat a stunning ride, even at speed. Other boats and engines you can demo will be the Contender 34 stabilized by a Seakeeper, Yamaha 242 Limited S, Maycraft, Northcoast 26, Powerplay 30, Clearwater 25, and Yamaha and BRP Evinrude outboards. Dock K1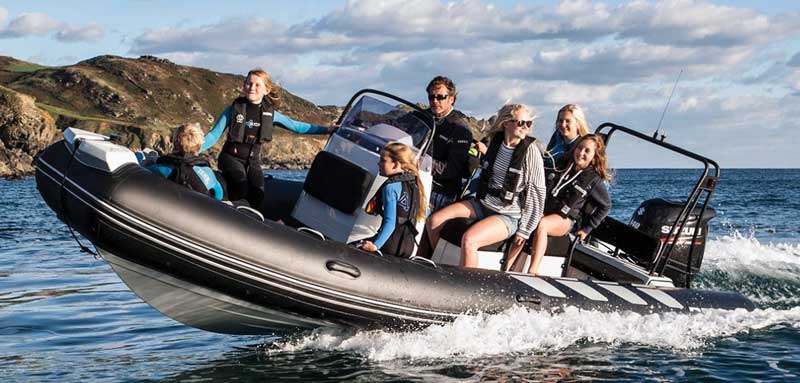 ---
New Products
Boatgirl Bags and Apparel
Boatgirl offers a line of bags that blend superior materials and top quality craftsmanship with brilliant designs and styles. The collection consists of six designs, ranging from a small zippered pouch to a large weekender bag. Boatgirl uses Sunbrella Marine Canvas on all tote and weekender bags. Each bag is designed for use in or around the water, with stainless steel hardware rings for securing the bag to a boat, clipping valuable items to the outside of the bag, and securing keys just inside. The Boatgirl Weekender recenetly received an honorable mention in the Style category of the 2018 Made in NC Awards. Apart from bags, Boatgirl also has a line of apparel, including performance shirts, tees, tank tops, and hats. Find them in Tent space C13.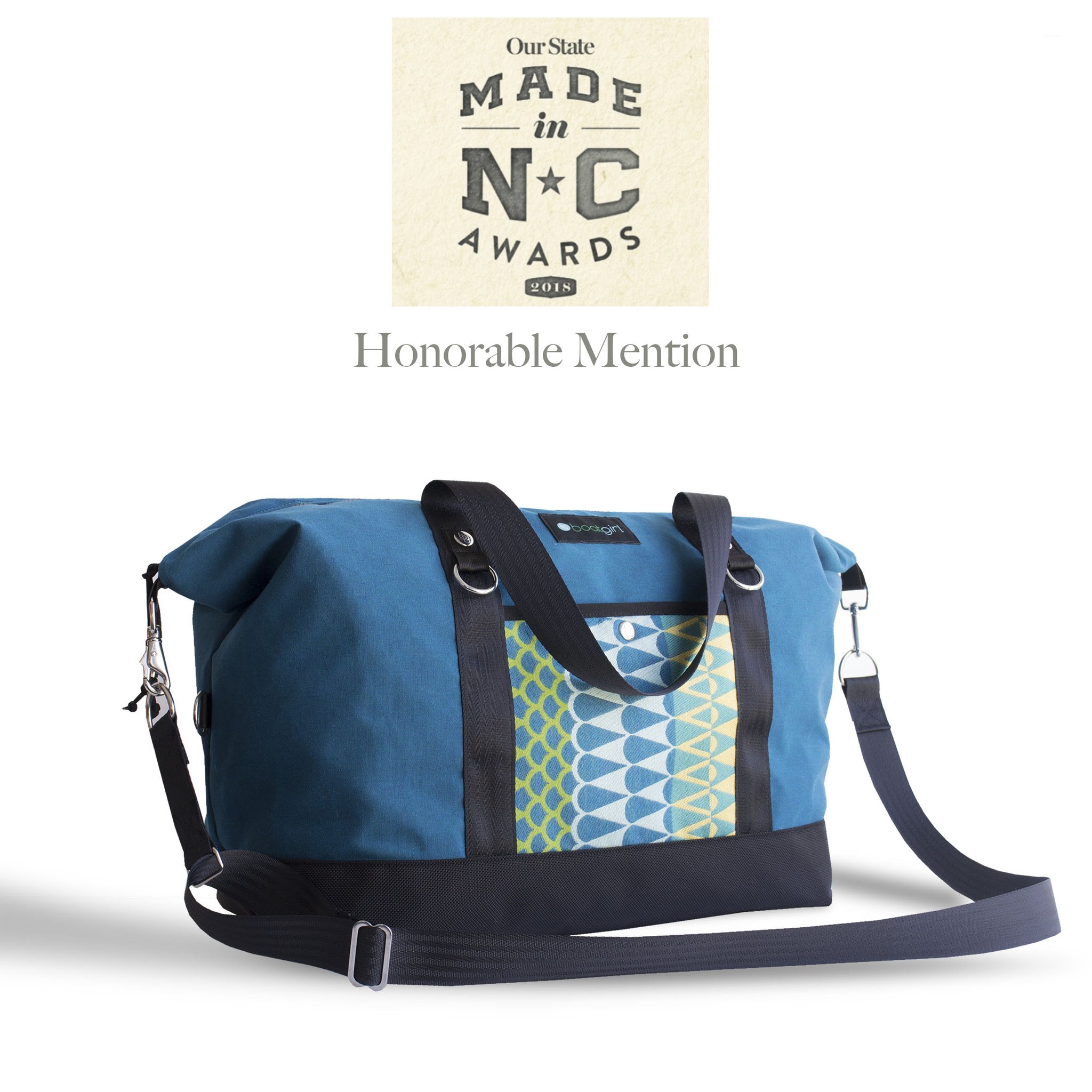 FAB Dock
FAB Dock dry docking solutions are designed to make boating easy, keeping your boat clean and dry, so you can enjoy everything the boating lifestyle has to offer, hassle free. In addition to saving money and time, berthing your boat will never be easier, simply use your FAB Dock as a bumper to guide you in and reduce the risk of damage to your boat. FAB Dock uses inflatable technology and submersible pumps to keep boats dry. It is affordable, portable, and customizable to any vessel length and type. Find them in Tent space D15, D16.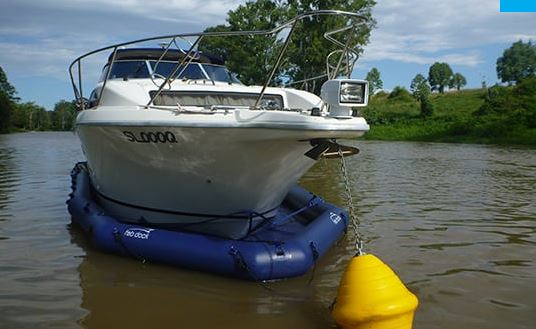 Monster Cooler
The Monster Cooler is the most versatile, highly engineered, lightweight, indestructible, soft, comfy feeling and most insulating beverage coozie ever made. The Monster Cooler fits the most popular sizes of both cans and bottles ensuring that your last sip is as pleasurable as your first sip, and they float! Find the Monster Cooler at the Fathom It Distributing booth in Tent space AB9.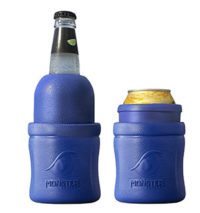 The Monty
The Australian Walkabout Cooler Bag has been the best-selling cooler bag in America since 2007. In 2017 the company added twin D-rings at the top of the bag to make it easy to clip your keys, coozies, sunglasses, camera gear, sporting gear, or anything else you wish to carry, in a convenient quick-grab spot. It will keep hot items hot for 4-5 hours and cold items cold for up to 6-8 hours. Add a reusable freezer block to keep the contents refrigerator cold for up to 24 hours. Find Cape Woolamai Mercantile Co. in Tent space C42, C44.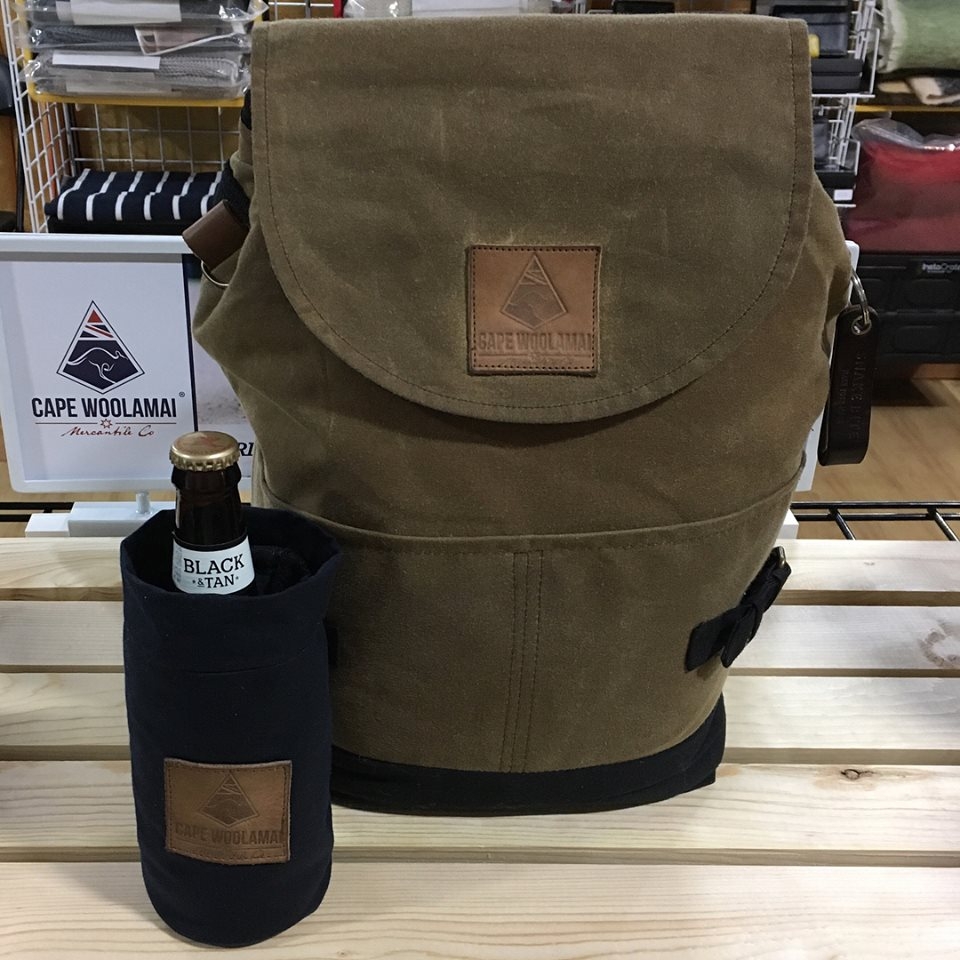 Pretty Rugged Blanket
The Pretty Rugged Blanket was designed by the great great Granddaughter of Joshua Slocum, the first man to solo circumnavigate the world. Plush faux fur and weatherproof RuggedTex fabric are the perfect marriage of modern, easy-care materials, designed to provide years of luxury, performance, and style. The blanket is available in full size, pet, and baby in mink, sable, fox, white, pink, navy, and baby blue colors. All blankets come packed in an easy-to-carry waterproof duffle bag. Find Pretty Rugged Gear at Tent D70.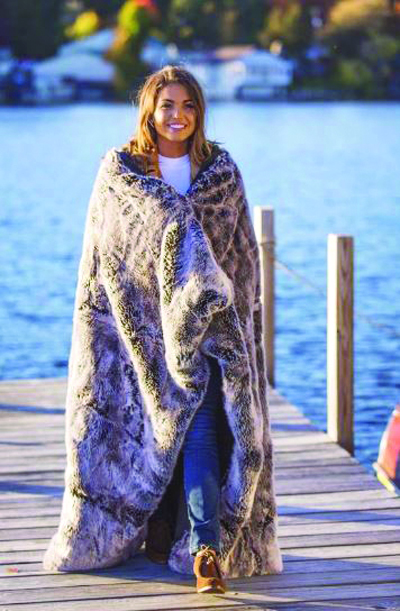 ---
Seminars and Special Events (Inside and Outside of Show Gates)
Cruisers University
The Cruisers U curriculum addresses a complete range of cruising topics for all levels and experience to help you prepare to live aboard a boat and begin your boating adventures with confidence. Tuition packages vary from one to four days; October 8-11. Most packages are SOLD OUT—please call (410) 268-8828 for waitlist and possible one day registration for Wednesday, October 10 and Thursday, October 11.
Free Seminars on Boating
Held hourly from 11 a.m. to 4 p.m. on Friday, October 12 and Saturday, October 13 in the Arnold Room of the Annapolis Waterfront Hotel. Registration will be held each day beginning at 9 a.m. outside of the Arnold Room. Topics include Getting Your Captain's License, Marine Diesel Basics, Navigating the ICW, Docking De-Stressed, and more.
BoatUS Foundation On-Water Training
The BoatUS Foundation is offering three courses to learn boat-handling techniques, including centering the wheel, shifting, steering and throttle control, stopping, station holding, and more.
Intro to Boating and the ladies-only course, Women Making Waves, are taught aboard 20-26 foot powerboats provided by Freedom Boat Club of Annapolis. Both courses are three hours long, costs $149, and include show admission. Offered Thursday, Friday, and Saturday at 10:30 a.m., 11 a.m., 2:30 p.m., 3 p.m., and Sunday at 10:30 a.m. and 11 a.m. The third course, Junior Captain, is for teens ages 13-19. This is a 90-minute course, costs $99 and includes show admission for the enrolled teen and parent. The course runs Thursday, Friday, and Saturday at 10:30 a.m., 11 a.m., 12:30 p.m., 1 p.m., 2:30 p.m., 3 p.m., and on Sunday at 10:30 a.m. and 11 a.m.
Manufacturer's Owners Parties
Many of the big-name boat manufacturers will host owner's parties. These are generally "invite-only," but if you're a serious buyer or already an owner, inquire with your yacht broker about special events. This is one of the many ways manufacturers and dealers are encouraging rendezvous and socializing among would-be owners.
27th Annual Weems & Plath Tent Sale
This annual sale offers a slew of savings on discounted, overstock, and sample items, including fine navigation tools, clocks, barometers, lamps, binoculars, compasses, and much more. Ten percent of all sales on Saturday, October 6 will be donated to Chesapeake Region Accessible Boating (CRAB). And as in years' past, Weems & Plath is offering free shuttle service to and from its store in Eastport to the Annapolis Boat Shows.
Hours are: October 4 and 5 from 8:30 a.m. to 7 p.m., October 6 from 9 a.m. to 6:30 p.m., October 7 from 10 a.m. to 6:30 p.m., October 8-10 from 8:30 a.m. 5 p.m., October 11 from 8:30 a.m. to 6 p.m., October 12 from 8:30 a.m. to 6:30 p.m., October 13 from 10 a.m. to 6:30 p.m., and October 14 from 11 a.m. to 5 p.m.