Huzzuh! The boat shows are back! After a year away from the Annapolis fall boat shows, the fall events in Annapolis, it feels so good to be back in planning mode. At print time, we are a little over a month out, so that means tracking down new boats and products, catching up with fellow exhibitors, and getting ready to once again welcome all of you to our booth after a long hiatus.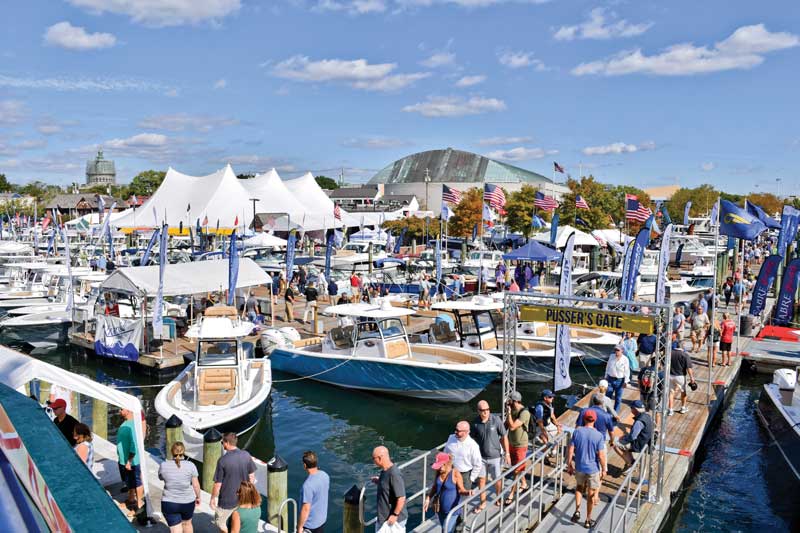 The boat shows mean different things to different people. Perhaps they are a tradition, an annual fall pilgrimage to Annapolis. Or perhaps you're attending for the first time with dreams of buying a boat one day (we've all been there). Or maybe this is the year you're actually going to buy the boat instead of just dream. Maybe you just like walking the docks on a crisp fall day sipping Painkillers (guilty).
Whatever it is that draws you to the U.S. Powerboat Show, you can rest assured you will be among kindred spirits. We always joke that this show is like Christmas for boaters, and for good reason. A floating city full of hundreds of shiny, new boats appears practically overnight in downtown Annapolis, and just like that jolly man in a red suit, it's gone just as quickly as it arrived, making room for the U.S. Sailboat Show a few days later.
Because of the ongoing pandemic, it has been a little harder this year to nail down which specific boats will be on the docks, but rest assured, we will continue to update this page just as soon as word is announced.
In regards to Covid restrictions, the U.S. Powerboat show will adhere to all state and regional mandates. At press time, there were no restrictions to outdoor events or masking requirements in the state of Maryland. However, visitors who take the shuttlebus from the Navy-Marine Corps Memorial Stadium to the boat show must wear masks on the bus. Within the show, there will be hand-washing stations and extra porta-potties. Stay tuned for any further updates here.
October usually brings stunning weather to Maryland, and you won't find a prettier or more interesting place to explore than this historic town of Annapolis. 
Need more convincing? Check out our Top 10 Reasons to Attend the U.S. Powerboat Show. For more information on Maryland's capital, visit our See the Bay: Annapolis.
We hope to see you there!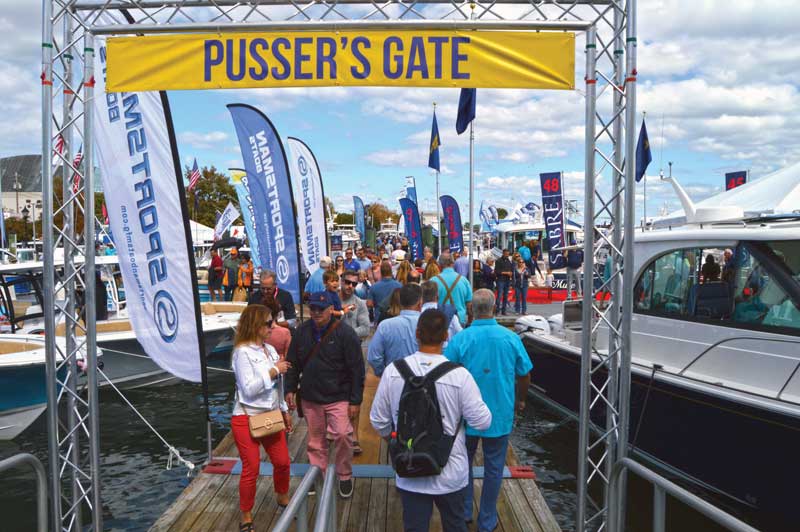 Dates and Times
Thursday, October 7: 10 a.m. to 6:30 p.m.
Friday, October 8: 10 a.m. to 6:30 p.m.
Saturday, October 9: 10 a.m. to 6:30 p.m.
Sunday, October 10: 10 a.m. to 5 p.m.
Tickets
Preview Day: $35
Preview Day Combo: $50
Two Day Combo: $35
General Admission Adults: $20
General Admission Children ages 7 to 12: $10
Children under 6 are free
VIP Experience:
Presented by LaVictoire Finance
With Parking—$150 ticket includes Boat Show admission, reserved parking at Eastport Elementary (short walk to the boat show entrance), and exclusive access with unlimited entry into the VIP Lounge, an elegant lounge with comfortable seating, delicious complimentary cuisine, wine, beer and spirit tastings. Valid for one day only.
Without Parking—$125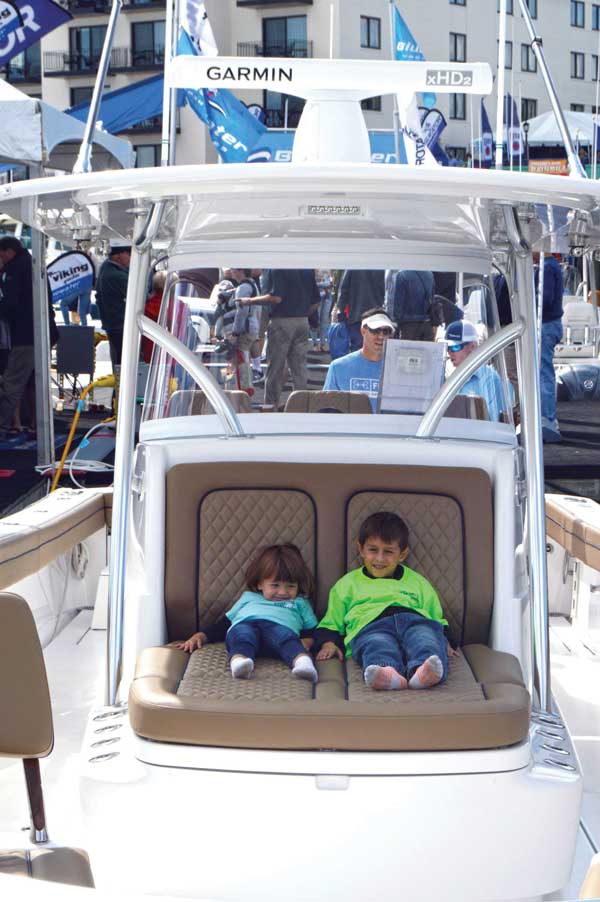 Parking
Boat show visitors are encouraged to park at the Navy-Marine Corps Memorial Stadium and take the free shuttle bus from the Navy Stadium to the United States Powerboat Show. Buses run continuously from 9 a.m. until one hour after the show closes. Stadium parking costs $20 per car and $40 for bus/motorhomes.
Stadium GPS Address: 230 Farragut Road, Annapolis MD  21401​ – Gate 2
Directions to the Navy-Marine Corps Memorial Stadium: Take Route 50 to Annapolis/Rowe Blvd (exit 24). Follow signs along Rowe Blvd. to the Navy-Marine Corps Memorial Stadium. 
Parking is also available at Eastport Elementary which is walking distance from the show. GPS Address: 401-405 6th Street Annapolis, MD 21403
Another option is to park in an Annapolis City public garage and take the free Annapolis Circulator. Annapolis street parking is limited to two hours.
Getting Around
On land, it's easy to hop on the Circulator, Annapolis's free shuttle that has regular stops within the city's business district, including Church Circle, City Dock, Park Place, and all four city garages. The Circulator runs Monday through Saturday from 7:30 a.m. to 8 p.m., and Sunday 8 a.m. to 8 p.m. on a 20-minute interval. Wheelchair lifts and bicycle racks are available on the Circulator. Download the free mobile app named "RLS Shuttle" and select "Annapolis Circulator" to start tracking the shuttle. Find more details at annapolisparking.com. 
On the water, we love the water taxis. The taxis run Monday through Friday from 9:30 a.m. to 11 p.m. and Saturday and Sunday from 9 a.m. to 11 p.m. If you're at the show, the easiest place to catch them is at the water taxi stop between the Annapolis Waterfront Hotel and Spa Creek Bridge, or call (410) 263-0033. Or hail "water taxi" on VHF radio channel 68. Prices are $4 to $9 depending on the destination. The taxis accept cash or water taxi vouchers only. Download the Where in Annapolis app for the official digital guide to the water taxi. The app includes an interactive feature of all 54 water taxi stops.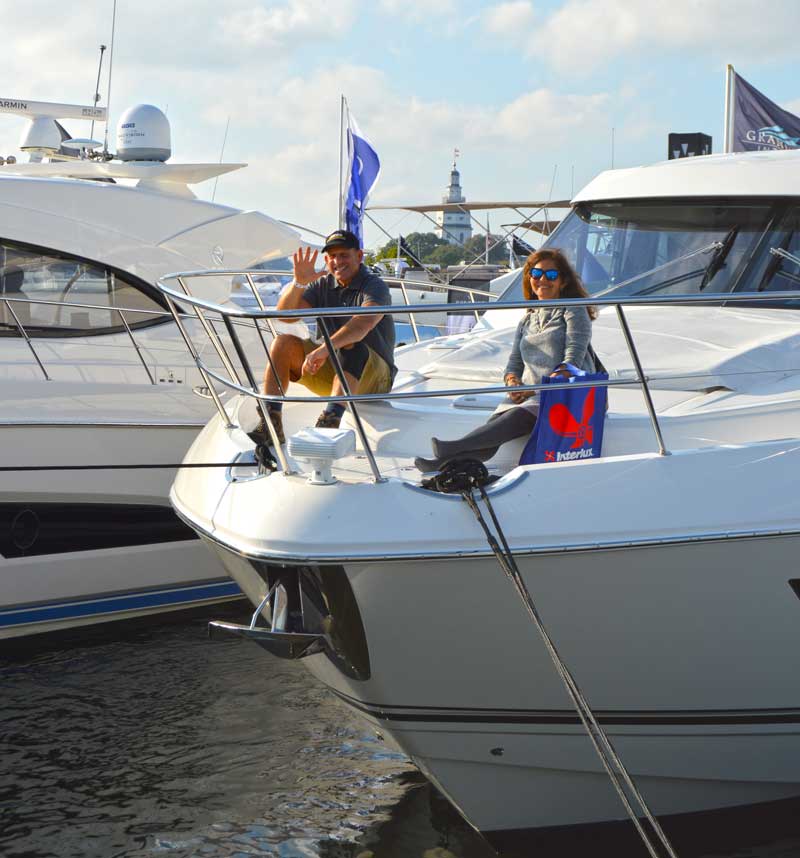 Insider Tips for the Boat Show:
Wear the right shoes: Choose a pair that is easy to slip off and on. Remove shoes when boarding boats. If it's cold or rainy, wear rain boots.
Share and save information: Bring your phone, notepad, pens, boat cards, and business cards to share and save information. Bring photos of your boat projects to show the experts. At the show, snap pictures of favorite boats and cool products. Serious buyers should make appointments with the boat brokers.
Dress in layers: October in Annapolis can be sunny and warm, crisp and cool, or sometimes rainy. Anything is possible. Bring sunglasses, a wide-brimmed hat, a long-sleeved fleece, and a rain repellent top layer.
Bring cash: Many vendors will accept your credit card, but cash is easiest for small purchases. ATMs are available right outside the show. Think coffee, Painkillers, and the small marine gizmos that will catch your eye.
Bathrooms: Fancy port-a-johns are centrally located within the show. However real toilets are located on the first floor of the Harbor Master's office, just outside the show gates. They're free and open to the public.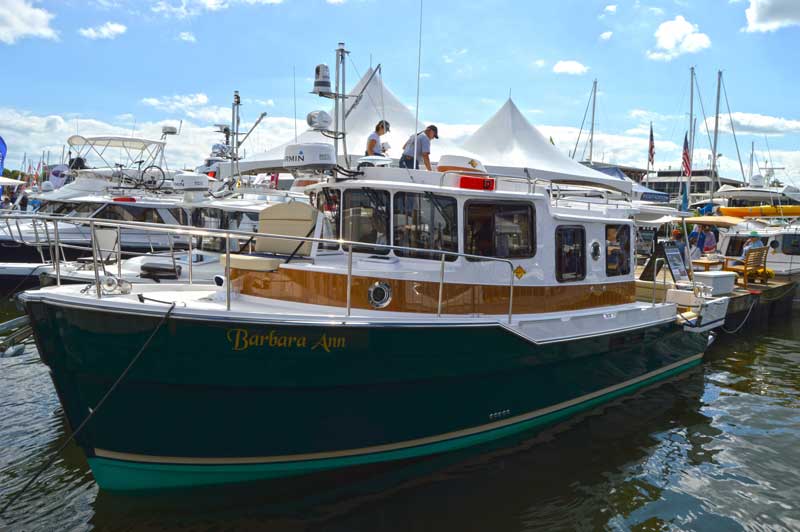 Visiting from Out of Town?
Visit Annapolis is offering a new Stay and Shuttle package this year. Book your stay in the BWI/Arundel Mills entertainment district. Located only 20 minutes outside of Annapolis, and home to Maryland's top attractions, there is no shortage of things to do. As an added bonus, receive free shuttle service directly from your hotel to the Annapolis Boat Shows. Featured hotels include: Residence Inn Arundel Mills BWI Airport, LIVE! Casino and Hotel, and Hampton Inn Suites/Arundel Mills Baltimore. Learn more at Visit Annapolis.
Show Highlights:
Free Tastings
Take a break from walking the docks by stepping into the tasting tent for free cocktail and wine tastings.
Learn From the Experts
Try before you buy on the demo dock or sit in on a seminar with the experts. There's more to this show than just pretty boats. 
Meet Team PropTalk and FishTalk
We'll be in our usual spot, Booth F6/F7, along Ego Alley. We love to meet our readers and can't wait to welcome you back to the boat shows. Stop by any time during show hours to grab the latest issue of PropTalk, FishTalk, and SpinSheet; and meet our writers, editors, publishers, graphic designers, distribution drivers, photographers, and fellow Chesapeake Bay lovers.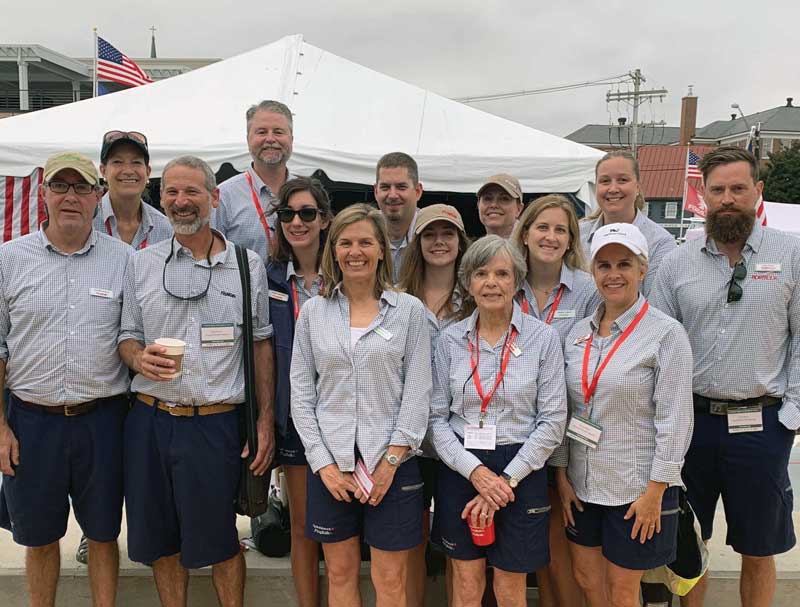 On-Land Exhibitors
On land you'll find the latest in navigational equipment, high-tech electronics, boating accessories, clothing, gear, and related services such as boating clubs, charter companies, insurance firms, and lending institutions. You might just get lucky with special boat show sales and promotions.
Pusser's Painkillers
I mean, come on, is it really the powerboat show if you haven't stopped by Pusser's for a Painkiller (or three?). Pusser's is located just outside the main show gate.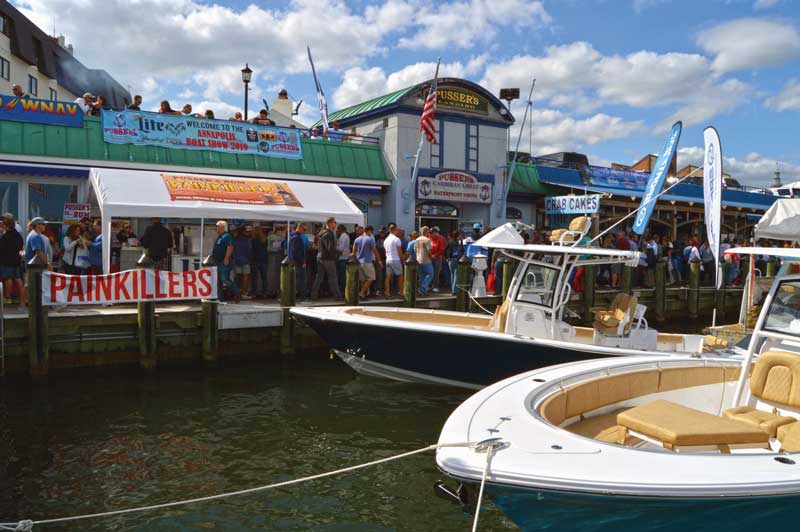 Seminars, On-Water Experiences, and Special Events
People come to the boat shows for a myriad of reasons, one of which is the opportunity to get out on the water and also spend time in the classroom learning from the experts. At press time, these were some of the events planned. Be sure to check for updates at annapolisboatshows.com.
Book Signing with Dave Gendell
Thursday night of the show, October 7, stop by the PropTalk Booth (time TBD) to meet Dave Gendell, co-founder of PropTalk Magazine and author of "Thomas Point Shoal Lighthouse", and purchase a signed copy of Dave's book.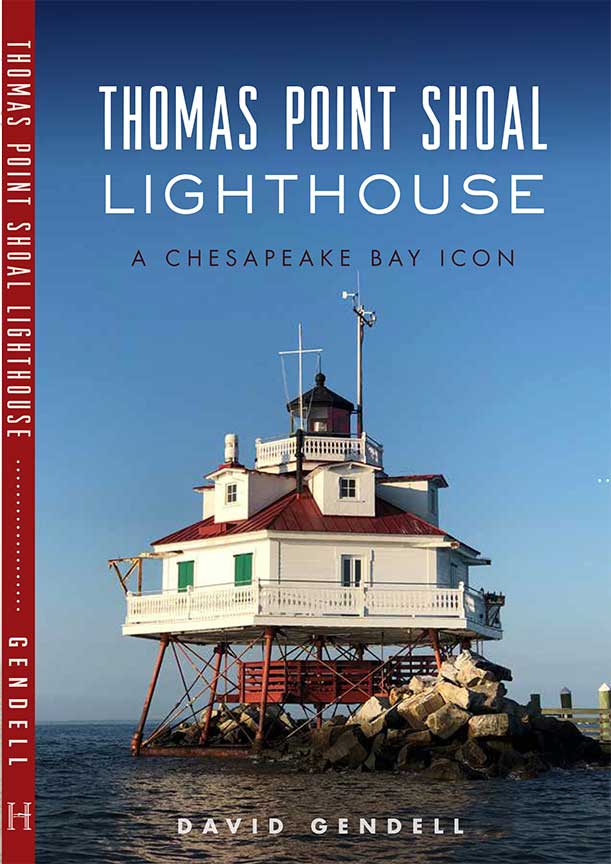 Demo Dock—Try Before You Buy!
Dealers and manufacturers will be conducting demonstrations and sea trials from inside the show at easy to access demonstration docks. Stay tuned for the exact offerings on the boat show website. K Dock
On-Water Training by BoatUS Foundation
The BoatUS Foundation will be onsite leading on-water training during the show dates. The curriculum includes three courses: Intro to Boating, Women's Intro to Boating, and Precision Docking and Boat Handling. Space is limited. K Dock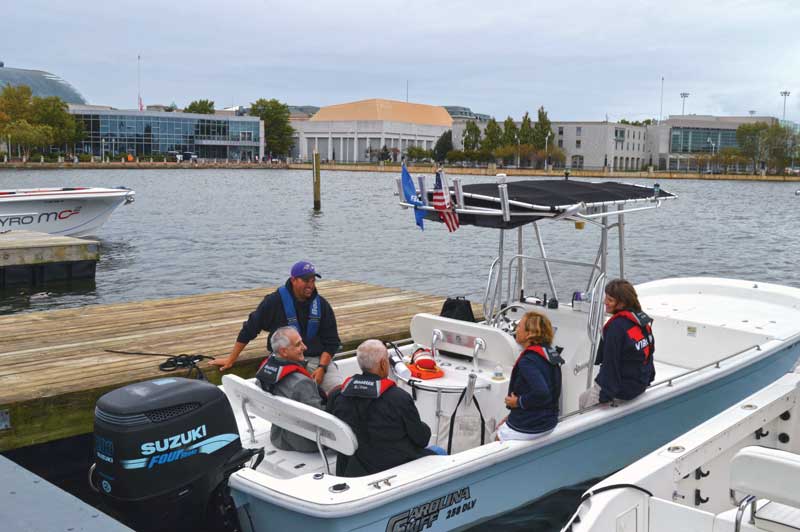 Free Seminars
Experts will host free educational seminars throughout the show for attendees. At print time, the 2021 seminar list had not yet been posted. Look for updates at annapolisboatshows.com. Past seminar topics included: Getting Your Captain's License, Chesapeake Bay Fishing, and Navigating the ICW, among others.
Weems and Plath Tent Sale
The annual Weems and Plath tent sale is back October 7-18, and with huge discounts on overstock, sale, and sample items. There's free parking at the store in Eastport, and after you shop, you can hop on one of the free shuttles over to the boat shows and back. Address: 214 Eastern Avenue, Annapolis. Shuttles start running at 10:30 a.m. and last pick up from the boat shows to return to Eastport is 6:30 p.m. (on Sunday, October 10 and Monday, October 18 the shuttles run until 5 p.m.). Learn more at weems-plath.com.
Cruiser's University: SOLD OUT
Cruiser's University will run October 11 through 17, however it is now sold out. If you would like to be placed on a waitlist for any of the days or seminars, please email [email protected].
---
New and Premiering Boats
With production complicated by the pandemic this year, many exhibitors are still unsure of which new boat they will be able to bring to Annapolis, but PropTalk staffers will try our best to share new boats with you as they are announced. Stay tuned for updates.
Back Cove 372
When the production molds for the Back Cove 37 finally gave out in 2020 due to boatbuilding wear and tear, the Back Cove Design team seized the opportunity to reexamine the 37 with over a decade of owner feedback and recent design advancements in mind. The result was a boat full of fresh details that earned its own designation. Some of the fresh new highlights of this model include: A more efficient 24V DC electrical system with less copper weight, resulting in both a lighter boat and increased run time on the bow and optional stern thrusters; a Cummins QSC 8.3 600hp diesel engine with a seven-inch display as standard and a Volvo Penta D8 diesel with a seven-inch Garmin display as an option; fixed-glazed pilothouse windows replace sliding windows, offering enhanced sightlines; a new aft-facing cockpit seat to starboard; and a reconfigured head with expanded medicine cabinet, sizeable over-sink mirror, and redesigned shower stall. Learn more at backcoveyachts.com. Dock F2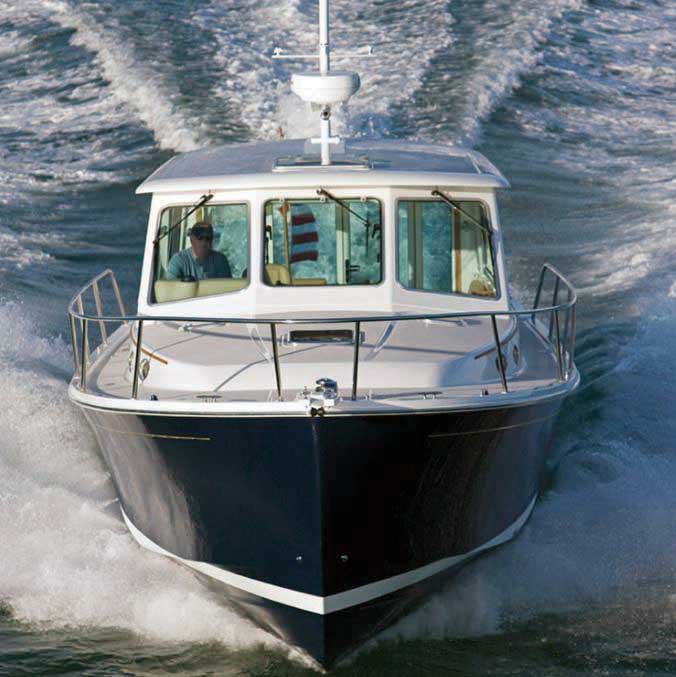 Boston Whaler 420 Outrage
Building on the impressive 50-year legacy of the Boston Whaler Outrage family and the flagship 420 Outrage, the 420 Outrage Anniversary Edition features the latest in propulsion, technology, comfort, and style. The new 420 Outrage is powered by triple 600-hp V12 Mercury Verados with joystick piloting, delivering breathtaking performance and unmatched fuel efficiency. This model offers huge fishability, from the Frostbox refrigeration system, designed to keep every catch ice-cold, to the available upper station and outrigger packages. You'll also find updated upholstery, new colors and finishes, beautiful teak accents, and a black hardtop/frame package with color-coordinated engines. For more information, visit bostonwhaler.com. Chesapeake Whalertowne will be at Land 46, Land 47, and Dock J.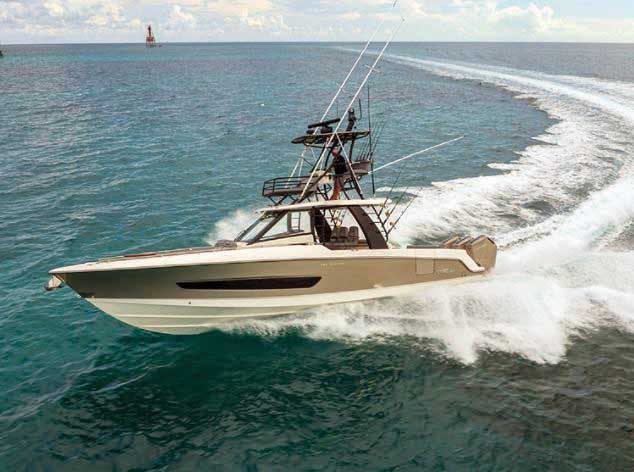 Hinckley 35
The Hinckley 35 was designed from day one as an outboard-powered craft with an optimized hull shape and chines and strakes designed to provide added lift and stability. Powered by twin Mercury Verado or Yamaha outboards, the Hinckley 35 can reach top speeds of 48 mph, while still delivering the solid ride and confident feeling of control that are hallmarks of the brand. The ClearView single-pane windshield—a new Hinckley innovation—provides the driver with undistorted, unobstructed visibility in all directions. Operators of all experience levels will enjoy the stress-free experience of the advanced joystick controls. The open-air cockpit and cozy saloon settee offer plenty of room to spread out, and the deep cockpit features an extra-large deck hatch that provides plenty of storage space and easy access to bicycles, beach chairs, gear, and other necessities. This model comes standard with a long list of features, amenities, and creature comforts that would be considered custom upgrades on comparable vessels. Learn more at hinckleyyachts.com. Dock F2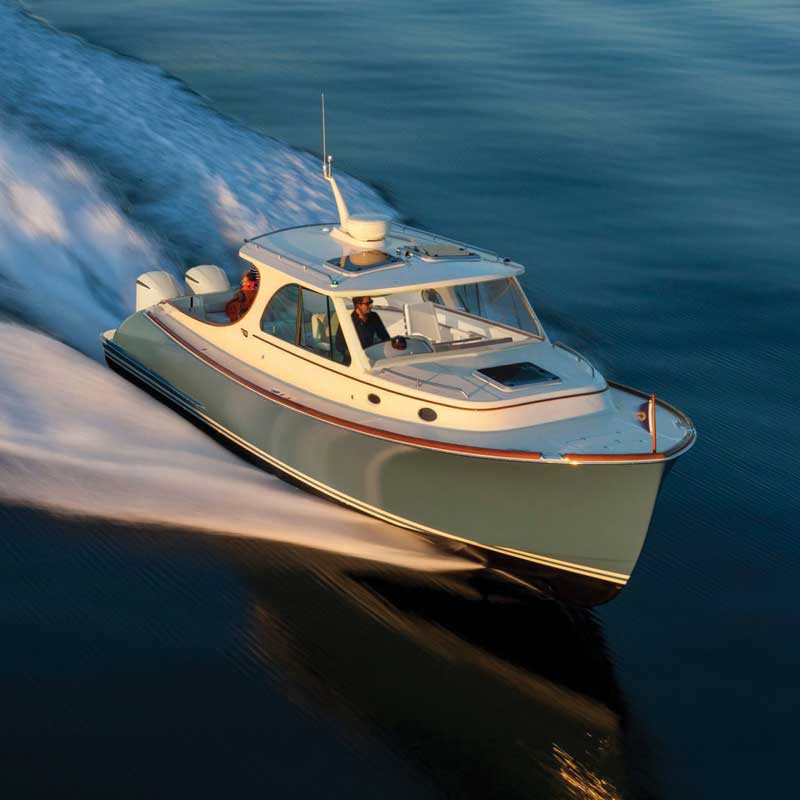 Ranger Tug R-43 Command Bridge
That nostalgic tug-like look of Ranger Tugs has always struck an emotional chord with mariners, but when it comes to the all-new R-43 CB, you'll find that this boat gets your heart pumping full tilt for a slew of different reasons. How many "tug" boats have a pair of private staterooms with en-suite heads and showers, queen berths, HDTVs, and USB charging ports? How many have a luxury salon with a wine chiller, multiple settees and a leather recliner, and two dining areas? How many enjoy joystick steering at both the helm and in the cockpit? Not only can you count how many are out there on one hand, you can count 'em on one finger. Read the rest of Lenny Rudow's review of this model by visiting proptalk.com. You can also find more information at rangertugs.com. Dock F2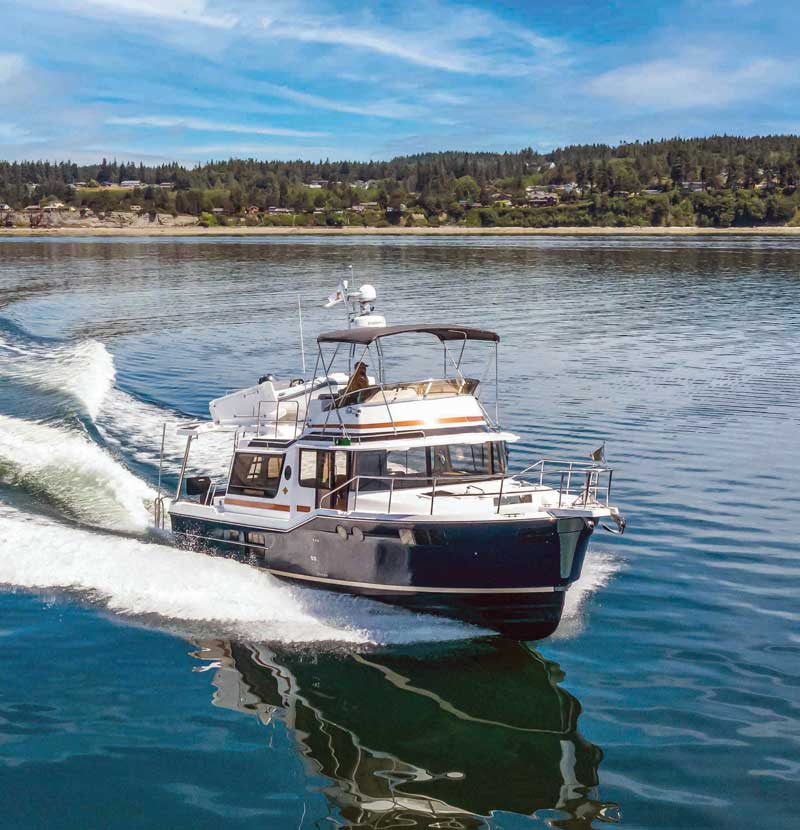 How the Exhibitors Get it Done
From the outside, it often appears that boat brokers and manufacturers magically get their boats and teams in place with little, if any, effort. In reality, a lot goes into creating an attractive and comfortable display. Here's the inside scoop from a couple of regular exhibitors.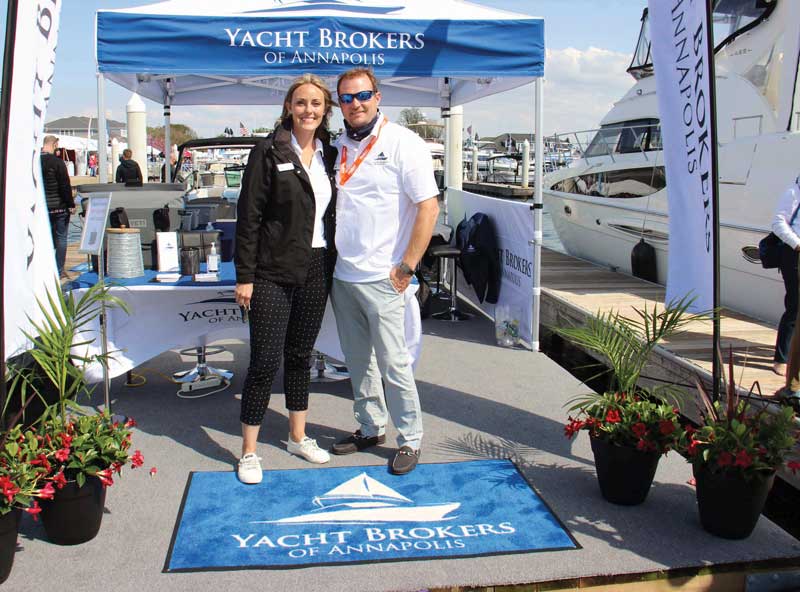 Blake Tiice of Bluewater Yacht Sales says, "We are excited to be back in Annapolis, especially after a year without the show. The Annapolis powerboat show is one of our biggest events of the year, and we invite customers from across Maryland and Virginia to join us at our display. This year has been a bit challenging because the demand for inventory is so high that it is tough to stock inventory to display. That being said, we have worked with our manufacturers to bring in extra boats to showcase in Annapolis. This particular show is especially significant for us because it is the first time in many years that we have had a location in Annapolis. We opened a new office and service location at the South Annapolis Yacht Centre towards the end of last year, so we are excited to show it off while our customers are in town.
"A lot of thought and planning goes into the Annapolis show because of the large number of boats that we bring, and the logistics involved with getting them into the show. We stock new inventory in Maryland, Virginia, and North Carolina, so our boats have to be shipped to Annapolis, whether by a truck or by running them on the water. Part of this also involves coordinating with manufacturers for boats that are delivered "just in time" for the show. These boats have to be delivered, inspected, and made ready (such as adding oil, installing components, and more) before they can go in the water and move into the show. Since all of the boats have to move in around the same time, you also have to find several staff or captains to move them in and out." Bluewater Yacht Sales is planning to bring the Princess V65, quite a few Regulators including the Regular 37, and possibly a Valhalla.
Tice adds, "A lot of work also goes into designing the display, organizing materials, purchasing shirts and flags, and making sure that we have enough people in place to work the show. Of course, we have been doing this for a while, so we have a system in place, but it takes a great deal of planning to put together."
Pocket Yacht Company, which will have its display at Dock F, will bring an impressive range of Cutwater Boats and Ranger Tugs. Lauren Mahoney reports, "We are very excited to finally have the Annapolis show. For larger shows like Annapolis, we put together a 3D layout of our booth, so we can get a feel for the larger space and how people move through it. This year we decided to increase our booth space so that people feel comfortable shopping for boats. We have 1800 square feet of booth space and 10 boats! September is especially busy for our sales team. They attend factory dealer meetings, follow up with customers who are interested in seeing the full range of boats, and set up appointments for our test drive event following the show.
This year Pocket Yacht celebrates 10 years in business, so we decided to host a VIP event on Friday night of the powerboat show. We are very excited to celebrate with customers and industry friends at the biggest show of the year."
We also caught up Mark Andrews, president of Annapolis Yacht Sales (AYS) who says, "The Team at AYS is extremely excited to finally reconnect face to face with our valuable customers and friends at the upcoming fall boat shows. We have missed you and look forward to seeing you there."
Stay tuned for updates, and we hope to see you there!