Every October the U.S. Powerboat Show in Annapolis Harbor brings together the powerboating community for four wonderful days of boat-buying, partying, marine education, and all things boating. Whether you're in the market for a first boat, that hard-to-find part, some expert advice, or looking to move up to a bigger model, you'll find it at the show.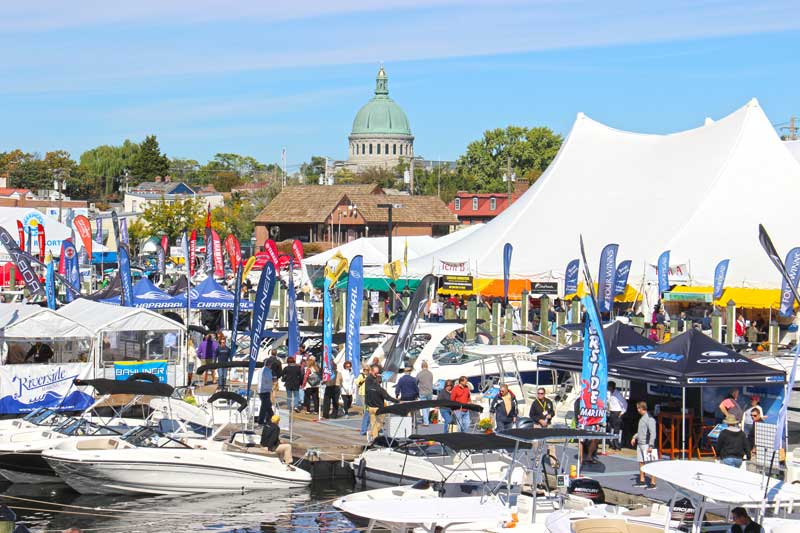 Serious buyers and those just dreaming are all welcome. Annapolis Harbor and beyond will be filled with the hottest new boat models and all kinds of marine accessories. Miles of temporary floating docks will be lined with the large and mid-sized vessels, while on land rows of smaller boats and trailerable models will jam the adjacent areas. Nearby, under huge tents, every marine product that a boater might need or want will be on display. Touch and feel the products and ask questions about them. The manufacturers' expert representatives are there to help. And don't be shy about climbing aboard the boats. Go ahead and sit in the captains' chairs and ask to look at the engine rooms. Walk up to the bow and imagine yourself skimming across the water! 
It can get a bit crowded on the maze of docks and inside the tents. Even cagey show veterans sometimes get turned around and take the long way to a particular booth or boat. But that's all part of the fun. In fact, making a wrong turn here or there can lead you to a cool boat or product that you might otherwise have missed. You never know what's around the corner. It could be sale-priced foul weather gear, a display of shiny new outboards, a collection of colorful dock lines, or the latest in marine electronics.
October usually brings stunning weather to Maryland, and you won't find a prettier or more interesting place to explore than this historic town of Annapolis. 
Need more convincing? Check out our Top 10 Reasons to Attend the U.S. Powerboat Show. For more information on Maryland's capital, visit our See the Bay: Annapolis.
Dates and Times
Thursday, October 3 (Preview Day): 10 a.m. to 6 p.m.
Friday, October 4: 10 a.m. to 6:30 p.m.
Saturday, October 5: 10 a.m. to 6:30 p.m.
Sunday, October 6: 10 a.m. to 5 p.m.
Tickets
Thursday, Preview Day: $35
Preview Day + Additional Day: $48
Adult One Day: $18 in advance, $20 at gate
Adult Two Day Combo: $31
Children: $5 (6 and under free)
Tickets may be purchased at the gates or online and printed at home. No pets, and for safety reasons, strollers are strongly discouraged.
Details
Parking
The official off-site show parking lot costs $10 at Navy-Marine Corps Memorial Stadium, and free school buses shuttle boat show attendees directly to the show gates. The stadium's GPS address is 230 Farragut RD, Annapolis, MD 21401 - Gate 2. Shuttles begin running at 9 a.m. and continue until one hour after the show closes. Saturday, October 5 parking will be at alternate lots off Riva Road to make way for tailgating fans when the Naval Academy Midshipmen football team plays the Air Force Academy Falcons at 3:30 p.m. in the stadium. Follow the signs from Exit 22 off Route 50 to the designated lots, and then hop on the free shuttle.
Parking in downtown Annapolis is limited. In addition to Navy-Marine Corp Stadium, we recommend parking at the Eastport Elementary School. The lot usually opens at 8 a.m., and it is just a quick walk across Spa Creek Bridge to the show. In past years, they've allowed cars to leave and return on the same day without paying a second time. Cost is $30 (annapolisboatshowparking.com). Another option is to park in an Annapolis City public garage and take the free Annapolis Circulator, as explained above.
Getting Around
On land, it's easy to hop on the Circulator, Annapolis's free shuttle that has regular stops within the city's business district, including Church Circle, City Dock, Park Place, and all four city garages. The Circulator runs Monday through Saturday from 7:30 a.m. to 11 p.m., and Sunday 8 a.m. to 8 p.m. on a 20-minute interval. Wheelchair lifts and bicycle racks are available on the Circulator. Download the free mobile app named "RLS Shuttle" and select "Annapolis Circulator" to start tracking the shuttle. Find more details at annapolisparking.com. 
If you enjoy bicycling, a fun way to get around the downtown area is to use one of the bicycles from the city's bike share program. A 30-minute ride costs just $1. Look for the public racks that are conveniently located around the historic district.
On the water, we love the water taxis, which run continuously from 9:30 a.m. to 11 p.m. Monday and Thursday; 9:30 a.m. to midnight on Friday, 9 a.m. to midnight on Saturday, and 9 a.m. to 11 p.m. on Sunday. If you're at the show, the easiest place to catch them is at the water taxi stop between the Annapolis Waterfront Hotel and Spa Creek Bridge, or call (410) 263-0033. Or hail "water taxi" on VHF radio channel 68. Prices are $3 to $8 depending on the destination, but to ride between the main show area and Brokerage Cove is free. The taxis accept cash or water taxi vouchers only. Download the Where in Annapolis app for the official digital guide to the water taxi. The app includes an interactive feature of all 54 water taxi stops.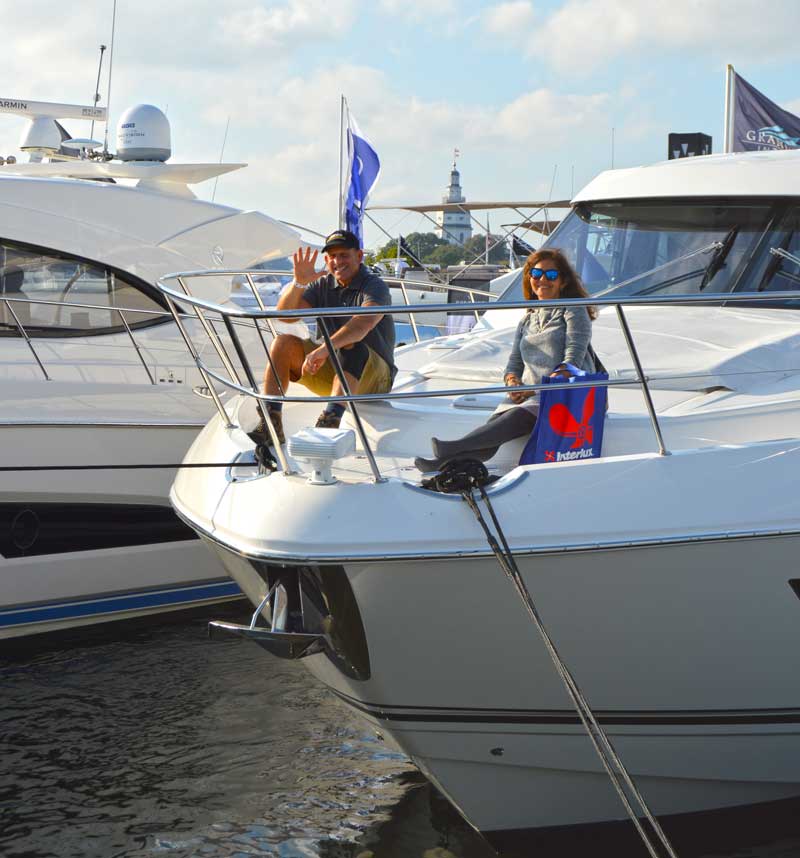 Meet Team PropTalk/FishTalk
We'll be in our usual spot, Booth F6/F7, along Ego Alley. Stop by during the show and enjoy popcorn and happy hour in the evenings with our writers, editors, publishers, graphic designers, distribution drivers, and photographers. We love to meet our readers!
Bathrooms
Fancy port-a-johns are centrally located within the show. However real toilets are located on the first floor of the Harbor Master's office, just outside the show gates. They're free and open to the public.
Insider Tips for the Boat Show:
Wear the right shoes: Choose a pair that is easy to slip off and on. Remove shoes when boarding boats. If it's cold or rainy, wear rain boots.
Share and save information: Bring your phone, notepad, pens, boat cards, and business cards to share and save information. Bring photos of your boat projects to show the experts. At the show, snap pictures of favorite boats and cool products. Serious buyers should make appointments with the boat brokers.
Dress in layers: October in Annapolis can be sunny and warm, crisp and cool, or sometimes rainy. Anything is possible. Bring sunglasses, a wide-brimmed hat, a long-sleeved fleece, and a rain repellent top layer.
Bring cash: Many vendors will accept your credit card, but cash is easiest for small purchases. ATMs are available right outside the show. Think coffee, Painkillers, and the small marine gizmos that will catch your eye.
Visit Brokerage Cove: A whole section of high-quality previously owned boats will be on display along the temporary docks in St. Mary's Cove. They're located on Spa Creek behind St. Mary's Church on Duke of Gloucester Street. The best way to get there is to take the free water taxi from inside the main area of the show. 
---
For details on new and premiering boats, visit https://www.proptalk.com/new-premiering-boats-2019-us-powerboat-show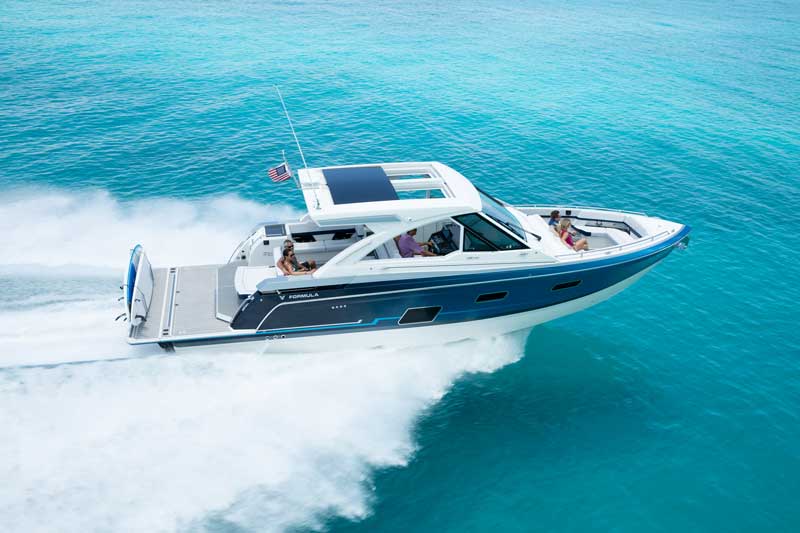 Cool, New Products
MEMO by Blue3
NEMO by BLU3 is a portable and easy-to-use dive system that allows users to breathe underwater without the use of tanks. It is an incredibly compact Surface-Supplied Air (SSA) dive system that supports one diver to 10 feet for about 60 minutes—bridging the gap between snorkeling and SCUBA diving. BLU3's goal is to make the sport of diving more accessible, in an effort to increase awareness of the world's underwater environments. The product spans less than 12 inches on all sides and weighs in at 10 pounds. NEMO is the first of three models that reach different depths: NEMO, NOMAD and NEPTUNE. The product is currently available for pre-order on Kickstarter. Tent D73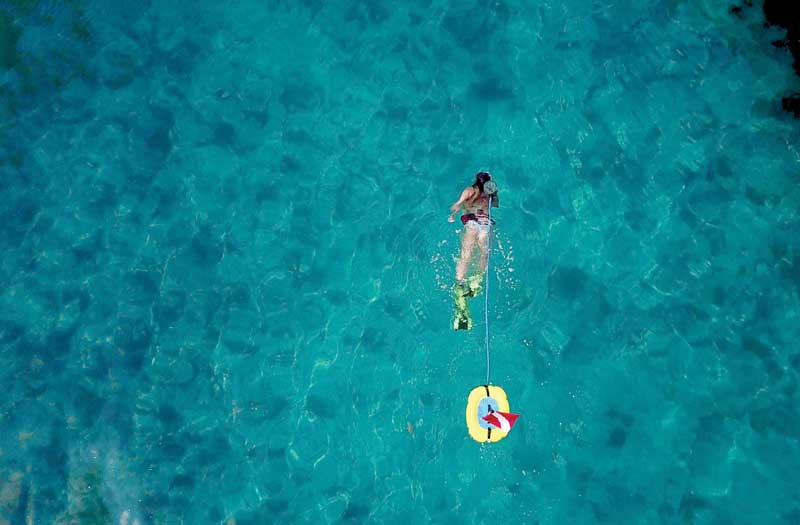 Argo App
Argo is a free mobile and social navigation app developed by Jeff Foulk, a local boater out of Havre de Grace, MD. The app is intended as a social platform to connect with others while out on the water, plan trips with fellow boaters, learn about popular boating spots and read reviews, and even log voyages and share them with family and friends. The app also has some navigational features so that you can plan the quickest and safest route, customized for your boat. Argo is currently in Beta testing, available for both iOS and Android, and it needs boaters like you to try it out so that features can be refined and added based on the user experience.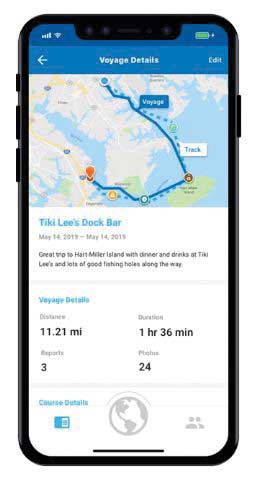 Paddle North
Paddle North has a selection of inflatable paddleboards, ranging in size from eight to 12 feet, an inflatable 11-foot kayak, as well as inflatable utility docks. The XL utility dock measures 12 feet by six feet and can support well over 2000 pounds of humans, dogs, coolers, and water gear. It can be inflated in 15 minutes and compacts down into an easy to store bag. There is also a smaller nine foot utility dock that can support over 1500 pounds. Land 28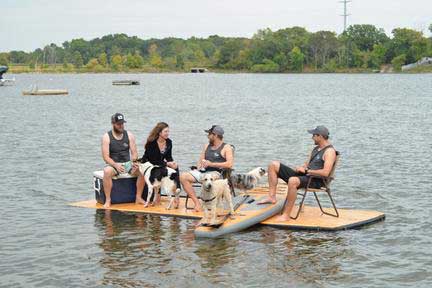 SeaClutch
The SeaClutch is a patent-pending product which holds picture frames on your boat or RV securely in place. The SeaClutch attaches to horizontal surfaces with an adhesive that won't harm your interior, and securely holds most standard size picture frames, eliminating the need to store them when getting underway. Tent F18
---
Seminars and Hands-On Learning
The U.S. Powerboat show is designed to be more than just a place to shop for boats. It's designed to be a fun and interactive experience, with plenty of educational opportunities. The show offers several kinds of hands-on learning options, all from expert instructors who are experienced boaters. Don't miss this opportunity to enhance your maritime skills.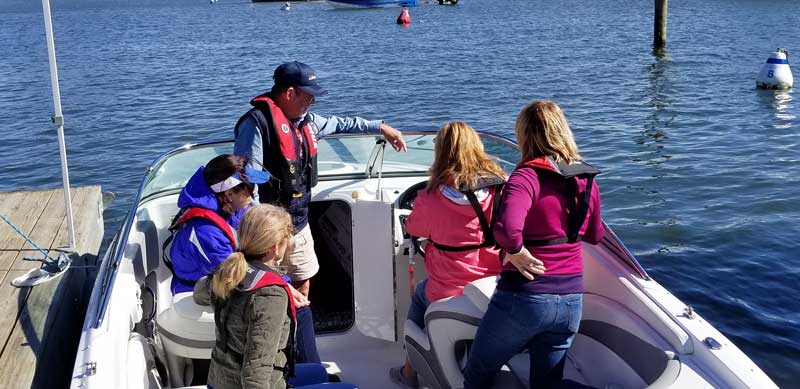 Celebrate the Locals: Maryland Boat Builders will host a happy hour featuring Maryland oysters and craft beer on Friday at Dock D from 6 to 7:30 p.m. In attendance will be Eastport Yacht Co., Weaver Boatworks, Judge Yachts, Composite Yacht, Mathews, and Campbell.
Waterski and Wakeboard: Certified GLM water ski instructor Phil Besche will be at the PropTalk/FishTalk booth (F6/F7) on Saturday afternoon, October 5, to talk waterskiing with parents and kids. Besche will bring tow ropes and handles to explain about positioning and will share tips on getting kids out waterskiing. Besche, who grew up waterskiing with his family on Whitehall Creek, has lots of practical advice about skiing, wakeboarding, trick skiing, and dry land prep. 
Demo Dock: Dealers and manufacturers will conduct demonstrations and sea trials from inside the show at the easily accessible demonstration docks. The expanded demo docks will feature new model boats, outboard engines, and stabilizing systems. There you may try out a rigid inflatable boat, ride on a pontoon boat, or experience the benefits of upgraded features while taking a sea trial.
Cruisers University: At print time, Cruisers University fall session was SOLD OUT except for a few spots in Nigel Calder's Master Marine Electrical course. Call the boat show office at (410) 517-9979 to reserve one of the remaining spots. You may also get on the waiting list for the full course, or secure your place in the spring 2020 session. Cruisers University offers more than 50 classes and addresses the complete range of cruising topics for all levels and experience.
Free Seminars: There are a number of free seminars that are offered Friday and Saturday from 11 a.m. to 5 p.m. These courses are open to all show attendees on a first come, first served basis. Topics include navigation, earning a captain's license, the ICW, docking, marine diesel basics, and weekend cruising on the Chesapeake Bay.
Boat Handling Courses: BoatUS Foundation will offer three courses focused on introductory boat-handling techniques: Introduction to Boating, Women Making Waves, and Precision Docking and Boat Handling. Students will spend three hours on the water learning about centering the wheel, shifting, steering and throttle control, stopping, station holding, understanding the "weathervane" effect, and how to use "the boater's eye" technique to safely navigate. All courses are taught aboard 20- to 26-foot powerboats provided by Freedom Boat Club Annapolis. The course cost is $149 and includes show admission. Find a link to purchase tickets on the Annapolis Boat Shows website.