Powerboaters, anglers, and those dreaming of the boating lifestyle—get ready, because October 5-8, City Dock, Annapolis will be transformed into a boater's paradise for the Annapolis Powerboat Show. If you want to check out cool, new items, visit our New Boats and Products page.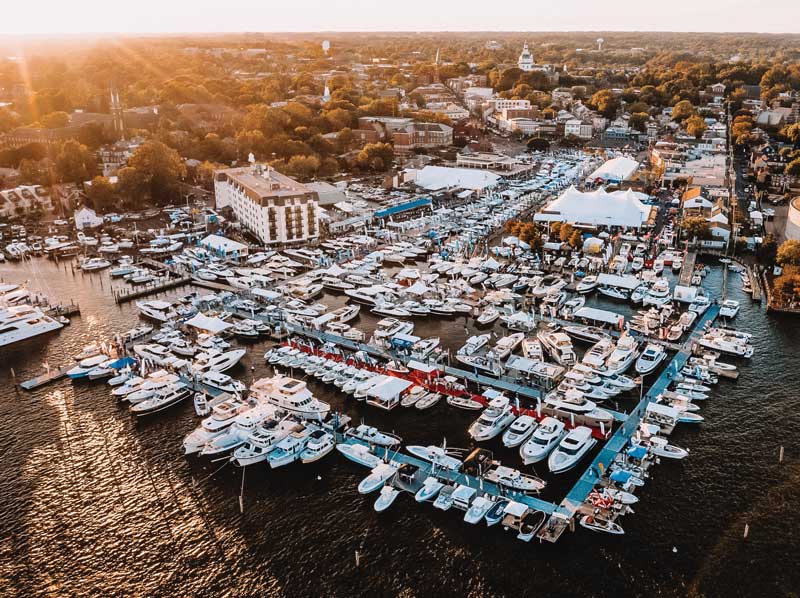 Nothing signals fall has arrived quite like the hundreds of boats and floating docks that take over downtown Annapolis each October. The air feels a little crisper, the leaves have begun to change, and there's no containing the buzz of excitement in the air.
And we're not just talking about shiny, new boats, which are cool in their own right. You'll also find boating gear, apparel, service providers, used boats (Brokerage Cove is back this year!), charter companies, educational opportunities, and so much more.
2023 marks 51 years of the Annapolis Powerboat Show, and here at PropTalk, we know our way around the show. It's easily our favorite time of year, and after many years of attending, we've learned a thing or two that we want to share with all of you to make your visit to the show, not just productive, but fun! If you need more information, visit annapolisboatshows.com. If you have a question during the show or just want to stop by and say hello, come see us! We'll be in our usual spot, Tent F6/F7 along Ego Alley.
We hope to see you there!
Dates and Times
Thursday, October 5: 10 a.m. to 6:30 p.m.
Friday, October 6: 10 a.m. to 6:30 p.m.
Saturday, October 7: 10 a.m. to 6:30 p.m.
Sunday, October 8: 10 a.m. to 5 p.m.
Tickets
Preview Day, Thursday, October 5: $38.25 online (plus $1.75 service fee), $45 at the gate
Two-Day Preview Day Combo Ticket: $63 (plus $2 service fee; valid for preview day, Thursday, October 5, and one other day October 6-8)
Two-Day Combo Ticket: $43 (plus $2 service fee; each ticket is valid one day only, October 6-8, not valid on Preview Day, October 5)
Preview Day and Combo Tickets do not include entry into the VIP lounge.
General admission: $25 online ($30 at the gate; limited onsite box office available)
Children aged 7 to 15: $10
Military Personnel Day: $20 (Sunday, October 8 only; must buy ticket at gate with valid ID)
The Annapolis Boat Shows are encouraging everyone to please purchase their tickets in advance as the onsite box office is limited. 
VIP Experience:
Presented by LaVictoire Finance
VIP tickets include admission into the boat show. All guests must be 21+ to enter the VIP Lounge. New this year, Mimosas and Bloody Mary Bar, served from 10 a.m. to 12 p.m. with the full bar opening at noon. Breakfast begins at 10 a.m. with coffee, assorted pastries, and fresh fruit by Julie St. Marie Catering who will also be providing a different culinary inspired lunch and afternoon appetizers daily. Thursday – Mediterranean, Friday – Mexican, Saturday – Italian, Sunday – American. Relax in furnishings by Summer Classics and enjoy plant décor by Walnut Hill Landscaping. VIP Tickets are limited and will sell out. Cost: $250.
FAQs:
Pets are not allowed inside the show due to safety and health reasons, unless it is a certified service animal.
Strollers are not allowed inside the show due to safety issues. Please park your stroller in the designated stroller parking area.
It is recommended that all children wear lifejackets for safety.
The Boat Show is open rain or shine.
You do not need to print out your ticket; all tickets may be scanned from your phone.
Backpacks and bags are allowed.
You may leave the show and re-enter; you will receive a hand stamp.
You may bring food and drinks into the show.
Parking
Boat show visitors are encouraged to park at the Navy-Marine Corps Memorial Stadium (550 Taylor Ave, Annapolis, MD 21401) and take a free shuttle to and from the show. Shuttles will run one hour prior to show opening through one hour after the show closes. 
Pre-sale of Stadium parking is offered at the discounted rate of $20 per day, $40 for oversize vehicles. Pre-sale of parking closes at 10 p.m. the evening prior to the day you plan to attend. After that, you may purchase parking onsite at the Stadium Gate 2 entry located at 200 Farragut Rd for $25/$50, credit card only. No cash will be accepted. Visit the 'Attend' page at annapolisboatshows.com for the direct link to reserve parking at app.parkmobile.io (available Thursday, Friday, and Sunday of the show; the U.S. Naval Academy has a home game in Annapolis on Saturday).
Parking on Saturday, October 7 is on Riva Road ($15 cash only). Follow signs to parking.
Parking is also available in the parking garages in downtown Annapolis. Be sure to plan ahead as parking garages downtown fill up fast. Visit annapolisparking.com for more information.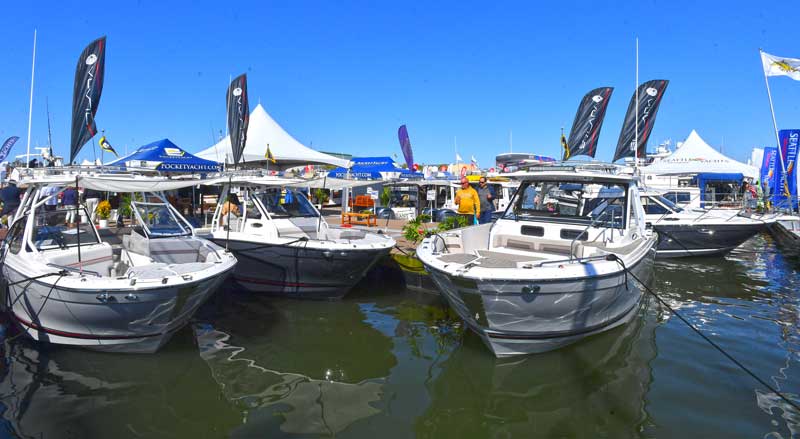 Getting Around
On land, it's easy to hop on the Annapolis Free Downtown Shuttle that has regular stops around the downtown Annapolis area. The shuttle runs Monday through Thursday from 6 a.m. to 11 p.m., Friday and Saturday from 7 a.m. to 12 a.m. and Sunday from 8 a.m. to 8 p.m. with typically a 10 minute or less wait during peak hours. Wheelchair lifts and bicycle racks are available. Find more "Getting Around" options (from the Free Magenta Shuttle to Bird Scooters) at accessannapolis.com/visiting-downtown.
On the water, we love the water taxis. If you're at the show, the easiest place to catch them is at the water taxi stop between the Annapolis Waterfront Hotel and Spa Creek Bridge, or call (410) 263-0033. Or hail "water taxi" on VHF radio channel 68. Prices are $4 to $9 depending on the destination. For cashless water taxi fare payment, download the Where in Annapolis app and click on the water taxi icon in the bottom right. For a route map with rates, visit watermarkjourney.com. The water taxis run Monday-Thursday from 9:30 a.m. to 10 p.m., Friday from 9:30 a.m. to 11 p.m., Saturday from 9 a.m. to 11 p.m., and Sunday from 9 a.m. to 10 p.m.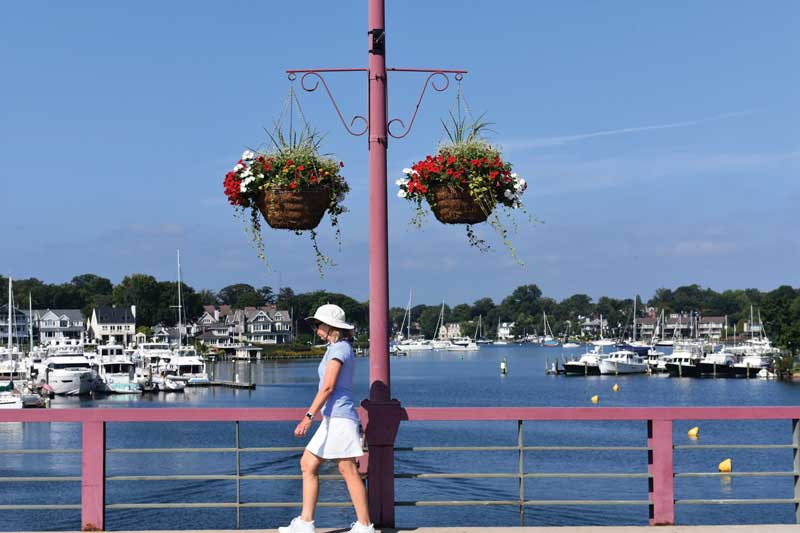 Visiting From Out of Town?
Check out the Visit Annapolis page on the Boat Show website for a list of official show hotels and more. 
Show Map
For a map of the show, click here.
On Display
Click the links below for links.
Insider Tips for the Boat Show:
Serious boat buyer? Preview Day, Thursday, October 5 would be a great day to attend as it is generally less crowded and thus easier to make appointments/chat with dealers. 
Wear the right shoes: Choose a pair that is comfortable and easy to slip off and on (heels don't do so well on the floating docks). Remove shoes when boarding boats. If it's cold or rainy, wear rain boots.
Share and save information: Bring your phone, notepad, pens, boat cards, and business cards to share and save information. Bring photos of your boat projects to show the experts. At the show, snap pictures of favorite boats and cool products. Serious buyers should make appointments with the boat brokers.
Dress in layers: October in Annapolis can be sunny and warm, crisp and cool, or sometimes rainy. Anything is possible. Bring sunglasses, a wide-brimmed hat, a long-sleeved fleece, and a rain repellent top layer. A small backpack or tote can be very helpful for storing extra layers and any goodies you pick up at the show.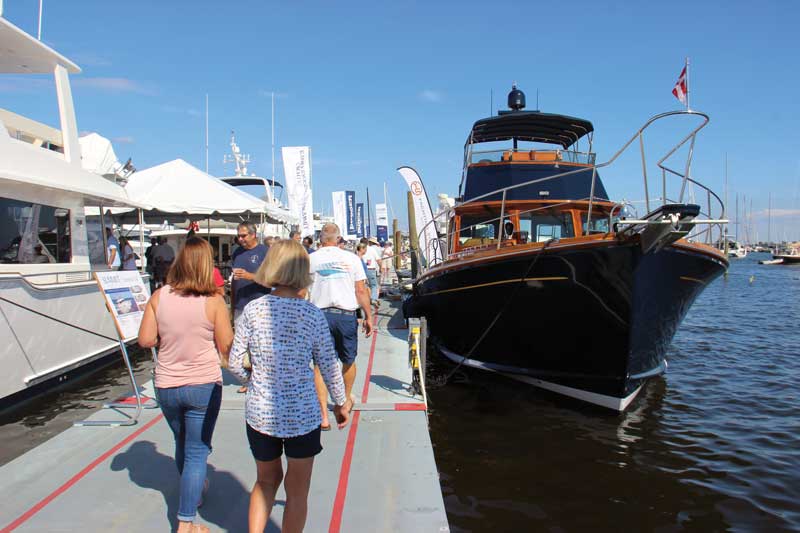 Bring cash: Many vendors will accept your credit card, but cash is easiest for small purchases. ATMs are available right outside the show. Think coffee, Painkillers, and the small marine gizmos that will catch your eye.
Bathrooms: Fancy port-a-johns are centrally located within the show. However real toilets are located on the first floor of the Harbor Master's office, just outside the show gates. They're free and open to the public.
Food: There are plenty of great dining options just outside the show gates. When you want something both quick and delicious, a PropTalk staff favorite is always the pit beef sandwiches from the Fleet Reserve Club.
Show Highlights:
New and Premiering Boats and Products
Click here for our full roundup!
Maryland Boat Builder's Panel Discussion
Thursday, October 5 at 3:30 p.m. in the FishTalk Fishing Spot (the land exhibitor area near the VIP tent and the Annapolis Waterfront Hotel), PropTalk's editor and Rick Franke with moderate a discussion with Maryland boat builders: Weaver Boat Works, Composite Yacht, and Mathews Brothers. Beer will be provided by Forward Brewing, and there will also be a cash bar provided by Pusser's. Learn more here.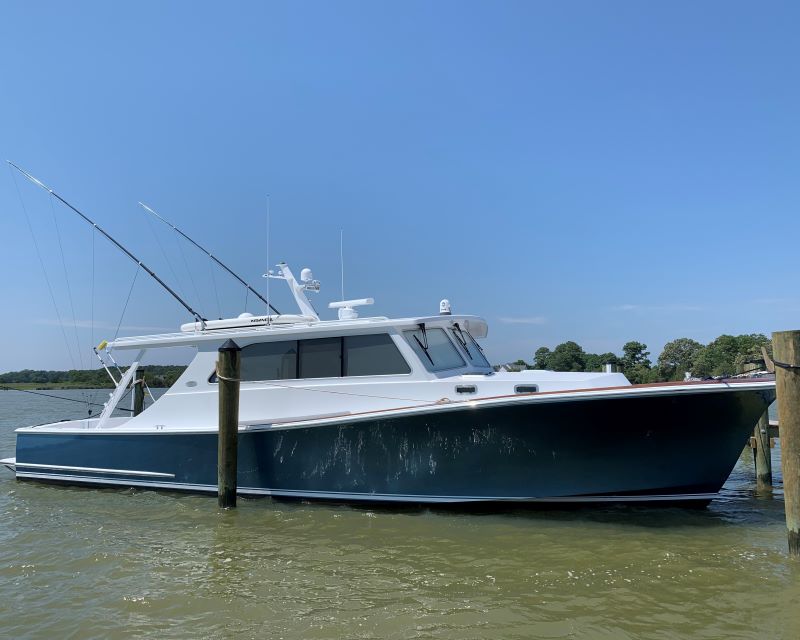 Brokerage Cove
Head to Brokerage Cove, located in St. Mary's Cove, to browse a fantastic selection of pre-owned powerboats available for immediate purchase. It's just a short walk or water taxi ride from the main show grounds. Stay tuned to the Annapolis Boat Show's website for a full list of models on display.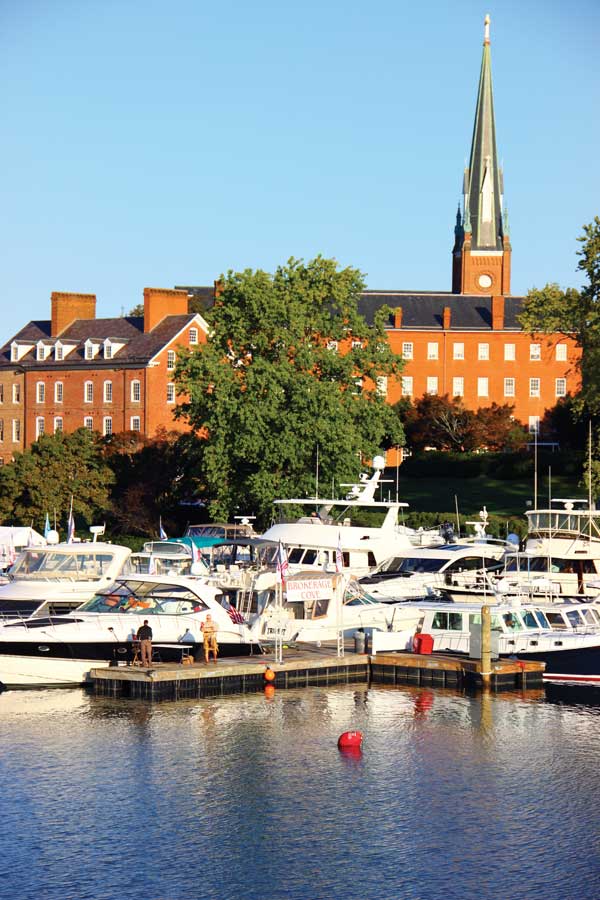 Door Prizes
When you pre-purchase your tickets online or sign up at the show, you are automatically entered to win one of the many door prizes that are generously donated by Boat Show partners: the Cutco Fisherman's Companion, a weekend on the West River (two nights moored at Hartge's Marina and a gift card to Pirate's Cove Restaurant), and a Colby Davis Compass Rose pendant. 
On-Land Exhibitors
On land you'll find the latest in navigational equipment, high-tech electronics, boating accessories, clothing, gear, and related services such as boating clubs, charter companies, insurance firms, and lending institutions. You might just get lucky with special boat show sales and promotions.
Demo Dock
Try before you buy! The Demo Dock gives potential buyers a chance to sea trial a variety of boats to help make an educated decision on what engines, electronics, and other functions work best for them. Visit the demo dock early in the day to set up an appointment. At print time, this was the current lineup. Be sure to check online for any updates.
Candela C-8
Flux marine Electric Outboards
Honda Marine BF350 Outboard
Invincible 33 Open Fisherman
Invincible 36 Open Fisherman
2023 Monaco 255 SB
Quarken 27
Solace 415CS powered by Volvo Penta Twin Inboard Aquamatic
Southport 30 FE powered by Volvo Penta
Sportsman 231 Heritage with Seakeeper Ride System
Sportsman 232 Open with Seakeeper Ride System
X Shore 1
Yamaha F200 Engine
Yamaha V6 4.2 Liter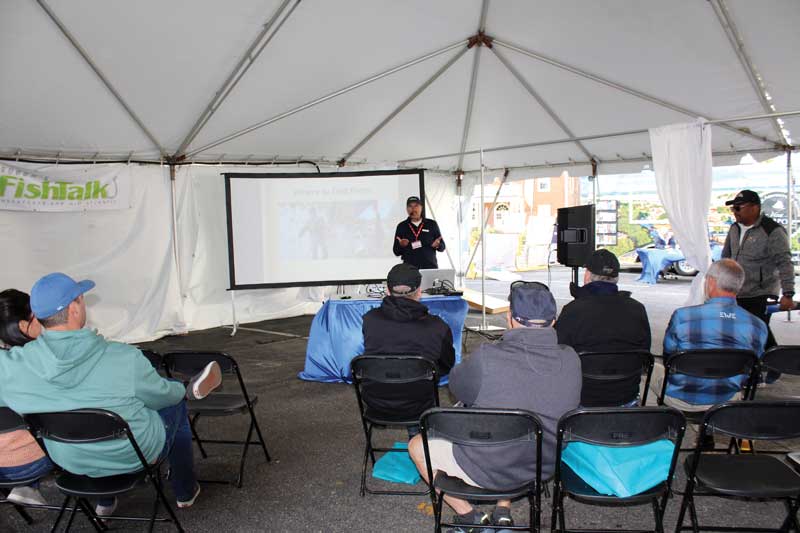 FishTalk Fishing Spot
This year's Fishing Spot continues the show's deep-rooted collaboration efforts with FishTalk Magazine and Coastal Conservation Association Maryland (CCA Maryland). Together the organizations share their wealth of fishing knowledge, boating expertise, and conservation advice to attendees of all ages through fun, family-friendly activities such as reef ball making, a fishing simulator, free daily seminars, and displays of the latest gear. Local fishing guides, charter captains, outfitters, and representatives from the Department of Natural Resources will also share their how-to and where-to knowledge with anglers looking for their next big catch.
Harvester.club is a virtual club that proudly unites those who have a passion for the outdoors. Whether you are an avid angler, ambitious hunter, caring conservationist, or novice enthusiast, Harvester is your one-stop platform for the great outdoors. Membership is free and open to all outdoor enthusiasts. During the show they will be offering a (free) fishing simulator experience. Try your luck landing a sailfish, shark, salmon, or even a trout. Your pick!

The CCA happy hour from 4:30 to 6:30 p.m. the Friday of the Powerboat Show will be an opportunity for anglers to grab a drink from the Pusser's outpost in the Fishing Spot and catch up with fellow anglers and representatives from FishTalk, CCA MD, DNR, and more.

Reef ball building takes place Thursday through Saturday from 12 to 5 p.m. and Sunday from 12 to 3 p.m.

Lenny Rudow of FishTalk Magazine will host free seminars inside the show (stay tuned for the seminar schedule on the Boat Show website). 
Meet Team PropTalk and FishTalk
We'll be in our usual spot, Booth F6/F7, along Ego Alley. We love to meet our readers and can't wait to welcome you back to the boat shows. Stop by any time during show hours to grab the latest issue of PropTalk, FishTalk, and SpinSheet; and meet our writers, editors, publishers, graphic designers, distribution drivers, photographers, and fellow Chesapeake Bay lovers.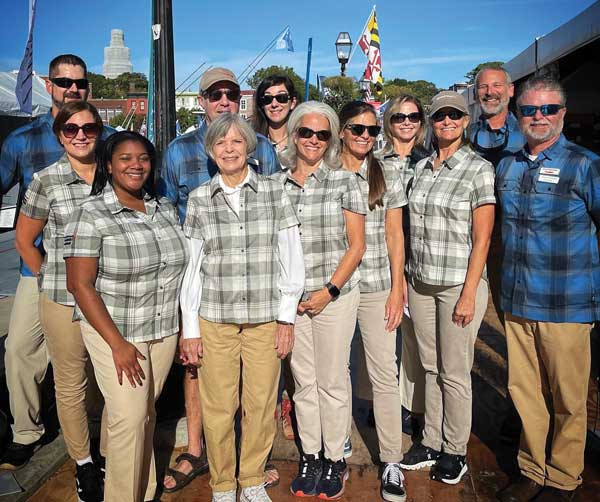 Pusser's Painkillers
I mean, come on, is it really the powerboat show if you haven't stopped by Pusser's for a Painkiller (or three?). Pusser's is located just outside the main show gate.
Educational Opportunities
People come to the boat shows for a myriad of reasons, one of which is the opportunity to get out on the water and also spend time in the classroom learning from the experts. 
BoatUS On-Water Training
The BoatUS Foundation will host a number of introductory boating courses, including Intro to Boating, Women's Intro to Boating, Precision Docking and Boat Handling, Open Water Boat Handling, and Open Water Advanced Maneuvering (the last two are offered on Sunday only and have prerequisite requirements). Each course cost $175, is limited to three to four students, includes approximately three hours of on-water instruction, and includes admission to the show. Some classes are already sold out; don't delay! Visit the BoatUS Foundation website to learn more and register.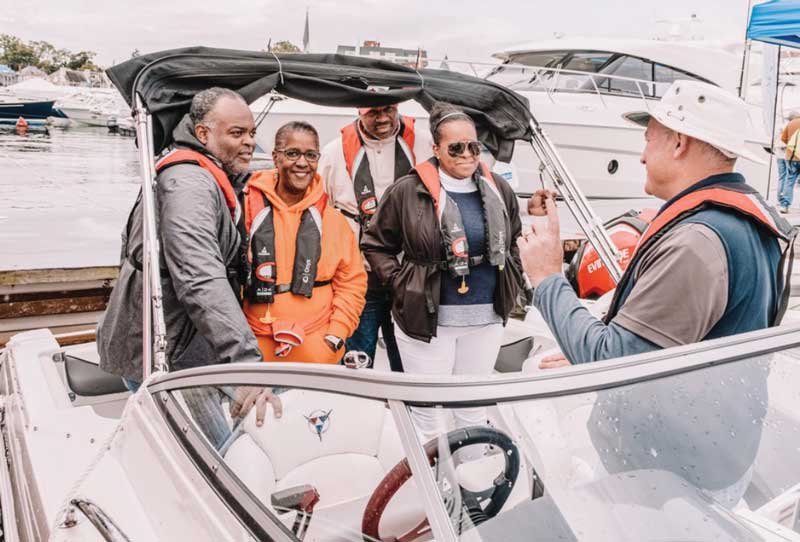 Cruiser's University
Classes will be held October 9-13 at The Historic Inns of Annapolis, 58 State Circle, Annapolis, MD. More than 75 classes are available for sailors and powerboaters alike who have an interest in learning the fundamentals of bluewater cruising. Admission to all days of the U.S. Powerboat Show and U.S. Sailboat Show are included with tuition. Learn more and register at cruisersuniversity.com.
---
Stay tuned for more updates as we get closer to the show dates! And don't forget to check out our New Boats and Products page, as well as our article on what to see and do in Annapolis outside of the show gates.