UPDATE: The 2020 U.S. Powerboat Show in Annapolis, MD, has been canceled. Visit Annapolis Fall Boat Shows Canceled for more on this story.
Every October the U.S. Powerboat Show in Annapolis Harbor brings together the powerboating community for four wonderful days of boat-buying, partying, marine education, and all things boating. Whether you're in the market for a first boat, that hard-to-find part, some expert advice, or looking to move up to a bigger model, you'll find it at the show.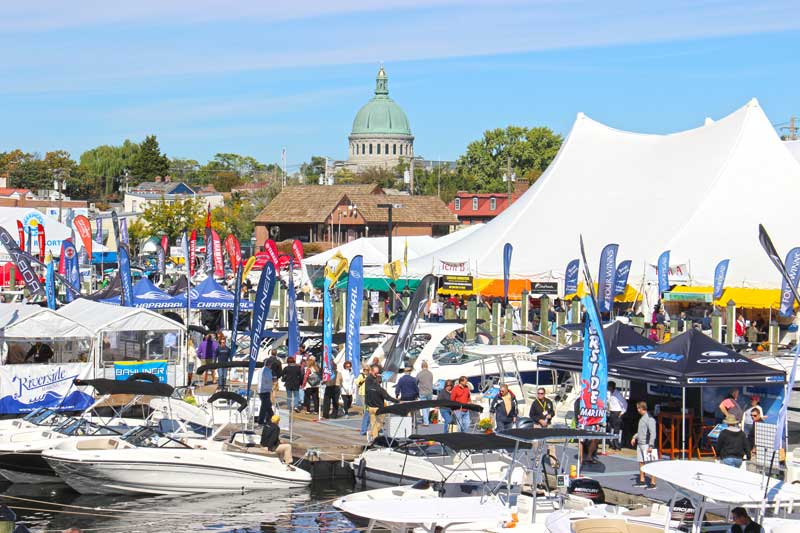 Serious buyers and those just dreaming are all welcome. Annapolis Harbor and beyond will be filled with the hottest new boat models and all kinds of marine accessories. Miles of temporary floating docks will be lined with the large and mid-sized vessels, while on land rows of smaller boats and trailerable models will jam the adjacent areas. Nearby, under huge tents, every marine product that a boater might need or want will be on display. Touch and feel the products and ask questions about them. The manufacturers' expert representatives are there to help. And don't be shy about climbing aboard the boats. Go ahead and sit in the captains' chairs and ask to look at the engine rooms. Walk up to the bow and imagine yourself skimming across the water! 
It can get a bit crowded on the maze of docks and inside the tents. Even cagey show veterans sometimes get turned around and take the long way to a particular booth or boat. But that's all part of the fun. In fact, making a wrong turn here or there can lead you to a cool boat or product that you might otherwise have missed. You never know what's around the corner. It could be sale-priced foul weather gear, a display of shiny new outboards, a collection of colorful dock lines, or the latest in marine electronics.
October usually brings stunning weather to Maryland, and you won't find a prettier or more interesting place to explore than this historic town of Annapolis. 
Need more convincing? Check out our Top 10 Reasons to Attend the U.S. Powerboat Show. For more information on Maryland's capital, visit our See the Bay: Annapolis.
Dates and Times
Thursday, October 1: 10 a.m. to 6:30 p.m.
Friday, October 2: 10 a.m. to 6:30 p.m.
Saturday, October 3: 10 a.m. to 6:30 p.m.
Sunday, October 4: 10 a.m. to 5 p.m.
Tickets
General Admission - Adult: $20
General Admission - Child: $10
2020 Health and Safety Regulations
The following regulations have been put in place for the 2020 United States Powerboat Show (Oct 1-4) and United States Sailboat Show (Oct 8-12). As state and federal guidelines are defined, we will continue to update this list.
Daily attendance to the shows will be regulated through pre-sold tickets. Each day will have a strict maximum capacity level.
Everyone entering showgrounds is required to wear a face mask at all times.
Everyone entering showgrounds will be temperature screened. All attendees are encouraged to park at the Navy Marine Corps Stadium for temperature checks, ticket scanning, and hand stamps. Stations will also be located at Yacht Basin Gate and Main Gate areas.
Tent configurations have been altered to include one-way only walkways through all tents and air handling systems purifying and moving air.
Touchless hand sanitizing and washing stations, as well as face mask dispensers, will be made accessible throughout the show.
Showgrounds will close each day at 6:30pm (5:00 p.m. on the final day of each show). Exhibitors and attendees will have 30 minutes to make their way to the exits. After this, cleaning and disinfection of the show premises will begin.
All meetings, classrooms, workshops, and VIP areas will be limited to 50% capacity, allowing for proper physical distancing.
No after-hours events will be allowed on the show grounds this year.
Due to Maryland Health Department guidelines, no dogs or strollers will be allowed this year.
Details
Parking
The official off-site show parking lot costs $10 at Navy-Marine Corps Memorial Stadium, and free school buses shuttle boat show attendees directly to the show gates. The stadium's GPS address is 230 Farragut RD, Annapolis, MD 21401 - Gate 2. Shuttles begin running at 9 a.m. and continue until one hour after the show closes. Saturday, October 5 parking will be at alternate lots off Riva Road to make way for tailgating fans when the Naval Academy Midshipmen football team plays the Air Force Academy Falcons at 3:30 p.m. in the stadium. Follow the signs from Exit 22 off Route 50 to the designated lots, and then hop on the free shuttle.
Parking in downtown Annapolis is limited. In addition to Navy-Marine Corp Stadium, we recommend parking at the Eastport Elementary School. The lot usually opens at 8 a.m., and it is just a quick walk across Spa Creek Bridge to the show. In past years, they've allowed cars to leave and return on the same day without paying a second time. Cost is $30 (annapolisboatshowparking.com). Another option is to park in an Annapolis City public garage and take the free Annapolis Circulator, as explained above.
Getting Around
On land, it's easy to hop on the Circulator, Annapolis's free shuttle that has regular stops within the city's business district, including Church Circle, City Dock, Park Place, and all four city garages. The Circulator runs Monday through Saturday from 7:30 a.m. to 11 p.m., and Sunday 8 a.m. to 8 p.m. on a 20-minute interval. Wheelchair lifts and bicycle racks are available on the Circulator. Download the free mobile app named "RLS Shuttle" and select "Annapolis Circulator" to start tracking the shuttle. Find more details at annapolisparking.com. 
If you enjoy bicycling, a fun way to get around the downtown area is to use one of the bicycles from the city's bike share program. A 30-minute ride costs just $1. Look for the public racks that are conveniently located around the historic district.
On the water, we love the water taxis, which run continuously from 9:30 a.m. to 11 p.m. Monday and Thursday; 9:30 a.m. to midnight on Friday, 9 a.m. to midnight on Saturday, and 9 a.m. to 11 p.m. on Sunday. If you're at the show, the easiest place to catch them is at the water taxi stop between the Annapolis Waterfront Hotel and Spa Creek Bridge, or call (410) 263-0033. Or hail "water taxi" on VHF radio channel 68. Prices are $3 to $8 depending on the destination, but to ride between the main show area and Brokerage Cove is free. The taxis accept cash or water taxi vouchers only. Download the Where in Annapolis app for the official digital guide to the water taxi. The app includes an interactive feature of all 54 water taxi stops.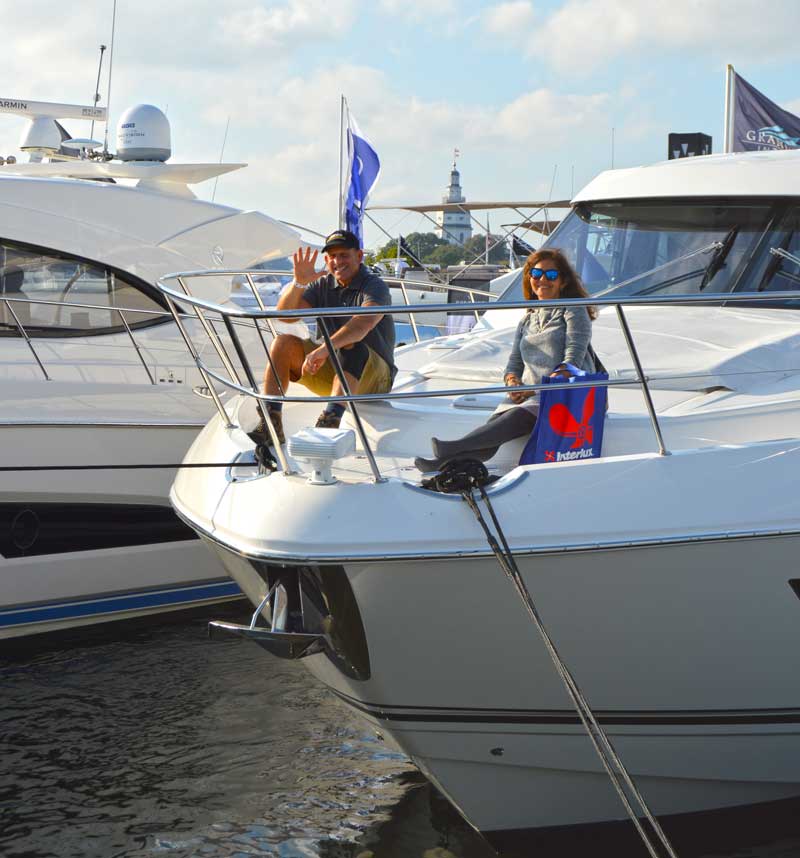 Meet Team PropTalk/FishTalk
We'll be in our usual spot, Booth F6/F7, along Ego Alley. Stop by during the show and enjoy popcorn and happy hour in the evenings with our writers, editors, publishers, graphic designers, distribution drivers, and photographers. We love to meet our readers!
Bathrooms
Fancy port-a-johns are centrally located within the show. However real toilets are located on the first floor of the Harbor Master's office, just outside the show gates. They're free and open to the public.
Insider Tips for the Boat Show:
Wear the right shoes: Choose a pair that is easy to slip off and on. Remove shoes when boarding boats. If it's cold or rainy, wear rain boots.
Share and save information: Bring your phone, notepad, pens, boat cards, and business cards to share and save information. Bring photos of your boat projects to show the experts. At the show, snap pictures of favorite boats and cool products. Serious buyers should make appointments with the boat brokers.
Dress in layers: October in Annapolis can be sunny and warm, crisp and cool, or sometimes rainy. Anything is possible. Bring sunglasses, a wide-brimmed hat, a long-sleeved fleece, and a rain repellent top layer.
Bring cash: Many vendors will accept your credit card, but cash is easiest for small purchases. ATMs are available right outside the show. Think coffee, Painkillers, and the small marine gizmos that will catch your eye.
Visit Brokerage Cove: A whole section of high-quality previously owned boats will be on display along the temporary docks in St. Mary's Cove. They're located on Spa Creek behind St. Mary's Church on Duke of Gloucester Street. The best way to get there is to take the free water taxi from inside the main area of the show. 
---
Stay tuned for details on new and premiering boats, new products, and seminars at the show.