The 94th annual running of the Hampton Cup Regatta, the oldest continuously run motor sport event in America, takes place September 21 and 22 in Hampton, VA. This year's event will run concurrently with the Summer Nationals.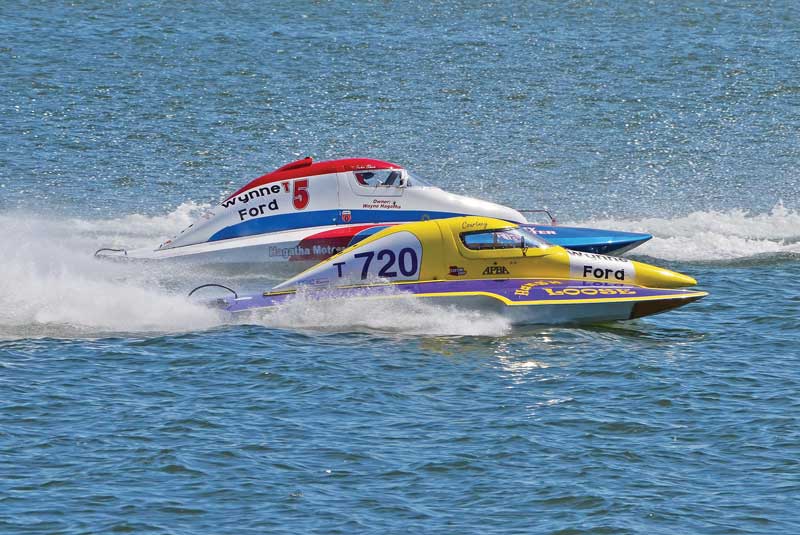 The history of the Hampton Cup goes back to 1926, when a group of members from the Hampton Yacht Club decided to have a friendly competition to test a driver's navigation skills and the speed of their boats. Back then, the race boats were made of wood and top speed was only around 35 miles per hour. Today's boats are made of carbon fiber and range in speed from about 75 miles per hour to more than 125 miles per hour on the straightaways.
In the early years racing was held on the Hampton River, and later moved out to the open waters off Strawberry Point. But the conditions on the course, from chop to frequent boat traffic, led the race to be moved during the 1960s to the protected area in Mill Creek between Fort Monroe and the East Mercury Boulevard Bridge.
Today, the Hampton Cup Regatta is sanctioned by the American Power Boat Association (APBA) and is run by an all-volunteer organization. It would not be possible to pull off an event of this magnitude without the dedicated volunteers.
We recently caught up with Lisa Adkins, who is the event chairman and race director for the Hampton Cup, to talk about the history of the race and what spectators can expect from this year's event.
Lisa says they expect between 60 and 70 teams this year in 12 different classes, from hydroplanes to jersey speed skiffs. And they are very excited to once again host the Summer Nationals. "It's a big deal!" says Lisa. "We've been awarded this event multiple times since 2010 and have worked really hard to achieve this."
This year's race will once again be held in Mill Creek off Fort Monroe. The course is a mile and a quarter in total length, and since it is well-protected from current changes, it has become a great place to set world records. 
"It's as if someone said, 'let's design the perfect place for a race,'" adds Lisa. "We have all of For Monroe for the pit, and the spectator area is great; we have the whole bridge." PropTalk can attest to this—after attending the Hampton Cup in the past, the location truly can't be beat. Spectators have a front-row seat to all the action. The bridge is completely closed off to the traffic, so guests can set up their chairs, umbrellas, and even tents. There are food vendors and sometimes even a car show and pirate reenactors. The only thing organizers ask is that you don't bring coolers onto the bridge as there will be plenty of food and drink vendors. But on the shady area just before the bridge under the trees, coolers are welcome. And if you bring a pop-up tent or umbrella, consider sharing your shade with your fellow powerboat lovers.
Racing will take place both days, September 21 and 22, with Summer Nationals taking place Saturday and the Hampton Cup on Sunday. With Nationals, each class needs a certain number of heats along with a final, so depending on conditions some heats might need to be finished up on Sunday. Racing generally begins around 11 a.m. each morning and finishes up by 5 p.m. On Friday night there will be a welcome party at Oozlefinch Brewery on Fort Monroe (you can see the race course from the brewery—that's how close it is!). There will be live music, food trucks, and some racers will even park their boats in the field outside the brewery so guests can see the boats up close and meet the drivers. On Saturday night Nationals titles will be presented at the brewery (pending all heats can be completed that day). The Hampton Cup trophy is presented following Sunday's racing.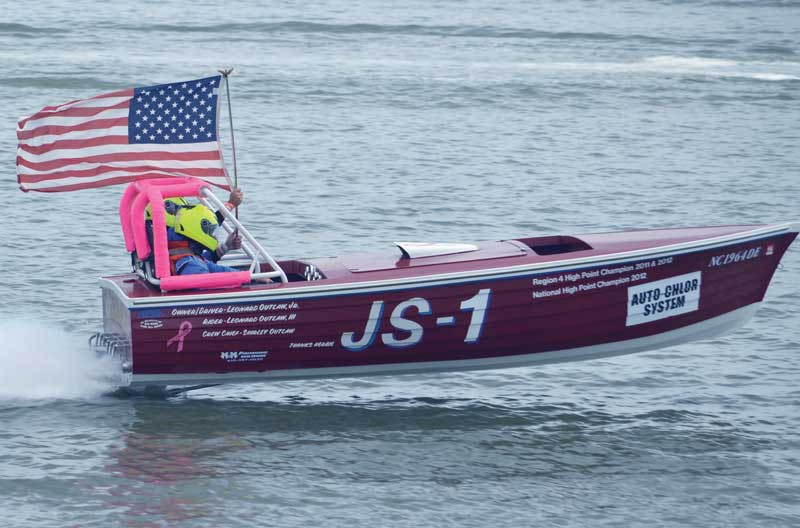 Beginning in the 1930s, the winner of the Hampton Cup Regatta was presented the Dodge Cup, a trophy created by the Dodge automobile family. Back then, the winner was allowed to take this impressive trophy home until the next year's regatta, but around the time of the 75th race, the trophy went missing and hasn't been seen since. 
Today, Lisa explains, "Racers get a little trophy to take home, but the big one comes back!" The current trophy is about two feet tall and it's a perpetual trophy, so each year the winner's name is engraved upon it.
We also asked Lisa about the drivers. Many of the people who come to these events have racing in their blood, including Lisa. "I've always been a part of it," she says. "My dad raced for 20 years."
But what if you don't have that family connection? You want to get into racing but don't have a foot in the door? Lisa says there is always information available for aspiring racers at this event. For younger powerboat enthusiasts, there is a youth class (ages 9-13) called the J-Stock Hydro. The APBA has been big on promoting youth events, so that younger racers can be taught the right way, the safe way, to see if they really enjoy the sport. Then by the time they are age 14, they can move up to an adult-sized boat. Some youth racers even get their hydro license before their driver's license! (Which is pretty darn cool if you ask us.)
There are also driving school events for the adults, hosted by the APBA. Next up is a stock outboard driving school August 30 in Lock Haven, PA, and APBA Driving School September 21 and 22, in Fort Monroe, VA. You can find info on the APBA website as well as at the Hampton Cup Regatta. Lisa tells us that if people are interested, the information is out there. "Half a dozen of our teams started out as spectators," she adds.
The Hampton Cup Regatta has a long and impressive history, and it is always a fun event for drivers and spectators alike. So mark your calendars for September 21 and 22, and get yourself down to Hampton, VA. For more information, visit hamptoncupregatta.com and visithampton.com.