One of the greatest innovations to come along in recent years has been the development of gyro stabilization systems in sizes and configurations adaptable to installation in smaller craft. We've all been familiar with such systems used in cruise ships and larger vessels, but for more than a decade now they have been available for the small-boat powerboater with a craft even as small as 23 feet LOA.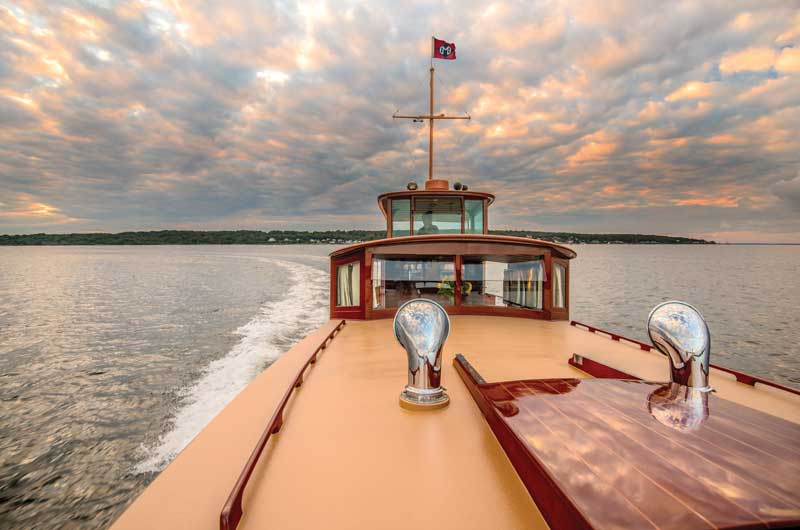 Gyro Stabilization
Simply explained, marine gyrostabilizers reduce the rolling motion of boats and ships in seas, giving traditional as well as modern hull designs better comfort and stability than these hulls innately possess. Even a powerboat with a poorly riding design can swim more sweetly over the waves with a gyro stabilizer. The heart of the system is a spinning flywheel mounted in a gimbal frame that allows it two of the three possible rotational degrees of freedom. Stoutly fastened to a vessel's structural frame, the gyro in operation steadies the vessel in choppy waters to lessen the effects of wave action, particularly in a beam sea, and ranging from light chop to rougher sea states. 
The shape of the powerboat's hull doesn't matter all that much. Although the dampening effect of a gyro on rolling is especially appreciated on older-design boats with a round bilge, plenty of hard-chine hulls respond favorably to the effects of a gyro since they, too, can become particularly uncomfortable underway or sitting stationary in a cross or quartering sea. Other than a cathedral hull or multihull design, just about any monohull powerboat will benefit from the effects of a gyro stabilizer.
Sailboats of course do not need gyros. A few thousand pounds of lead hanging from the keel are all the stabilization necessary for them. And, as we are taught in Boating 101, sailboats with keels are inherently more stable than powerboats, period. And while a gyro stabilizer may stabilize a powerboat's motion and make it feel more seaworthy in rough water, having a gyro stabilizer will not make your powerboat appreciably more seaworthy than it actually is, and certainly not more stable (or even as stable) as a keelboat, so one should not be misled. But the ride will be more comfortable and the boat easier to handle when the sea state becomes moderately choppy.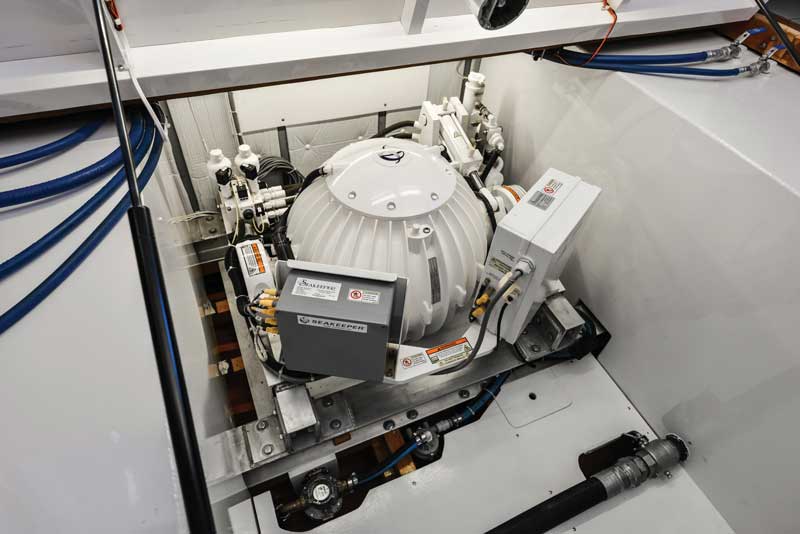 Gyro systems are also best suited for powerboats because they require a good deal of electrical power to operate, something certainly not readily or constantly available on a sailboat. Powerboats in the 30- to 60-foot range typically need generators to power their gyros, generators that are powered up the entire time the motorboat is at sea, and the voltage demands also vary, with larger gyro installations requiring 240VAC. Only the smaller gyro systems can be run off of the house batteries and 12V alternator.
I spoke to Todd Jarem at McMillen Yachts, Inc. in Portsmouth, RI. He restores classic wooden power cruisers, many of which, due to their antique vintage design, have round bilges which facilitate rolling, and generally high decks; the higher you are off the water, the more pronounced the effects of rolling will be to passengers. 
One major advantage to having a stabilizer installed, Todd says, is the lack of any traditional external fins or appendages. "There is no drag or risk of snags, and this also means that we don't have to compromise the appearance of these classic hulls. The gyro is internal, and as such there is nothing attached to or poking through the hull." 
Todd emphasizes that the gyro does not need to be mounted over the centerline: "It can be mounted belowdecks wherever you have room. Off-center, it functions just the same in the engineering spaces as elsewhere," with the caveat that it must be securely mounted to the strong elements of the hull structure, such as engine stringers or similar heavy timbers in the vessel's hull, something of particular importance in wooden boats and certainly in older hulls.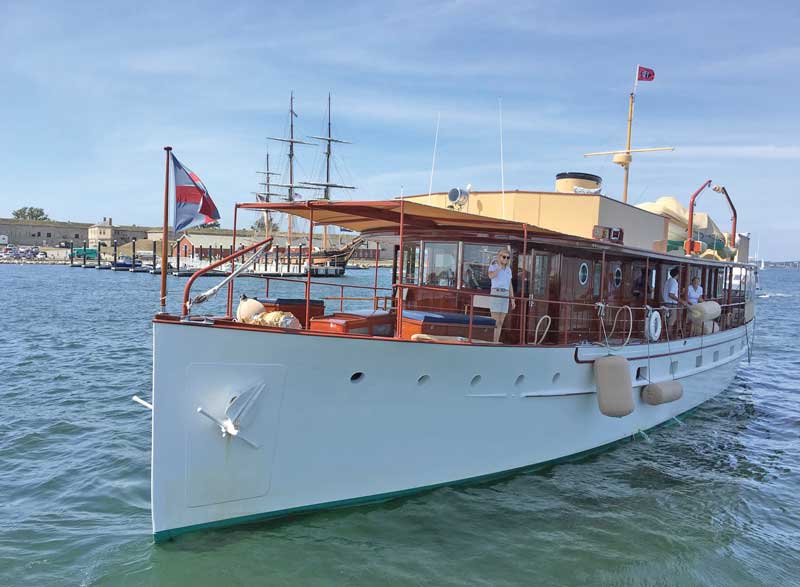 Additionally, the gyros are typically mounted not in the bow area, but amidships or aft of the beam, because forward of the beam they would be subjected to greater rough motion, such as pounding, which may cause the bearings and other parts of the unit to wear more quickly. 
There are a number of manufacturers of gyro stabilizer systems. The supplier whom McMillen Yachts has chosen to source is Seakeeper, a U.S.-based manufacturer. Earl McMillen, founder and CEO of McMillen, says that they are pleased with the results, having had their first gyro stabilizer operating for more than 11 years now in Enticer, an 85-foot fantail motor yacht designed by John Trumpy and built in 1935.
"We have installed four Seakeepers, one being serial #1 of the 21000 series that we put in Enticer," McMillen says. "They have very quickly revolutionized the stability equation in yachting today and have become standard equipment in many new builds. We are particularly pleased with the way they have enhanced the classic motor yacht experience, given the round bottoms of most early classic displacement hulls." McMillen yachts with SeaKeepers also include Miss Asia, Goddess, and Bjami (formerly Viking IV). 
Discussing power and installation requirements, Todd Jarem says that "On our larger installations, the units are (and must be) powered by 240VAC off the vessels' generators. Since a generator is running whenever we're away from the dock (i.e., for air conditioning, galley usage, etc.), this isn't an issue."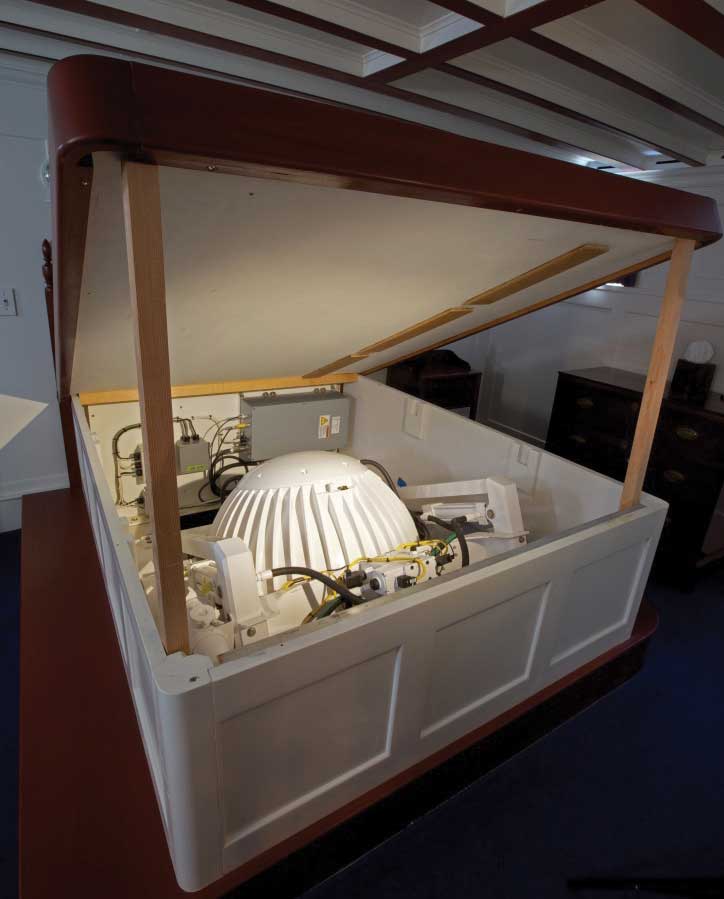 "The Seakeeper M8000 in Miss Asia and the Seakeeper 9 in Goddess draw less than 10 amps once they are up to speed. Most often, they use about half that draw unless the sea state gets rough and demands more of the unit. Enticer's M21000 is in the 15-amp range at 240VAC in the roughest conditions."
Bjami's smaller Seakeeper 3 is DC-driven and powered off the vessel's house battery bank which will be primarily recharged from the alternator on the main engine. She also has a small generator which can power a battery charger as well as air-conditioner, hot water, etc. to recharge that house bank while anchored. In that case, the gyro will draw 75 amps at 12VDC when it's coming up to speed and a maximum of about 60 amps in the worst sea state." All Seakeeper gyro systems also require raw water cooling, so that hookup must also be planned for.
Probably the biggest benefit comes for those who love boats but who have a tendency toward motion sickness in boats with a pronounced jerky motion in any kind of choppy sea state. The smoother motion of the vessel under the operation of the gyro helps mitigate the discomfort that would have once ended a day's cruising or at least have made it insufferable for many. It's not a panacea, but for some may mean the difference between a decent day out on the water and a miserable one. Manufacturers claim that these gyro systems eliminate up to 95 percent of boat roll. That's a lot for the sea-squeamish. 
By Captain Mike Martel
---
To learn more about the classic yachts in this article, check out Classic Wooden Boats Reborn at McMillen Yachts.