If you're not careful, walking the docks opening day of the 2014 U.S. Power Boat Show can cause temporary whiplash. That's a joke, of course, but more than once I whipped my head around like a spinning top when some cool piece of gear caught my eye. With so many things to check out, I logged serious pedi-time giving the show a good once over. Speaking of spinning tops, I spent some time learning more about the gyro stabilization units from Seakeeper. But first a slight detour: my curiosity piqued, I did a quick Internet search about the history and of applications of gyroscopes in general. I knew they're used in space, aviation and naval platforms as well as in missile technology. I discovered they're also found in consumer electronics and in tunnel mining equipment. All these modern technological uses sprang from a toy believed to have been invented by ancient civilizations such as Greece, Rome, Indus, and China.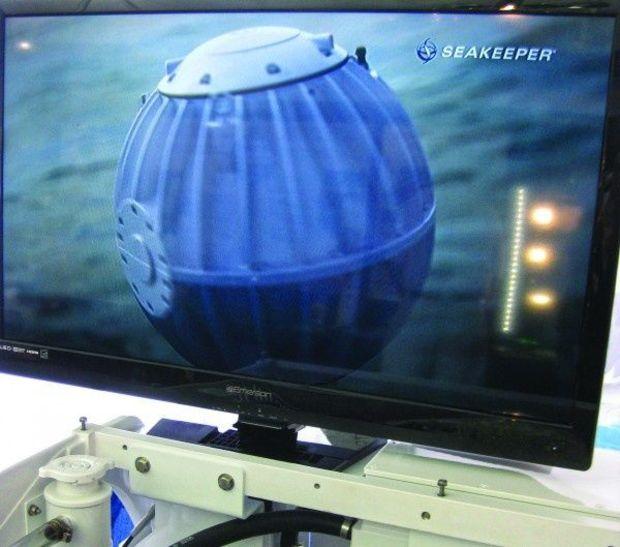 Fast-forward to the 21st century and back to Seakeeper. Shepard McKenney, who previously owned Hinckley Yachts and developed its innovative JetStick technology, and John Adams, former owner of Maritime Dynamics, a leader in motion control for high speed ships, combined their formidable talents to found the Maryland-based company in 2002. They make computer controlled gyroscopes for boats ranging in size from 30 feet to longer than 100 feet. According to company literature, Seakeeper gyros eliminate "most boat roll, including the fatigue, anxiety, and seasickness that go with it."
There are few things worse than getting seasick, and I've yet to meet the person who spends time on the water and has been spared some level of mal de mer. I spoke with Jeff Beane of Alliance Marine Group, who runs Oasis, a 2008 68-foot EB Viking sport fisher of Ocean City, MD. He told me Oasis was recently retrofitted with the Seakeeper 26, and it is indeed a game changer. "We came out of Atlantic City inlet, and put it (the boat) in a beam sea of four feet," he said. "We were rockin' and rollin' pretty good. When we engaged the Seakeeper, the roll was elimated by about 97 percent. It's a completely differently feeling, and I was impressed." He anticipates the gyro making their fishing experience much more enjoyable.
Seakeeper works with boatbuilders to install at the factory, or boat owners can retrofit their boat to accomodate the unit. About 25 percent of the units Seakeeper makes are for aftermarket installation. Although the cost and time needed for a retrofit installation varies, it can be as inexpensive as $5000 for smaller vessels, and up to $35,000 or more to retrofit larger boats. Bank on a few weeks for the work to be completed.
New products are coming soon from Seakeeper, says Brook Stevens, Seakeeper's Regional Sales Manager. "Seakeeper's next generation of products are here. By early 2015 we'll have five Seakeeper models available, four of which are already shipping," said Stevens. "Our smallest, most aggressively priced unit to date, the Seakeeper 5, is configured for vessels up to 20 tons, and our largest model, the Seakeeper 35, is configured for vessels up to 140 tons." He added that the Seakeeper 9, 16, and 26, are all available for vessels up to 35 tons, 70 tons, 100 tons, respectively. "We're very excited about our new family of products that will allow us to cater to a wider range of hulls and help make boating more enjoyable for many more owners," Stevens said.
Whether cruising or big game fishing, Seakeeper products could make your time on the water markedly better. And to think all these modern technological uses sprang from a toy believed to have its beginnings in ancient civilization.