As I slowly throttled up both engines, easing the familiar, richly chromed Morse control levers ahead, I could feel the authority, restrained yet straining at the leash, of the quiet big diesels three decks below my feet. The 58-foot Consolidated motor cruiser Goddess surged forward forcefully and smoothly, as though she were cruising through a flowing river of melted chocolate, just as she had done so many times since her launch back in 1947. This is how a grand old wooden powerboat feels, I noted to myself; and there is nothing else like it. Solid, graceful, and strong, turning heads wherever she passes by.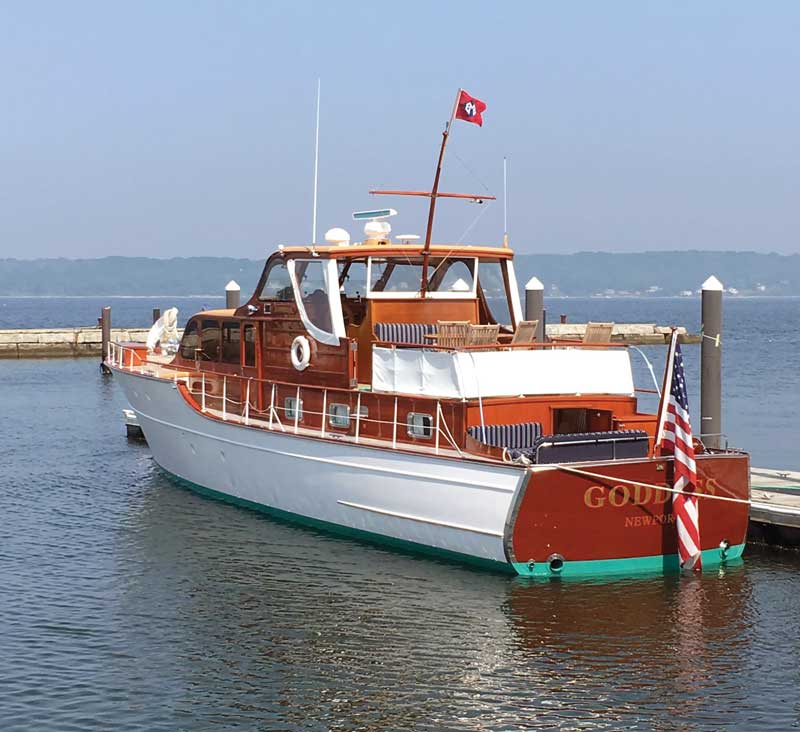 It's a warm July day, and driving this boat is my summer gig, taking partners and guests of McMillen Yachts out from Newport, RI, for a day on beautiful blue, sun-dappled Narragansett Bay. Who knew that so much elegant, varnished mahogany could move so sweetly through saltwater at 12 knots, and seemingly effortlessly at that? And she will go much faster than that if I push her, I know, but there is no need. Cruise at the speed of enjoyment. Haste is not graceful. Just enjoy, however enjoyment feels. 
Her big spoked mahogany wheel is traditional, solid, and substantial, and a pleasure to steer. She responds obediently and immediately to the slightest change in course and will hold her new course easily. With her twin propellers optimally spaced, I can turn her quite literally on a dime and maneuver her into tight places despite her size. She is meticulously maintained by the McMillen Yachts craftsmen, from the deep luster of her varnish to her beautiful, bright topside paint. She is unique; she is not of this age, but rather she is an ambassador from the past, like a classic automobile. But she is very much real and a part of the present. She belongs here, perhaps, to remind us of what man can achieve when he sets out to craft a seagoing work of art, a classic power yacht of fallen timber; a mechanical marvel. She has soul.
Goddess is just one of a fleet of classic wooden yachts restored, or owned and managed, by McMillen Yachts, which is headquartered in Newport. The company was founded by Atlanta, GA, native Earl McMillen III in 1992 with the purpose of restoring and maintaining classic boats, both motor (mostly) and sail. Earl pioneered the concept of fractional yacht ownership in 1995 with the goal of giving other people the opportunity to participate in the same goal. In addition to restoring yachts, Earl's wife Elizabeth is active in the business and oversees the responsibilities of interior design and crew training.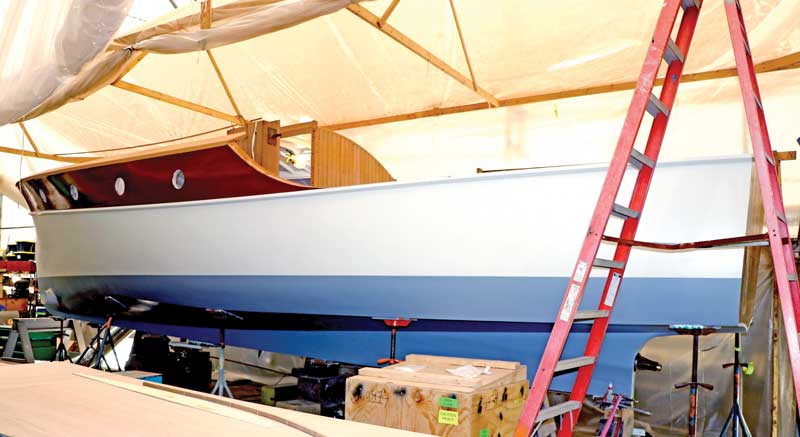 McMillen Yachts has restored dozens of significant and historic yachts and is able to offer year-round use of the yachts in the "fractionally owned" fleet anywhere along the East Coast. During the summer months, the fleet is based out of Newport and cruises between New York and Maine. In the spring and fall, the boats cruise the Georgia and South Carolina coasts; and in the winter months they are based in south Florida and cruise both coasts, including the Florida Keys and Bahamas.
The boat-building complex in the old port of Melville, in Portsmouth, RI, is home to the arched, cavernous McMillen boat shed where many of Earl's growing collection of boats are, for the most part, stored and maintained. There, McMillen rubs elbows with the likes of the Hinckley Company, Hunt Yachts, New England Boatworks, and many others. At any one time, a tour of the McMillen boat shed will reveal several boats in various stages of work, from ground-up rebuilding and restoration to upgrades and modifications, all performed by a skilled, well-trained team of committed and talented artisans who have devoted their lives and careers to wooden boat craftsmanship. 
A full complement of marine carpenters, mechanics, systems installation and repair specialists, coating and finishing specialists, and others work together to bring each boat closer to its launch or re-launch date. Each person has their area of focus and specialization. Most have received classical training and certification at Newport's International Yacht Restoration School (IYRS). It is to wooden boat building what Harvard is to the law profession. And yet people who build boats out of wood do it because they love it. 
In addition to the big shed, McMillen's Melville, RI, facilities include other waterfront buildings, with inside and outside storage, and access to a 160-ton TraveLift. They are currently completing the construction of an offsite building for the storage and maintenance of classic yachts up to 50 feet.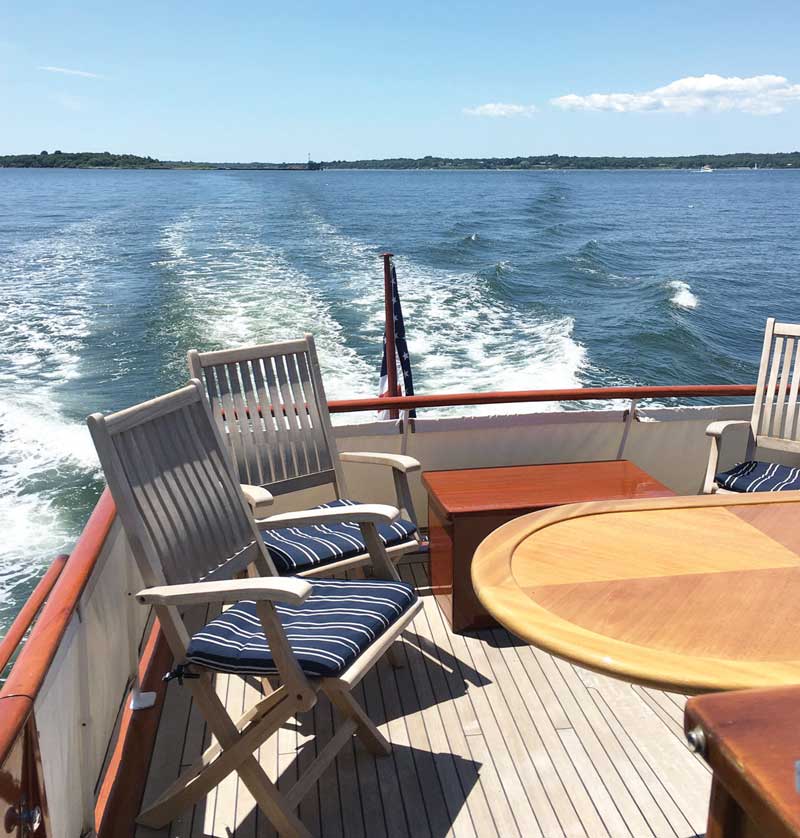 McMillen doesn't acquire these yachts in 'Bristol' condition; quite the contrary. For many of them, their rescue and restoration seems, at times, little more than a miracle. Saving them requires a financial team effort, hence the concept of fractional ownership, similar to time-sharing. Those who participate in McMillen's fractional ownership are referred to as "partners," because partners they are, with real "skin in the game." Each partner's access to their yacht depends on their percentage of fractional ownership. 
The flagship of McMillen's fleet is Freedom, the 104-foot fantail motor yacht designed by John Trumpy and built in 1926 by the Mathis Yacht Building Co. in Camden, NJ. When Freedom passes the dock, it's a bit like the whimsical Robert Frost quip, "Time and tide wait for no man, but always stand still for a woman of 30." Or in this case, a grand old lady of 93. The restoration of Freedom, incidentally the sister ship of the ex-Presidential yacht Sequoia, took four years and $6.5 million before it was done. When discovered by Earl, Freedom was a hair's breadth away from the chainsaw. 
McMillen will sell some boats outright and restore them for the new owners if requested. Some boats have been restored in the past and have moved on to new owners; but McMillen's core fleet remains under McMillen management and care, all with fractional ownership partners who underwrite their yacht's upkeep through their participation and love of these boats.
If you're lucky enough to have the opportunity to drive one of these boats around, as I did with Goddess, you become very fond of your charge. On a bitterly cold day in January I visited her, under cover in the boat shed, and I had to smile; she's just as pretty on blocks as she is in the water, I thought. Jeff Jacobson, the yard manager, came over to show me the brand new gyroscopic stabilizer that would soon be installed in Goddess.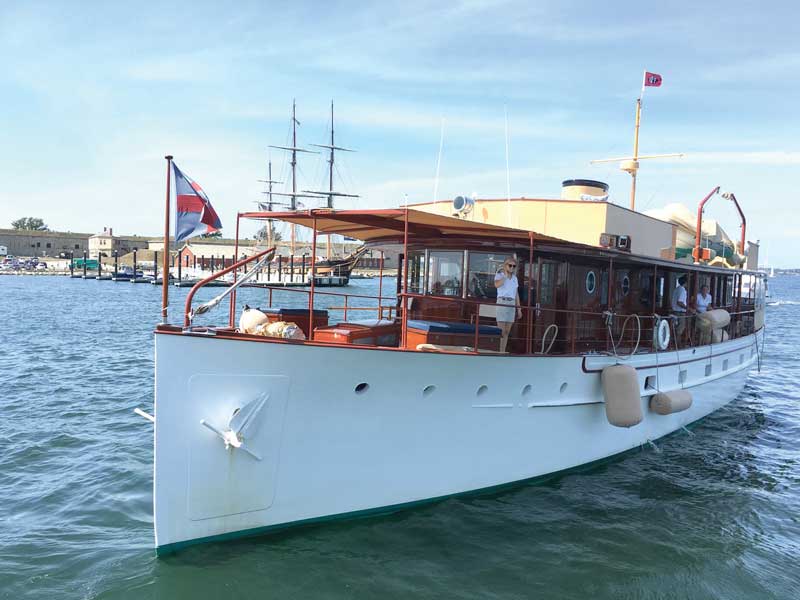 "This will smooth out her ride significantly," he said. With her round bilge, Goddess was prone to a bit of a roll in a beam sea; not a problem for me, but occasionally uncomfortable for guests. As such, the decision had been made to install a stabilizer down in the engineering spaces over the winter. Now here it was, still in its new-wood shipping crate.
Other McMillen classic wooden yachts under McMillen management include the beautiful Enticer, an 85-foot fantail motor yacht designed by John Trumpy and built in 1935 by Mathis; Onawa, a 70-foot, 12-meter yacht designed by W. Starling Burgess and built by Abeking & Rasmussen in 1928; Belle, a 77-foot yacht built in 1929 by the New York Yacht, Launch & Engine Company of Morris Heights, NY; motor cruisers Miss Asia, Viking IV, and others. For more information and some beautiful photos, visit woodenyachts.com.
I walked around the stern of Goddess, behind the transom where I could neither be seen nor heard, reached up and placed my hand on the deeply varnished transom planking, and spoke to the boat, in low tones, "Girl, I wish it were summer already!"
By Captain Mike Martel