If your yacht club isn't going to Croatia this year or your boat won't make it to the Grenadines in a week, don't worry, you can still enjoy an exotic boating vacation by chartering. All sorts of powercats can be yours for the week as charter outfits add amenity-laden boats to their fleets around the globe. If chartering is new to you, here are some tips on planning that first outing so you too can have bragging rights.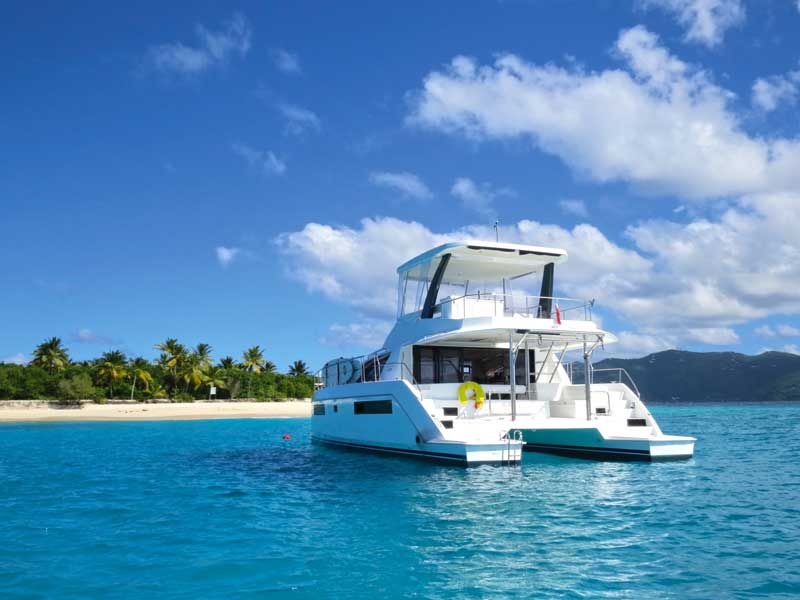 Where can I go on a charter vacation?
To some degree, the sky's the limit on where you can charter. Powercats are popping up in the Caribbean (as in the British Virgin Islands and Bahamas) and the Mediterranean (Croatia, Greece, and Italy). You can dive with turtles in the Grenadines, visit the ruins of Ancient Greece, or do the Game of Thrones tour in Dubrovnik, Croatia, and see it all from the deck of a powerboat. 
Who do I book with?
The options are growing. The Moorings offers powercats 37-53 feet (bareboat) at 14 destinations throughout the Caribbean, Mediterranean, Indian Ocean, and Far East (like Thailand). MarineMax Vacations has powercats 36-48 feet in the British Virgin Islands and in the Bahamas. Also, Freedom Boat Club has a growing number of smaller powerboats some of which are powercats. As a member, you enjoy access to fleets across the country (and now also in Europe) so you can charter a center console fishing boat for the day while on an otherwise land-based vacation
When do I go?
If your schedule is flexible, you can charter nearly year-round. Start in the spring with a visit to the Exumas, Bahamas (if the islands are ready for tourism at that time)and then follow it up with a jaunt to Corfu, Greece. From November to May you can work on your tan all over the Caribbean, and then consider shortening the bucket list and dropping down to Tahiti for a bit of hedonistic paradise. There are really more places to go every month than you'll have time or budget for. 
Why should I choose a powercat?
Powercats are perfect for shallow waters due to their limited draft and ideal for large groups because of their ample deck and cabin space. Most powercats also offer flybridge models, which provide separation for your guests. You can enjoy adult beverages up top while the kids play games in the cockpit below. You may also find that family members prone to seasickness will feel better on a powercat, which has a different motion than a monohull. Also, on a cat you won't have to tow the dinghy since most cats have easy-to-use davits for the tender. Finally, powercats are fast since they're not dragging a heavy keel through the water and they're easier on fuel consumption and therefore on your wallet.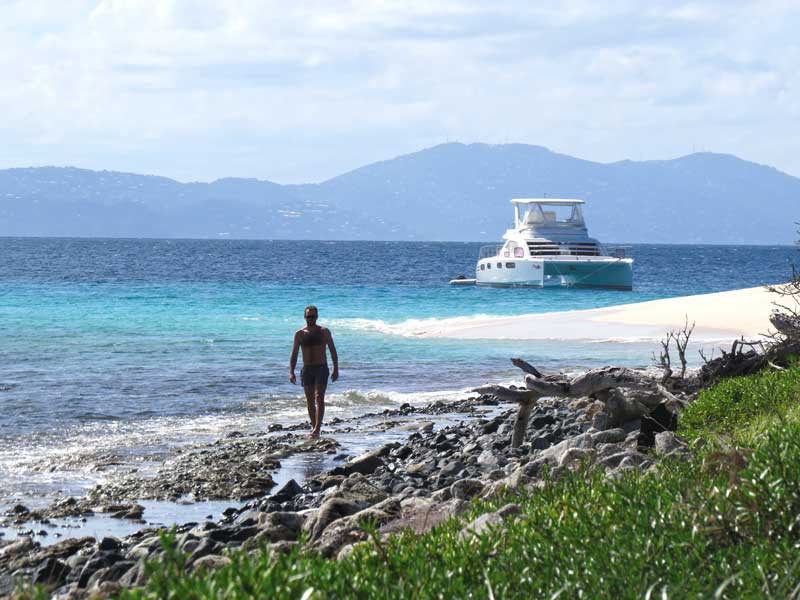 What should I look for in terms of amenities?
Critical boat equipment will depend on the destination. You'll want to look for a watermaker in the Caribbean and parts of the Mediterranean where water sources are few and expensive and the weather is hot so people will want to cool off and bathe more. 
Climate control is a matter of personal preference. In order to have A/C away from the dock, you'll need to run the genset and that means noise, fuel consumption, and a general anchorage disturbance. Alternately, you can open a hatch, enjoy the breeze, save some money, reduce your carbon footprint, and feel one with the location. 
For a comfortable vacation, ensure that everyone sleeps in a single or shared cabin. Europeans like to pack their boats with people camping out on the settee in the salon but generally, Americans don't find that a good way to vacation. 
Check on the size and quality of the tender as well as the outboard. Your dinghy will be your ride to dinner, the dailyexploration vehicle, and the kids' fun toy. Make sure yours will be accommodating, easy to use, and reliable for the whole group. 
What to Ask in a Chart Briefing
Charter companies offer a tech checkout and a chart briefing. Attend both and pay attention. Record the meetings with your smartphone so you can play back important information like the genset starting instructions or take a picture of the freshwater manifold so you can find it again when it's time to change tanks. 
Know how to raise and lower the dinghy, how to start the outboard (have the assistant do this before you depart), and find out where door and deck keys are stored. Get details of how to monitor and manage the batteries so you don't end up with a dead ship, and make sure to convert all electronics to English. 
Ask about anchoring restrictions and moorings use in the area. Some moorings will be private and you may be asked to leave even if it's the middle of the night when the owner returns.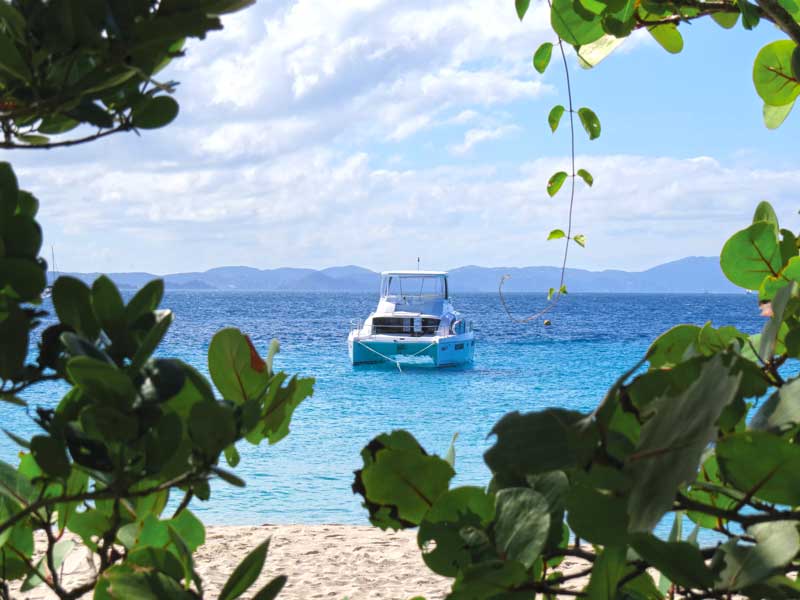 Lots of ways to do it
If all this sounds overwhelming, don't panic. You can hire a local skipper. The pluses are that you'll instantly gain local knowledge, you don't have to have much experience to take out a big boat, and if something breaks, you don't have to fix it. The minuses include extra cost and that the captain will be living with you on the boat during your vacation. 
If you'd like to learn the ropes of exotic charter management from a friendly face, consider going with an outfit like Zescapes where they put an American captain on with you and you can participate (or not) as much as you like. Now get out there. Sailors shouldn't have all the fun.
By Zuzana Prochazka
---
Don't forget to check out Part I of our three part charter series: Family Fun in the BVI, and video from PropTalk's charter in the BVI last summer.