As most of us were preparing for the cold dark days of winter last November, Annapolitans Sandy Nuwar and Jeannie Hillock were snorkeling with their friends and families in the clear blue waters of the British Virgin Islands (BVI). As they edged along one of the many coves, the two were amazed to see giant sea turtles in the water nearby. "Swimming with these majestic creatures was one of the highlights of the trip," recalls Sandy, for whom this was her third BVI charter vacation. "As I watched these prehistoric turtles, I couldn't help but think about all that has happened and all the changes on earth over the millions of years that they've been here."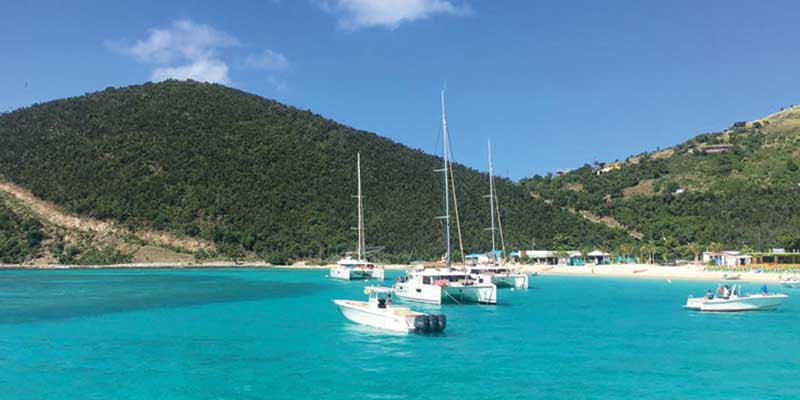 Fun seems to follow Bay boaters Sandy and Ramsey Nuwar, or perhaps more accurately, they do a good job of seeking it out. So it wasn't surprising that this couple and their two children were part of a delegation from Annapolis headed to the BVI late last fall. The family's first BVI charter, in 2013, came after a last-minute change to a scheduled family trip to England. "We were sitting on the deck of a waterfront bar on the Eastern Shore, listening to our neighbor's band, booked to travel to England the very next week," says Sandy, "but as Ramsey looked out over the Bay, he realized that he really wanted to spend his vacation on the water, not walking the streets of London. So we switched our airline tickets and chartered a boat in the BVI. For us it was really quite an adventure. At that time we only owned a 20-foot powerboat, and we had never boated internationally." 
Sandy continues, "When we returned home, everyone kept asking about our trip, and we kept telling them all the great things: we loved it; the water is gorgeous; and the weather is reliably good. Out of those conversations we planned a return trip in 2015 with a group of eight adults and eight kids on four boats."
Their most recent trip, which fell over the Thanksgiving holiday, was with an even larger group, totaling 22 people (14 adults and eight children) on four power cats. Most were Chesapeake Bay boaters. Some had previous BVI charter experience, but many did not. The group included a French Canadian, some Australians, and a couple of Brits, so naturally, one of the boats was dubbed The Commonwealth. With her optimist attitude, good organizational skills, and previous BVI charter experience, Sandy took on a lead role in organizing the trip.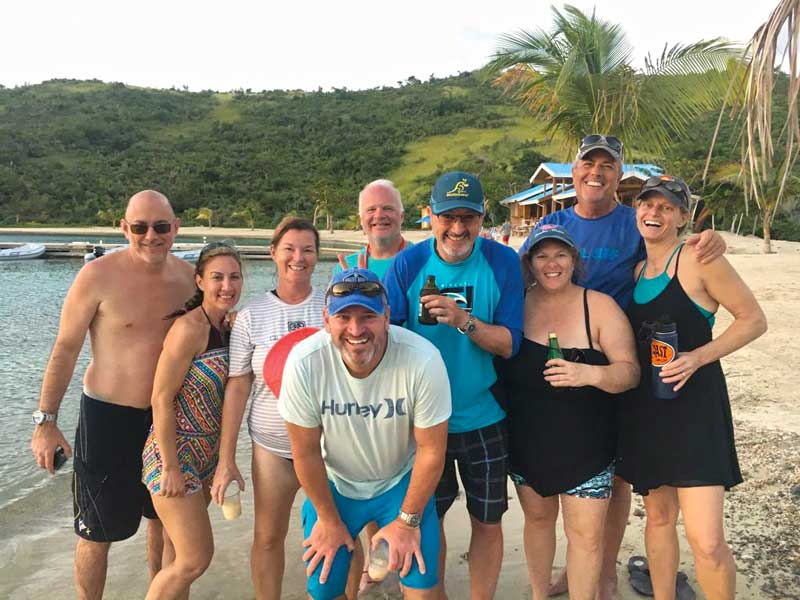 "I spent a lot of time making preparations and planning routes," she says. "I looked at maps and charts and talked to many people about the best itinerary. For me, a big piece of the whole experience is thinking about the plans and looking forward to the trip, so I didn't at all mind the leg work." 
"The planning and organizing that the Nuwars did was truly a gift," says Jeannie Miller, for whom, along with husband Rob and three children, this was a first trip to the BVI and a first charter. "Although we boat a lot out of Annapolis, we don't typically take multi-day trips or sleep on our boat, so I was a little hesitant. I don't know if we would have ever done a trip like this on our own," she says.
Like most trips, this one wasn't without its bumps. One of the Miller kids got sick on the plane. There was no hot water at the hotel. A piece of luggage was lost on the ferry. One of the boats wasn't ready on time, and then there was that smelly head that hadn't been pumped out from the prior occupants. However, and more importantly, there was clear water, great weather, amazing wildlife, lots of laughs, local rum, and the Nuwar's inflatable beer pong table!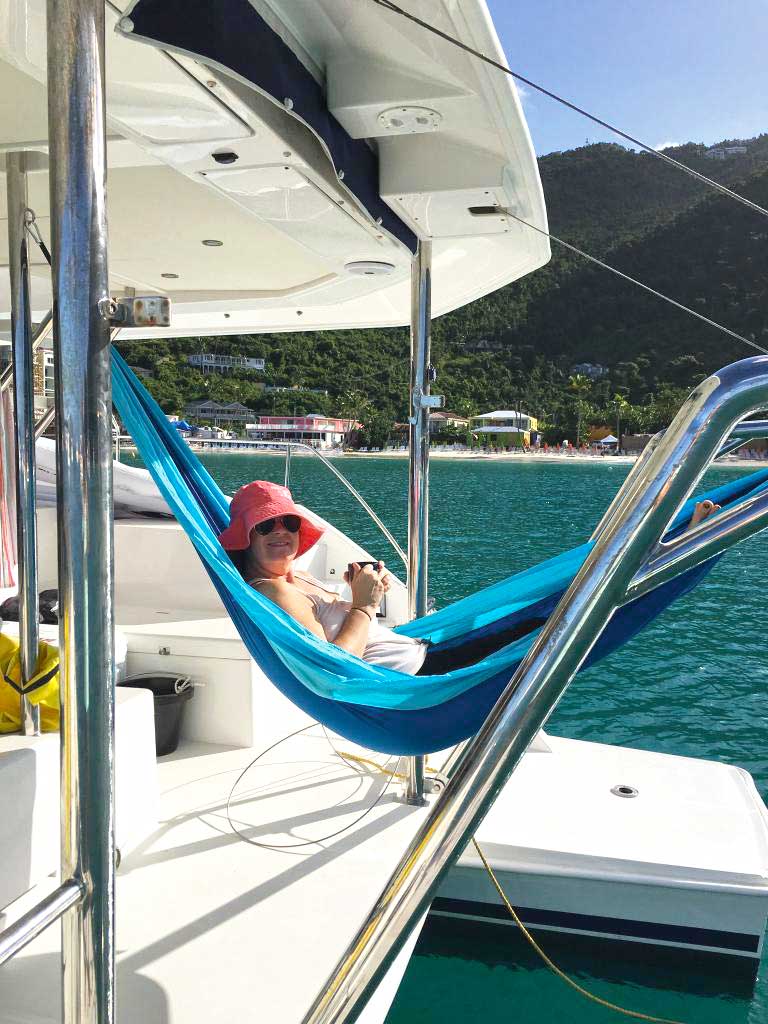 Sandy and the group had wisely planned for a short passage on day one, anticipating that everyone would be anxious to get to the first mooring and start the fun, (and also taking into account that it gets dark at about 5:30 p.m. at that time of year). So despite their late start ("it's the islands," says the easy-going Sandy, "nothing happens quickly"), they were able to stick with their plan to spend their first night tied up at nearby Peter Island. 
The group's four boats (one started from a separate charter base) traveled together for their entire five-night trip. "Planning your destinations is a balancing act between moving around to see as much as you can and staying in place to make things simple," says Sandy. "It wouldn't be worth coming all this way to just stay in one spot, but on the days you're moving there's a certain level of pressure to get up and pull everything in (towels, water toys, SUPs, and other goodies), secure what needs to be secured, and get underway. We chose to strike the balance by spending the first three nights in different places and the last two nights in one spot. We hoped to pick up mooring balls together, since we really didn't want to anchor unless we had to (so we wouldn't need to worry about dragging an anchor at night). Happily, we were always able to find balls and tie up together."
On day two the flotilla got an early start and headed for Cane Garden Bay, with a day stop planned at Sandy Cay, "an unspoiled spit of a place with incredible shells, beautiful beaches, and coral that had washed up on the shore" as Sandy aptly describes it. "When we reached Cane Garden Bay, we toured a rum distillery that has been around for almost 200 years and has been owned by just a couple of families in all that time. We also got a feel for what the locals have been going through as a result of the 2017 hurricane: lots of buildings were damaged and many others were under construction."
The group's next stops were Jost Van Dyke for a fun night of music at the famous Foxy's in Great Harbour and then on to The Bight at Norman Island. Those familiar with the BVI will associate this area with the beloved Willy T, the floating restaurant and bar that was destroyed by hurricane Irma. At the time, the establishment was operating out of a temporary location, and Sandy reports that they saw the damaged original vessel and even found a bag of forks while snorkeling nearby. (Editor's note: Willy T's reopened in its original location this past July. If you've been there to see it, drop us a note at [email protected]).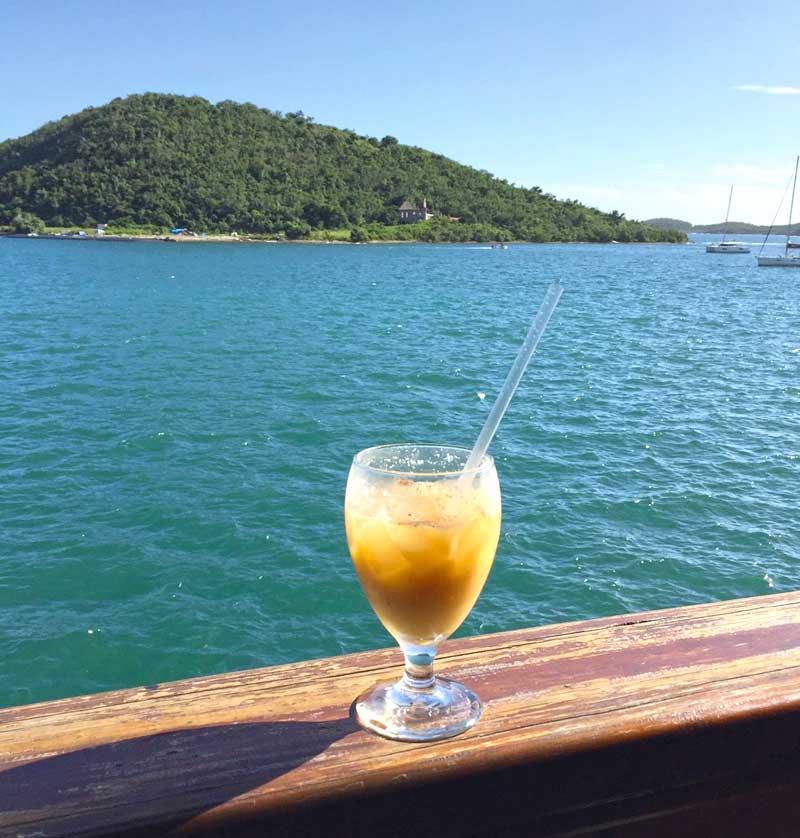 To explore The Indians, four famous rock formations which stick boldly out of the water, the group piled onto one catamaran and motored over. Some describe this area as the best snorkeling in the BVI, and it was here that Sandy and Jeannie Hillock saw the incredible sea turtles. "Jeannie and I were having such an amazing time that when the others went back by boat to our mooring, we decided to snorkel all the way, probably a couple of miles. It was simply unforgettable."
Soaking up her first exposure to island life was a big leap but a happy one for Jeannie Miller. "I had heard how great the area is and seen the beautiful photos, but it was even better than I expected," shey says. "One of the most amazing things was the giant tarpon we came upon when we were snorkeling. The kids from all the families got along great and had a lot of fun snorkeling, exploring, and paddling on the SUPs together. I was happily surprised that I slept great on our boat. One thing that surprised me was the water. I had expected it to be very calm, but it felt pretty wavy and bouncy, especially when we were snorkeling with our younger daughter, but I have to say that even when I was hesitant, all the experiences were really fun and I was so happy I did them."
---
For more on chartering in the BVI, check out Exploring the Uninhabited Isles of the British Virgin Islands.