How to prepare for life at sea, what questions to ask, and things we learned during our first power catamaran charter.
When most people hear the words 'BVI charter,' they are probably imagining a catamaran, white sail billowing in the wind. I imagined the same for a while, even though power catamaran charters are gaining in popularity and availability. So when I was recently given the opportunity to do a bareboat (unskippered) power cat charter in the British Virgin Islands (BVI), I jumped at the chance. I took my family, and while this was our third visit to the Caribbean, it was our very first charter experience.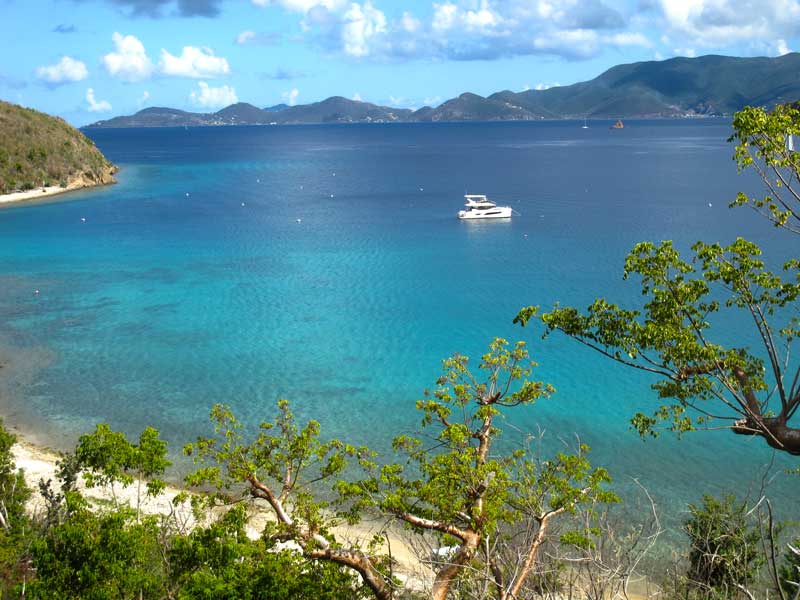 When prepping for a week in paradise, here are a few things to keep in mind. 
1. Which company?
Prices and boat models will vary slightly by company so it's best to know what you're looking to get out of the trip and how much you're willing to spend ahead of time. Our trip was through MarineMax Vacations on the MarineMax 443 Aquila power catamaran, a 44-foot multihull with three cabins and three heads. This is the mid-size boat in MarineMax's power cat lineup. You should also keep in mind where each company's base is located and how far away it is from the airport or ferry dock. 
2. Boating Resume 
A captain's license is not required to skipper a power cat in the Caribbean. However, you will need to submit a boating resume so that the charter company can gauge your experience. Typical questions include: how many days in your lifetime you've captained a yacht; the types of boating you're familiar with (lakes/inshore, intracoastal waterway, coastal, offshore); any marine licenses you hold; and whether you have experience picking up a mooring ball, dropping an anchor, and using a GPS/chartplotter and other necessary electronics. If you are not an experienced boater, a skippered charter would be the way to go, though be aware this will add to the cost of the trip. 
3. Cost
Before airfare, food, and fuel are factored in, you have to determine how much the charter boat itself will cost. This will vary based on company, the size of the vessel, and the time of year. Winter and spring are often peak travel times, and thus more expensive, while summer tends to be a little cheaper and less crowded (but hot). Also be sure to keep hurricane season in mind, which runs roughly from June through November. 
The best way to begin budgeting for a trip is to request a quote from the charter company directly. Ask for an estimate on insurance, taxes, and other fees, as well as the cost of fuel. In regards to fuel, you will start with a full tank of gas, and at the end of your trip, much like a rental car, you will top off the tanks back at the base. Fuel consumption will depend on the distance you cruise each day, and how often you run the generator (the AC won't work without it).
4. Travel
There are no direct flights to the BVI from the United States; all flights must connect through another Caribbean airport, such as Puerto Rico or the U.S. Virgin Islands (USVI). We flew into St. Thomas in the USVI with a short layover in Atlanta. Once arriving in St. Thomas, it was a short taxi ride to the ferry dock in Charlotte Amalie and from there, roughly an hour ferry ride to Road Town, Tortola. 
Be sure to check ferry departure times before arriving. Otherwise, if you miss the ferry, you will be spending a night on St. Thomas and will have to postpone your charter one day.
Once you've arrived in Road Town you will need to go through customs (which includes a small entry fee) and arrange for a taxi to your charter base; charter companies can often pre-arrange a taxi transfer for you, so be sure to ask about costs/logistics. 
Another arrival option is to fly into San Juan, Puerto Rico, and take a smaller plane or seaplane to Tortola's Beef Island Airport. 
When making your arrangements, consider arriving a day early and booking a hotel room, or inquire of the cost for sleeping aboard the night before you depart. We arranged to arrive a day early and sleep aboard which gave us extra time to get to know the boat's systems, from the safety our slip, as well as do all of our provisioning.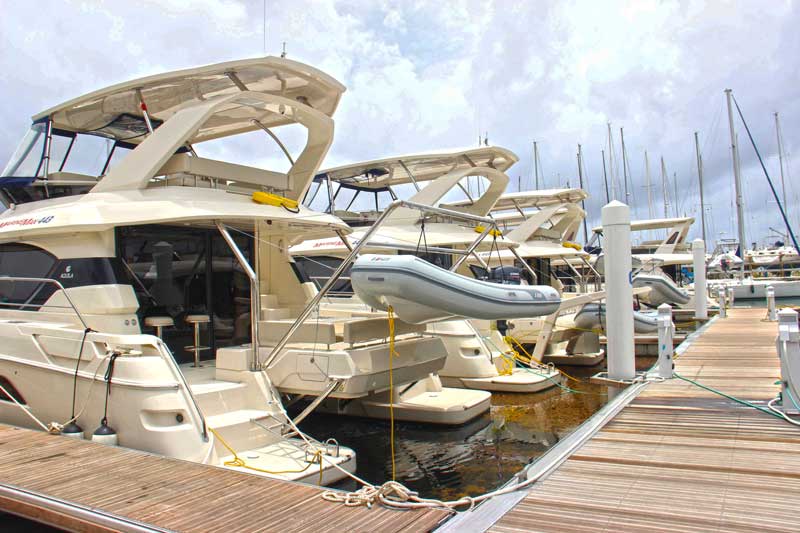 5. Provisioning
Most, if not all, charter companies will have a pre-provisioning option where for a little extra money you can have groceries delivered to the boat before you even arrive. Depending on the time of your arrival and where your base is located, this could really come in handy. Because we knew there was a grocery store at our base in Nanny Cay, we opted to do the shopping ourselves. 
Biggest takeaway? Don't go crazy at the store. What you don't want is leftover food at the end of your trip. Make sure you have breakfast for each morning, salty and sweet snacks, and quick lunch or dinner options such as hot dogs or frozen pizza that you could whip up in a jiffy. If you need to re-provision mid-trip, there will be spots to do so. Most boats have a full galley, as well as a grill on deck, so cooking onboard is a breeze.
In the medicine department, make sure you bring or buy a basic first aid kit with Band-Aids, anti-itch cream (for bug bites), seasickness meds, and antihistamines. And you will want a bottle of vinegar for jellyfish stings. If stung, douse the area with vinegar which will help to deactivate the venom released by the jellyfish. 
6. Charter Briefing 
Before you can depart from the base you will need to do a walkthrough of your vessel with the charter company. Bring a list of questions; the only dumb questions are the ones you don't ask. The charter company will go over all of the necessary operating systems on the boat with you and if you have more questions while out at sea, you can always call the base to check in.  
Prior to departure, ask about water toys and WiFi. Many companies offer paddleboard or kayak rentals for the duration of your trip at a cost per day, and some even have an onboard WiFi option for around $100 per week. Our boat was stocked with snorkel gear for each person onboard, but be sure to double check so you know whether to buy or bring gear from home.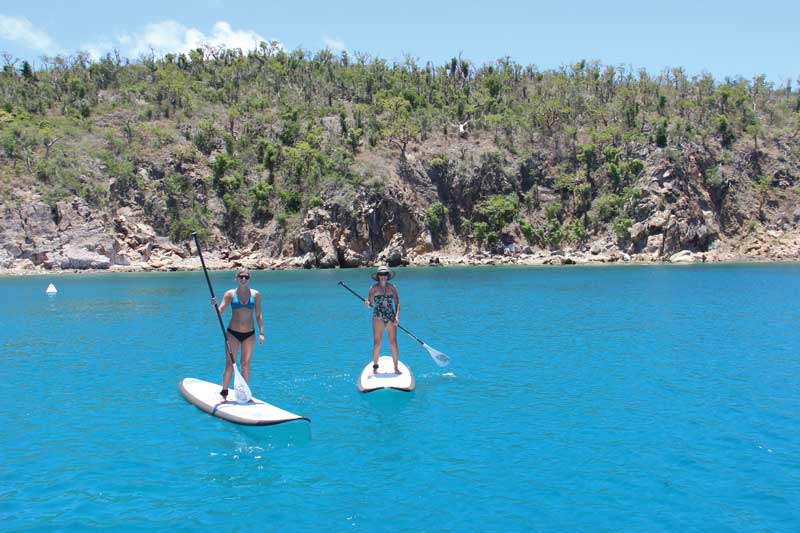 7.  Sleeping Arrangements 
Depending on your group, this could be a big point of contention. Lucky for us, it was simple; the captain (i.e. my dad) got the master suite. If you think there could be fighting over the "big" room, best to figure out who's sleeping where before you even reach the base. You will probably only be going down there to sleep or shower anyway, so it really shouldn't matter. The cabins are roomy but obviously smaller than a hotel room so make sure to pack light. A duffel or carry-on-sized suitcase is best for conserving space.
8. Itinerary 
Before your trip, get an idea of must-see spots you want to visit, but leave room for spontaneous detours along the way. During your briefing, you will be told what places, if any, to avoid due to shoals or reefs or other restrictions. If your trip is after a recent hurricane, like ours, ask about popular spots that might have been affected. We found that many websites had not been updated post Irma and Maria, so asking a local will yield the best results. Also be aware that some islands in the BVI are private so there could be restrictions on mooring balls or going ashore.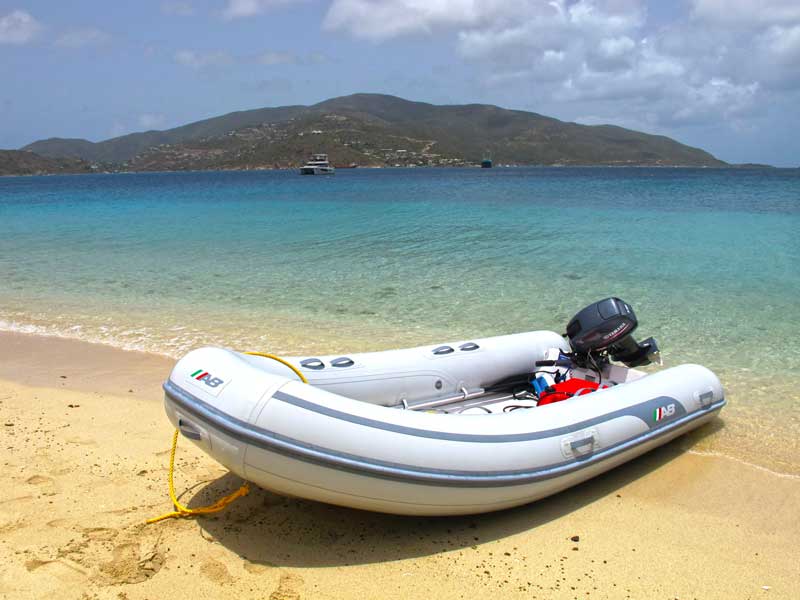 9. Overnight Moorings 
You should not be traveling by boat at night, so you will either need to find a mooring ball, which cost $20-$30 per night, or a marina/resort dock. Docking at a resort will cost more, but the upside is you will usually gain access to the resort's pool and other amenities. If grabbing a mooring ball, be sure you've grabbed a white overnight mooring. National Park moorings are red and for day-use only, yellow balls are for commercial dive vessels, and dinghy moorings are blue. Cruising guides will advise whether you should pay ashore or if someone will come out to you to collect the fee.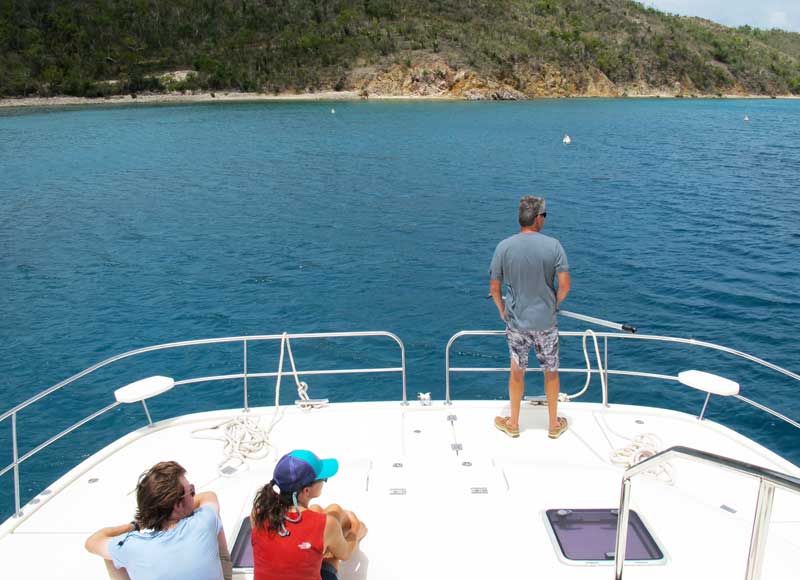 10. Patience 
Plans will change, weather can turn sour, or there may not be a mooring ball at a popular snorkeling spot. But guess what? You're in paradise! And you probably only have one week to enjoy it. So spend every minute soaking up the sun and snorkeling beneath the waves. If you do it right, this could easily be the trip of a lifetime.
By Kaylie Jasinski
Click to Exploring the Uninhabited Islands of the British Virgin Islands to read an account of our charter experience.