Want to become a volunteer on the Liberty Ship SS John W Brown in Baltimore? Here's how: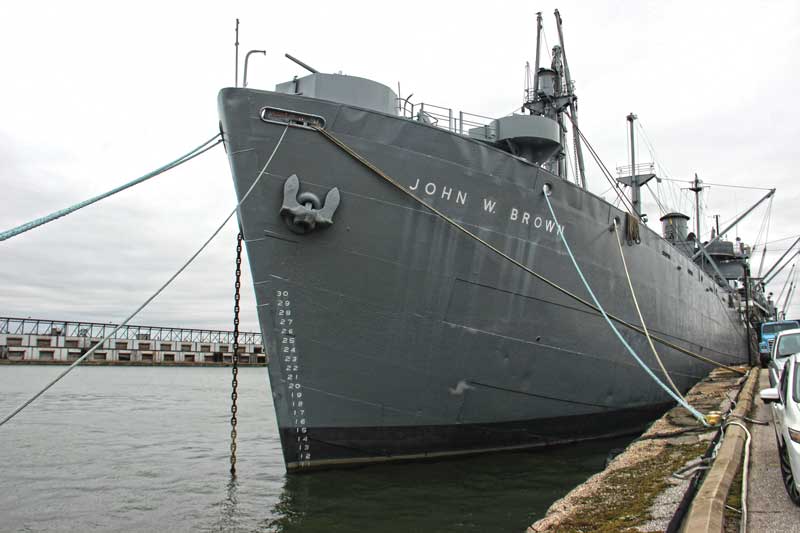 Liberty Ships
Between 1941 and 1945, under the leadership of President Franklin D. Roosevelt, the United States organized an emergency shipbuilding program which produced over 2700 Liberty Ships for use during World War II. All of the ships were built to be identical. At just over 441 feet long, Liberty Ships could hold 8500 tons of cargo, enough to fill 300 railroad boxcars. These Liberty Ships were "the cargo-carrying key to victory." At the time, enemy U-boats, aircraft, and mines were sinking a huge number of merchant ships carrying vital equipment, supplies, and troops. The U.S. needed to build ships faster than the enemy could sink them. 
The first ship, S.S. Patrick Henry, was launched at Bethlehem Fairfield Shipyard in Baltimore on September 27, 1941. By 1945, when the shipbuilding program ended, there were 18 shipyards on the Atlantic, Pacific, and Gulf Coasts. 
About 2500 of the 2700 Liberty Ships produced survived World War II, and the John W. Brown is one of only two surviving fully operational Liberty Ships in the United States (and the only one on the East Coast).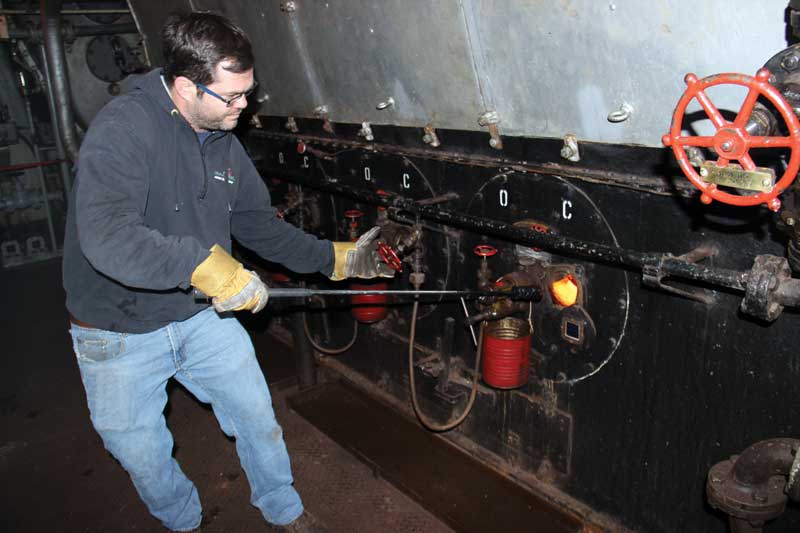 Project Liberty Ship
Project Liberty Ship, an all-volunteer nonprofit organization that maintains and operates the vessel, was formed in 1978 to preserve the John W. Brown as an operating museum and as a memorial to shipyard workers, merchant mariners, and U.S. Navy Armed Guard crews who built, sailed, and defended Liberty Ships during World War II. She was restored to steaming condition in 1991. 
You might remember the Brown gracing the cover of the January 2020 PropTalk and the subsequent article, The John W. Brown, An Uncertain Future. At that time, her future was in question. The Brown's pier lease was expiring, and Project Liberty Ship was searching for an alternate berth to no avail. Then, in early 2020, following completed drydock maintenance in Norfolk, VA, the John W. Brown returned to Baltimore with a new berth at Pier 13 on the Canton waterfront at Newgate Avenue. 
We were invited back to hear from her volunteers, check out her new location, and learn about future plans.
The Engine Room
As mentioned, the Brown is one of only two surviving fully operational Liberty Ships in the United States, the key words being fully operational. On the day of our tour on a cold March morning, volunteers were prepping for a Coast Guard inspection, which meant all the ship's systems had to be slowly "warmed up" for the season. 
The ship is powered by a reciprocating, triple-expansion steam engine, developing 2500-hp at 76 rpm for a top speed of 11 knots. The engine is fed with steam from two oil-fired boilers and drives a single, four-bladed propeller, 18 feet in diameter. The steam is generated at 220 psi and 450 degrees. 
Back in World War II, there would have been a three-person crew in the engine room. On this day there were about 10 volunteers. Some, like Gregory Mucci, have been a volunteer for 25 years, while for others it was their first day. The whole process of warming up the engine takes about four hours, with one burner lit at a time, moving from compressed air to steam.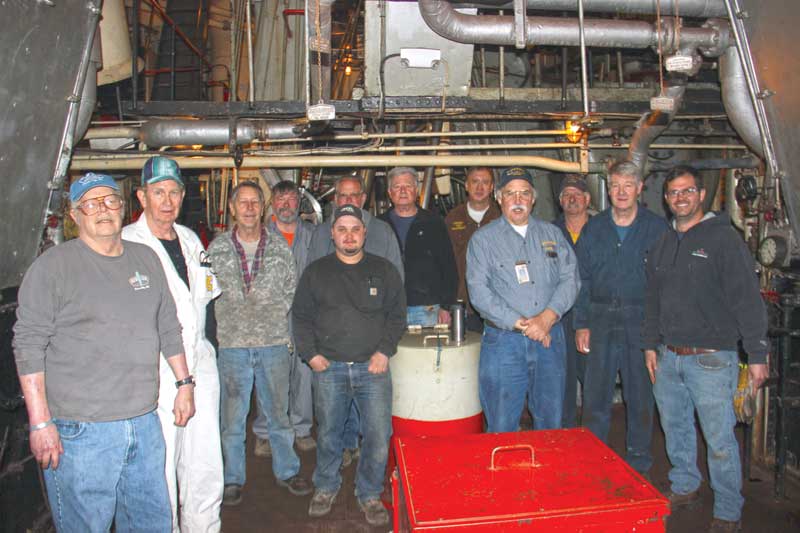 Gregory says, "the engine is a show in and of it itself—it's bullet proof." The ship is almost all original. While some updates have been made for the Coast Guard, such as environmental and safety regulations, "what you see down in the engine room is about 95 percent original," he says.
While I had toured the Brown before, and even gone down in the engine room, I had never seen her systems up and running, which made our inspection day tour extra special.
"It's like we're getting underway, but we're not going to leave," explained Gregory. "We're switching from shore power to ship power. First the engine room and then the rest of the ship."
It was a flurry of activity powering up the ship and awaiting the Coast Guard, so we moved our tour up to the upper decks. 
Gets in Your Blood
Everyone is a volunteer on this ship, even the captain. 
We sat down with Jo Ann Malpass who serves as the secretary of Project Liberty Ship. She has been a volunteer since 1992. She explained how there are two types of volunteers: members of Project Liberty Ship and the ship's operating crew. Once you become a member ($40 annual individual, $60 annual family), you can be a volunteer and your "job" all depends on where you want to work. 
After becoming a member, Jo Ann will put you in touch with the ship's volunteer coordinator who will shepherd you through the process and bounce you through various departments (engineering, deck, stewards, membership, and marketing) until you find your niche. Currently, there are about 100 volunteers, and they all come from different backgrounds. "Doctors, lawyers, firemen—there's a place for everyone," says chief engineer George Cornelius. 
We also spoke with John Jerbi, who is the company security officer, chief steward, and a member of the deck crew. This May will mark 25 years of volunteer service. John first got involved with the Brown thanks to his father and his love of history. "You pick up hats as you go," he says.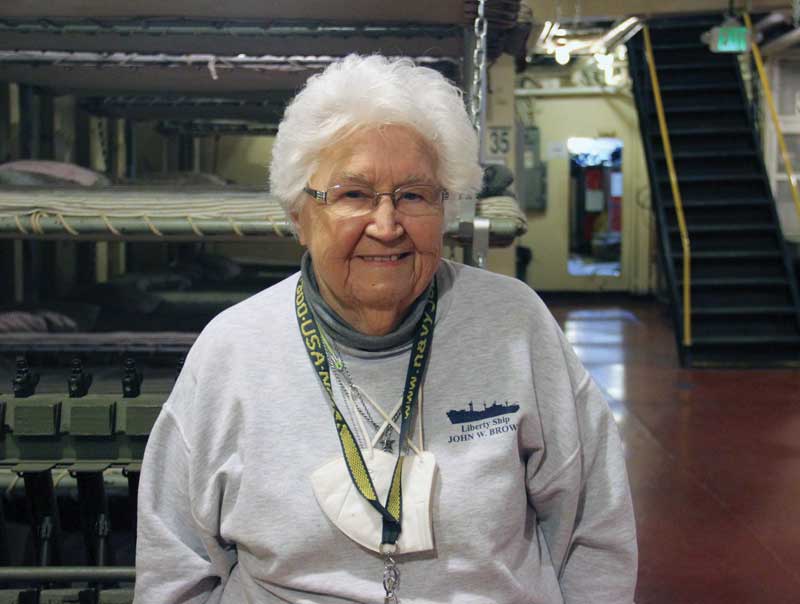 Jo Ann adds: "We used to have a cook who was an electrician, but he said 'if you make me be an electrician, I won't come back. I want to cook.'" Project Liberty Ship is always open for new volunteers, and most importantly, they want you to find a job that interests you. 
Jo Ann originally became a volunteer because her husband was with the merchant marine. She began coming down to the ship occasionally until she retired and then made it a regular thing. "My father worked at Fairfield (shipyard)," she says, "and I like to think he might have worked on this ship. There was no name at the time they were built, just a hull number, so he could have." Her husband also sailed on a lot of Liberty Ships, though not the Brown.
"It gets in your blood. It's like having a second family," says Jo Ann. "You don't realize how big the family is until you need them."
What's Next?
The John W. Brown turns 80 years old in September, and she's not slowing down any time soon. 
By the time this issue is published, they will have just finished Steam school where participants experience what it's like to be an engineer, oiler, and fireman. For $1000, you will gain hands on experience operating the Brown's 200 psi Babcock and Wilcox boilers and 2500-hp Triple Expansion Reciprocating Steam Engine on live steam while living aboard the ship as the merchant mariners who manned her during her wartime career did. Students will learn the duties of the engineering watch as they light off the boilers, raise steam, start up the auxiliary equipment, and operate the main engine. All training will be conducted with the ship moored to the pier. The next Steam School event is scheduled for November 4-6.
Gregory, our tour guide for the day, helped to pioneer the Steam School program. He tells us, "I coached my son's team when he was younger but when he went to high school, I didn't have a team to coach anymore." Gregory was looking for a new team, and with his maritime background, the Brown was a great fit. He has now been a volunteer for 25 years, and the excitement he gets talking about the Brown and her engine is palpable. 
"The fundamentals don't change," says Gregory. "Her educational value is amazing; you just don't find this anywhere. Everything is manual. The sea is still the same. This is an excellent educational tool."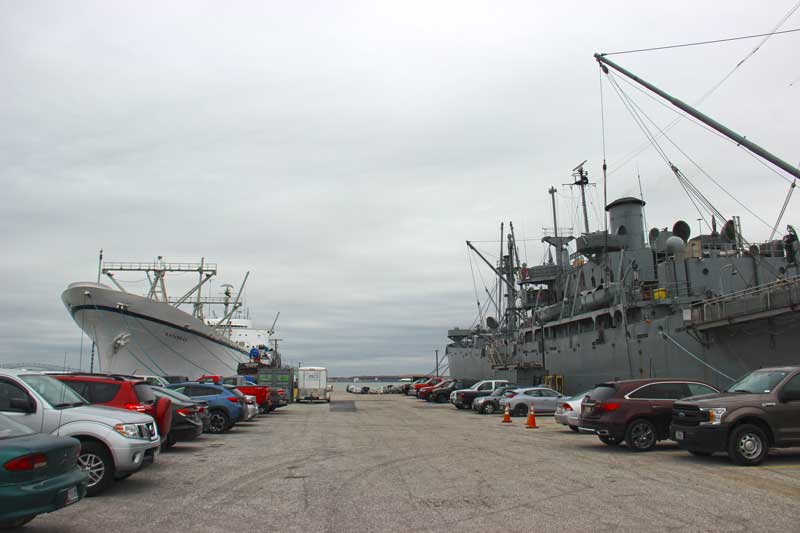 Apart from Steam School, the Brown hosts weeklong Navy cadet trainings, customs and border patrol, K9, and SWAT team training, overnight scout trips, field trips, a STEM program, birthday parties, Veterans Day events, and once, even a 007 James Bond themed party. May 22 is Maritime Day, and the Brown will be open, along with her neighbor ship on Pier 13, the NS Savannah. 
The Brown is also open for regular tours on Wednesdays and Saturdays at 9 a.m. and 11 a.m. They ask that tickets be purchased ahead of time online at ssjohnwbrown.org to make sure a volunteer is available to lead the tour.
And of course, the crème de la crème of events is a living history cruise where guests can "experience World War II afloat." The next cruise is September 24. Learn about the history of Baltimore as the Brown sails the Chesapeake Bay and carries guests back into wartime: "The historic original triple expansion steam engine powers us in convoy through the day. Meeting soldiers, marines, sailors, and civilian re-enactors helps pull you back into wartime. The entertainment gives the feel of a USO Show aboard ship. Throughout the day, some air cover will be provided to see us safely on our journey. The troop mess provides sea rations (deli lunch), coffee, water, and sodas." General admission tickets are $210 with an early bird special of $185 which ends on May 7. Tickets and more information can be found at ssjohnwbrown.org/living-history-cruise.
From everyone we've talked to, you've haven't fully experienced the John W. Brown until you've taken a cruise. Captain of the Brown, Jeff Gumport, has been a volunteer for seven years. His father was a merchant mariner who sailed Liberty Ships during World War II, so for Jeff, being onboard is really something special.
"My favorite thing about volunteering with the Brown is thinking about the men and women who served aboard this ship during World War II and honoring them truthfully. I walk around these passageways; I'll sit in this chair and think about what this ship has been through and what it's done. Being able to honor the volunteers who keep this ship going, it brings tears to my eyes. We don't spend a lot of time underway but when we do, it's really something; I still get chills."
And as mentioned earlier, everyone involved with the Brown, even the captain, are all volunteers. It takes a village to keep her running and you'd be hard pressed to find a more dedicated and passionate group of volunteers. 
No matter your skill set, if you want to become a volunteer, Project Liberty Ship will find you a place. And most importantly, you'll have fun while doing it.
"We're here to work, to meet interesting people, and we have a lot of fun," says Jo Ann. "We have a lot of interesting people from all backgrounds (and all ages) that you wouldn't expect to meet." A number of the current volunteers started when they were in high school, and were introduced to the ship either by family members or the STEM program.
At the end of our tour, Gregory shared with us a little anecdote that someone told him when he first became a volunteer: "The Brown makes young people old, and old people young." So no matter your age or background, there is a spot for you.
If this sounds like a place you would like to spend your time, visit ssjohnwbrown.org. You'll find more information on the ship, or you can make a donation, become a member, and purchase tour tickets and Living History Cruise tickets. You can also email [email protected] with any questions and visit the Brown's YouTube channel.
We hope this article has inspired you to get involved in some way. The Brown is a piece of living history right here in Baltimore, and she needs your help to stay thriving. Just look to the Project Liberty Ship motto: "Let's keep her sailing!"
By Kaylie Jasinski