The World War II Liberty Ship SS John W. Brown, following a successful scheduled maintenance visit to a Virginia shipyard, will return to Baltimore Sunday, February 9, and relocate to a new mooring site at Pier 13 on the Canton waterfront at Newgate Avenue.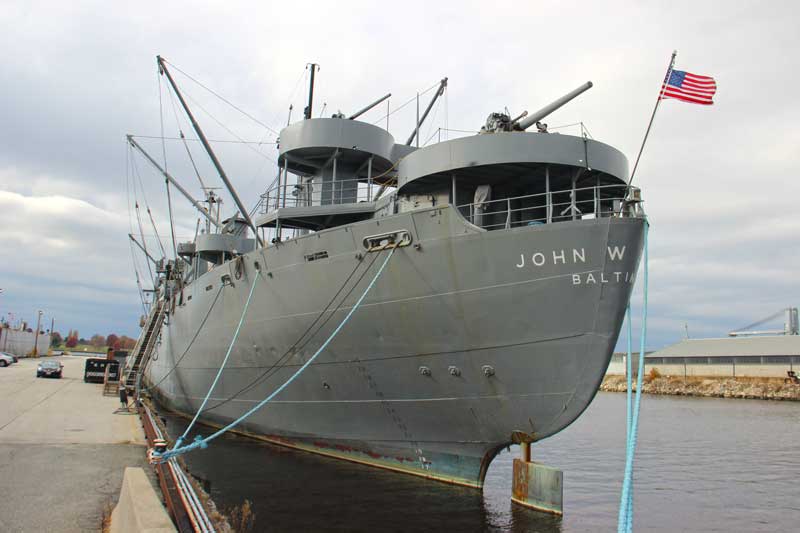 The 78-year-old museum ship will resume its activities of pierside visits, ship-based educational events, and "living history cruises that feature 1940s-era entertainment and fly-bys by vintage aircraft. Three of the cruises on Chesapeake Bay are scheduled for the 2020 sailing season.
John W. Brown is being accommodated at the pier under a short-term lease while planning continues for a permanent base at a refurbished site at the former Bethlehem Steel Fairfield shipyard in South Baltimore, the location where the ship was built and launched on Labor Day in 1942.
The Brown will be co-located at Pier 13 with the NS Savannah, the world's first nuclear-powered combination cargo and passenger ship, built in the late 1950s to show the versatility of nuclear ship propulsion. The two ships thus demonstrate two important stages in the development of marine propulsion technologies.
The federal government-owned Savannah, itself completing work in Philadelphia associated with decommissioning of its nuclear power plant, is expected to return to Pier 13 in mid-February.
Project Liberty Ship's Mike Barnes, who is leading the efforts to keep the ship in Baltimore, said, "The John W. Brown has joined the Savannah at Pier 13 several times in recent years to celebrate National Maritime Day. The new location fits our needs well. It provides the large commercial dock that our historic merchant vessel requires for maintenance and operation, and allows good public access for our ongoing educational mission."
Dan Flamholz, principal of Greenspring Real Estate Partners, Inc., owners of the pier, said that "We are thrilled to be able to accommodate the SS John W. Brown at Pier 13. The Brown has a great longstanding reputation in Baltimore and we thank the many men and women who not only served our country on the vessel, but who have also worked tirelessly to persevere the history of the ship in Baltimore."
SS John W. Brown is owned by Project Liberty Ship, a 501 (c) 3 organization dedicated to the preservation and continued operation of the ship as a memorial to the wartime role of the U.S. Merchant Marine, U.S. Navy Armed Guard, and American shipbuilding workers, groups that were critical to victory in World War II as well as sealift operations in support of U.S. national security operations world-wide ever since. The aim of the organization is to honor the legacy of all veterans.
John W. Brown is one of only two operating Liberty Ships remaining of 2710 built nationwide during World War II. Converted during the war to a partial troop transport, it is the only surviving troopship which landed combat forces on an invasion beachhead. Named after a shipbuilding labor leader, it is listed along with the Savannah in the National Register of Historic Places. The register designates objects and sites worthy of preservation in America.
The Brown is now completing a regular five-year maintenance drydocking at Colonna's Shipyard, Inc., in Norfolk, VA. The four weeks of work includes painting of the ship's bottom and freeboard, propeller overhaul, refurbishment of sea valves not accessible with the ship in the water, U.S. Coast Guard inspections, and various internal work. A Project Liberty Ship volunteer crew will sail the ship north via Chesapeake Bay on the night of February 8 for its scheduled arrival in Baltimore the following day.
The long-term proposal for a permanent base at Fairfield for SS John W. Brown envisions using federal and state funding, augmented by corporate and individual donations, to rebuild a fitting out pier at the former Fairfield shipyard.
The renovated pier would be owned and administered by a non-profit entity and would fall within Port of Baltimore zoning requirements. The 780-foot pier is currently under an option to purchase by Maryland Applied Physics Corp. (MAPC), which has a plant on the Fairfield site and designs and builds advanced technology systems for the Defense Department, as well as commercial projects such as Baltimore's water taxi fleet and floating aquaculture systems. The revitalized pier could accommodate both John W. Brown's education and training programs and expansion of MAPC's operations, which include workforce development programs in Baltimore and an apprenticeship program.
In addition to the "living history" cruises, the Brown provides a fully operational training platform for an Anne Arundel County STEM program, U.S. Navy Sea Cadets, police and fire first responders, U.S. Customs and Border Patrol, the Baltimore-based Maritime Institute of Technology and Graduate Studies, the Marine Engineers Beneficial Association, and others.
The ship also offers a popular "Steam School" and "Merchant Seaman School" program for public participation in three-day courses with overnight stays on the ship.
Since returning to Baltimore in 1988 and undergoing a three-year, all-volunteer restoration program, the ship has sailed more than 25,000 miles and visited 29 North American ports on its cruises.
It has been a familiar site on the Canton waterfront for 31 years, where it occupied pier space owned first by the Maryland Port Authority and then Rukert Terminals Corp., which gave invaluable support to the ship until commercial requirements made it unable to continue long-term.
The ship is operated by a 175-person all-volunteer crew which includes fully licensed ship masters, qualified ratings and entry-level deckhands and engineering workers drawn from an overall membership of about 1200. Members have contributed more than 1.9 million volunteer service hours to the vessel.
The John W. Brown was one of 384 Liberty Ships built at Bethlehem-Fairfield. It completed 13 wartime voyages carrying troops and cargo, then served as a maritime trades high school in New York City for 36 years before returning to Baltimore. More than half a million people have sailed on cruises or taken pierside tours.
The street address of Pier 13 is 4601 Newgate Avenue in Baltimore. Further information can be found at the ship's website (ssjohnwbrown.org) and Facebook page.