The S.S. John W. Brown Liberty Ship was launched on September 7, 1942 at Bethlehem-Fairfield Shipyard in Baltimore, MD. Today, the Brown is one of only two remaining, fully operational Liberty Ships that participated in World War II. She resides along the Canton waterfront in Baltimore, MD—for now. At the end of 2019, the Brown's current pier lease will expire. An alternate berth must be found, and soon, if she is to remain in her homeport.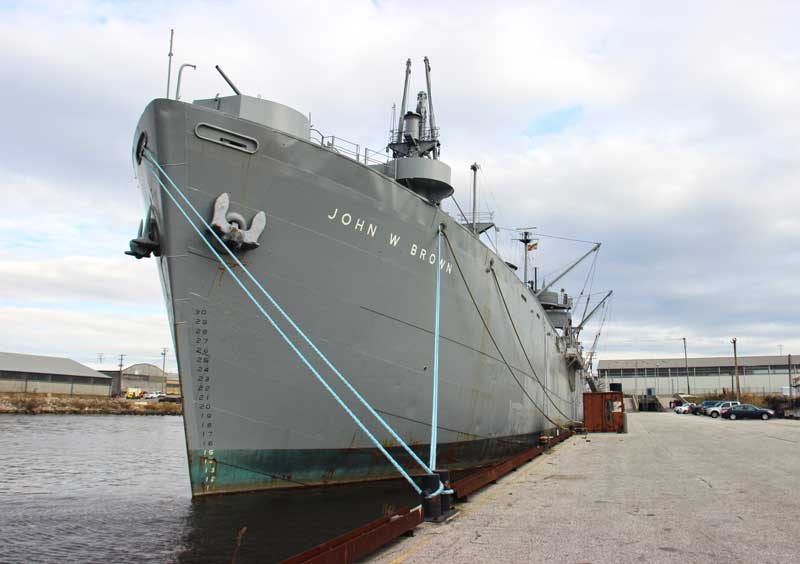 We recently took an excellent tour of the Brown, led by Dan Donald, one of the hundred or so volunteers that make up Project Liberty Ship, Inc., the all-volunteer nonprofit organization that operates and maintains the vessel. Donald took us through each level of the ship, including down in the engine room, and gave us a rundown of her history from hauling cargo during the war years, to a floating maritime school, and now as a museum ship.
Liberty Ships were designed as cheap and quickly built cargo steamers, hauling ammunition, tanks, and even troops overseas during World War II. At just over 441 feet long, the Brown can carry almost 9000 tons of cargo, about the equivalent of 300 railroad boxcars. Later she was converted into a troopship, capable of transporting about 500 troops and prisoners of war.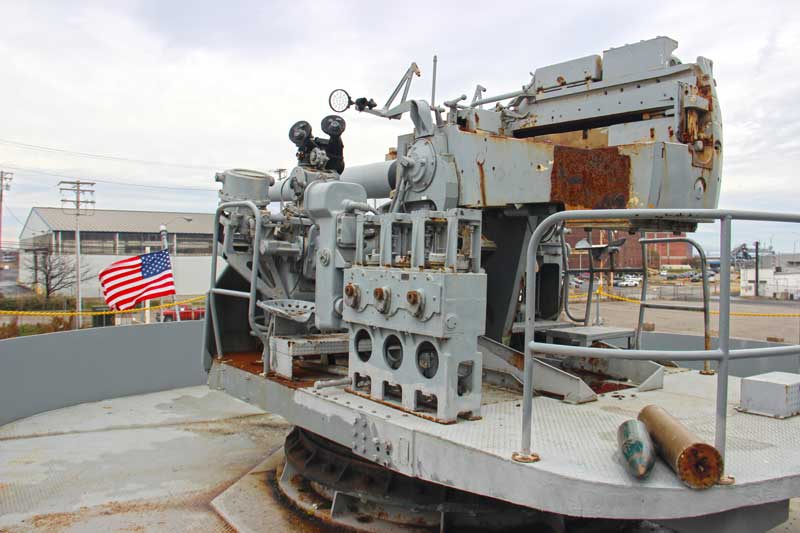 When she began transporting troops, the Brown was outfitted with more defensive guns than would be typically found on a cargo-only ship. The guns were manned by a detachment of U.S. Navy personnel assigned to the ship, known as the U.S. Navy Armed Guard, while the Brown itself was crewed by about 45 civilian merchant seamen. She made a total of 13 voyages during World War II.
Following the war, the ship was loaned to the city of New York in 1946 to serve as a floating maritime high school, the only one in the United States. She served in that capacity until 1982, readying thousands of students for careers in the Merchant Marine.
In 1988, she was acquired by Project Liberty Ship, Inc. and brought home to Baltimore to serve as a memorial museum ship.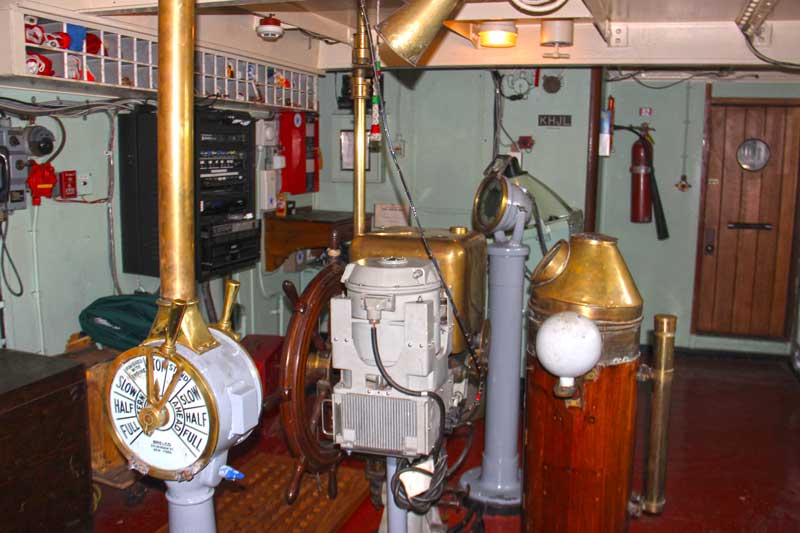 After taking an extensive tour, our guide explained just how unique the Brown really is. "Unlike other historic ships, this ship actually operates," says Donald. While many historic ships serve as floating museums, most stay berthed at their pier, but the fully operational Brown hosts three Chesapeake cruises a year where guests get the chance to "spend a day in 1944," with entertainment and music of the 1940s and occasionally even fly-bys of vintage World War II aircraft while cruising the Chesapeake Bay. 
Tentative dates for 2020 have been set for May 30, August 8, and September 19, but first Project Liberty Ship must find a new home. She is heading to Norfolk in early January for drydock maintenance, but Donald says the real question is, "What are we coming back to?"
For several years, the ship was housed at a Clinton Street pier owned by the state of Maryland, but that pier was sold and the lease arrangement that enabled the Brown to stay at that pier expired. According to Project Liberty Ship, the new pier owners generously offered the Brown an alternate berth at Pier C on a temporary basis and have been cooperative and flexible. However, the current lease agreement, despite several extensions, will expire at the end of 2019.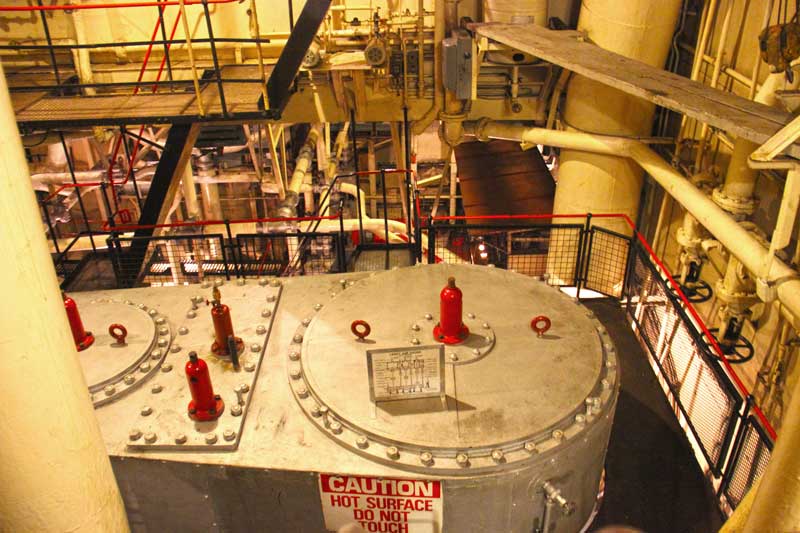 For years, Project Liberty Ship has been searching for an alternate berth without success, and now time and funding are very limited. Few commercial piers in Baltimore are large enough to accommodate the historic vessel, and many require strict security restrictions that would hinder the educational and tourist activities the Brown frequently hosts onboard. A last resort would be moving to another port if a suitable location in Baltimore cannot be found. 
Since being restored by volunteers in 1991, the museum ship has sailed more than 25,000 miles and visited 29 ports in the United States and Canada. She continues to be maintained by all volunteers. Donald says, "If you don't have fun at work it's a job, and this isn't a job for us. It's a lot of fun with a great group of people. When you come onboard, we want you to get involved; sit in the gun chair, explore the decks."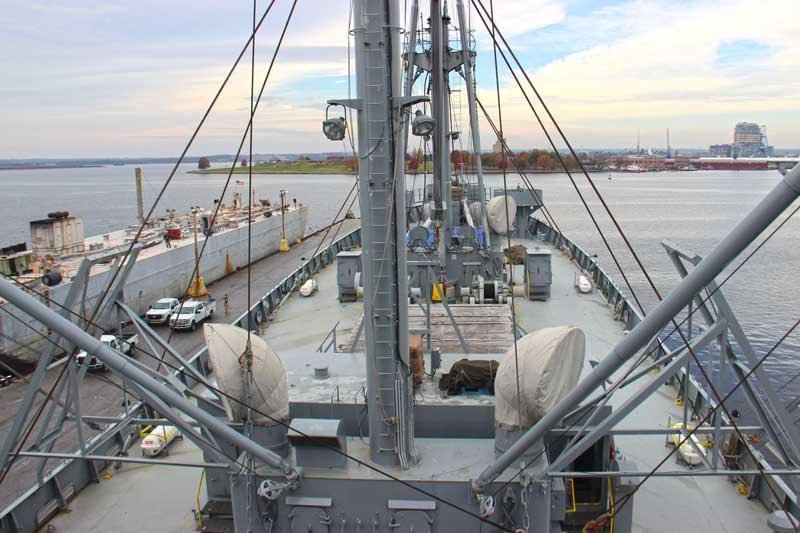 The primary mission of Project Liberty Ship is to educate people of all ages about the vital role of the wartime American Merchant Marine, Naval Armed Guard, and shipbuilders, three largely unheralded groups that were instrumental in the Allied victory in World War II. The aim of the organization is to honor the legacy of all American veterans.
Free tours are available on Wednesdays and Saturdays at Pier C, 2220 S. Clinton Street in Baltimore. There is currently a petition circulating aimed at getting the word out on finding the Brown a new berth. At print time, the petition had garnered well over 5000 signatures. If you would like to help spread the word, you can find the petition at change.org. You can also learn more at ssjohnwbrown.org, or by calling (410) 558-0646 if you're interested in a tour. It took a lot of dedicated people to bring the Brown back to Baltimore in 1988, and now they need more advocates to help keep her there.
By Kaylie Jasinski