The Waterfront Partnership's Healthy Harbor Initiative have announced that a fourth trash wheel will join Mr. Trash Wheel, Professor Trash Wheel, and Captain Trash Wheel by next spring. The to-be-named semi-autonomous googly-eyed trash interceptor will be located at the mouth of the Gwynns Falls where it will collect trash and debris before it makes its way to the Patapsco River and Chesapeake Bay.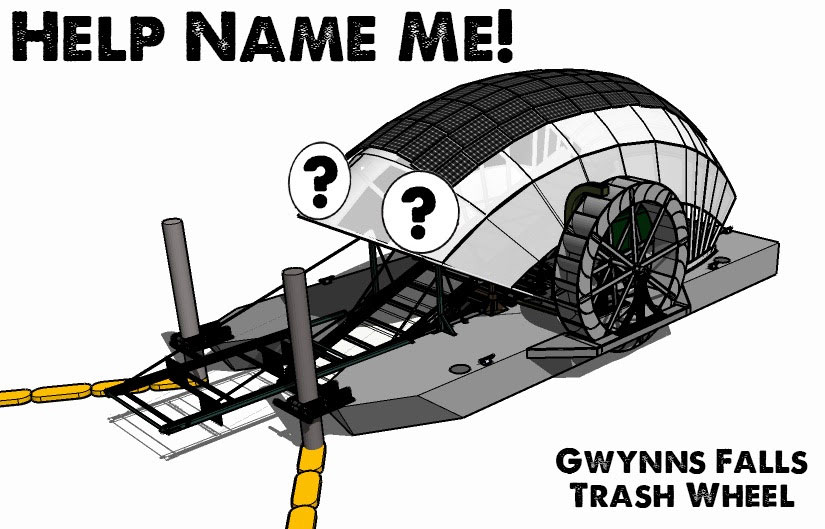 In anticipation of the debut of the new trash wheel, the Waterfront Partnership is asking for the public's help naming the device. Names can be submitted at MrTrashWheel.com.
"We've had our googly eyes set on the Gwynns Falls for a long time," said Adam Lindquist, director of the Healthy Harbor Initiative. "An estimated 400 tons of litter and debris flow into the Middle Branch each year. This new trash wheel will mean cleaner shorelines and less plastic in the Harbor and the Chesapeake Bay."
The Gwynns Falls trash wheel will be the largest trash wheel ever built. It will have a grappling arm to help move large debris and a canopy covered by 72 solar panels. It will use solar and hydro power to turn a water wheel that powers a series of rakes and a conveyor belt that will lift trash from the water and deposit it into a dumpster barge. The project also includes a kayak gate that will provide access to the stream.
The device will be constructed and installed by Clearwater Mills, the Pasadena-based company that invented the technology. Since the success of Mr. Trash Wheel, Clearwater Mills has received near-daily requests for new trash wheels from cities around the world. The new trash wheel is one of five projects currently in development. The other four are located in Brunswick, GA; Newport Beach, CA; Milwaukee, WI; and Panama City, Panama.
Baltimore City and Baltimore County have come together to support the project's development and provide operational funding. Visit the link above for more details on backers and funding.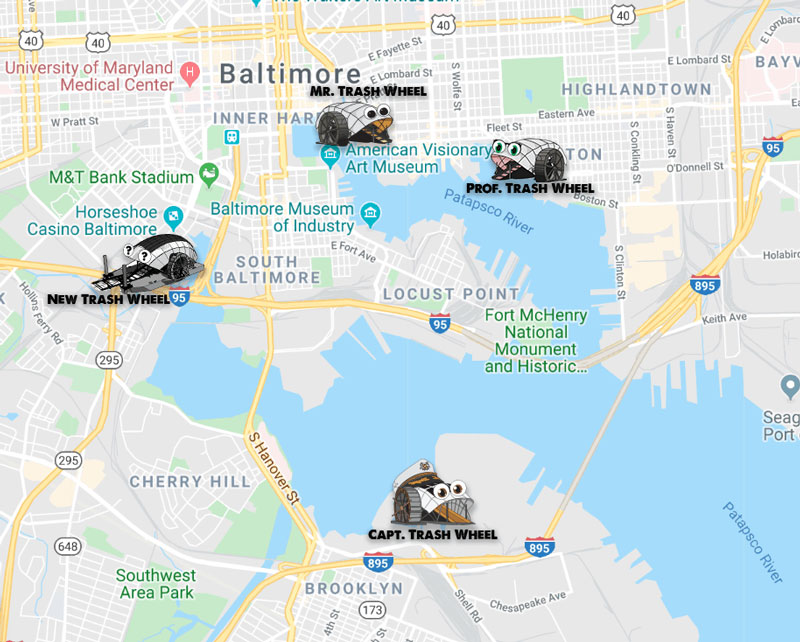 Mr. Trash Wheel was the first trash interceptor of its kind and was installed in May of 2014 at the mouth of the Jones Falls. Professor Trash Wheel followed in December 2016 at the mouth of Harris Creek and Captain Trash Wheel in June 2018 at Masonville Cove. To-date, the three have collected more than 1200 tons of trash and debris flowing downstream towards the Patapsco River. This includes more than 11 million cigarette butts, 1 million foam containers, nearly 650,000 plastic bags, and close to 900,000 plastic bottles. All three have developed personalities and large followings through their social media platforms. 
Now think up some clever names and submit them online! You just might be able to name the trash wheel!