You may have met Mr. Trash Wheel at Baltimore's Inner Harbor and Professor Trash Wheel in Canton. Now Baltimore's third trash wheel is scheduled to begin operating during the spring of 2018. The new wheel will be known as Captain Trash Wheel, a name selected through public voting.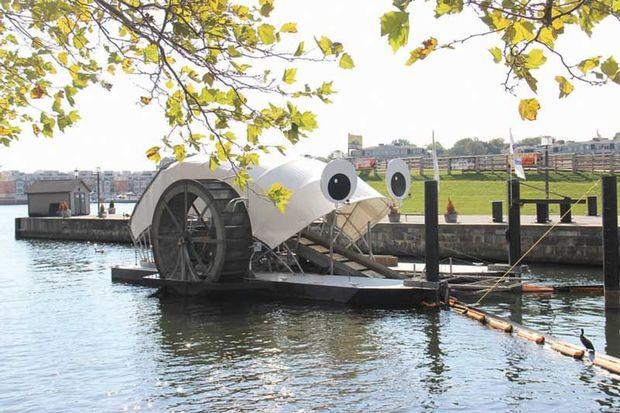 The new wheel will be located in the Masonville Cove area of the Middle Branch of the Patapsco River. Once an industrial zone, the area was plagued with environmental issues and laid fallow for years. Thanks to restoration efforts the area now has 70 acres of water and 54 acres of cleaned-up wetlands, nature trails, and a bird sanctuary. A second area in Masonville Cove is a dredged material containment facility operated by the Port of Baltimore.
The inventor of the trash wheel is John Kellett of Clearwater Mills, a company that designs, constructs, operates, and maintains the three trash wheels and a fourth that is proposed for the Gwynns Falls area later in 2018. The wheels operate unattended and on all solar and hydro power, using no fossil fuels. The collected trash is removed via a conveyer into a dumpster that sits on an adjacent barge. When the dumpster is filled, it's moved to a boat ramp and taken away on a truck. Each wheel has two barges that are rotated.
"Some people ask how all the trash got in the water," says Kellett. "They don't understand that what we do on land affects what happens in the water. Most of the trash is not from people on boats or the shoreline. It comes from littering in neighborhoods. Rain carries the trash down storm drains and alleys to the Harbor, Bay, and eventually the ocean. And it doesn't only have an aesthetic impact. It also impacts marine life and the people who make their living in the fishing industry.
"The trash wheels serve as a point of interest and an educational opportunity. They've brought attention to the problem and inspired people to be part of the solution. If every place did what Baltimore's doing, we could really make an impact," he says.
In addition to its work in Baltimore, Clearwater Mills is also in the planning or discussion stages with other municipalities in New York City, Newport, CA, Canada, and Milwaukee. In addition to their trash wheels, Clearwater also constructs trash cages and floating wetlands. For more on the three trash wheels, check them out on Twitter and Facebook as you are sure to get a good laugh.
Mr. Trash Wheel recently celebrated Professor Trash Wheel's Birthday with this hilarious card, writing on December 4:
"A year ago today, I ended my days as the lone trash wheel and welcomed another of my kind into the world. It's hard to imagine there was a chapter of my life without Professor Trash Wheel's intelligence, wit, and fierce dedication to ending ocean trash through education, advocacy, and the never ending eating competition we trash wheels call life. Happy birthday, my dear friend!"