Mr. Trash Wheel, Baltimore's loveable, googly-eyed trash collector will soon be getting a female companion. Last night in Baltimore, the Waterfront Partnership hosted a "gender reveal party" to unveil the new trash wheel's persona. More than 200 guest in attendance were able to vote on the gender when purchasing tickets. And it seems the people have spoken!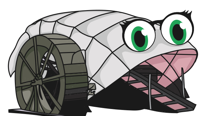 According to Adam Lindquist, director of the Healthy Harbor Initiative, "Professor Trash Wheel has a degree in trash studies with a focus on the Chesapeake Bay and her dream is to educate Baltimore kids about what they can do to help clean up the Baltimore Harbor."
The Waterfront Partnership of Baltimore's Healthy Harbor Initiative surpassed their fundraising goal of $550,000 and has raised $594,275 to date. Professor Trash Wheel is set to be installed by the end of the year at the end of Harris Creek in Canton. She will be slightly smaller than Mr. Trash Wheel. Professor Trash Wheel fans will be able to follow her on Twitter: @ProfTrashWheel and Facebook: facebook.com/ProfTrashWheel. For more information, visit cantonwaterwheel.com.