As more event cancellations and postponements are announced around the Chesapeake due to the Coronavirus, we will do our best to keep you updated, along with news from local restaurants and businesses (scroll down to see how you can help support small businesses). Stay safe everyone! And don't despair, spring is right around the corner and this is a great time to get outside and give your boat some love (i.e. spring commissioning) or take a boat ride if she's already splashed.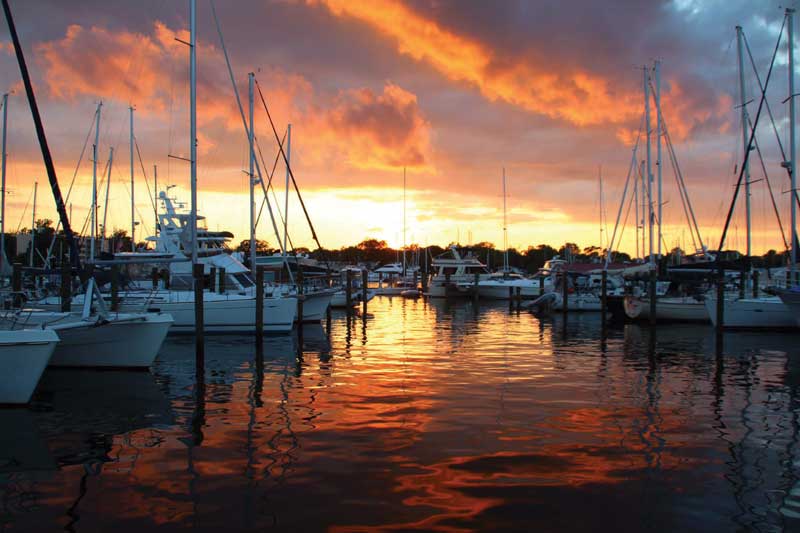 Updates:
As we are notified of event cancellations and postponements around the Chesapeake Bay we will post them here. For the most up-to-date information, be sure to check event websites directly. If you would like us to list your event here, please email [email protected].
City of Annapolis Harbormaster Beth Bellis, in consultation with Annapolis Fire Department and the Maryland Department of Natural Resources, has decided to suspend pump-out service to boaters after Saturday. The last pump-outs will occur on Saturday, March 21, 2020. The closure will continue through the City's declared State of Emergency for COVID-19. Schedule a pump-out by contacting VHF 17 or calling (410) 263-7973. Bellis said, "we are making the decision to suspend pump-out operations in the interests of staff safety and public health." According to the Centers for Disease Control, it is currently unclear if novel coronavirus COVID-19 can be transmitted through sewerage systems. SARS, a similar coronavirus, has been detected in untreated sewage for up to 2 to 14 days. For a list of Annapolis area pumpout stations, click to dnr.maryland.gov/boating/Pages/pumpout/annapolis.aspx.
The Maryland Department of Natural Resources and Maryland State Parks are enacting enhanced measures to mitigate the risk of contact with the COVID-19 virus. All events and gatherings of groups larger than 250 people are canceled and the DNR will be restricting access by the public to certain park buildings and facilities. Park patrons are encouraged to check the individual website page of their favorite park for updates. 
The Wharf: Many Wharf events and recreational activities have been postponed, and water taxi service is suspended until further notice. Some shops and restaurants remain open with adjusted hours or with delivery/take out options. Please visit wharfdc.com/current-operating-status/ for the most current information.
The Government of the British Virgin Islands has decided to close its borders to incoming tourists effective March 19. The cabinet endorsed that entry into the British Virgin Islands by sea or air be prohibited with effect from Thursday, 19th March, 2020 for all passengers, who are not nationals, Belongers, Work Permit Holders, or persons ordinarily resident in the Territory, or their dependents.
---
Events:
The Essex-Middle River Fishing Flea Market March 14 and 15 at the Rosedale Volunteer Fire Company has been canceled.
The Eagle Festival at Blackwater National Wildlife Refuge March 14 has been canceled. The refuge and visitor center will continue to welcome guests.
The Annapolis Oyster Roast and Sock Burning March 21 at the Annapolis Maritime Museum (AMM) has been canceled. From AMM: "We will provide ticket holders a refund. To assist us in delivering our programs, we respectfully request that you consider making the cost of your ticket a donation to the Annapolis Maritime Museum & Park."
The Arundel Rivers on the Half Shell event, which benefits the South, West, and Rhode Rivers, has been transformed into an online fundraiser and auction. This is the largest fundraiser of the year for Arundel Rivers, so if you were planning on attending the event, please consider making a donation instead.
ShoreRivers Project Clean Stream event scheduled for April 4 has been postponed until a later date, in coordination with the Alliance for the Chesapeake Bay.
The Annapolis Boat Shows have "placed a temporarily hold on both the Bay Bridge Boat Show (April 17-19) and Annapolis Spring Sailboat Show (April 24-26).
The safety and health of our attendees, exhibitors, employees, and volunteers are our top priority, and we commend Governor Hogan for his actions. We are monitoring the situation and will rely on the expertise of our governing agencies to guide our decisions. For the sake of all in our community, it is our hope that the measures put in place today will help to rsolve this crisis quickly and that the Shows will be reinstated.
In the meantime, we are preparing show locations with hand washing stations and taking other recommended precautions including training our staff in best practices for serving our guests. Our organization will continue to plan for these shows pending the governor lifting restrictions on public events.
A final decision will be announced no later than April 2. We will continue to update our page and send communication out regarding any changes."
The Welcome Home event for the SS John W. Brown March 28 has been postponed to later this spring. The ship will be closed to visitors until April and then by appointment only.
The Bay Bridge Paddle June 6 has been postponed.
---
News from Chesapeake Businesses:
Many of the advertisers who make SpinSheet, PropTalk, FishTalk, and PortBook possible are having to adjust their operations. As you make your spending decisions, please consider the businesses who support your favorite rags! Consider purchasing gift certificates for future use from bars and restaurants who can't be 100 percent operational right now, purchase your spring commissioning needs from local vendors by ordering by phone or online, stock up for the boating season now, or make plans to support our advertisers when the crisis has passed. 
Below are some businesses who have special offerings. We've included links to their website, so check in before heading their way, as things are changing rapidly. Please share this information with your boating friends and let us know as you hear of other creative offerings out there. We're here to help make your 2020 boating season great, and to that end, we're looking to do anything we can do support the businesses committed to our great Chesapeake Bay boating community. 
---
Anglers Sports Center: As concerns over COVID-19 continue to rise, our customers and staff are our top priority. We are taking extra precautions with hand washing and sanitizing, and we are disinfecting surfaces frequently throughout the day. For any customers who do not feel comfortable coming in to the store we are temporarily offering curb-side pickup. You can make your purchase over the phone or by email and we will bring the items and/or bait out to your car. Call us at (410) 757-3442 or email [email protected] to place your order. We will put your order together and will call you back to get your credit card information. While we hope to be able to fill orders in real time, please allow at least two hours to prepare your order. When you arrive in our parking lot, simply call us again and we will bring your order to you! (Note: this service is not available for gun or alcohol purchases.)
Boatyard Bar & Grill: OPEN FOR CARRY-OUT TO-GO orders! 11:30 a.m. to 8 p.m., seven days a week. Same excellent food and service - no lines, no wait. Their main menu, daily specials and platters are all available. View on the website then give a call (410) 216.6206. Wine and beer available to-go with! 
BOE Marine: We are open for business. Our website, ecommerce, and fulfillment operations are in full swing. We ask that you call, email, or use our website for parts and product ordering. Our installation crew is hard at work outfitting local boats. We ask that you allow them space to work on your boats to maintain social distancing. Please call or email us to schedule service or upgrades to your boat. Our showroom and store is open, and while we love for customers to visit, please only visit if you absolutely must during this time. Please use this time to get your boat in tip top condition so you can get out on the water and away from this mess. We thank you for your cooperation and thank you for supporting local businesses: (866) 735-5926 and BOEmarine.com.
Chesapeake Market & Deli: The kitchen is open and ready for takeaway orders. Order by phone for pick up or online through Gruhub and DoorDash. Once you get to the restaurant, please stay in your vehicle and they will bring the food out to you. 
Davis Pub in Annapolis is offering a St. Patrick's "To Go" Day at your favorite pub. They will have all of the Irish favorites for your at-home celebrations. Open for carryout 11 a.m. to 9 p.m. They will be closed Wednesday (3/18) and Thursday (3/19) and reopen for carryout Friday March 20 at 11 a.m. 
Dockside Restaurant and Sports Bar at Herrington Harbour North offers carry out for lunch and dinner and delivers within a 10 mile radius, including local marina docks. 
Fawcett Boat Supply: Our retail store is open. We have put preventive actions in place to mitigate contact with the disease such as wiping down the common areas with disinfectant frequently, asking employees to use hand sanitizer and/or wash their hands often, asking employees to work from home when appropriate, and following any additional recommendations from the CDC, state, and local authorities that may be applicable. Additionally, we are continuing to offer several options for purchasing products from Fawcett through our retail store, online at fawcettboat.com, and by phone at (800) 456-9151 or (410) 267-8681 from someone on our inside sales team. We can also offer several pick-up, delivery, and shipping options as needed. We will continue to monitor the CDC, state, and local governments and follow their requests so that we can maintain the health and safety of our Fawcett Family.
Grump's Café in Annapolis will continue to be OPEN serving CARRY OUT orders only, with curbside service if requested. 
Hemingway's Restaurant will have carryout "grab and go" services daily from 12 p.m. to 5 p.m. starting tomorrow March 18.They are currently looking into delivery options and will provide updates as they come available. Hemingway's is also promoting Date Night TOGO on Friday and Saturday nights. $50 for two people, includes one bottle of wine, two starters, and two entrees! Carry out is 12 to 5 p.m. Place your order at (410) 604-0999.
K&B True Value: K&B True Value receives trucks early every morning, Monday through Thursday, with new supplies that go right on the shelves immediately. Some of the items that are in demand right now, such as gloves, masks, and disinfectant go quickly, so you're best off hitting them earlier in the day. And don't forget that they deliver orders of $20 (normally $50) or more to True Value Reward members within five driving miles of the store. Or call them from the parking lot and they'll load your purchase directly into your trunk! 
Starting on Friday, March 20, K&B True Value will shorten its hours from 8 a.m. to 5 p.m., seven days per week. Also starting on Friday, March 20, the goal is to limit the number of guests in the store at once to a maximum of 20. This promotes maintaining a social distance of six feet apart. Additionally, we welcome you to wait outside or return to your car and call the store to place a phone order and your products will be brought outside to you. Or place an order online at: store.kbtruevalue.com or myshop.truevalue.com/shop/truevalue_6743.
Ketch 22 Restaurant at Herrington Harbour South owners Bobby and Julia Jones are posting updates on their Instagram page (ketch_22). They are planning a carry-out menu that will be available this Wednesday (3/18) through Sunday (3/22), 11 a.m. to 8 p.m. 
Leeward Market: We are open normal hours today 7 a.m. to 3 p.m. Call ahead at (443) 837-6122 and we can have your order ready for pickup. If you want to pay over the phone via credit card we can run your order out to you when you arrive.