With each spring on the Chesapeake Bay, of course, comes spring commissioning. The birds are singing, the water is warming, the dogwoods are blooming, and it's time to get ready for a new boating season—woohoo! That means it's time to rip away that shrink wrap, awaken your boat from its winter slumber, and prep it up for another year of fun in the sun. Follow our spring commissioning checklist to make sure you're ready to enjoy it from day one.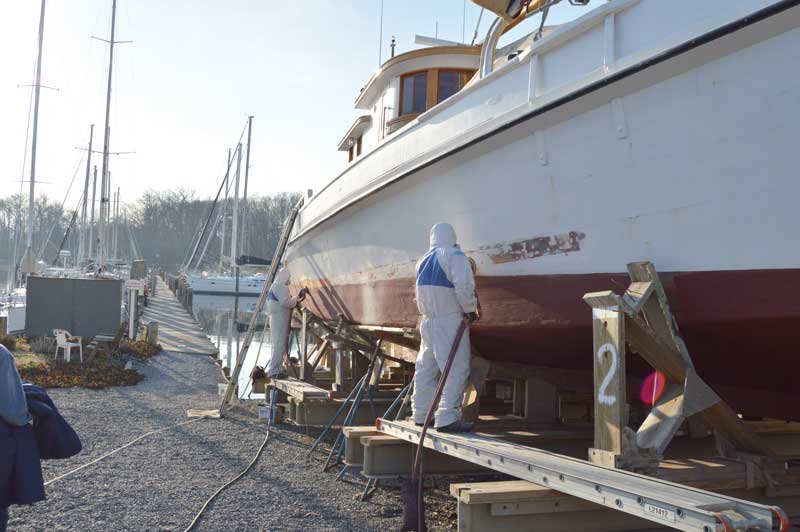 Spring Commissioning Checklist: 
1. Unwrap the Boat
Sure, removing the cover is an obvious step one. But we're listing it anyway, because there are a couple of important points to keep in mind. If you had your boat shrink wrapped, remember that the plastic is recyclable and should be disposed of in an environmentally friendly way. Ask where it goes at your marina (many will have a special dumpster or collection point set aside for shrink wrap), and if you keep your boat at home, visit a local marina and ask permission to drop off your shrink wrap at their collection point. If, on the other hand, you have a canvas cover or a tarp, spread it out and give it a washdown with soapy water then allow it to air-dry before folding it up and stowing it away for the season.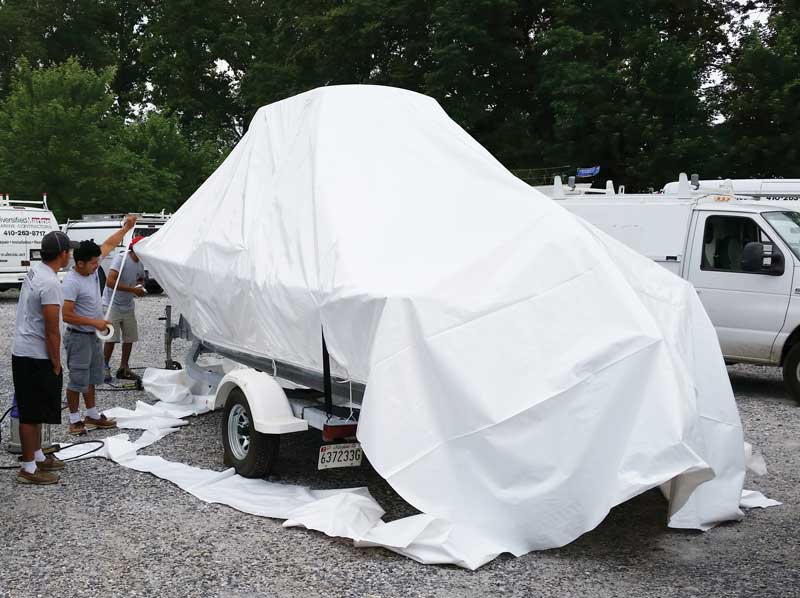 2. Dewinterize the Systems
Depending on what type of boat you own, you may have winterized the powerplant, plumbing, pumps, and bilges. Now reverse the process. Drain out all the antifreeze and flush the systems with freshwater. If you didn't take the batteries off the boat and put them on a maintainer through the winter, give them a fresh charge at this point; make sure there's no corrosion at the connections, and check their fluid levels if appropriate. Tip: Weak or dead batteries are the number one reason reported to ruin a boater's initial trip of the year, so don't neglect this step.
3. Give the Boat a Stem-to-Stern Visual Inspection
Peek at the anodes to make sure they're in good shape, check the condition of the bottom paint, and make sure your safety gear is in prime condition. This includes checking to make sure the fire extinguisher still shows green and the flares haven't expired. Now go beyond the visual by physically testing each and every electrical accessory, switch, and breaker on the boat. If anything doesn't work, now's the time to find out so you can have it fixed before you miss one single day of the new boating season.
4. Test All of the Boat's Propulsion and Mechanical Systems
Give the boat an appropriate water supply and start the engine(s). Manipulate the steering wheel, run the windlass down and back up, and turn on the electric grill. Added Bonus: If it's warm enough outside to enjoy a fresh daiquiri, now's your chance to give that blender a test-fire.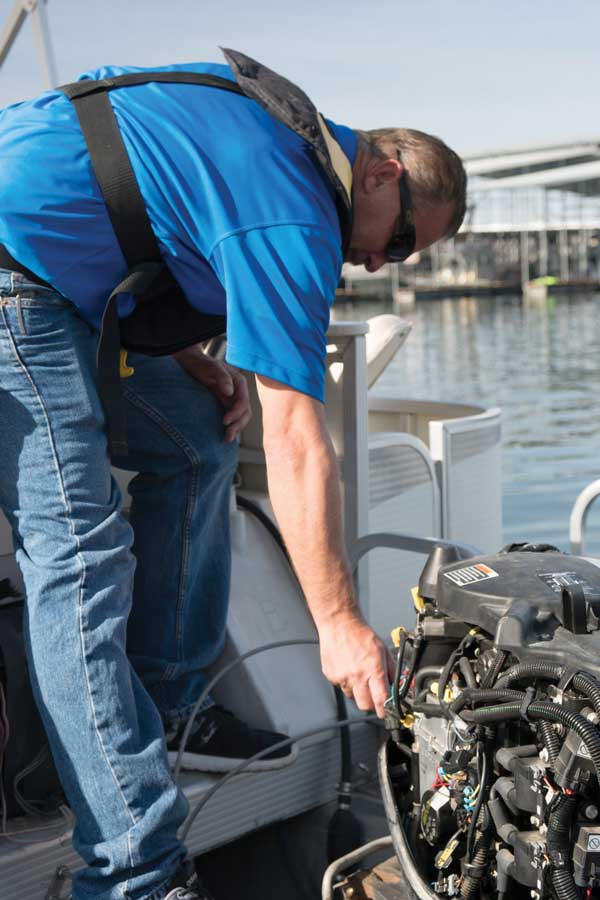 5. Break out the Brushes, Boat Soap, Wax, and Buffer
(Yeah, you knew this was coming, didn't you?) Starting off the season with a clean, shining boat isn't merely a matter of vanity; it's a maintenance concern. If you clean and wax "Mom's Mink" from stem to stern today, it will be easier to wash away spilled soda and bird droppings tomorrow. Stains won't stick, because a coat of wax will help seal the gel coat's pores and fend off contaminants.
Okay: we're just about ready for the best part of the spring commissioning process—a shakedown cruise. But first take care of scheduling things like bottom painting, tune-ups, or repairs that may require some work by the marina. Then and only then can you set your launch date.
When it comes to the shakedown cruise itself, don't plan a big day of boating with a bunch of friends. That's a recipe for disappointment, because no matter how carefully you may have winterized and commissioned the boat, there's always a chance that you'll discover maintenance or repair issues that will need to be addressed—that's the whole point of planning for a dedicated shakedown in the first place. In fact, it's smart to bring along a pad and pen, and expect that you may want to make a list of all the individual items you discover which need attention before the boating season kicks in for real.
That's not to say that you won't enjoy the shakedown cruise. You almost certainly will, because for the first time in months you'll feel the blast of a salty breeze, the sun beating down on your skin, and the Chesapeake chop underfoot. Woohoo!
Three Shakedown Disasters to Guard Against
You're casting off the lines for your initial shakedown cruise? This is going to be fun, but as you pull away from the dock, look out for these common mishaps that can turn the first run of the year into an unmitigated disaster.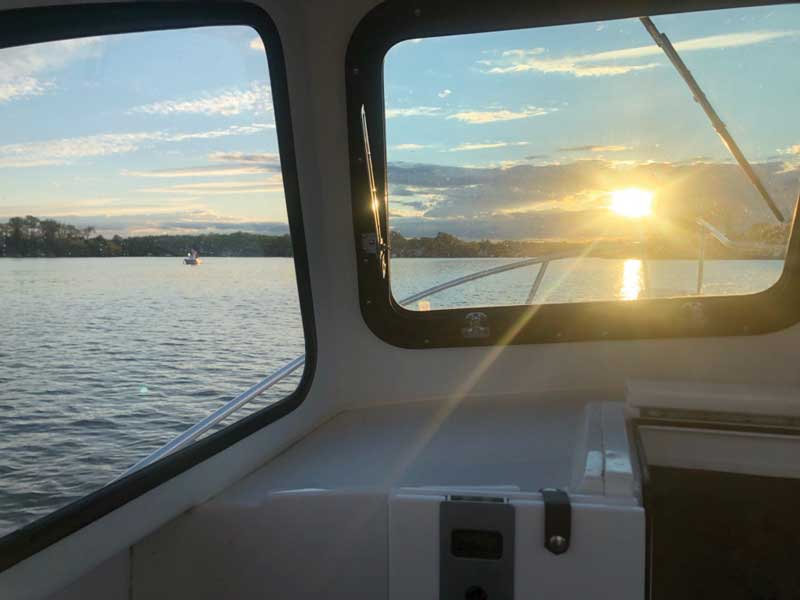 1. Hot Head
Restricted cooling water flow leading to an overheated engine is a fairly common issue that arises in the spring. Sometimes it's a mechanical issue, but in a surprising number of cases a critter or insect colony crawled into an opening and built a nest. So as soon as you start your engine(s), check the tell-tail or exhaust port(s) to be sure there's a strong flow of cooling water moving through.
2. In-Vented Illness
Here's another creature-feature that can lead to serious problems. Vents, both for the powerplants and/or the fuel tank, are another thing nature's children sometimes see fitting as an abode. This can cut air flow, and if a fuel vent is blocked, severely restrict or completely shut off the fuel supply. You don't want to discover this situation when your boat shuts down 500 yards from the dock and wasps begin swarming all around you, so check all the vents prior to departing.
3. Aquatic Arterial Obstructions
Even if your boat was covered all winter, there's a good chance leaves, sticks, or detritus made its way into the boat. Hopefully, it all got flushed away during the washdown phase. But sometimes this gunk washes into deck and hatch gutters or drainage channels, and then stacks up in the scuppers where it can cause a clog. You might not even notice until there's standing water in the cockpit, so before taking off for the shakedown cruise use your washdown hose to give a blast through each and every scupper and deck drain, to ensure that the boat is shedding water as intended.
---
For tips on choosing the right bottom paint for your boat, check out our Bottom Paint article.