In a way, this powercat charter was a double conversion. Not only were we blow-boaters chartering a stinkpot, but one with twin hulls at that. It was an experiment that turned into a love affair—a test of a powercat on charter. Powercats have become a leading growth segment in boating and the reasons are many. One is that you can try before you buy by chartering one in many places around the world.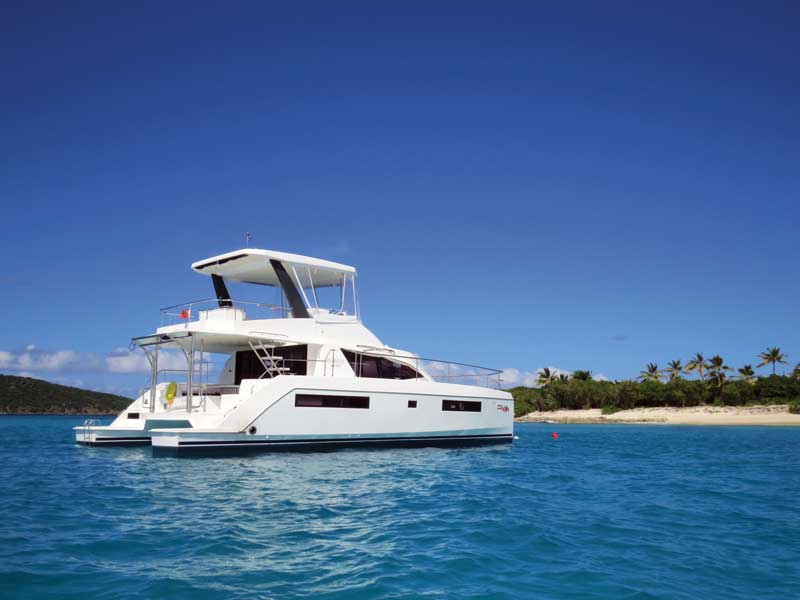 Evangelizing the Benefits of the Powercat
We chartered a Leopard 43 (Moorings 433) from The Moorings in the British Virgin Islands and on the first day we realized that all the room, speed, and easy maneuvering were going to take some getting used to—about a minute, that is.  
First, we were spoiled by space. Hands down, the best argument for a catamaran is comfort. (Well, except for the fun of driving one, but more on that later.) A 43-foot catamaran has roughly the room of a 55-foot monohull. Although powercats have mostly the same layouts as sailing cats, the bow on a powercat usually has a hard deck (no trampoline) that spans the entire bow area. Picking up a mooring, I could move quickly from side-to-side without fear of twisting my ankle on soft surfaces. I then braced my hips on the stainless-steel railing that ran all the way around the bow and reached down to work the lines on the cleats with both hands. Easy peasy. 
Once done on the foredeck, I stepped through the full-sized forward door into the saloon which is in addition to the traditional glass door to the aft cockpit. When open, the forward door blasted air through the interior and cooled it down much faster than any port or hatch ever could.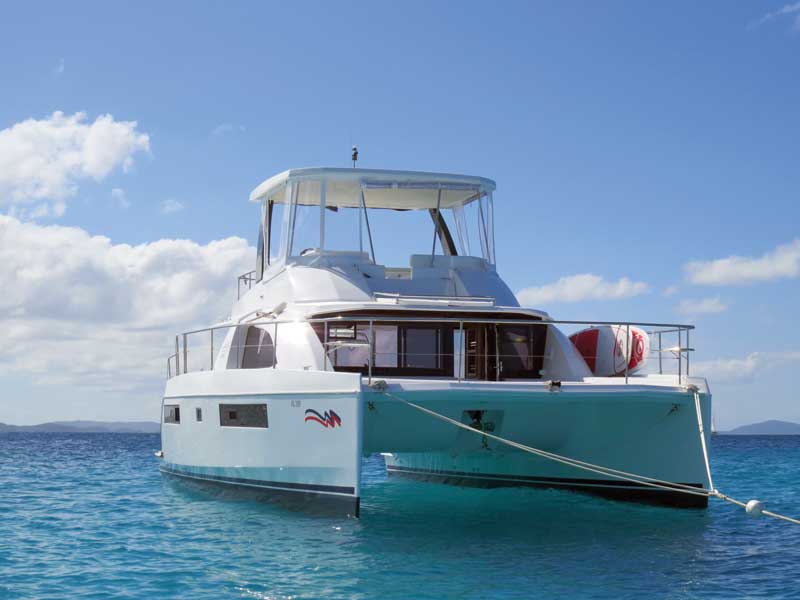 Catamarans offer extensive exterior spaces, and people mostly congregate in the aft cockpit. But many powercats have a flybridge, and that became our favorite spot whether driving, sunning, dining, or watching sunsets at happy hour. Here, there was a galley with an electric grill, fridge, and sink. All the way forward was a double sunpad, suspended over the forward cockpit. With a railing all round, it was a comfortable and safe place to lounge even under way.
Next, we were spoiled by speed. Anxious to get going, we headed out on Sir Francis Drake Channel and put the twin Yanmar 220-hp diesels to work. We topped out at 20 knots and 3650 rpm. The rest of the week, we settled into a cruising speed of 15 knots, and that meant we could cover a lot of territory. The stepped hulls were narrow at the waterline for better hydrodynamics but flared out with a hard chine to create interior volume for the cabins. 
Unlike monohulls, cats aren't dragging a heavy keel through the water and can operate with smaller engines so we cruised to everywhere quickly, but we still had half our fuel left at the end of the charter so we saved a bundle. 
We criss-crossed the islands like kids on a playground. We SUPed in the morning in St. John, snorkeled the wreck of the Rhone near Salt Island in the afternoon, and sipped Painkillers at Trellis Bay in the evening because we could beat everyone to each anchorage. Mostly we kept our speed at a leisurely 12-15 knots where we burned 10-15 gallons per hour. Our weeklong run burned only 105 gallons (tankage is 264 gallons), and we weren't trying to be frugal. 
Finally—oh what fun it was to drive. Our powercat was a joy to handle and when we picked up a mooring, we fought over who got to drive. Often, we dropped a mooring right after picking it up in favor of one a few feet over in case the breeze was better there. We dropped three times in front of Saba Rock at the Bitter End Yacht Club in a 25-knot blow, just because we could and with zero drama. 
It was best to leave the wheel centered during slow speed maneuvers like docking and anchoring. Just a light push, usually with one engine at a time, made the boat dance. No side thrusters or pod drives needed. With four-bladed props set 20 feet apart, the boat was ultra-responsive and absolutely the easiest I've ever driven. 
Communication between the helmsman and the foredeck crew was excellent because we could see and hear each other clearly. There were never raised voices when driving up to a mooring or dropping the hook. 
Besides the fun of driving, we had the benefit of being comfortable even in a rolly anchorage. A cat may wobble in a rough bay, but it doesn't roll and that makes flopper-stoppers, gyroscopes, stabilizing fins, and sleepless nights a distant memory. 
Better with Two
The British Virgin Islands are chock full of sailing cats, but power cats are gaining ground fast. The first two days there was very little wind, and we flew past the sailboats on our way to two and three fun anchorages in a day. We motored to the Baths for an early morning swim, and then we SUPed around Sandy Cay near Jost Van Dyke, followed by snorkeling at the Indians near Norman Island. We finished up with Painkillers at the Last Resort in Trellis Bay. Did we need to circumnavigate Tortola in a day? No, but we could. One day, we even went back for those Painkillers that were the best I've ever tasted and should win some sort of award.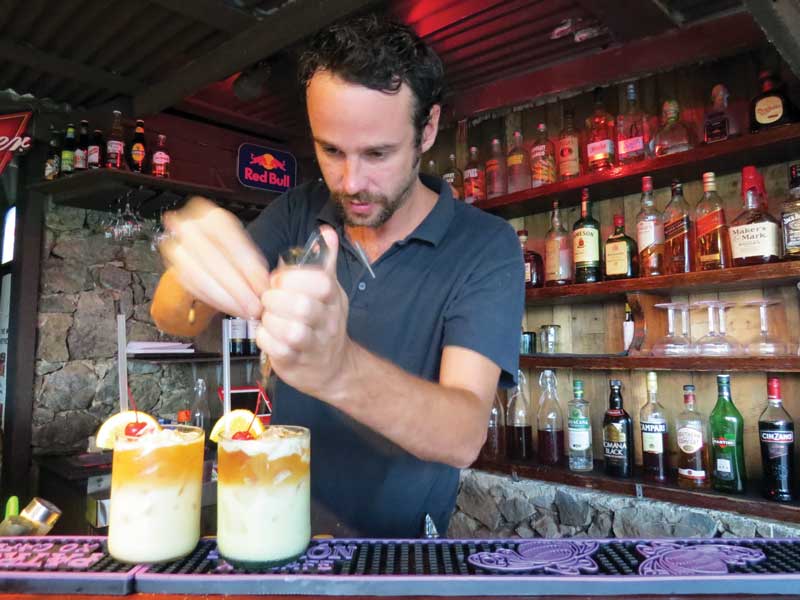 We enjoyed our powercat in the tropics, but you can find them in charter in many parts of the world including the Med. When chartering in Croatia, for example, you can cover far flung islands and even get from Split to Dubrovnik and back in a week. Look for powercat charters in Greece, Italy, throughout the Caribbean, and in Tahiti. 
All boats are sets of tradeoffs, but powercats seem to minimize the inconveniences. Suddenly, chartering wasn't like camping at all, and the looks we got from the crowd at shoreside bars while anchoring were ones of admiration. We looked like pros. That week, we allowed ourselves to fully embrace the dark side—one with plenty of power and two hulls. It was no surprise that by the end of our charter, we were converts.  
Story and Photos By Zuzana Prochazka
---