If you're looking for a mix of experiences on your Caribbean charter, you can't go wrong with starting in St. Lucia. Part of the Windward Isles, this lovely island is a wild mix of British and French influences and a hub for much of the region. You can choose to meander through the anchorages of the leeward side, circumnavigate the island and check out the state of the Atlantic on the eastern shore, or head out to other islands both north and south.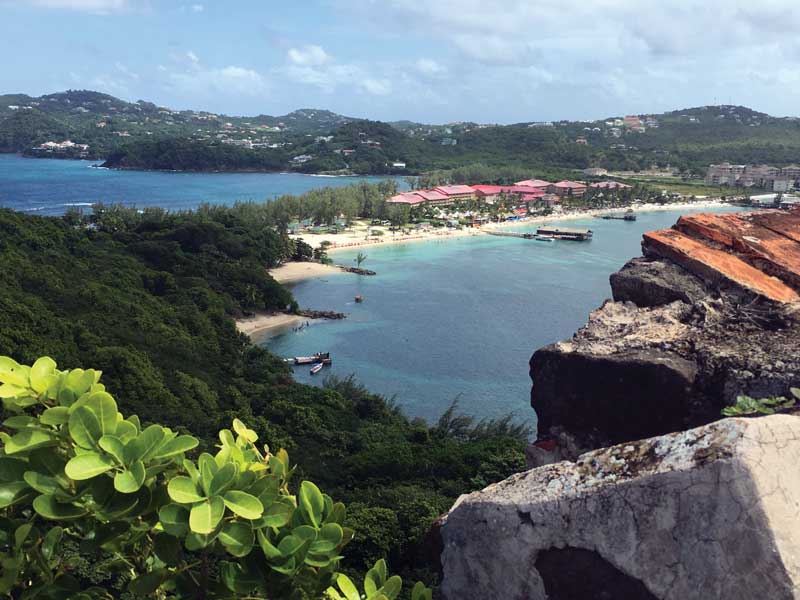 The Practicalities
Rum drinks and sunsets aren't all there is to a good charter, so it's best to consider things like base facilities, provisioning, and selection of available yachts before settling on a destination. Rodney Bay Marina, an IGY facility, is one of the most attractive, safe, modern, and friendly marinas in the Caribbean. Originally constructed in 1985, this 220-slip St. Lucia marina is more like a park with onsite cafes, a pool, a gift shop, and clean showers. Everything in the marina runs like clockwork. They've had lots of practice since every December they host the finish of the Atlantic Rally for Cruisers (ARC) that attracts over 250 boats and 1200 people who have just crossed the Atlantic and are ready for a little pampering. You won't be roughing it here.
Provisioning is easy with just about everything available in every grocery store and you can sample some of the island goodies in the excellent restaurants of Gros Islet before departure. Strolling along Reduit Beach before dinner, you must pop into the St. Lucia Yacht Club for a rum punch and the requisite hat.  
The Moorings base on site at the marina offers a selection of yachts including large powercats that are becoming the fastest growing segment of charter fleets around the world. You don't have to be a sailor to enjoy this corner of paradise.
Any Time's a Good Time to Visit St. Lucia
Deciding on an ideal time to charter is a lot easier with St. Lucia, which is south of the typical hurricane belt. That's not to say there is no hurricane season here, it's just that St. Lucia is less likely to be impacted than the Leeward Islands to the north. 
The weather is delightful year-round. From December to May, temperatures range from 65 to 85 degrees Fahrenheit and from June to November you can expect 75 to 95 degrees. There will be less rain in the winter but rougher seas, while summertime means the ocean lies flatter and the trade winds are mild, around 10 knots rather than 25. That means you can take advantage of shoulder seasons that offer lower rates and fewer tourists.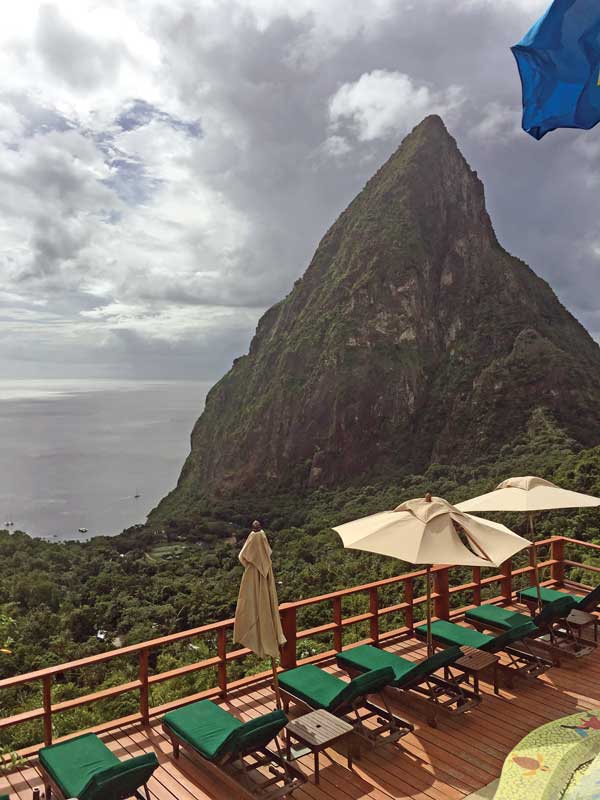 Stunning Vistas and Stellar Cuisine
The mere mention of St. Lucia evokes an image of the magical Pitons, the twin conical peaks (volcanic plugs actually) that are the iconic landmarks of this lush island. The town of Soufriere just below them is chock-full of colorful, camera-loving Creole buildings with gingerbread trim and New Orleans-style balconies. Anchor in Piton Bay to visit the village or rent a car and drive the entire island for amazing views and delicious cuisine that's a mix of French, Caribbean, and Creole. You'll never want to cook on the boat. 
You'll have to brave driving on the "wrong" side of the road and managing a stick shift with your left hand but once you stop turning on the windshield wipers when you meant to use the turn signal, stop off at Ladera Resort, a picturesque hotel built into the side of a mountain that overlooks the Pitons and serves inventive (if pricey) delicacies. Stop to hike Soufriere, the extinct volcano that you can drive a car into. (Yes, all volcanoes in the Caribbean seem to be named Soufriere.)
For the History Buffs
Like most Caribbean islands, St. Lucia survived skirmishes between the French and English on numerous occasions. For a bit of history, visit Pigeon Island, a 44-acre national landmark that is the site of the ruins of Fort Rodney built in 1778 and named for Admiral George Brydges Rodney. In its time, Fort Rodney offered strategic views of Martinique to the north, providing the British with a peek at what the French were up to. The views of Gros Islet and the harbor to the south are worth the climb to the top where cannons still point at the horizon.
Today, the site is a park with a lovely beach where one enterprising woman cruises the shallows with her "portable bar." She loads up a brightly decorated panga with fresh fruit and gallons of rum and then walks in waist-deep water pulling the barge behind her, stopping to serve fruity cocktails to beachgoers. Eat your heart out UberEats.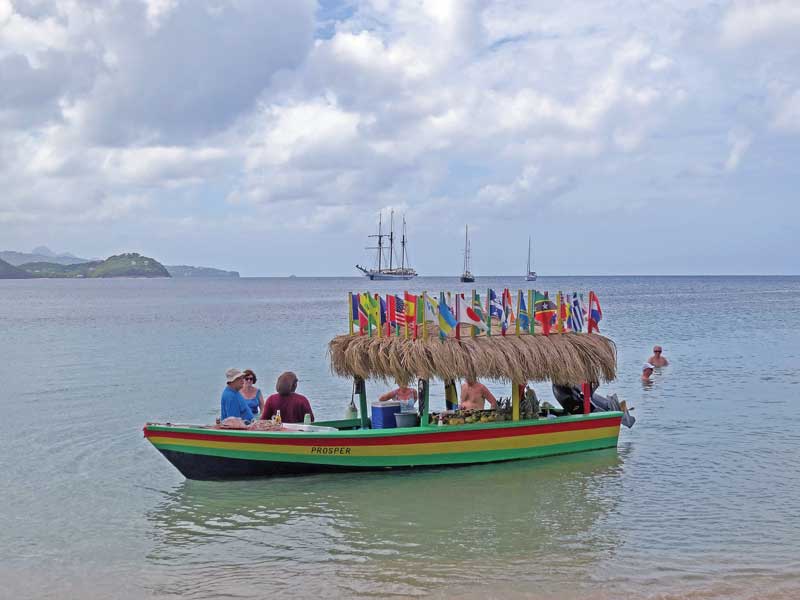 The Perfect Jumping Off Point
You can cruise the entire week along St. Lucia's western coastline, stopping off to snorkel at Anse Cochon or tucking into Marigot Bay with its red-topped homes and fun stores. But one of the glorious reasons to charter a speedy powercat from St. Lucia is that you can go north to Martinique or south to St. Vincent and the Grenadines on a one-week charter and never feel rushed. 
Traveling at a cruising speed of 15 knots, you can reach Martinique's Grand Anse d'Arlet in just three hours and enjoy bars, restaurants, and a postcard-worthy beach. Or run south along the length of St. Vincent and tuck into Admiralty Bay on Bequia in the Grenadines in less than six hours. Catch a mooring in the bay and order up fresh baguettes to arrive via the "bread man" the next morning. This early riser rows around the harbor every day at 6 a.m., dispensing still-warm loaves and croissants. Then, cast off for the Tobago Cays; desert islets manned by "boat boys" who will arrange a fantastic beach barbeque on request. This is a Robinson Crusoe fantasyland that served as a backdrop for the movie Pirates of the Caribbean. Lounging on the flybridge with a chilled glass of anything, and you're bound to see turtle heads popping up all around. 
If you visit the Grenadines or Martinique, you'll need to check in/out of St. Lucia, which is easy since the customs office is onsite at Rodney Bay Marina. St. Lucia's location makes the island centrally located in the Windward Isles so whether you want to explore near or far, it makes an excellent start.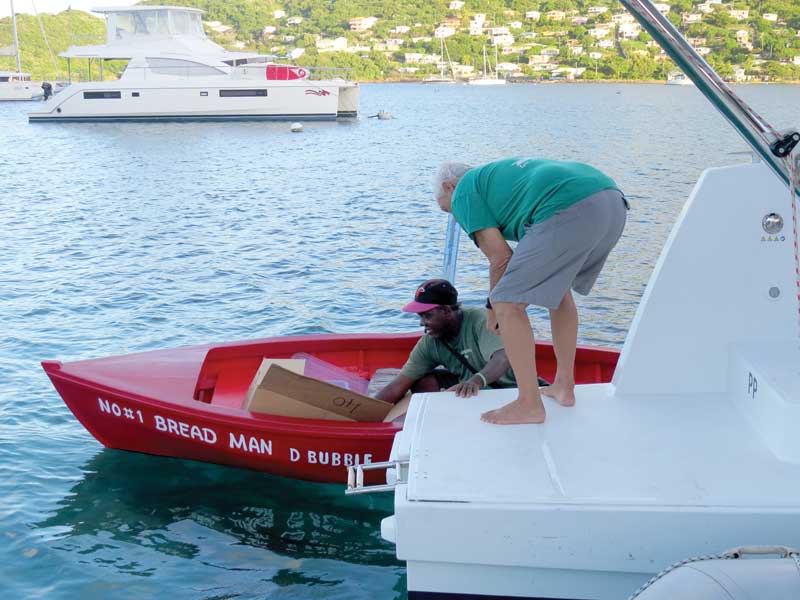 Cruisers Resources
At press time, St. Lucia has a published list of Bubble Countries (namely other Caribbean islands) from which Bubble Travelers can come in freely. Others, like U.S. residents, will need to have proof of a negative PCR Covid test (not the Rapid test) within seven days of arrival on the island. Masks and temperature scans are standard. Visit stlucia.org/en/covid-19 for current travel updates.
St. Lucia airport: Hewanorra International Airport (UVF)
Currency: Eastern Caribbean Dollar (US widely accepted)
Provisioning and other: Laundry, car rental, bank, post office, fuel, and market are onsite at Rodney Bay Marina but a larger supermarket is just in town at Gros Islet—take a taxi or rental car.
By Zuzana Prochazka
---