There's nothing quite like Greece. The islands, the people, the climate, and the deep blue water—it's where I'll run away to when I grow up. After three charters in various parts of Greece, I've barely grazed the surface of this country and when asked about how boaters can get acquainted with Greek cruising, I always suggest a quick spin around the Saronics. Just a few hours southwest of Piraeus near Athens, the Saronic Gulf is the most accessible and each island is strikingly different, so a week of charter is like seven vacations packed into one.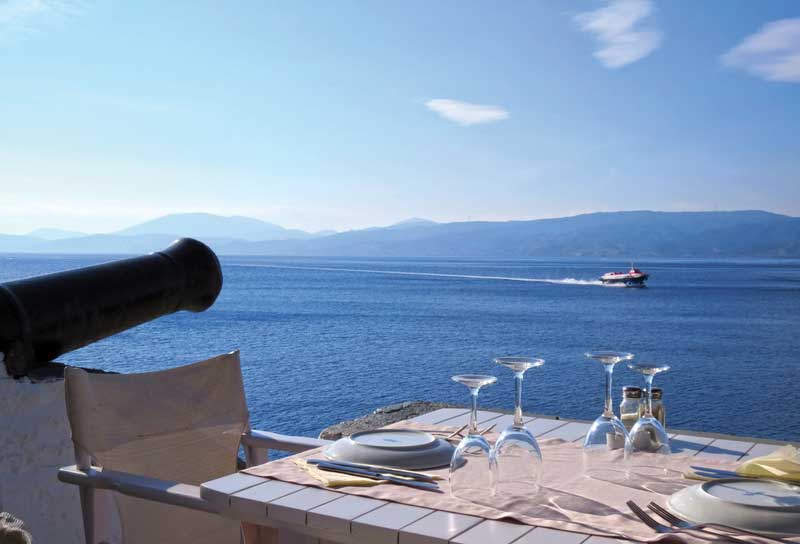 The Moorings offers powercat charters based in Marina Zea, and from there it's just a few hours to the heart of the Saronic cruising grounds. It pays to listen to the local staff and last time, the guys guided me toward a destination they assured me wouldn't disappoint. Navplion (also spelled Nafplio and Nauplion) beckoned from the top of the Argolic Gulf some 20 miles north of the island of Spetses. It was new and tempting territory. 
Getting the most from a Greece Charter.
Hydra
Our first 45 miles took us through Kolpos Idras or Hydra Gulf, and we tucked into the island's tiny horseshoe-shaped harbor. Here, there's always a spider's web of anchor lines crisscrossing the bottom as way too many boats pile in. Scoring a tie-up directly on the quay is both a blessing and a curse. Although finding a spot means you just won the lottery, it also means you'll be waiting the next morning on everyone who has tied up to your bow (sometimes four layers deep) to get up and going. We had a schedule to keep, so we looked for the farthest boat out and then nonchalantly dropped anchor and backed our stern to their bow. In the US, there would be outrage, but in Greece, that's a daily occurrence.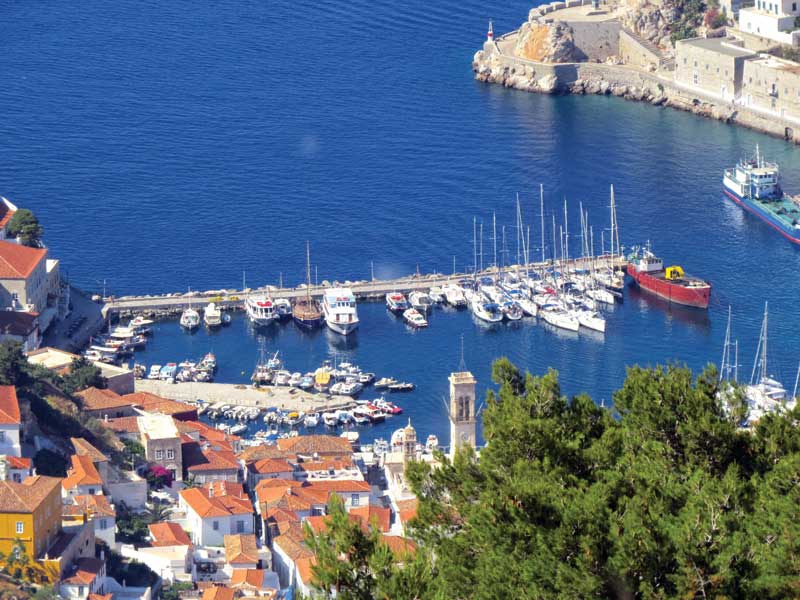 Settled in the 16th and 17th centuries by Orthodox Albanians, Hydra Town retains its charm and slow pace partially because no cars are allowed on the island, so the work is done by donkeys. Hydra's circular waterfront is packed with cafes, tavernas, and souvenir shops, and it doesn't take long to walk from one end to the other. To stretch our legs, we hiked an hour straight up through town and a pine forest to the 19th century monastery of Profitis Ilias from where we had a bird's-eye view of the harbor that was filling up fast. 
Hydra is one of those places where you can't take a bad picture. We walked around the corner on the Boundouri path and took a dip in the cool Mediterranean followed by a grappa at the Ydronetta Bar from where we watched the sunset. Crawling back over three transoms and bows to our own boat was trickier after cocktails. 
Spetses
The next day, it was just a short hop to Spetses where we dropped anchor outside the harbor just in time for a storm to blow through. Ashore, we heard the clippity-clop of hooves as horse-drawn carriages made their way from one end of town to the other. We were hoping to visit the house of local heroine, Laskarina Bouboulina, a commander in the War of Greek Independence of 1821. Bouboulina was born in a Constantinople prison but rose to the rank of admiral, and the museum is housed in the 300-year-old mansion that served as her home on Spetses. Bouboulina died in a family dual four years after her command and with a history like that I just had to learn more about her. Sadly, the museum was closed—so much for meeting my new muse. 
In the evening we followed directions to Liotrivi, a seafood restaurant that was recommended by the base. It's a spectacular setting with an unmatched waterside location and attentive service. That said, every café and restaurant we passed on the way to and from our dinner was right out of Hollywood—with candlelit charm and Zorba the Greek enticing us to look at the menu.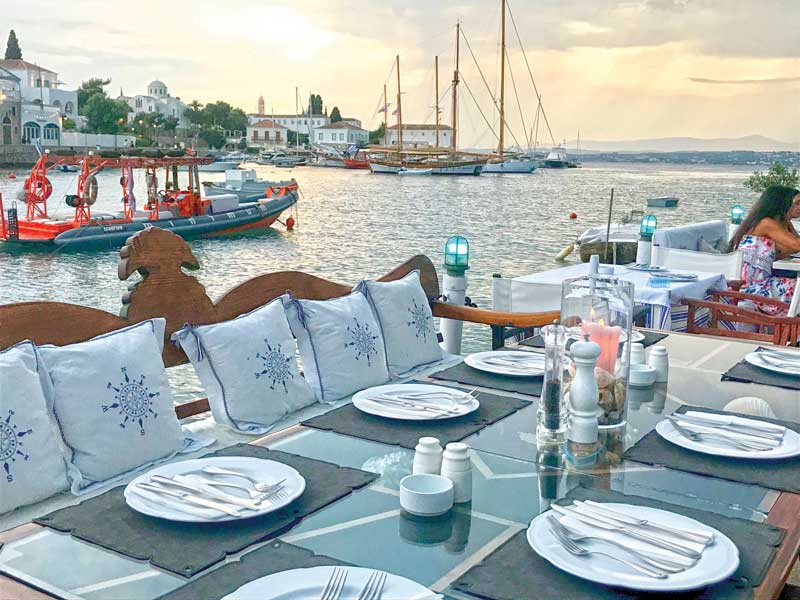 Navplion
Back aboard, we raised anchor and set course for Navplion, directly into a light and squirrely breeze. After a relaxing motor, we Med moored on the town quay with plenty of sunlight left for exploration. Navplion's horizon is dominated by the imposing fortress of Palamidi, a behemoth built by the Venetians during their occupation of the Peloponnese Peninsula in the early 1700s. I see anything on a hill as a personal challenge so up we went—some 1000 stairs. The views were incredible, and the exercise didn't hurt after a long day on the boat. 
The following morning we rented a car and drove north to the archaeological site of Mycenae and Tiryns. These ruins from the 15th to the 12th century BC were two cities at the heart of Mycenaen society, which is linked to Homer's "Iliad" and "Odyssey." What has been preserved and/or rebuilt onsite is exceptional, and if you can get away from the busloads of tourists, you end up contemplating the civilization that ruled here in peace.
It was blazing hot on the barren hill so once we descended, we set sights on Epidavros (also Epidaurus) only about 40 miles to the east. The asclepeion at Epidavros was a celebrated healing center. Actual medicine of the time was mixed with mineral spring baths and a good dose of Greek mythology. People came from miles around in hopes of being cured of whatever ailed them. To find out the nature of their illness, they spent the night in the enkoimeteria, the sleeping hall. In their dreams, the god Asclepius would advise on their course of treatment. The amphitheater nearby is still world renowned for its design and famous for its perfect acoustics. It can seat 14,000 spectators and is still used for performances today.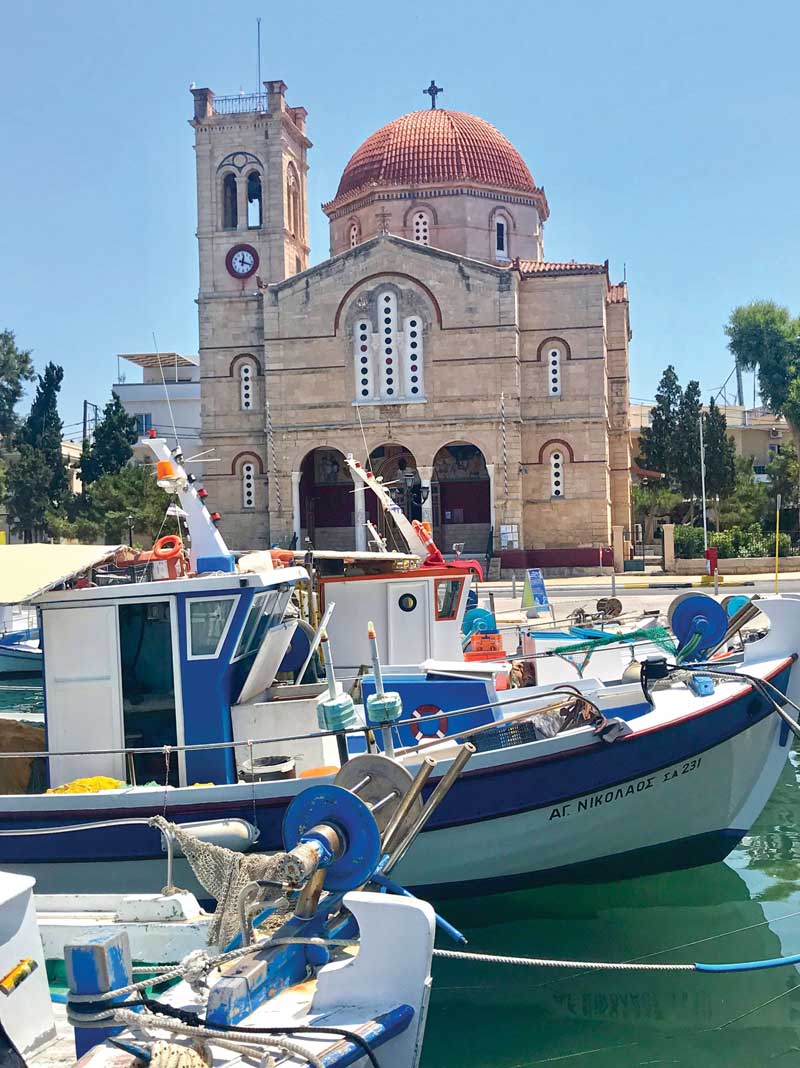 Poros
It was time to think about the return trip via Poros, an island with a narrow channel that is so quintessentially Greek, it looks almost made up. We wound our way past Timios Stavros church at the southern tip and around the perimeter of the town on our way to the long public dock on the northwestern side. The channel is tight, so you have to keep a lookout and move slowly, but you're so close to the street that it's like watching the Poros on IMAX. We Med moored at a wide-open dock, which may sound idyllic, but you never want to be first to a Greek Med moor. 
The next morning, we were first up as I wanted to get to Aegina (also Egina) Island, 12 miles north. Disheveled heads popped out of cabins as the sound of our windlass disrupted the morning air. The next 45 minutes were spent picking other anchors off our chain, wrestling with the boathook and fending off shouted advice from manly experts always looking to assist a "damsel in distress" with lots of opinions and little actual help. Some things never change. 
Aegina
The circular harbor of Aegina is always chock full of fishing and ferry traffic, so we anchored out. We rented a car because two of Aegina's gems are inland and both are absolutely must-visit sites.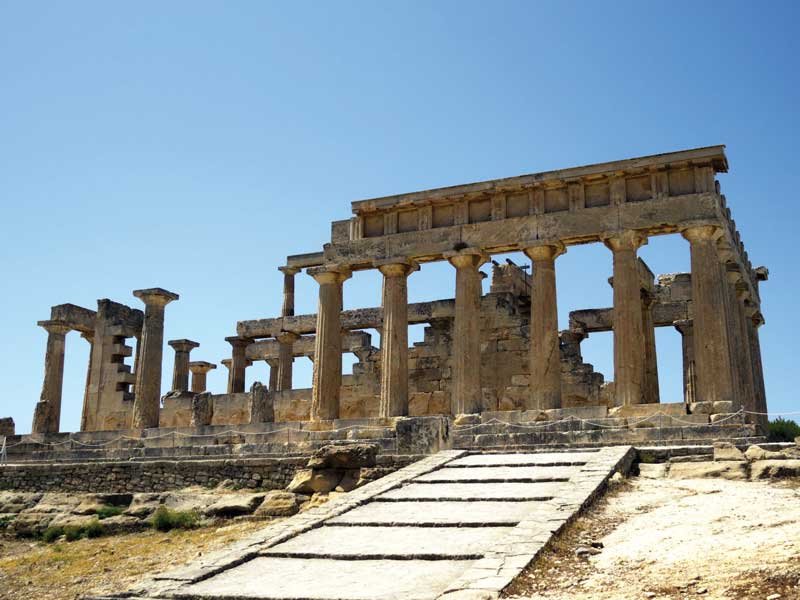 There's some debate whether the Doric temple of Aphaia (also Aphaea) was initially dedicated to Athena or Aphaia, two goddesses of ancient Greece. In fact, there may have been as many as three temples built on this site as the centuries ticked by. Nevertheless, the last and remaining structure is well preserved and an absolute wonder. 
From Ancient Greece, we rolled on to the 1800s, a weirdly fast transition when you think about it. The Agios Nektarios church and monastery were dedicated to the Orthodox theologist and mystic, Agios Nektarios, a respected healer and miracle worker. Women must have their legs covered when entering either the monastery or the church but since the site is popular with tourists, free "skirts" are provided at the door.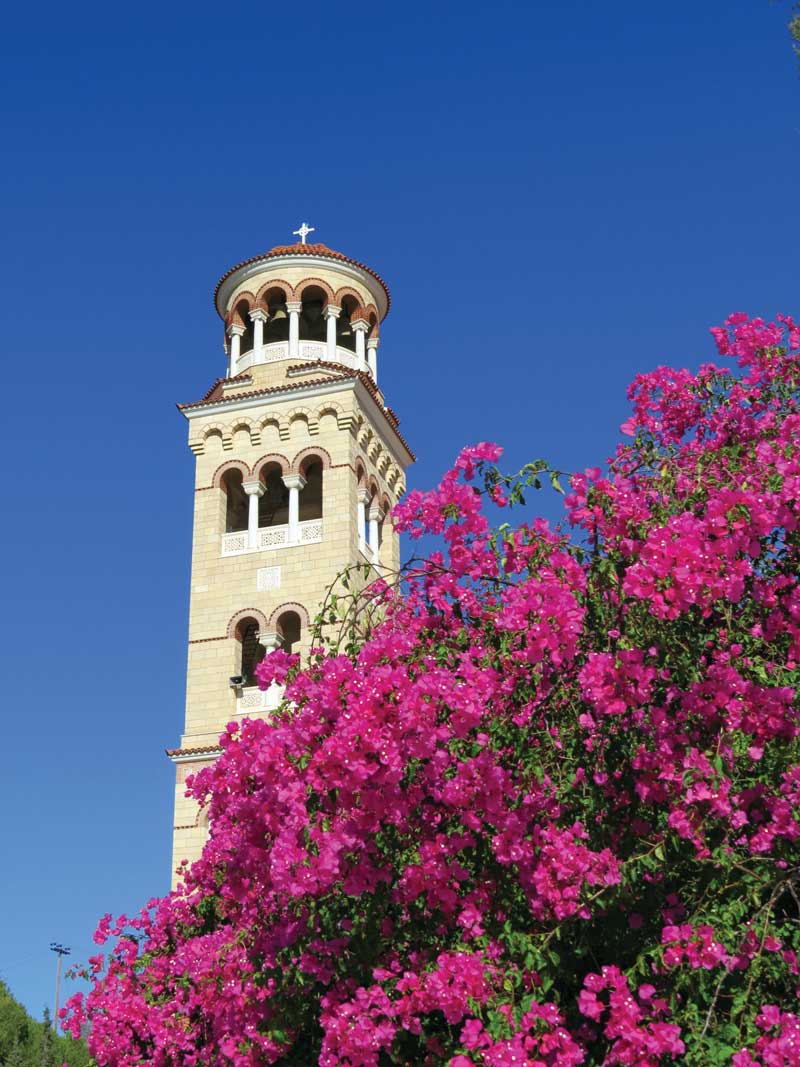 Back to Piraeus
By now you may have noticed that there are multiple ways to spell every Greek town or island name. Just to make it more confusing, the old town section on every island is called Hora or Chora, and most importantly, street names are written in the Greek alphabet, so each evening, we congratulated ourselves on ending up where we started out the day—at our boat. Truth be told, I wouldn't mind getting lost in Greece and possibly never finding my way out. 
Story and Photos by Zuzana Prochazka
---