Ryan and Tera Gubernat are no strangers to chartering or the boating lifestyle. Hailing from the Upper Chesapeake Bay, the Gubernats are out on their boat, a 40-foot Ocean Yacht, every weekend to visit some of their favorite Chesapeake haunts, and earlier this year, they returned from a power catamaran charter in the British Virgin Islands (BVI). This was the couple's second trip to the BVI together, but for Ryan, his love for the islands goes back to his childhood.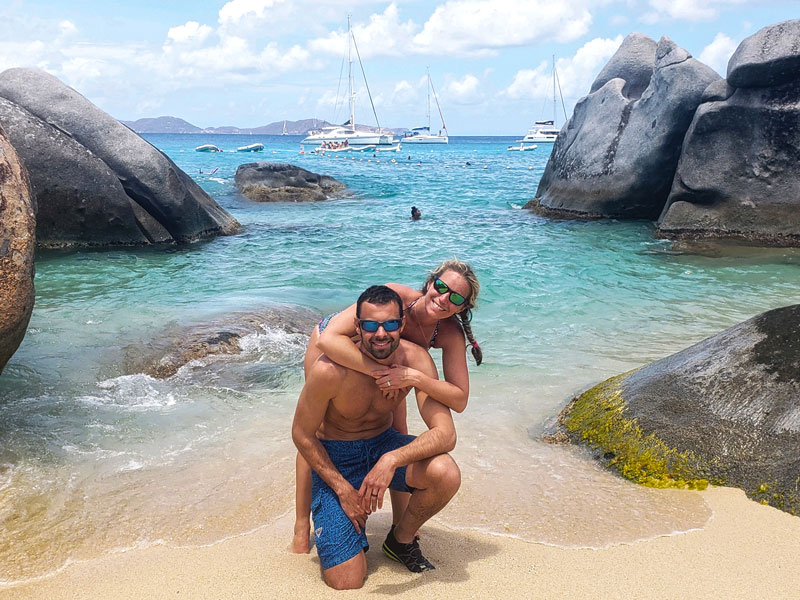 Ryan's parents have been traveling to the BVI for 35 years. They honeymooned at Bitter End Yacht Club, a trip that was cut short by Hurricane Andrew, and later when Ryan was born, the family returned to Bitter End and spent another trip on Virgin Gorda. No matter how many times they made the trip, there was always a desire to return.
Ryan and Tera undertook their first power catamaran charter to the BVI in August of 2015. They "planned it on a whim," says Tera. "It was the off season, so a lot of places were closed, but that was nice because we didn't feel overly pressured to do any one thing." That trip was cut short one day due to a hurricane, but they were given a credit towards a future trip, which they used in April of 2019. Both trips were with MarineMax Vacations. 
Back in 2015, the couple chartered the MarineMax 448 power cat with eight people; this time they had six people (same group as the first trip, minus two) on the 443: Tera and Ryan, Martin and Valerie Peterson, and Chuck and Samantha Tarr.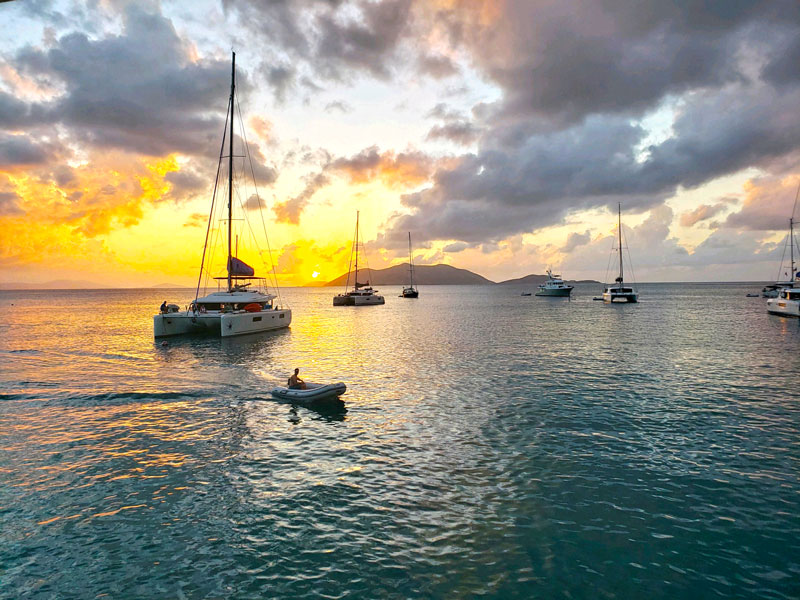 When it came to planning the itinerary, Tera says, "We all kind of put our trust in Ryan and winged it." Because they had six people instead of eight, they could go with the slightly smaller powercat. "We never even considered sail," she adds. "We're powerboaters."
Next came planning transportation to and from the BVI, and because they've traveled there a few times, they've figured out a system that works well for them. The three couples booked flights to San Juan, Puerto Rico, on Southwest, stayed in the airport motel for one night, and then the next morning they walked straight to the terminal to take a short Seaborne flight to Beef Island, Tortola. Ryan says when you get overly concerned about saving money, you either save money on the boat (off peak time) or save money on the flights but rarely both. "It's an every three year kind of trip for us," he added. 
Upon arriving in the BVI, the group headed to the charter base in Nanny Cay and were on the boat and ready to go by noon. On their first charter in 2015, they took the recommended route and headed clockwise around the islands. This time around they wanted to switch things up a bit and went backwards, which they say worked out great.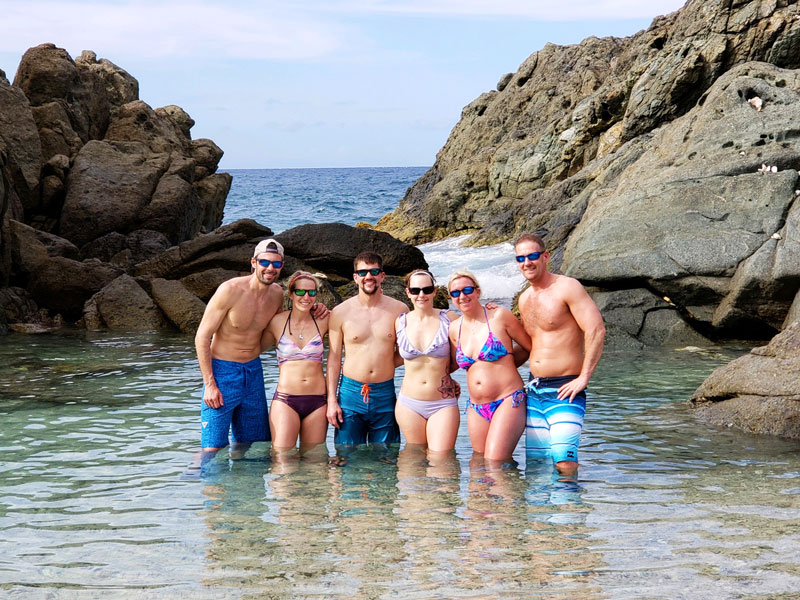 The first night they anchored in Great Harbour on Jost Van Dyke, hiked to the Bubbly Pool, and went to Foxy's Taboo. (They had one tiny mishap when the anchor tried to pull loose at 4 a.m., but thankfully the crisis was averted and mooring balls were more easily acquired after that.) And even though they had visited the Bubbly Pool on the first trip, they couldn't miss it this time around. "We enjoy hiking, so we like activities that are different from the typical bar-hopping scene," says Tera.
The next day they took the dinghy to the Soggy Dollar Bar in White Bay (A BVI-must) and overnighted in Cane Garden Bay, "a happening place with lots of restaurant options," says Ryan. Day three was spent snorkeling Monkey Point, and then cruising to Scrub Island before grabbing a mooring ball at Marina Cay. "We love Scrub Island," says Tera. "They have a swim-up pool, restaurant, and really nice hiking trails."
Next it was off to the Dog Islands for more snorkeling before heading to Virgin Gorda. For Ryan, seeing the devastation wrought on the Bitter End Yacht Club, to see the whole hillside just wiped out, was heartbreaking. But the Bitter End is rebuilding; hopefully it won't be long before that iconic BVI spot is back up and running. Later that day they travelled to a marina in Spanish Town—their one marina stay of the week.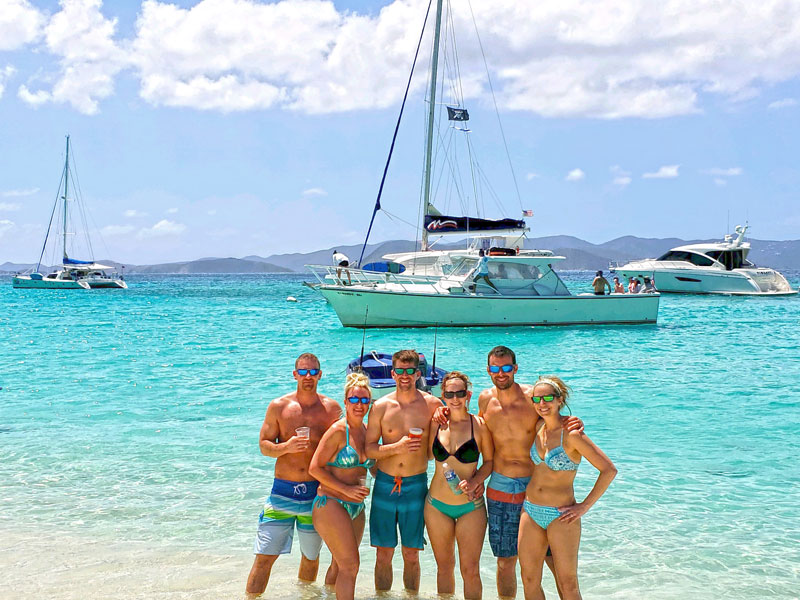 No trip to the BVI would be complete without a visit to the Baths, and it was only a quick 10-minute ride there from their marina the next morning. The last night was spent moored off Cooper Island before returning to the charter base on Tortola. 
As blissful as a charter can be, no trip is without a few complications. But that's all part of the adventure. "It really is a working trip," says Tera. "It's a lot of coordinating and very active. You can't expect to just sit on a beach and be served daiquiris (though there is plenty of that, too). You have to be comfortable on a boat, but luckily everyone we went with knew the drill and we're all boaters back home."
At the start of the trip they heavily provisioned the boat so that they could cook breakfast each morning, eat most of their lunches onboard, and eat out at night, apart from one special spaghetti dinner on the boat. One of the said-complications occurred during the end of the trip—on their second to last night the group headed to Cooper Island and waited for hours to get a mooring ball, only to be unable to get a dinner reservation at the only restaurant on the island. They had eaten their big spaghetti dinner the night before, and with only one night left on the trip they were completely out of food… Problem. The call was made to head to Soper's Hole on the West End of Tortola just before sunset.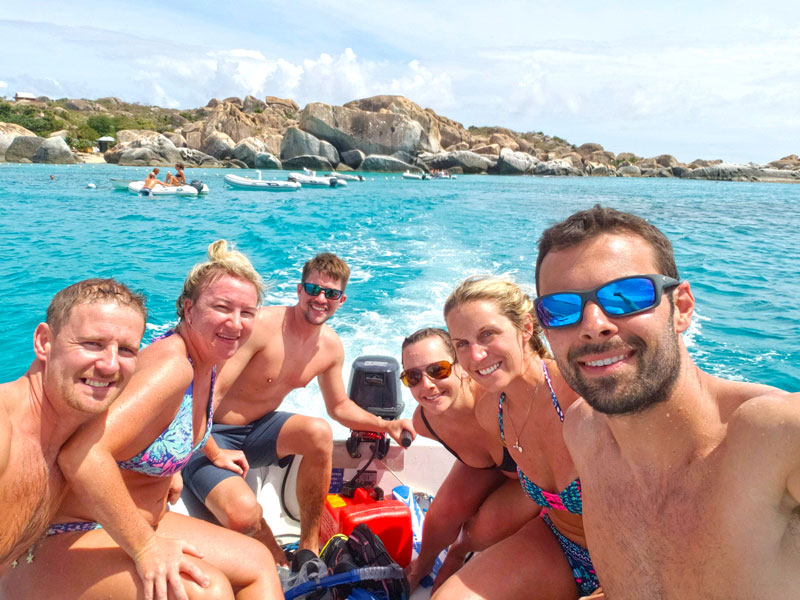 Post Hurricane Irma, they found this area to be very different from when they had visited three years earlier. "It was wiped out," says Ryan. "It used to be a happening place, but now there was just one open air restaurant, which turned out to be really good. We were thinking 'thank God!' Even though the area was still rebuilding, they had the two things we desperately needed: a restaurant at night and a coffee shop in the morning." 
"One of my favorite things about these trips is that every night has a different atmosphere," says Tera. "One night you're at a happening place and the next you're in the middle of nowhere with the stars overhead. Every day is a different adventure, and each view is better than the next."
"You can do the touristy version or you can do the off-the-grid version," adds Ryan. "We love finding beauty off the beaten path, fishing, and just enjoying real boating."
The only place they haven't explored yet is Anegeda, a low-lying coral island and the farthest distance away from the other islands in the BVI archipelago. For their next charter, they plan to tailor the trip around visiting Anegada. They also plan to take their son when he is older.
"I'm not yet 100 percent satisfied with our trips," says Ryan. "Every time I think about things I want to do the next time, things we can do better; it never gets old. Each time you meet friends down there, you meet locals… Boaters have been traveling to the BVI for 20 or 30 years and it just never gets old. We love it." 
So rather than planning a charter to some new destination, this couple is hooked on the BVI. There is always more to explore. Their biggest advice for someone considering their first powercat charter is to talk with people who've gone before with the company you plan to book with. So much of the planning takes research, but if you want the real scoop, they say your best bet is to talk to fellow charterers and then take the leap. 
---
This article is part three in our three part fall charter series. Be sure to check out our other charter articles:
Part I: How to Plan a Charter Vacation
Part II: Charter Escape - Family Fun in the BVI
Exploring the Uninhabited Isles of the British Virgin Islands