South River Federation and West/Rhode Riverkeeper, Inc. plan to consolidate their two nonprofit organizations. The unified organization will be named the Arundel Rivers Federation and focus on using science, restoration, and community action to make the South, West, and Rhode Rivers cleaner and healthier.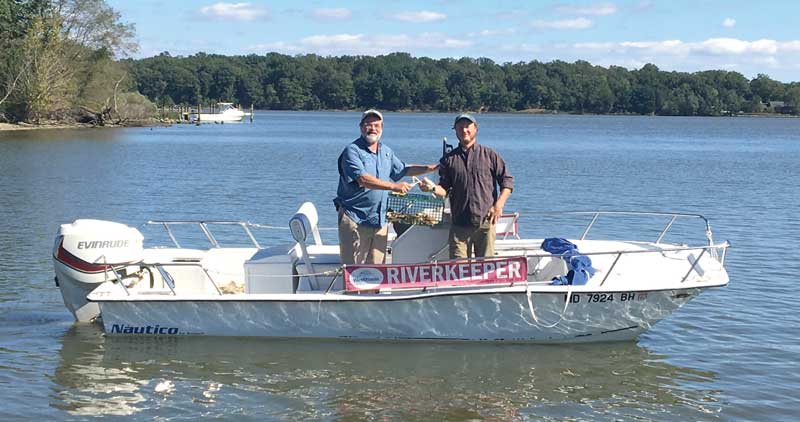 "Our two organizations have worked closely together for years," said Tom Reinert, the chair of South River Federation's board of directors. "Formally consolidating the two organizations into the Arundel Rivers Federation will benefit the health of both river systems. We will reduce administrative costs, strengthen our restoration capacity, and provide our two Riverkeepers with greater clout to protect, preserve, and restore the rivers we love."
The South River Federation board of directors voted to proceed with the consolidation at its October 17 meeting after the West/Rhode Riverkeeper board approved the consolidation on October 15. The federation's annual membership meeting on October 30 was one of the finals step for approval. At that meeting, members previewed the new look and feel of the Arundel Rivers Federation, including a new logo. Final consolidation of the groups awaits approval from the Waterkeeper Alliance.
"The West, Rhode and South Rivers share communities, share the water and aquatic life that mixes between the rivers, and we even share the same elected officials," said John Wyss, chair of the board for West/Rhode Riverkeeper, Inc. "We deeply value the history of both legacy organizations, and our passion and commitment to local waterways remain."
Arundel Rivers will keep the local focus of its legacy organizations by maintaining their two Riverkeepers, supported by existing volunteer networks and local watershed boards for both. Organization leaders say the consolidation will benefit both groups in numerous ways. The two organizations list four primary reasons for joining forces: to share services and administration costs; to do bigger and better restoration projects in the South, West, and Rhode River and across southern Anne Arundel County; to reach more people about how they can change behaviors in ways that will benefit our rivers and green spaces; and to have greater political influence to work with elected leaders to enact policies that will protect our natural resources and our quality of life, such as development of the Mayo peninsula.
For everyone in this area who wants clean water, this is the best thing to happen in a decade," said Bob Gallagher, the founder of West/Rhode Riverkeeper, Inc. "The South, West, and Rhode Rivers have always been closely linked, and this move will result in more resources to restore these three beautiful rivers."
Arundel Rivers will be the largest regional watershed organization in Anne Arundel County, spanning the watersheds of three rivers including nearly 53,000 acres. Learn more from the South River Federation and West Rhode Riverkeeper.
---
For more, check out our profiles of Jesse Iliff, South Riverkeeper and Jeff Holland, West/Rhode Riverkeeper.