When we do anything for the first time in our lives, it somehow seems to imprint on our memories so well that we are always able to relive that experience in our minds, even if it is years later. That first kiss, first boyfriend/girlfriend, first car, first full time job, and even first wife or husband are experiences never to be forgotten, no matter how good or bad they were. Taking that first ride in your new or used boat or jetski is just another example of an unforgettable experience like the ones mentioned above, but with any luck it should be more fun than most of them!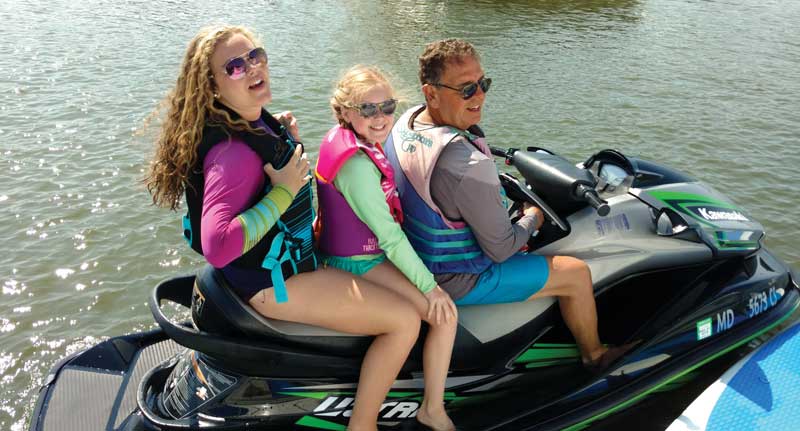 Added to my first ride on my new-to-me Jet Ski was a large dose of anticipation because I picked it up in the beginning of March, right before a major snowstorm, and wasn't able to take that memorable first ride until April 28. On this particular spring day the temperatures were in the 50s, but the water temperature was still in the 40s. I couldn't wait on warmer weather any longer to see if I had made a good purchase two months ago, so I donned my drysuit, floatcoat, gloves, hood, and sea boots, taking on the appearance of a Ninja warrior. For added safety, I packed my handheld VHF radio and cell phone into a dry storage compartment. 
I instructed my wife, who had backed the trailer and ski down the ramp, to standby so that I could make a quick return to terra firma should I have any unexpected leaks. I ran back and forth in a half plane in front of the boat ramp to be sure that my new purchase was running correctly. I wanted to blow out the last vestiges of fogging oil from last fall's winterization, until the Kawasaki purred smoothly at idle before I went too far. When I was confident that all was well, I headed south towards the Sassafras River, making sure that I stayed on the same side of the Bay as my house to avoid a long trip for my wife, should I need to be rescued by car and trailer.  
I hit the throttle modestly but was nevertheless "blown away" by the rapidity at which my jet ski jumped up on plane; I was glad that I was holding on to the handlebars tightly. The excitement of finally speeding down the shoreline at over 30-mph quickly erased the many doubts that had been circulating in and out of my mind the past few months. As each minute of my ride passed, my enthusiasm grew. After reaching Grove Point on the Sassafras River, I turned back north towards Turkey Point. When I was in front of my home, I opened up the throttle for the first time and had the sensation of flying low as I reached 47 mph. Had it not been for my hood with full face covering, my aging cheeks would certainly have been slapping my ears as they fluttered in the stiff breeze created by the high speed run. 
Feeling confident that everything was working correctly, I rode across the Bay to the western side of the Elk River and stayed along the shoreline until I reached the entrance to the C&D Canal. By now, the cold had beat my enthusiasm for continuing on, and I returned along the eastern shore of the Elk River until I reached home after a two-hour ride that had covered 42.7 miles. I put the Jet Ski back into my garage, confident that it didn't need anything fixed or adjusted when the warmer weather finally arrived.
Taking multiple rides on my new toy began in earnest after May 21 when my long awaited Jet Ski lift was installed. This addition would now give me the ability to take those impromptu early morning/sunset rides that I had envisioned with a minimal amount of work. With this ease of use, I took almost daily rides now around the entire Upper Bay. With my first ride behind me months earlier, I got to go on my second "first" ride when I took my 15-year-old granddaughter for her first ever Jet Ski ride. She was very excited when we changed positions and I let her drive for the first time.  
Not long after, I encouraged her 11-year-old sister to join us for her first ride on a Jet Ski. It was also the first time that I had taken two passengers on this vessel. As I had hoped, it was incredibly stable at idle, and its performance was not impeded whatsoever with the additional weight of the two girls, who erupted with screaming and laughter when I hit the throttle. We rode into every nook and cranny of the Sassafras River that day and stopped for a brief swim in Lloyds Creek before returning home. 
During that ride it struck me that 30 years had passed since I had taken their father for his first Jet Ski ride when he was only 13 years old on our 1988 Yamaha WaveRunner. For a moment, it felt significant that my actions had introduced two generations of my family to the fun and excitement of a first ride on a PWC, something I knew they would never forget even years later. That same day, I pulled both granddaughters and their father on water skis for the first time. The power out of the hole was amazing with no lag time getting the girls up on top of the water, and it even yanked my son out of the water on a slalom ski!
My neighbor Tom had acquired two SeaDoos a year earlier when he first purchased the house next door. Prior to that time he had never owned a boat of any kind. He was only somewhat familiar with the Bay and was very reluctant to travel too far from home. Our first trip together was to travel south to Still Pond and up to the head of Still Pond Creek. We took numerous rides together during the summer, with my goal of taking Tom somewhere he had not been to as of yet. On our last trip together for the summer, we traveled with our wives onboard to Jelly Fish Joel's dock bar at Great Oaks Landing, listening to live music and watching the endless parade of boats enter and leave Fairleigh Creek.
Throughout the summer, my wife and I traveled on the Jet Ski to raftups on the Bohemia River, and visited friends at their slip in Bohemia Bay Yacht Harbor. Sometimes we would take a quick ride around sunset to cool off from the day's heat. It became a custom that my wife would drive, and true to form, our average speed on those trips was always faster than when I was at the helm. Occasionally, I would substitute the Jet Ski for my Boston Whaler and take a ride to Lloyd's Creek or Fishing Battery Island when I knew some of our boating friends would be there. I took quick jaunts on Wednesday evenings to watch the Elk River Yacht Club sailboat races on the Bohemia River, as well. 
The most memorable trip of the summer was on September 4 when I traveled down the Eastern Shore to visit my friends at their mule farm on Grove Creek off of the Chester River. It was a hot, calm day, perfect for taking a long trip. By now I had a much better idea of how far I could go on a tank of fuel, so I jumped aboard and headed south along the Eastern Shore. Cruising at 30 mph, it didn't take long for me to pass Still Pond, Worton Creek, and Fairleigh Creek. When I was south of Tolchester, I was excited that I didn't have to honor the channel. I was able to see up-close some outstanding waterfront estates that heretofore I could only view from the channel, quite a distance away. As I rounded Swan Point, I ran along the shoreline towards Rock Hall, not worried about the shallower water on Swan Point shoals.  
It didn't seem to take me long to traverse the entire length of Eastern Neck Island and head up into the Chester River. Since it is a wildlife refuge, most of that shoreline is absent of any dwellings. I saw a few eagles, plenty of blue herons, and the ever-present seagulls. I arrived at my friend's home on Grove Creek to find him away, so I left and traveled the southern shoreline of the Chester River, again viewing homes that I had never seen before, until I reached Kent Narrows. I topped off my fuel tank at Piney Narrows Marina and idled south for lunch at The Jetty. 
After lunch, I traveled north past Castle Marina towards Love Point, viewing all of the luxurious waterfront homes along the way. I arrived back at my home in five hours from the time I had left. At that point I had only ridden 98.2 miles, so I rode around in circles near my home until the trip meter broke the 100 mile mark (I do seem to have traces of OCD in my genetic makeup). To say the least, it was a great day taking my first long distance rides. 
During the summer of 2018, I created a long list of many Jet Ski firsts, which I surely won't forget. I ran my machine over 50 hours, took 38 different rides, and traveled close to 900 miles around the Chesapeake Bay. Looking back on those experiences, I have to admit that purchasing my Kawasaki Jet Ski proved to be one of my better impulsive decisions. 
By Dave Nestel