This past winter I traveled to the Baltimore Boat Show with absolutely no intentions of purchasing a boat of any kind. I allowed three hours to achieve my usual boat show goal, which is to see and learn about something I didn't know existed in the boating world, regardless of its size, cost, and/or my desire or ability to own it.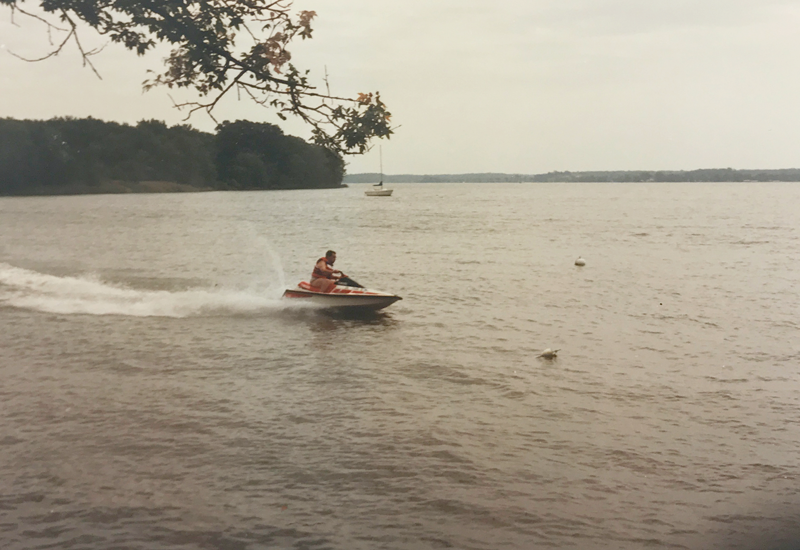 As I walked into the Baltimore Convention Center, the very first display that I came upon had at least 40 different PWCs. I decided that it might be fun to learn what differences existed between all of these models. Suffice it to say that compared to my 1988 Yamaha, the machines are much larger, faster, more agile and stable, quieter, smoother riding, and safer. I spent over an hour learning what features each model had but left the display without any urge to purchase one. I was impressed with the fact that the most expensive model, with all the "bells and whistles" including a stereo system and trailer, was less than $16,000. 
While traveling home that evening, I began trying to remember which winter boat show it was where I first saw the Yamaha WaveRunner. I do remember that I was so impressed with the "sit-down" capabilities of this new style jet ski, that it didn't take me long to part with $4200 at a local dealer.
I fondly reminisced about the years that we rode it for countless hours and had an immeasurable amount of fun riding around the Upper Bay. Our sons would follow us in our cabin cruiser to anchorages like Still Pond and Fairlee Creek, where everybody we rafted with, young and old alike, would get a chance to take a ride. On any given weekend, we literally used more gas in the WaveRunner than our twin engine cruiser. 
Unfortunately, our four plus years of fun ended when it got loose from its mooring one evening in Piney Creek Cove on the Elk River. It was last spotted the following morning floating in the middle of the channel at Schaeffer's Canal House in Chesapeake City some six miles away. Most disappointing was the fact that even though my owner's card with my name and address was in an onboard storage compartment, I never was contacted by whoever was seen towing it from the center of the canal. For the next several weeks, I spent countless hours trying to find my beloved WaveRunner with no success. To this day, some of those early machines are still being used on the Bay, and I always give close scrutiny to see if it might be my long "lost" WaveRunner.
With all those great memories flooding through my mind, minus the last one, I thought that perhaps a new PWC would be a great addition to my "fleet." After all, three people could cruise the Bay at 35-mph in relative comfort and get the excitement of speeds up to 70-mph. In addition, I could keep my current Boston Whaler and save between $45,000 to $60,000! I couldn't wait to get home and see what the Craigslist "Gods" might offer up. I was not disappointed by the number and variety of used PWCs that were for sale. 
Not being deterred by common sense, I spent quite a few weeks traveling what seemed like the entire eastern seaboard to look at more than 20 used machines. Most were in very good condition, and ranged in price from $3200 to $9000. Since I didn't feel that I needed some of the fancier options, I decided to revisit purchasing new and found a great deal on a leftover model for $13,500 in Toms River, N.J. 
The evening before I was going to the dealer, I sat at the kitchen table and counted out the cash that I had removed from the bank earlier that day. Somehow seeing all of that money on the table and remembering all the Jet Skis with so little use made me question how impulsive this purchase might be. In disgust, I told my wife that I had just decided that I didn't really need a Jet Ski and that I was not going to get one after all. Having been party to the purchase of 44 boats over our 46 years of marriage she instinctively knew my next move before I did. At bedtime that evening, I decided to look at Craigslist just one more time, and to my surprise I found a 2016 model that was exactly like the new one I had just decided not to buy but for $8500… I had to check it out!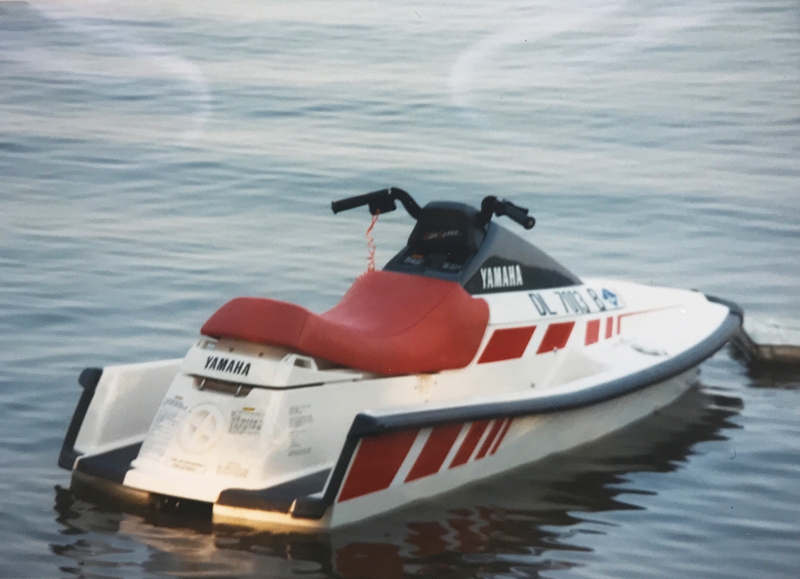 I excitedly called the owner at 7 a.m., not wanting to miss them before they went to work, and made an appointment to see the Jet Ski that very morning. Time was of the essence because Philadelphia was expecting a major snowstorm to arrive by mid-afternoon. The icing on the cake was that it had only 29 hours of run time and three and a half years of a transferable factory warranty remaining.
When I arrived, I met Debbie whom I had spoken with earlier. She showed me to the yard where the Jet Ski was sitting on a trailer. To my dismay, it had been professionally shrink wrapped. Knowing how indecisive I had been the evening before, I didn't want to portray my purchase as a foregone conclusion. I let her know that in order to make a buying decision, I would have to see the machine uncovered and that I was making no guarantee that I was definitely going to buy. I explained that I would not be upset if she chose not to uncover her machine, considering that it was still February with a snowstorm on the way. Things have a way of working out. 
Debbie agreed to assimilate the risk of me not buying and uncovered the Jet Ski. Thankfully, it was in like-new condition and had all the paperwork from the dealer where she had had the oil changed, winterization, and shrink wrapping done in September of 2017. We went to a local notary to transfer the titles, and I was back at home before noon. A few hours later, the area received over eight inches of snow, while I had my new purchase in the protection of my garage in Maryland.
My wife laughingly told me that when she pulled into the garage that it only took her a few moments to discover why the garage seemed so full of stuff. Not knowing of my late night Craigslist discovery, she had mistakenly believed that it was a brand new Jet Ski in the garage. She rolled her eyes when I informed  her how "smart" I was to have just saved $5000 compared to what I had intended to spend, and how there was just enough money saved so I could now purchase a new lift at the dock for the Jet Ski. Now all I had to do was wait for spring!
If you haven't experienced the new PWC technology, or more importantly never ridden one before, you need to put that on your 2019 boating list as soon as possible. Thirty years of innovations and technological advances have made PWCs, in my opinion, possibly the most economic, versatile, safe, and fun way to get out on the water. There is a reason that over 12,000 of these machines are registered in the State of Maryland alone. 
By Dave Nestel