Boaters who are plagued by winter cabin fever should head to the Inner Harbor for the 2019 Progressive Insurance Baltimore Boat Show January 24-27 at the Baltimore Convention Center. Visitors will find more than 300 powerboats, inflatables, trawlers, wakesports boats, paddle craft, and many interactive activities for boaters of all ages.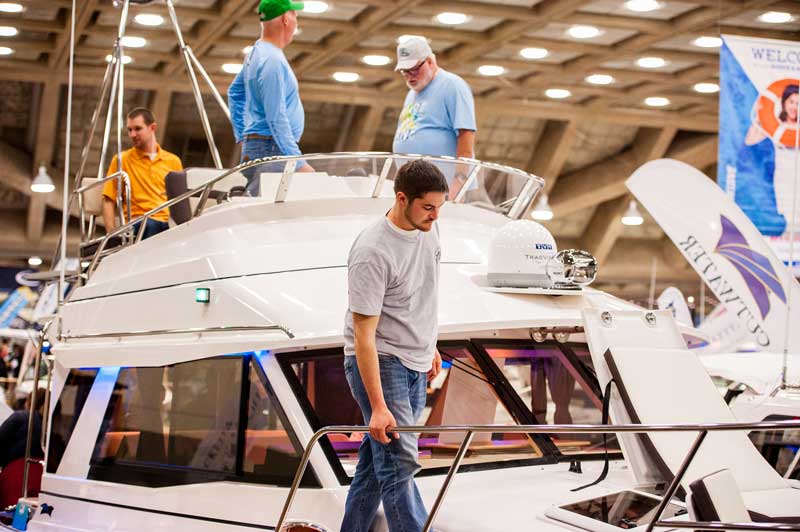 Dates and Times:
Thursday, January 24, through Sunday, January 27
Thursday through Saturday: 10 a.m. to 8 p.m.
Sunday: 10 a.m. to 5 p.m.
Tickets:
Adults 13 and older: $14  ($2 off with advanced purchase online by January 23)
Kids 12 and under: FREE (when accompanied by an adult)
Parking
There will be complimentary shuttle bus service to and from the Baltimore Convention Center from the Lot C parking lot at Camden Yards. Shuttle buses will run to/from the show approximately every 20 minutes. On Saturday, January 26, Lot C will be unavailable for boat show parking and there will be no shuttle service due to a pre-scheduled event at Camden Yards. There are several parking garages close to the Baltimore Convention Center available for parking.
Highlights
Fish Friday: Find all things fishing on Friday at the show. Enjoy a fish fry, sharpen your angling skills at one of the Discover Fishing seminars, or enter the Friday Fish Fighting Tournament. Think you have what it takes to land the winning fish? Stop by the virtual fishing simulator with your friends and battle to earn the best score for giveaways or to win the grand prize—a fishing charter! (space B54) The Crab Pickin' Contest sponsored by Conrad's Seafood Restaurant and 100.7 The Bay is a popular Friday evening event.
All Weekend Long: Miss GEICO: The 50-foot Victory catamaran boasts 1650 RACE Sterndrive Mercury Racing piston-powered engines that deliver 3300 horsepower and speeds of 200-plus miles per hour. Miss GEICO has captured 10 world titles.
Progressive Boat Club: The Annapolis School of Seamanship will offer an array of hands-on boating courses, plus master docking skills at the docking pool with remote-controlled model boats. Visitors can also try Progressive's Oculus Rift virtual reality experience, putting themselves at the helm of a virtual boat race. Children younger than age 13 can participate in the virtual reality activation with parents' onsite permission.
Virtual Fishing Simulator: Will you land your trophy fish, or just tell the tale of how it got away? Enjoy a friendly competition with your fishing partner to see who can land the big one.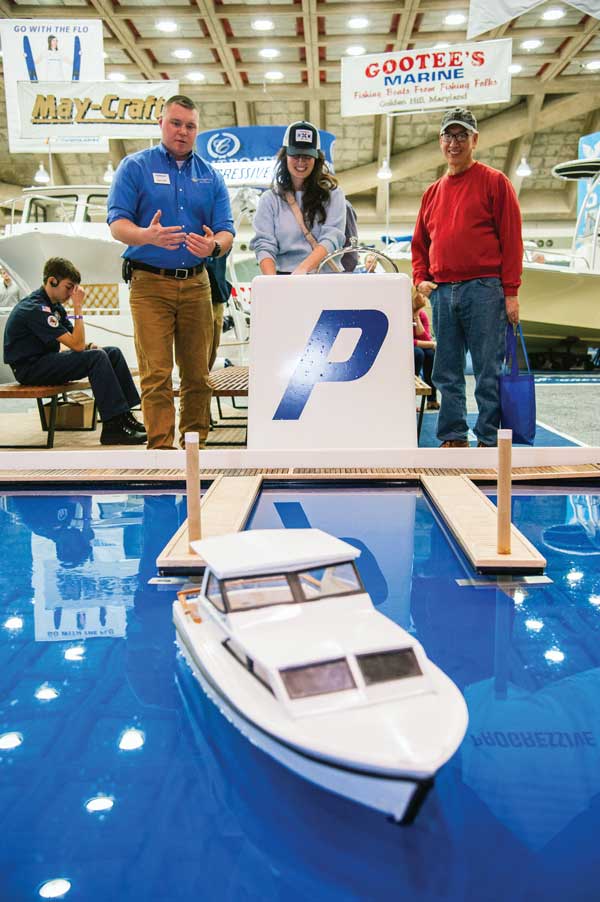 Super Thursday: Find opening day deals with Thursday-only specials on a wide variety of boats and products.
Virtual Boating Skills Trainer: Take the helm and set out on a simulated boat trip to practice boating skills, such as docking, doing pivot turns, and stopping. The America's Boating Club Boating Skills Virtual Trainer, equipped with a steering wheel and real Mercury throttle, gives you hands-on experience as you pilot your virtual boat on a lake with other powerboats, sailboats, navigation aids, and a marina.
Free Daily Seminars: Expand your skills, increase your confidence at the helm, and learn how to make the most of your time on the water in the VIP Room.
Family Activities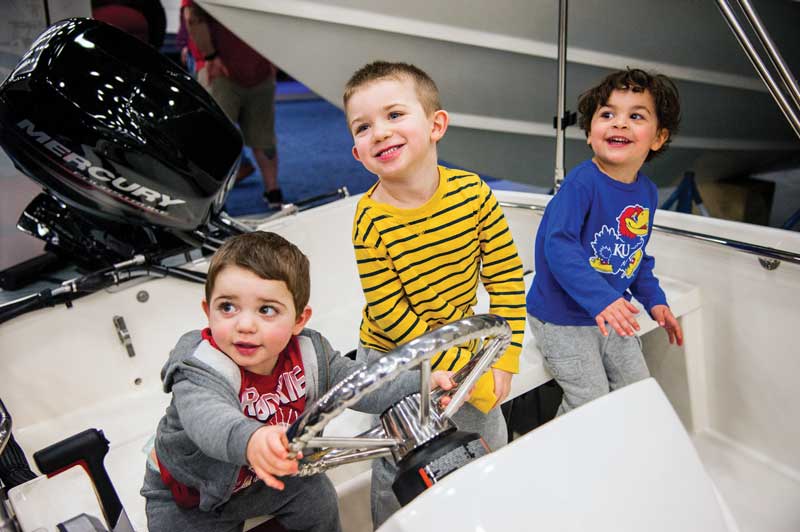 Junior Captains Program: Interactive boating education for kids ages 11–15, a great way to introduce youngsters to the fun of boating (space B3).
Touch-a-Boat Tour: A scavenger hunt, with prizes, where kids receive a passport to collect stamps at designated "boat stops," where they get to explore life on the high seas.
Build-a-Boat: The kids assemble their own model boat to take home as a souvenir (space K27).
Come see us!
PropTalk and FishTalk Magazines will be at booth 613 - stop by and say hello, grab the latest issues, and meet our team.
---
Are you thinking of buying a new boat? Click here for some boat buying dos and don'ts.