In the last installment our readers will recall the opening chapter in the saga of a long-neglected boat, a Legacy 32, and the purchase and restoration plans of a perhaps slightly delusional new owner: me. What follows is the second installment of this refit story, including work on the electrical and electronics systems. The goal of this exercise is the transition from a currently ugly duckling to the proverbial beautiful swan, with all work done over the winter, while not breaking the bank. We will see…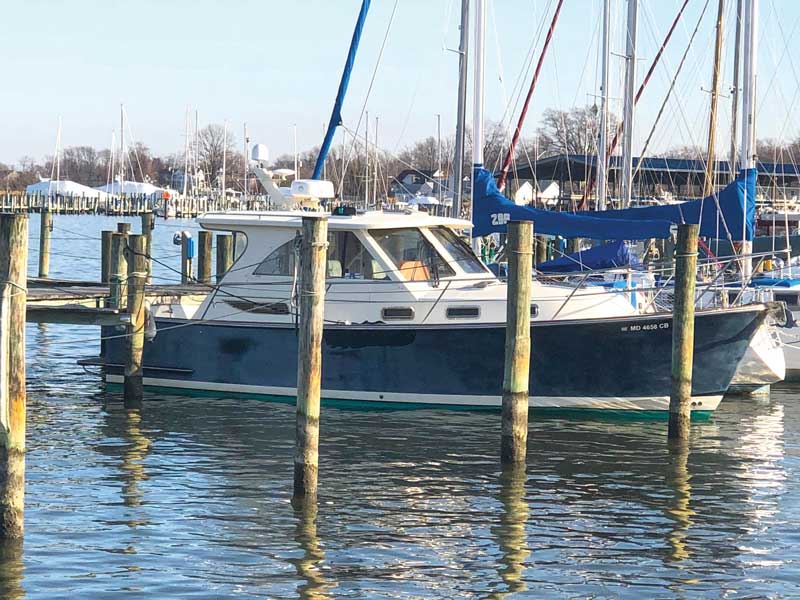 Subsequent to the last installment, I took delivery of the boat. This of course meant I had to bring her home to Annapolis from the Eastern Shore. It is a trip of 20 miles and not necessarily daunting to the many experienced cruisers on the Bay. 
However, on this trip, I had to do it in a new-to-me boat with no functioning navigation equipment, including a depth sounder, while navigating the unfamiliar waters on the upper Eastern Bay. Let me take a moment to thank my iPad and the Navionics app, as well as my friend and crew for the delivery, Eric Rubin. While carefully navigating from aid to navigation (ATON) to ATON with two sets of eyes, it was comforting to both of us to see the boat icon in the white (deeper) water on the chart app.
Having arrived safely at my home dock, the real work started in earnest. A little cleaning, a little winterization, and the replacement of a few pumps followed. Pumps, it seems, are the most unhappy components on a boat when suffering lack of use. There are 10 electric pumps on the boat, and I have already replaced three!
Learning new systems, especially for winterization, is not for the faint of heart. Not only does the process take twice as long, allowing one to "learn the system," but you also live in fear of screwing something up.   
While winterizing, I discovered a pinhole leak in the sea chest. On this boat the sea chest is fed by two large seacocks, and most raw water systems draw from it. I did not cause the leak, but it was a fear-inducing discovery. Ever so smart (and ever so dumb), I closed the seacocks while she sat at the dock.  
All of you readers know what happened next. I fired her up for her first visit for refitting and found her overheating before I got out of the creek. I nursed her back to the dock and only later discovered my mistake—closed seacocks and no engine cooling water flowing as a result.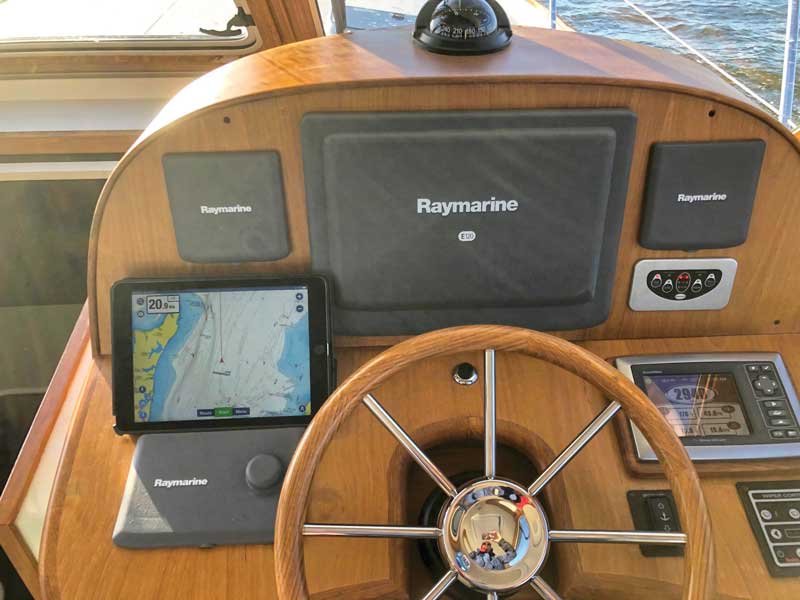 Okay, all of you who have never done something stupid while working on or driving your boat can smugly stop reading now. The rest of you, kindred spirits, read on!
Naturally, I had fried the impeller. Naturally, it was hard to remove. After some difficulty and counsel from my new best friend, Sean Thomas at Bay Shore Marine, I got the old one out and the new one installed. Upon restart, the engine sounded fine for a few seconds and then died. This repeated itself several times as I tried and tried to get it to idle and my concern grew. What had I done? While worst case fears gripped me (replacing the engine was definitely a budget buster), I put in a service request at Bay Shore Marine.  
Sean visited the boat, diagnosed the problem, and called to assure me all was well. Apparently, pursuing dumb move number two, I had inadvertently closed the fuel tank valve while wrestling with the impeller. To do this I must have been stretched out, hand to foot, like Rose Mary Woods when she "inadvertently" erased the Nixon White House tapes.  
Anyway, Sean suggested a Velcro strap to avoid such a mistake in the future. Relieved and chagrined, I was now clear to move her a few miles to her first stop, J. Gordon & Company, for complete battery replacement and diagnosis and repair of the problem with the isolation transformer.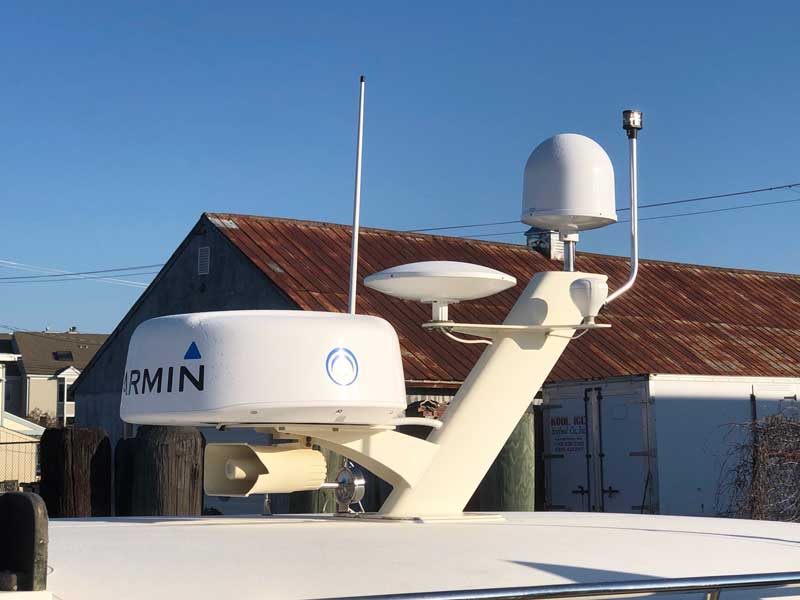 At J. Gordon & Company, owner Marshall Larner had already ordered all batteries and queued his team up for action. He took the engine overheating induced delays in stride and made it work. Service manager Doug Smith was on top of the things I had already scheduled. He was also good with the things I added. There are always things added in a refit project! 
When it came to working in the relatively (okay very) small engine room, the master of dexterity was Ben Mead. His flexibility and maneuverability came in very handy replacing the batteries; the removal, diagnosis, and repair, of the isolation transformer; and the replacement of a fuel hose, the exhaust hose, and a bilge pump. Given the weight of an 8D battery, I suspect he was fine skipping the gym that week.   
Departing J. Gordon & Company on Back Creek in Annapolis, my destination was Mid-Shore Electronics in Cambridge. It is a trip of 40 miles, again undertaken with no navigation instruments. The waters were more familiar this trip (hey, I have been to Cambridge a few times!). Still, I went around Black Walnut Point and north of Sharps Island, rather than risk Knapps Narrows at low tide.
I arrived at the Mid-Shore Electronics docks with no problems. There, Josh Ruark and Chris Mitchell met me and helped me into the slip. They went over the planned complete removal of the dated and not functioning Raymarine equipment and the installation details around the new Garmin equipment. From their questions I was comforted in their knowledge and experience. Given that this stop on the refit trail is nearly a third of my refit budget, it was a good feeling to know she was in good hands.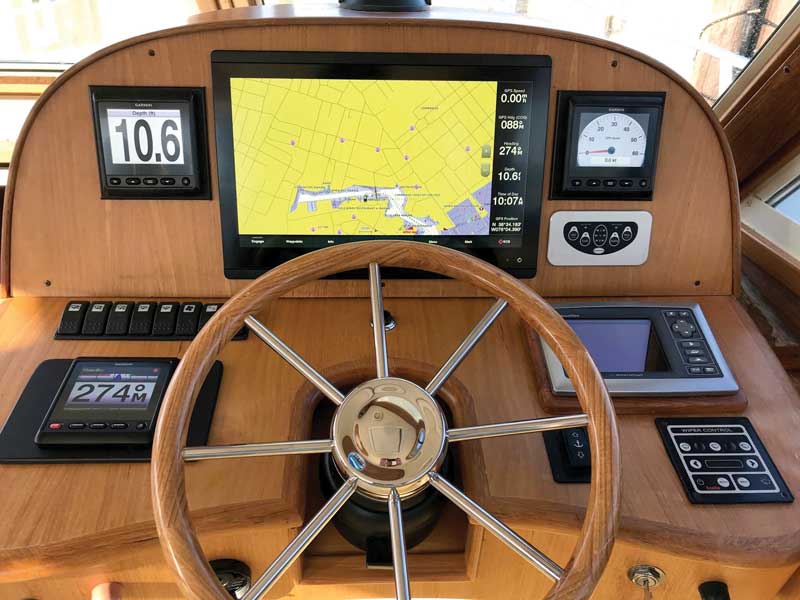 Josh and Chris were scheduled for a full week of work. Greg Foxwell, a retired Marine First Sargent, served as the project manager and my chief contact. Those of you with any military background know it is the senior non-commissioned officers (NCOs), like Greg, who truly run our military. In this mission he was consistently monitoring progress and keeping me informed. I heard from Greg nearly every day while the boat was in Cambridge.    
Greg called on a Wednesday to tell me the boat would be ready for sea trial on Friday morning, right on schedule. At the appointed time I showed up in Cambridge, and Josh and Chris walked me through the week's work. It was beautiful! 
We motored out of the slip, breaking skim ice along the way (the hazard of a winter refit). We did some circles to calibrate the fluxgate compass and some speed runs to calibrate the autopilot. All worked well, and soon we were headed back to the dock.
Josh and Chris showed me some of the likely infinite configurations and functions of the new Garmin package. I will likely forget even the basics over the winter, and I may never learn everything they offer. Still, what they do offer is a lot of navigational knowledge and support for situational awareness that promise a fun boating future.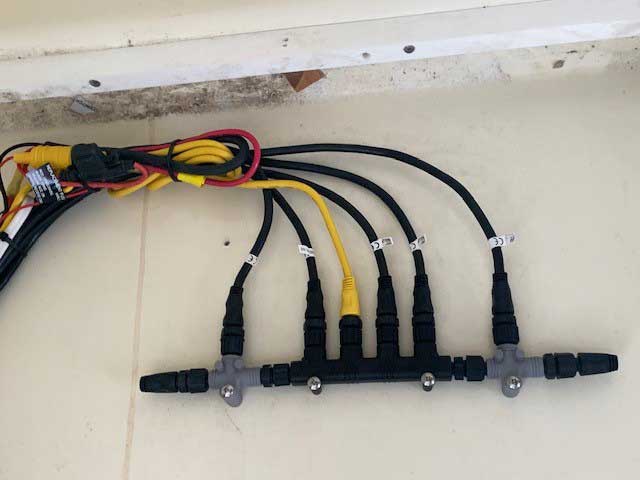 Okay, so all the above work is about function. Where is the beauty? After all, I have told you since the beginning that this refit process was about turning an ugly duckling into a beautiful swan. 
Well, let's remember your mother inevitably saying that beauty is only skin deep. A beautiful boat with a rotten inside is no beauty. Indeed, as it relates to boats, beauty is more than skin deep. At least it should be.
But fear not. The next steps and the next installment of this series will report on the early winter work of Joe Reid at Mast and Mallet and Stephanie Feild at Custom Canvas Coverings. Now we're talking! 
About the Author: Mike Pitchford is a life-long boater who just purchased his fifth cruising yacht. While he may have some delusions about the cost of restoring this Legacy 32, he will, as he says, "have some fun" doing it. 
---
This article is part two in a series. You can find part one at: proptalk.com/legacy-32-restoration. Click here to read Part III: #Beauty.