This article is the first in a series. Watch for subsequent installments in the pages of PropTalk for the full story on the rebirth of this soon-to-be-lovely Legacy 32.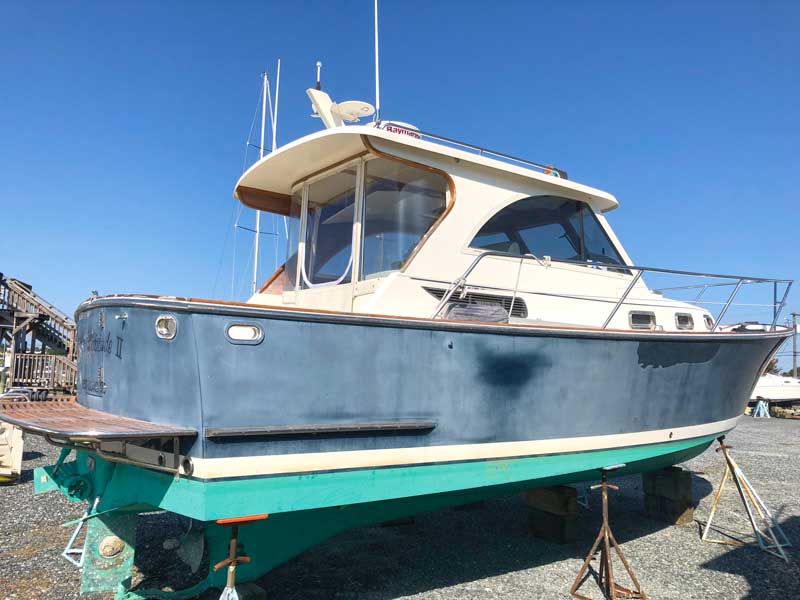 In every boat owner's life, there comes the day that is often described as "the happiest day and the saddest day." That is the day a perhaps much loved and perhaps occasionally loathed boat is sold and gone from view.  
The sad part is the loss of memories made while owning the boat. The happy part is the loss of the to-do list and the constant drain of the checkbook. Perhaps a supplement to the happy part is the commencement of a search for a new boat.
In September we had our most recent happy/sad day. We sold our loved and occasionally loathed North Pacific trawler. After five years of ownership and 10,000 miles under her keel, she was operating away from our dock under "new management."
Our happy side was enhanced by new boat shopping we had already done. We had taken the time from listing to sale to think about our intended use and the right compromise boat (all boats are a compromise). We searched online and pursued broker ads. We found a Legacy 32 listed for sale in the PropTalk classifieds. Not long after we had her under contract.
This Legacy 32 was by no means the shine and polish stuff of boat shows. In fact, she might be a case study in neglect, the antithesis of boat-show ready. A Mark Ellis design, executed by the folks who built Legacy and Freedom yachts, she had good bones and seemed worthy of the challenge.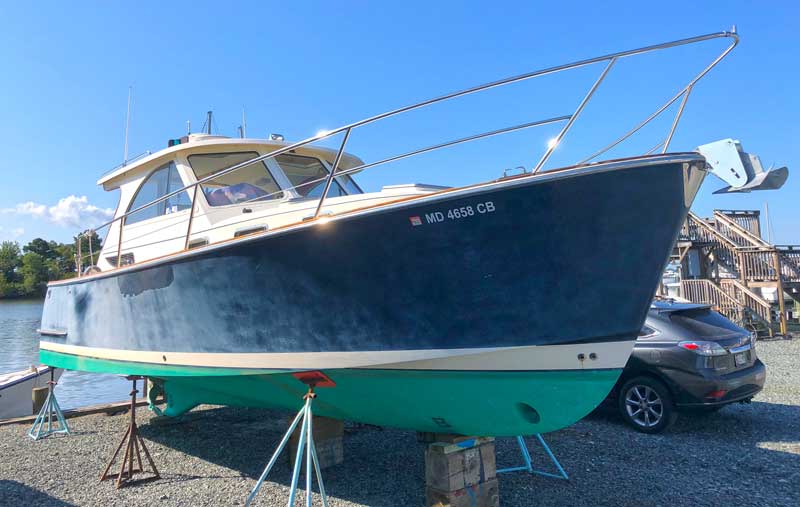 Her history was sad but not unique. She was purchased new not long before a divorce left her stranded and forlorn on her lift for a couple of years. She briefly got back on the water only to end up on the hard for several more years. Finally, after years of neglect, a broker, Tom Jones of Crab Alley Custom Boats, was engaged to oversee some repairs and get her sold.
When we first saw her, she was essentially a sunbaked mess. The navy-blue gelcoat was hopelessly faded to a chalky medium blue. Her brightwork was mostly down to bare wood, and her main salon woodwork was also sun damaged. It appeared that the engine and generator were operational, but many of the systems were suspect.
We should pause to note here that there is a long and distinguished list of boat rehabilitation projects gone awry. To avoid joining those ranks we began a series of boat visits to dig deeper into the scope of the rehab and brought in some experts.  
First up on the expert front was Joe Reid, the founder of Mast & Mallet. Joe has built dozens of cold-molded bay cruisers. His Thomas Point line, a handsome blend of Down East and Bay Built workboats from 36 to 46 feet, has some of the most handsome craft on the Bay today. Joe's business has also been focused on yacht restoration for years.  
Joe and I visited the boat together in mid-summer. His trained eye focused on the cosmetics while we discussed mechanicals and some modest custom additions. At the end of the visit with Joe I was formulating a budget for rehabilitation that would help define a purchase offer.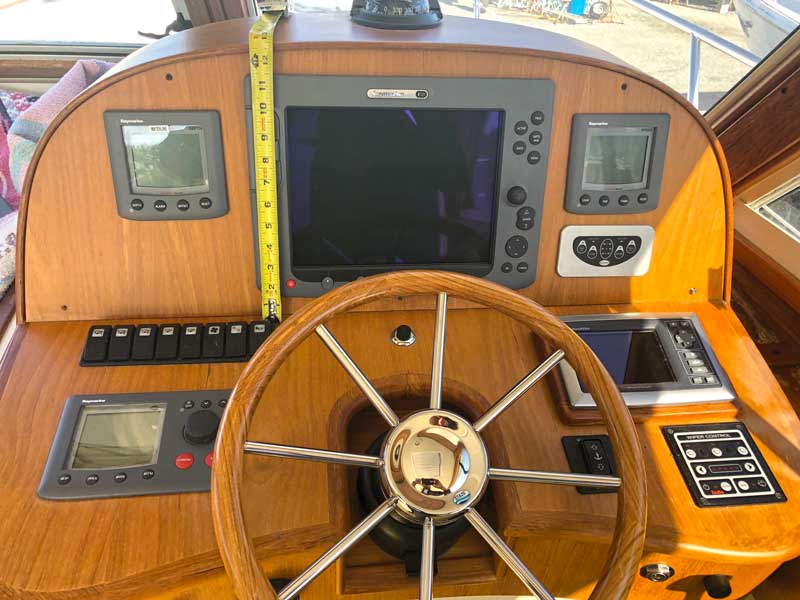 After carefully looking at Legacy 32 listings and recent sales and further consideration of rehab costs, we made an offer that was, after some negotiations, accepted. Now the real work started. 
In a fairly short period, we needed to quantify the costs of bringing this ugly duckling back as a beautiful swan. We also had to reduce the unknowns and quantify our downside risks. Most of the aforementioned similar projects gone awry are about spending more time and money than a pristine condition sister-ship may have cost. We needed to avoid this fate.
As insurance, we engaged Dave Bradley of Coast2Coast Marine Surveying for a thorough review of the boat. Dave spends a full, long day doing his surveys and has all the latest tools including thermal imaging cameras and other high tech implements, all designed to get a clear picture. 
We also engaged Sean Thomas at Bay Shore Marine to take engine oil samples for laboratory analysis and do a comprehensive engines survey and sea trial. 
The survey and sea trial day arrived with gray overcast skies, a threat of rain, and high north winds. Undeterred, the survey team assembled around 8 a.m. and set to work. By 4 p.m. we had a pretty good picture.  
Indeed, the hull, deck, engine, and generator were sound. Some of the mechanicals worked as intended. The instruments were totally nonfunctional; the Marine Air HVAC and Vitrifrigo refrigeration refused to operate, and the Jabsco electric head was frozen. In addition, there were failed house and start batteries and a glitch in the shore-power system that we suspected was the Isolation Transformer.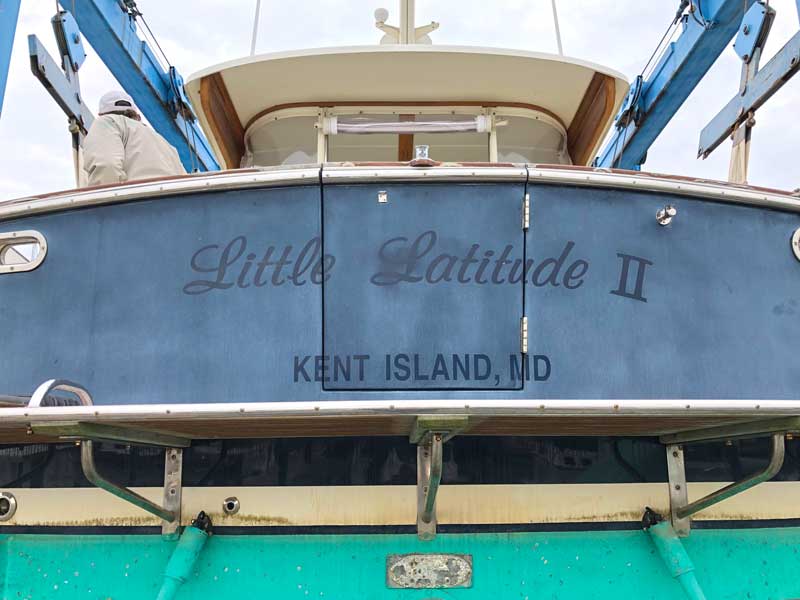 In order to complete negotiations and manage the downside risks, these items needed to be either fixed or repair costs quantified. Likewise, the known issues, mostly cosmetic, needed to have refined estimates.
Fortunately, it was Annapolis Boat Show season! A visit to the tents to talk to the pros can save a lot of web research, phone conversations, and shoe leather.   
Frank Deringer, at Mid-Shore Electronics, looked at some photos of the job to-be and provided an estimate to replace the entire 11-year-old electronics suite with state-of-the-art Garmin equipment. Greta Sommers, at Haven Harbour Marina, provided an estimate on the application of Awlcraft paint to make the faded hull blue again. Marshall Larner, at J. Gordon & Company, quoted on the complete battery replacement with AGMs and speculated on the worst-case cost for replacing the Isolation Transformer.  
In the midst of getting all of these restoration estimates, Joe visited the boat with me again and refined his costs for the interior and exterior woodwork as well as helped me understand the cost of some additional customizations we were interested in pursuing. Jeff Leitch of Bay Shore Marine walked me through the engine survey and oil analysis results. He also provided an estimate of the costs of deferred maintenance on the engine and generator.  
In the end (at least the end of the beginning), it all came together. The spreadsheet adding up the risks were mostly quantified. The final negotiations on price and additional presale repairs completed. Money changed hands and we were the proud owners of a very distressed looking Legacy 32. 
About the Author: Mike Pitchford is a life-long boater who just purchased his fifth cruising yacht. While he may have some delusions about the cost of restoring this Legacy 32 he will, as he says, "have some fun" while doing it.
---
For more boat restoration articles, visit our Boatshops page.