Annapolis boat dealerships announce the inaugural Walk the Docks in Annapolis event September 24-27. Each dealer will have several new boats on display for customers to view. To keep customers safe they will adopt appropriate protocols including only allowing one appointment at a time, appropriate PPE worn to enter the boat, and sanitizing boats after each appointment.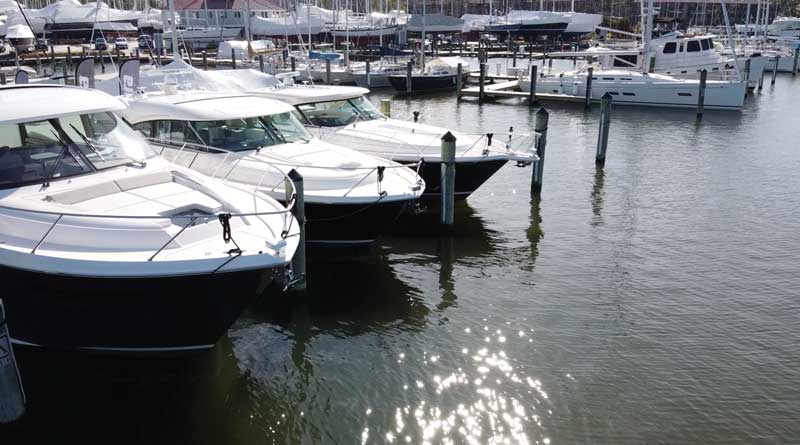 "It's wonderful that the powerboat and sailboat dealers in Annapolis agreed to come together and host a multi-dealer open house that will allow customers to shop for boats and feel safe about it," says Ken Comerford, owner and president of North Point Yacht Sales. 
Boat dealers participating in this event will feature new powerboats and sailboats from 26-60 feet. Contact dealers separately for appointments and hours.  
And stay tuned, as some dealers are offering expanded hours. North Point Yacht Sales will host a virtual boat show to coincide with their Walk the Docks open house, so guests can choose to watch virtually or schedule an in-person showing. The virtual show will feature interviews with industry professionals, boat walkthroughs, and more. Sign up to be the first to know when the show goes live, or reach out to North Point Yacht Sales directly to schedule a private appointment.
Crusader Yacht Sales has also extended its Walk the Docks weekends to October 3-4 and October 10-12. All new boats will be in the water and available for viewing, while Crusader experts can also show you their extensive collection of used boats. Contact Crusader Yacht Sales to arrange a private showing.
Participating dealers include:
North Point Yacht Sales featuring MJM Yachts, Hanse Yachts, Dehler, Tiara Yachts, and Caymas: (410) 280-2038
Annapolis Yachts Sales featuring Beneteau, Lagoon, Edgewater, and Cruisers Yachts: (410) 267-8181
Crusader Yacht Sales featuring Jeanneau, Tartan, Legacy, and Excess: (410) 269-0939
Atlantic Cruising Yachts featuring Fountaine Pajot and Dufour: (844) 567-3087
Sail Annapolis featuring Catalina Yachts and True North: (410) 280-8878
S&J Yachts featuring Southerly Yachts: (410) 639-2777
Click to walkthedocksannapolis.com for the current schedule and to make an appointment.