Are you lamenting the cancellation of the Annapolis Boat Shows that were to be held this October in Annapolis? For more on why the fall boat shows were canceled, click here.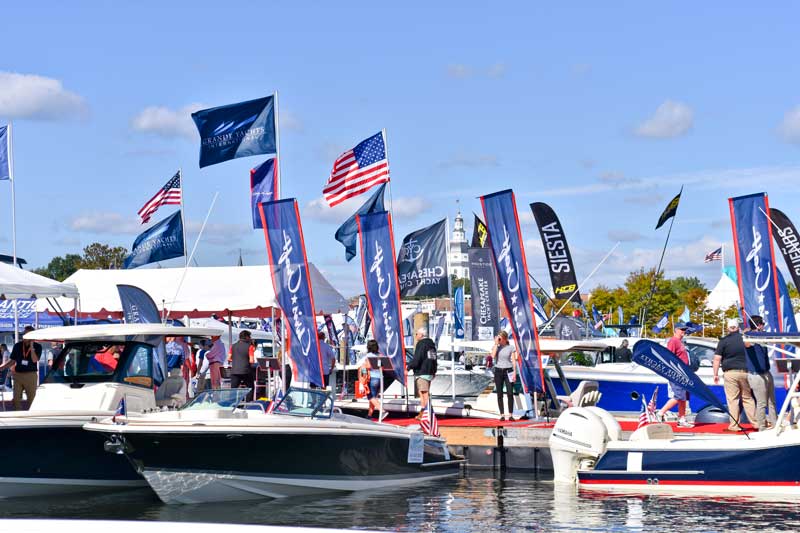 All of us at SpinSheet, PropTalk, and FishTalk look forward to interacting with our readers every year at the shows, so we intend to keep the boating chatter alive this fall by hosting Facebook Live events and keeping you updated on all the in-person evets and specials still happening. If you had been planning to shop for a boat this fall, that is still very possible—support your local dealers and consider attending one of the events below.
The 2021 Boat Show dates have been announced as follows: the Bay Bridge Boat Show takes place April 16-18 in Stevensville, MD, and the U.S. Powerboat Show will run October 14-17, 2021 at City Dock, Annapolis. For more information, visit annapolisboatshows.com. We will certainly miss seeing all of you this year and look forward to seeing you at the Boat Shows in 2021. 
What We'll Miss This Year:
Nutty Buddies
Catching the water taxi to Brokerage Cove
Popcorn happy hour at our booth
Painkillers at Pusser's (luckily you can get these anytime!)
Walking the docks
Stepping aboard the latest and greatest powerboats
Chatting with industry professionals 
But most of all, meeting all of you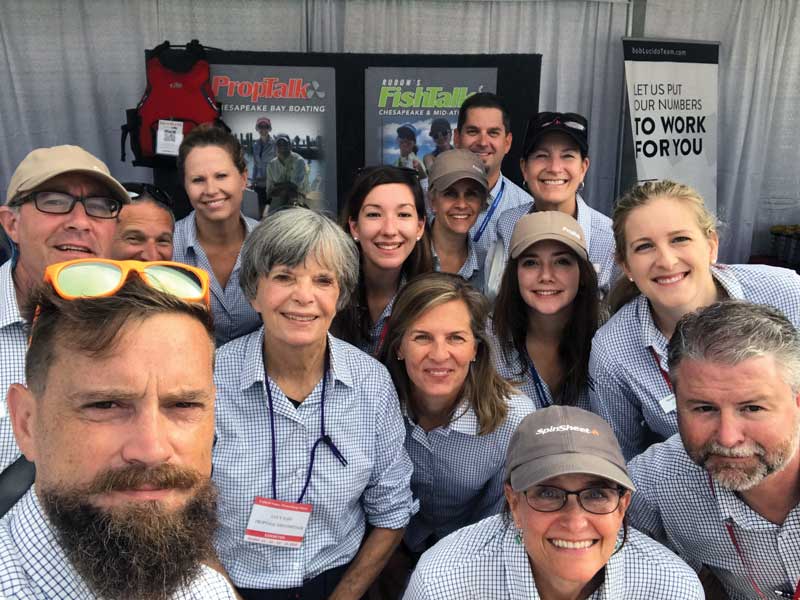 ---
Events:
Some dealers plan to host open houses, virtual boat shows, and/or private showings of boats that would have been highlighted at the U.S. Powerboat Show. More are announced every day, so check for updates on this page.
Riverside Marine Fall Back to Summer Savings Event: September 14-October 31
Riverside Marine is hosting a savings event with boats discounted down to Annapolis Boat Show prices. Prices come with a price lock guarantee against any factory price increases. Call (410) 686-1500 for your private appointment or visit riversidemarine.com to schedule your demo test ride.
Walk the Docks: September 24-27
A group of Annapolis boat dealerships is excited to announce the inaugural Walk the Docks in Annapolis event September 24-27. This multi-location event will allow customers to shop for boats and compare brands. Participating dealerships include: North Point Yacht Sales, Annapolis Yacht Sales, Crusader Yacht Sales, Atlantic Cruising Yachts, Sail Annapolis, and S&J Yachts. Learn more at walkthedocksannapolis.com.
There will also be a Service portion of Walk the Docks featuring Electronic Marine Annapolis, Annapolis Rigging, and Bay Shore Marine. Experts will be on-hand to answer questions and offer guidance, while also displaying parts and equipment and offering fall discounts and pricing.
Crusader Yacht Sales has extended its Walk the Docks weekends to October 3-4 and October 10-12. All new boats will be in the water and available for viewing, and Crusader experts can also show you their extensive collection of used boats. Learn more at crusaderyachts.com/2020-annapolis-boat-show or contact Crusader Yacht Sales at (410) 260-0939 to arrange a private showing. 
North Point Yacht Sales will host a Virtual Boat Show September 24-25, October 1-2, and October 8-9 to coincide with its Walk the Docks open house, so guests can choose to watch virtually or schedule an in-person showing. The virtual show will feature interviews with industry professionals, boat walkthroughs, and more. Sign up to be the first to know when the show goes live or reach out to North Point Yacht Sales directly to schedule a private appointment. Appointment times are limited and required as only one appointment per hour will be allowed. Schedule your private appointment at northpointyachtsales.com/blog/walk-the-docks-in-annapolis.
Yacht Sales International Dock Walk: September 24-27
YachtSalesInternational.com at Martin Bird and Associates will host Dock Walk September 24-27 from 10 a.m. to 5 p.m. at 326 First Street in Annapolis, MD. The new boat area will feature the Greenline 45 Fly, and a brokerage area will feature four listings. Call today to RSVP: (410) 268-1086 and visit yachtsalesinternational.com for more information.
Pocket Yacht VIP Ride Before You Buy: September 25-27 and October 2-4
Pocket Yacht is hosting a VIP Ride Before You Buy event September 25-27 and October 2-4. Cutwater and Ranger Tugs will be in the water and ready to ride. Call (888) 519-9120 or visit pocketyachtco.com for more information.
Grande Yachts Riviera 64 Premier: September 26-27
Join Grande Yachts International September 26-27 for a VIP event showcasing their newest Riviera model, the 64 Sports Motor Yacht. 10 a.m. to 4 p.m. at South Annapolis Yacht Centre. Showings are by appointment only, and all precautions will be taken to ensure the safety of customers and staff. Schedule your private appointment at (410) 643-5800.
J Gordon Demo Days: October 1-9
J. Gordon & Co. is hosting demo days at 726 Second Street in Annapolis, MD. See demos of Spectra watermaker, D-400 wind generator, Vacuflush, and Furuno. Visit jgordonco.com or call (410) 263-0054 for more information.
Hinckley Annapolis Fall Showcase: October 1-4
Explore and compare the product lines of Hinckley and Hunt Yachts, including center console, express, picnic boats, and motor yachts October 1-4 at Pier 4 Marina in downtown Annapolis, MD. Hinckley and Hunt representatives will be on hand to discuss features, along with service representatives from Hinckley service yards. There will be dedicated showing times and professional cleaning between each showing. RSVP at hinckleyyachts.com/events/annapolis-showcase.
2005 Kadey-Krogen 44 Available for Showings in Annapolis: October 2-3
This is a one-of-a-kind Kadey Krogen 44, built, decorated and equipped for a senior executive of the company, then acquired before use by the prior owner when a change of plans occurred. She was acquired in 2014 by the current owner, who lived aboard for 18 months. WaterDog has been cruised from Florida to Maine and has proven to be a superb sea keeper with comfortable long-term live-aboard quarters. Her interior joinery is unique with beautiful matched grain cherry rather than teak. She is superbly equipped and has been exquisitely maintained. Call Chet at YachtSalesInternational.com to schedule your appointment: (443) 994-8093.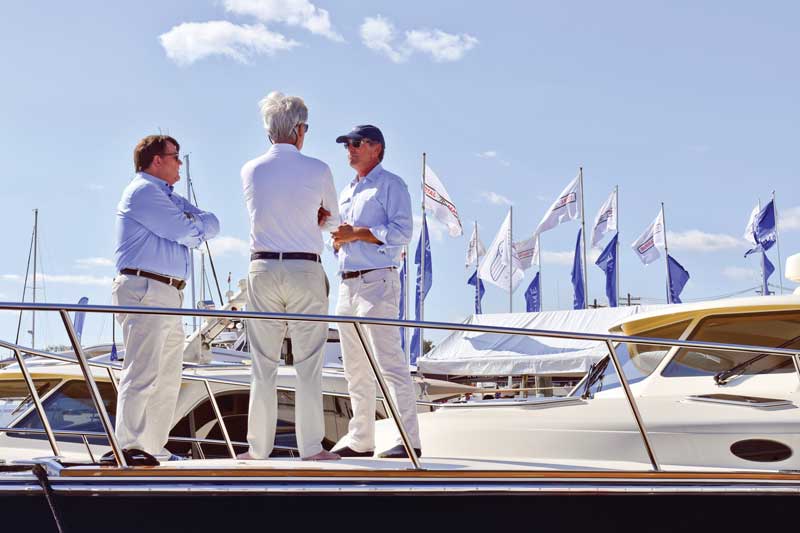 North Point Yacht Sales Powerboat Showcase: October 2-4
Shop for new powerboats and compare brands safely on the North Point Yacht Sales dock, featuring new boats from Tiara, MJM, and Caymas on display. Boats on display: Tiara 34LX, Tiara 34LS, Tiara 38LS, Tiara 43 LS, *NEW* Tiara 43 LE, Tiara 39 Coupe, Tiara 39 Open, Tiara 44 Coupe, Tiara 44 Fly, Tiara 49 Coupe, Caymas 26HB, Caymas 28HB, Caymas 341, MJM 35z, MJM 43z. To keep customers safe, NPYS is adopting the appropriate protocols including only allowing one appointment at a time, appropriate PPE to enter the boat, and sanitizing boats after each appointment. Sign up for your private appointment at northpointyachtsales.com/blog/powerboat-weekend.
Cruise Into 2021 Private Sales Event with Grande Yachts: October 2-4
Grande Yachts in Grasonville, MD, is hosting a private sales event October 2-4, showcasing their newest 2021 models and 2020 specials. Grande Yachts is following CDC guidelines to ensure the safety of customers and staff. Showings are by appointment only, please call (410) 286-1350 to RSVP. Visit grandeyachts.com for more information.
Chesapeake Yacht Center Private Showings: October 2-4
Chesapeake Yacht Center in Baltimore, MD, will host private showings of new and used Prestige, Maritimo, Jeanneau, and Keizer Yachts on October 2-4. Please call (410) 823-BOAT or email [email protected] for more information.
Chesapeake Whalertowne Stock the Dock Event: October 2-12
Chesapeake Whalertowne will host an event October 2-12 at City Dock, Annapolis to debut the Boston Whaler Vantage line. This will be a national debut of the Boston Whaler 240 Vantage and 280 Vantage, and will also feature the 320 Vantage, the 325 Conquest (a new model for 2020), the Boston Whaler 380 Realm, 380 Outrage, 330 Outrage, 230 Outrage, 270 Dauntless, 190 Montauk, and 130 Super Sport. This is a new product presentation, sales event, and demo by appointment only. Visit whalertowne.com or call (410) 267-9731 for more information.
PYY's Days of Extra Savings: October 3-4
PYY Marine in Pasadena, MD, will offer four days only of extra savings: October 1 and 2 from 10 a.m. to 7 p.m. and October 3 and 4 from 11 a.m. to 5 p.m. Featuring no obligation sea trials; by appointment only (limited appointments available). Featuring Cape Horn, Solace, and Yellowfin models. Call (410) 255-1771 to schedule an appointment or visit pyymarine.com.
Waterfront Marine Open House: October 3-4
Waterfront Marine will host an open house October 3-4 in Edgewater, MD. See all the latest Robalo, Chapparal, Carver, Striper, and Bennington boats! Learn more at waterfrontmarine.com.
Bacon Sails Boat Show Sale: October 8-10
Parking lot sale at Bacon Sails and Marine Supplies in Annapolis, MD. Thursday and Friday 9:30 a.m. to 5:30 p.m., Saturday 9 a.m. to 5 p.m.
Bluewater Yacht Sales Annapolis Fall Preview: October 23-24
Bluewater Yacht Sales is hosting a Fall VIP Preview at the South Annapolis Yacht Centre in the heart of Downtown Annapolis. Come out October 23-24 to see the new South Annapolis facilities, and see a selection of current inventory. Bluewater Yacht Sales will be showcasing models from Viking Yachts, Valhalla Boatworks, and Regulator Marine, along with a diverse selection of used yachts!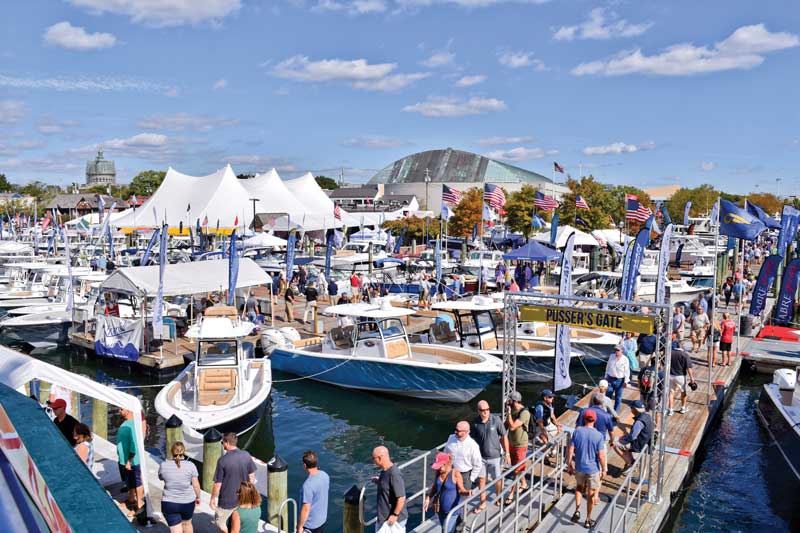 ---
New Boats:
These are just some of the new and exciting boats that would have been highlighted at the Boat Show. Luckily, many dealers around Annapolis are hosting open house events or private showings of these and other models. We will include more new boat announcements on this page.
Beneteau Flyer 9 SPACEdeck
With a large unobstructed area on the deck, high gunnels, the opening side platform to enlarge the cockpit and the sporty design, the Flyer 9 SPACEdeck is has features that will allow for a multitude of boating activities from sunbathing to fishing. At the bow, an additional seat option provides a very comfortable front lounge area and is convertible into a large sunbathing platform. A fishing station is available as an option, as well as rod holders in the freeboards. The interior space is surprisingly large and includes two berths and a head. One of the major new features on the Flyer 9 is the opening side platform on port, offering sea views and easy access for swimming. Learn more at beneteau.com/us.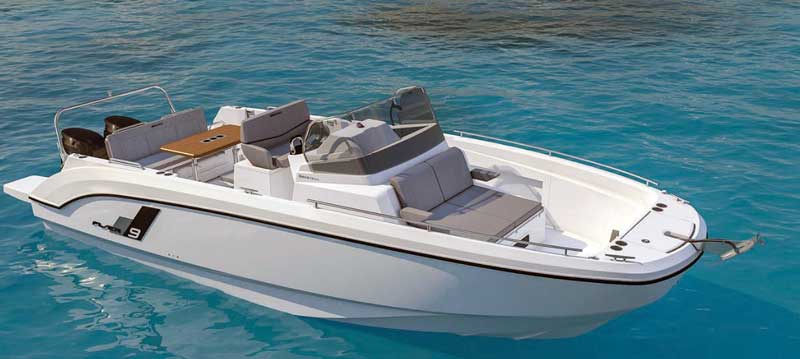 Boston Whaler 280 Vantage
The all-new 280 Vantage builds on the legacy of the award-winning Vantage series, delivering exceptional stability, comfort, and ease of operation. With its family-friendly dual-console layout and smart, convertible seating, the 280 provides plenty of space for everyone to stretch out and relax. The 280 Vantage is an all-access pass to everything your family wants to do on the water, from discovering remote beaches to finding thrills at the end of a towrope or fishing line. Featuring a sleek, redesigned bow available with both a windlass and boarding ladder, easy access from the dock or the water via the standard portside dive door, convertible portside lounge seating, a cockpit grill station, and more. Learn more at bostonwhaler.com and see this model in person at the Chesapeake Whalertowne Stock the Dock event October 2-12 at City Dock, Annapolis.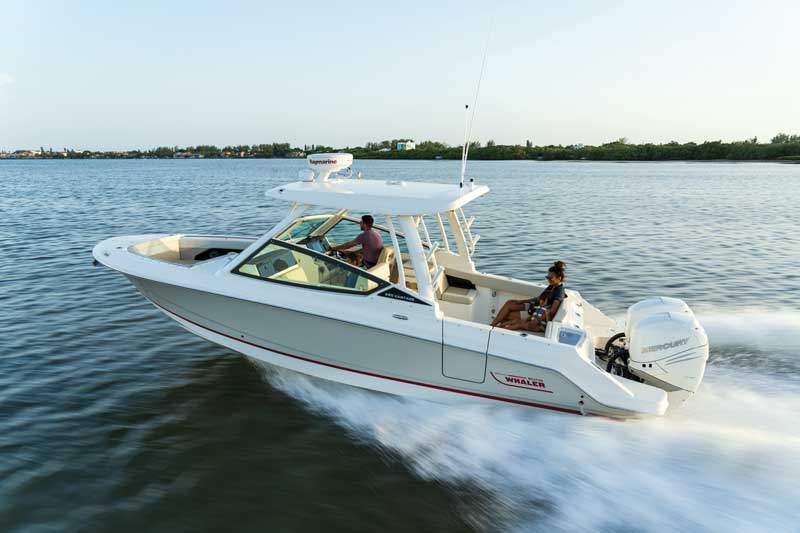 Boston Whaler 325 Conquest
The 325 Conquest is so much more than a cabin cruiser. Designed for maximum versatility, notable features include the ultra-convertible port lounge, a full front glass windshield for incredible visibility, and a spacious cabin perfect for overnighting. And thanks to a keel-up redesign of its hull, the Conquest delivers smooth, seamless performance with better planing and stability than ever before. The 325 is powered by dual 300-hp Mercury Verado engines with optional Joystick Piloting for incredible power and precision. The cabin includes a convertible V-berth sleeping/dining area, full-height hanging locker, and deckhouse windows for plenty of natural light. A starboard dive door lets anglers drag large catches on deck more easily, while a removable swim ladder enables easier re-boarding after swimming. Fishing features include a well-equipped prep center, in-deck fishboxes, insulated livewell, and more. Learn more at bostonwhaler.com and see this model in person at the Chesapeake Whalertowne Stock the Dock event October 2-12 at City Dock, Annapolis.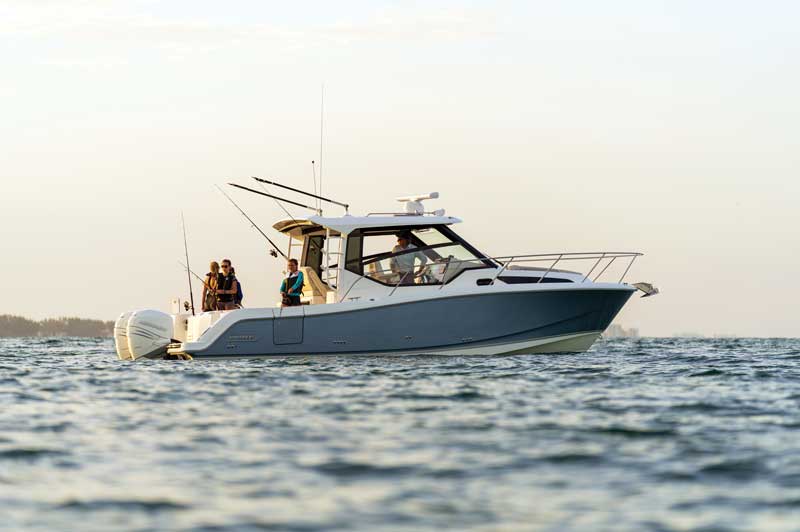 Formula 310 BR
The 31-foot Formula 310 BR Hardtop is a luxurious runabout that features a cockpit that has impressive twin command seats and a U-shaped lounge with stowable tables. The roomy wrap around bow seating has a table that can stow for sunbathing, and that's in addition to the aft-facing sunpad. The fiberglass hardtop has a retractable sunroof. Rock out with the four marine-grade speakers and keep your beverage of choice in the pullout refrigerator. Ski and wakeboard storage make it a terrific upscale sport boat. Visit formulaboats.com for more information.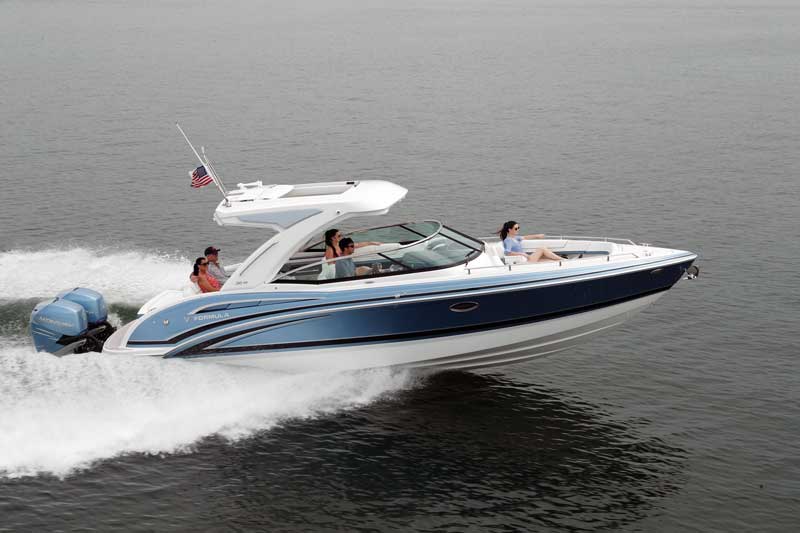 Jeanneau Leader 12.5
This 40-footer has a multi-mission attitude: a do-everything layout above and a lower deck that combines clever and comfortable space for overnighting. The Leader 12.5 features a new and unique hull with infusion high-end technology. With 21 degrees of deadrise at the transom, the deep-V hull design has a sharp entry, two lifting strakes, and a spray-reducing chine that extends the full length of the hull, providing predictable handling and exceptional comfort across a wide range of conditions. Twin cockpits on the main deck, ahead and behind the hardtop-protected helm console, offer flexible seating, sunning, and dining options. Engage a switch to reveal the electric drop-down terrace to port, increasing the entertaining space. Down below, the fully equipped galley is complete with a ceramic cooktop, fridge, and an optional microwave, plus storage. Forward the salon seating transforms to a king-size bed while the amidships owner's cabin also has a filler cushion to create a full-sized king bed. To starboard, there is a spacious enclosed head. Learn more at jeanneauamerica.com, and check out Jeanneau's Virtual Boat Show for 360 degree and guided tours of its powerboat models.
Summit 54
Summit MotorYachts is a new brand that lives under parent company Kadey-Krogen Yachts, Inc., and the line's flagship model, the Summit 54, was to make her worldwide debut at the U.S. Powerboat Show in Annapolis. The interior is hand-crafted to be classic and transcend all that is trendy with custom-like, designer-quality finishes throughout the main deck and lower accommodations. With safety and comfort in mind, the side decks are fully walkable, so no sideways shuffling, and proper steps and boarding gates offer ease of movement. The aft deck, with its sea-to-galley service window with bar seating, a covered lounge area, and built-in smart audio entertainment system, is a seamless extension of the interior in terms of style, ambiance, and access. The flybridge and foredeck are also filled with all the luxuries one would expect aboard a high-end motoryacht. Learn more at summitmotoryachts.com.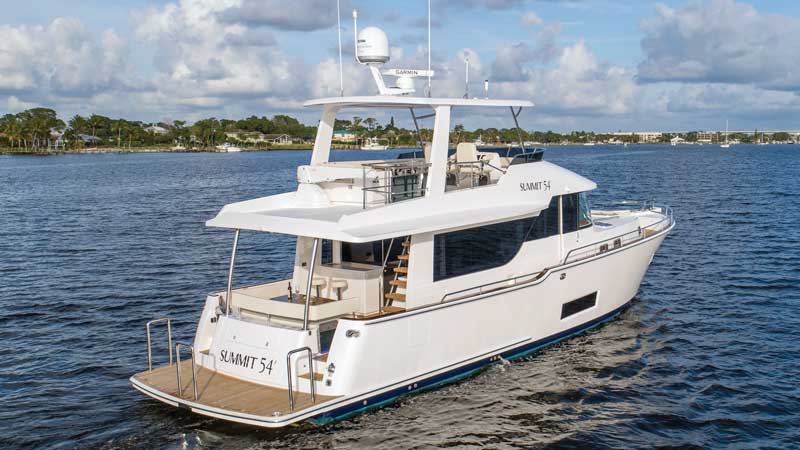 Prestige X70
Created in the spirit of a superyacht, the X70 offers infinite possibilities, blurring the line between the exterior and the interior. Based on volume, circulation and light, the all-new concept for this luxury crossover enables you to benefit from the full beam of the yacht, reinventing space on board for an incredible experience. Life aboard the X70 combines the comforts of a luxurious villa and the pleasures of life at sea in a radically new and different way. For more information, visit prestige-yachts.com, and explore other models at Prestige's Virtual Boat Show.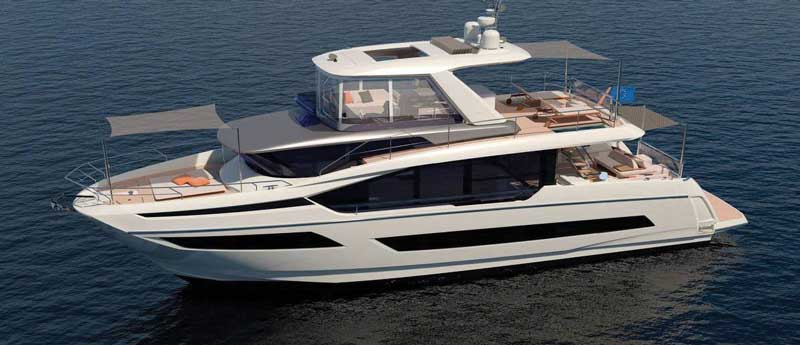 Stay tuned for more event and new boat announcements on this page.