After the Annapolis Boat Shows worked hard creating safety protocols and meeting with health officials for its October shows at City Dock Annapolis, the city this morning announced that the shows would not take place in 2020.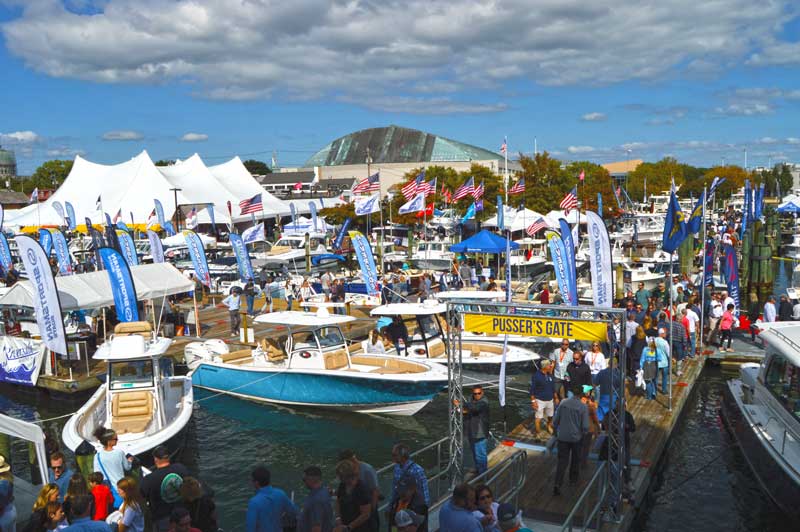 "We thought we had made good progress. Our plans for safety had been accepted and we were working on enforcement, but they couldn't get past us bringing large numbers of boaters to Annapolis," said Paul Jacobs, president of Annapolis Boats, in a letter to exhibitors for the U.S. Powerboat Show (slated for October 1-4) and U.S. Sailboat Show (October 8-12).
Jacobs continued, "I want to personally thank you who have believed in the shows and continued to support us with your contracts, your positive messages to us and to your customers, and the encouragement you have given us during this process. We have worked very hard to make this happen, but in the final analysis, our city, county, and state officials could not see their way clear to balance the health and economic issues."
From the city standpoint, it was a group decision by Mayor Gavin Buckley, city manager David Jarrell, Anne Arundel health officer Dr. Nilesh Kalyanaraman, and Alderwoman Elly Tierney. Enforcement of safety protocols was too difficult to envision.
"This was a hard call. No one wanted to have boat shows in Annapolis more than I did," Buckley told the Capital. "But our first obligation is to ensure the health and safety of city residents and visitors. We take that responsibility very seriously. We will enthusiastically welcome the boat shows in future years when it is safe."
We at SpinSheet, PropTalk, and FishTalk look forward to interacting with our readers ever year at the shows, so we intend to host some Facebook Live events to keep the boating chatter alive this fall. We also cover the boat shows in depth every year in our October issues, so in 2020 we intend to highlight the new boats and innovative products that would have been at the shows to keep our readers informed on all things boating.
Stay tuned for our "missing the boat shows" coverage! We look forward to the return of the Annapolis Boat Shows in 2021!
For more information, check out the article published earlier today in the Capital Gazette.