At 76 years old, Tuffy Garrett began his rookie season with the Smith Island Crab Skiff (SICS) Association, and went on to become the 2018 points champion that very same year. Garrett says, "It was unbeknownst to me; I wasn't even keeping score but I'm very proud of it."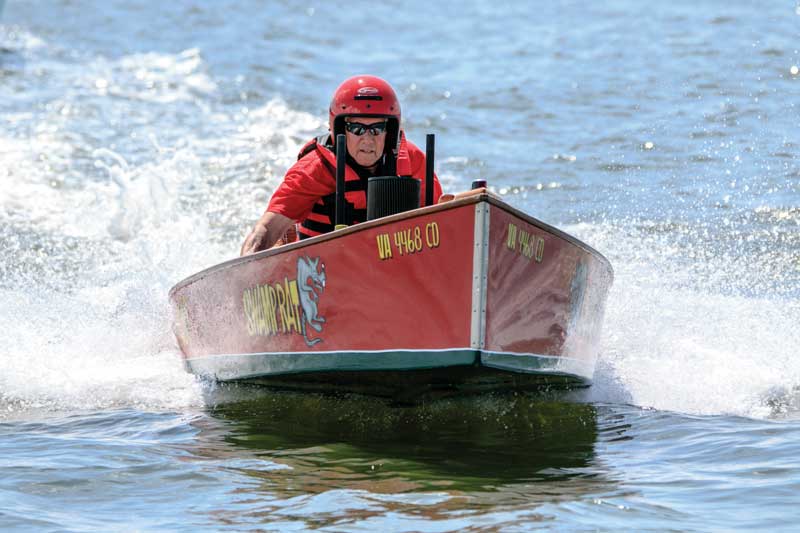 While this was Garrett's first year with the Smith Island Crab Skiffs, his racing and boat-building experience goes back much further. Garrett grew up on a little creek off the Potomac River near Colonial Beach, VA, and at the age of 13 (in 1955), he and his father built a boat that is "exactly like the cocktail class boats that race today." When he was 17, they bought an 18-foot skiff with a Chevy 265 that had been used for oyster dredging. Garrett says, "The boat ran about 30 mph, which was fast in those days, and we used it for waterskiing." His racing career began a year later when at the age of 18 he became involved in drag racing. He raced on and off for more than 20 years before switching to stock car racing for another eight years in 1987.
So just how did Garrett transition from car racing to boat racing? After retiring from stock car racing, he tried his hand at tractor pulling for a few years before moving to Fairview Beach, VA, and "back to the water and boats." Garrett adds:
"After retiring, I took a part time job at a small convenience store in Fairview Beach and one day when things were slow I found a PropTalk Magazine with an article about Cocktail races. After some researching the internet I also found the boats called Smith Island Crab Skiffs; this looked interesting to me. One day looking for a car show I found the Wings, Wheels, and Keels show in Topping, VA—planes, cars, boats; sounded interesting. I got with my son and grandson one Saturday morning in late September and headed to Topping. After arriving we came across two Smith Island Crab Skiffs owned by Pete Ginocchio and Randy Silvers, both for sale. Pete and Randy were very informative about the SICS Association and now I'm hooked! The rest is history."
At a race in Chestertown, in fall 2017, Randy Silvers let Garrett drive his boat, and he spoke with Pete Ginocchio, who's built several boats, before deciding to purchase a boat built by Karl Nisson. He named it Swamp Rat, which was the name of his first car, a 52 Chevy. In the end, Garrett was ready to jump right in and start racing and found it far less expensive (and quicker) to do that by buying a boat rather than building one.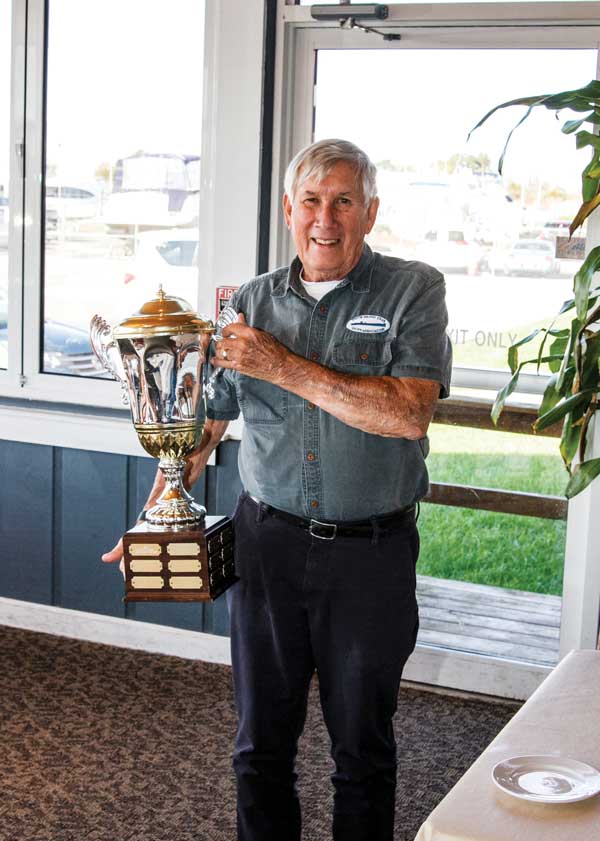 "I've been around boats quite a bit, all my life. I'm a competitive person," says Garrett. He had been looking for something fun to do, that was cheaper and less work than car racing, and so getting the opportunity to test-drive a boat really sealed the deal for him. "I just find it very exciting, the heritage of keeping this thing going, keeping history alive." He adds, "For me, having been in motorsports, both wheels and keels, this is some of the most fun I have had."
I asked Garrett what advice he had for someone looking to get into Crab Skiff racing, and he recommends checking out the Smith Island Crab Skiff Association on Facebook for photos, videos, race schedules, and boats for sale, and then coming to spectate a race. He added that the biggest challenge the association faces is getting more young people interested to help keep the tradition alive. "The majority of the people are older," says Garrett. "But I'm not walking with a cane; I'll put it that way." 
2018 was a tough year for racing on the Bay with several events canceled due to rain, so Garrett is anxious to get back out on the course. He says, "I got my feet wet last year, now I got to back up my trophy to show I earned it. Anyone who passes me is going to have to work for it."