Navigating the Intracoastal Waterway's (ICW) shallow and constricted waters can seem daunting. You will be underway for about 30 days in a row to cover its 1000-1500 miles, depending upon where your start. Your helm station has a depth finder and probably has a chartplotter. You may have AIS and radar, too. You may be stocked with paper charts and guidebooks, yet we have a nagging concern about the unknown. Whether you have a full suite of navigation instruments or are cruising south with a depth finder and a paper chart, there is one navigation tool which you must have: a tablet with a navigation app.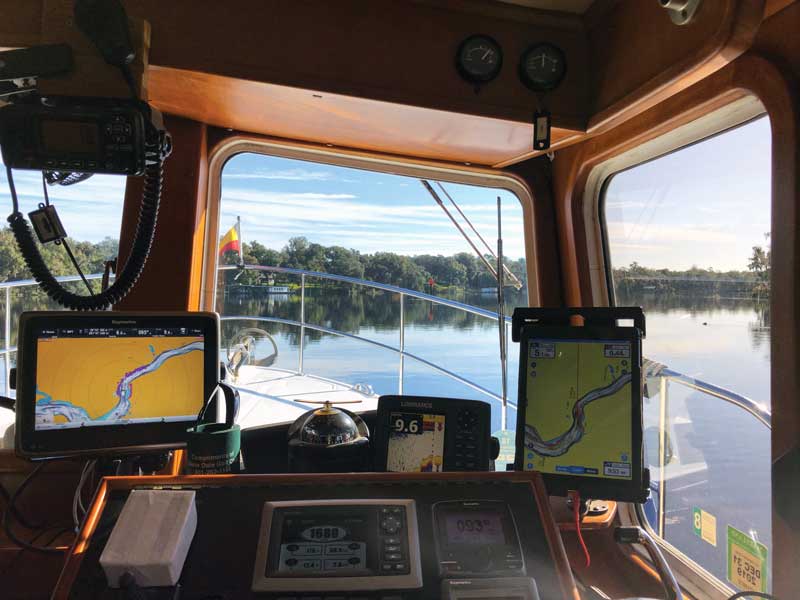 The impact of tablet navigation apps will affect all cruisers differently based upon their experience, their existing navigation tools, and the cruising grounds. A tablet with navigation software allows you to scan the charted area ahead and around you looking for new options and destinations, while the chartplotter continues to provide your location.
Over the years we have used several different iOS navigation apps. This article is not a review of navigation apps but discusses the two iOS apps we have found to be the best and which we use every day: Aqua Map and Navionics. The Aqua Map and Navionics apps each have their own strengths and weaknesses. 
Benefits of Tablet Navigation
The tablet navigation apps (including cell phone apps) offer many options. You may not need to utilize all the options depending upon what your navigation equipment has. Your chartplotter uses charts based upon some flavor of NOAA charts. Some chartplotter charts are easy to update, but many are not. Tablet systems are also based on the NOAA charts but are very easily updated. In the ICW, up-to-date charts, a calibrated depth finder, and stabilized binoculars are essential equipment. 
With tablet navigation it is very easy to create and modify a route by simply tapping the screen. Tides and currents are device resident, and stations are visible on the chart and can be "animated" to show forecast current and tide at any time and date.
Can send and receive tracks and routes with other cruisers.
With an appropriate onboard WiFi system the tablet will share inputs from the navigation network. (varies with the app and the navigation equipment).
Easily transportable device to share and compare notes with other cruisers. 
Easily update all NOAA charts in your library.
Creating routes is simple; you create a route manually by tapping on the screen.    
Includes Active Captain data overlay.
Charts are economically priced.
As a tablet app, they are "instant on."
Canadian and Bahamas charts are available as a separate subscription. 
Navionics
We have used the Navionics app in parallel with our PC navigation and Raymarine chartplotter for the past five years and 24,000 nautical miles. 
Navionics has three charting systems in one app: NOAA charts, NOAA charts with Navionics's "special sauce," and Navionics Sonar Charts (NSC)—crowd sourced bathymetry built on top of the NOAA charts.
Sonar chart bathymetry overall is more accurate than NOAA. They offer excellent detail of the bottom contours. They are not perfect, but we find them overall to be superior to NOAA chart bathymetry. 
Auto routing. After setting your boat parameters, one touch of the screen can plot a route for the day (limited to a set number of waypoints) or to an upcoming bridge or lock to get your ETA. Just tap on your destination and a route fitting your boat's parameters. You can then adjust your speed and desired arrival time.
Easy to create a route or play "what ifs" should you decide to change your destination.
Exchange GPX routes and tracks with Raymarine, Lowrance, and Simrad chartplotters when fitted with the Navionics chart chip.
With access to internet (cell phone or shore WiFi ), can display wind and weather.
The Sonar Charts cover far, far more area than the USACE surveys. There are many thousand channels, creeks, anchorages, and harbors which are not surveyed by USACE and where the NOAA depth data may be nonexistent or very old and out of date.
The sonar charts are being continually updated, but in any given location you do not know when the bathymetry was most recently updated. 
Aqua Map and Aqua Map Master
We started using Aqua Map in 2018 in anticipation of a trip through the Rideau Canal in Canada.
Aqua Map charts are NOAA Charts which Aqua Map updates four times per year.
With Aqua Map Master ($10/year subscription), you will have the ability to overlay the U.S. Army Corps of Engineers (USACE) color-coded hydrographic surveys on the chart. These surveys cover the major shipping channels and high-traffic channels along the ICW and some interconnected waterways.
Each USACE survey is dated so you know when the data was collected. You must always check the survey date to be sure it is not old data and no longer current. This can be very important in the frequently shifting channels of those ICW trouble spots. 
ICW statute miles are clearly labeled and are searchable/sortable by distance from current location (ex. At what statute mile marker are we at now?).
Waterway Guide Integration.
Excellent anchor drag alarm.
With the master subscription you can also connect the app to your boat's NMEA network. With the appropriate onboard WiFi gateway, you can: display configurable alarms for dangerous AIS targets (requires an AIS receiver on the boat), and can also display wind and depth info from your onboard electronics on the app. There is a "Route Explorer" that will check your routes for potential hazards along the way, potential bridge interference, and fuel options. If connected and if it has access to depth data, it will record that along with your tracks, so you can later go back and see what actual depth was at any point along the time stamped route (you will need to manually adjust to derive Mean Lower Low Water (MLLW)).  
Can establish an online account at company (GEC) website which will allow you to use app/maps on up to five devices, as well as have an online repository of your data (tracks, waypoints, GPX files) to sync across your devices.
Screen refresh is slow on pan-tilt-zoom (PTZ) and panning if you want  to look ahead to your destination. 
There is no "auto route" as on the Navionics app; however it does provide a look ahead feature to alert you to Waterway Guide alerts and Active Captain information as you go along your route. 
Cruising the ICW
For cruising the ICW today, a good, calibrated depth finder is essential (we prefer the fish finder display!). This is a game of inches. You must be sure that when the depth finder says six feet it really is sox feet. Only the Navionics Sonar Charts and Aqua Map Master USACE surveys can provide up to date chart depth information which is essential along parts of the ICW. 
After 12 trips on the ICW, I would recommend that cruisers use both apps. We have found that the tracks we have laid using each app will usually match the route the other one would have suggested. Sonar Charts tracks match well with the USACE surveys on Aqua Map. The USACE survey tracks matched very well with Navionics Sonar Chart soundings, too. But while the Sonar charts of Navionics and the USACE surveys in Aqua Map are better than the NOAA bathymetry, no charts are perfect.  The up-to-date USACE ICW surveys from Aqua Map, where available, are an essential tool. Navionics Sonar Charts are also terrific charts for the ICW, and they provide updated bathymetry when you are (most all of the time) outside the narrow range of the USCE surveys. Both apps allow you to share tracks and routes.
South of Fernandina
Screenshot one shows the detail offered by Navionics Sonar Charts. We picked our route southbound in November of 2019 based upon the charted depths shown on Sonar Charts. The track through here is what is known as the "western" track. We have taken this route 10 times in the past five years. The first time through, the chart bathymetry was so out-of-date that in November 2014 it appeared that we ran over dry land for nearly a mile: we were in more than 12 feet of water.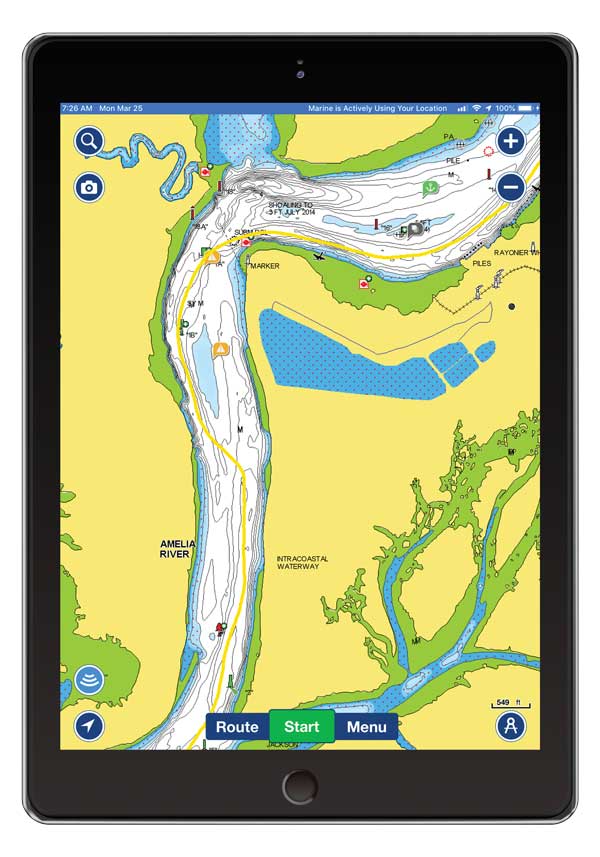 Screenshot two shows the same track on the same day using Aqua Map Master. The east/west upper portion of this chart is covered by the USACE survey. It very clearly shows the deepest water. These surveys are of great value along the ICW. The north/south portion is the NOAA chart. It has not been surveyed by the USACE. In one area where NOAA shows 5.9 feet the Sonar Chart shows 14 feet (confirmed by our depth finder). Also note that G1B shown on Navionics is not shown on the NOAA chart; however, it is indeed on station there.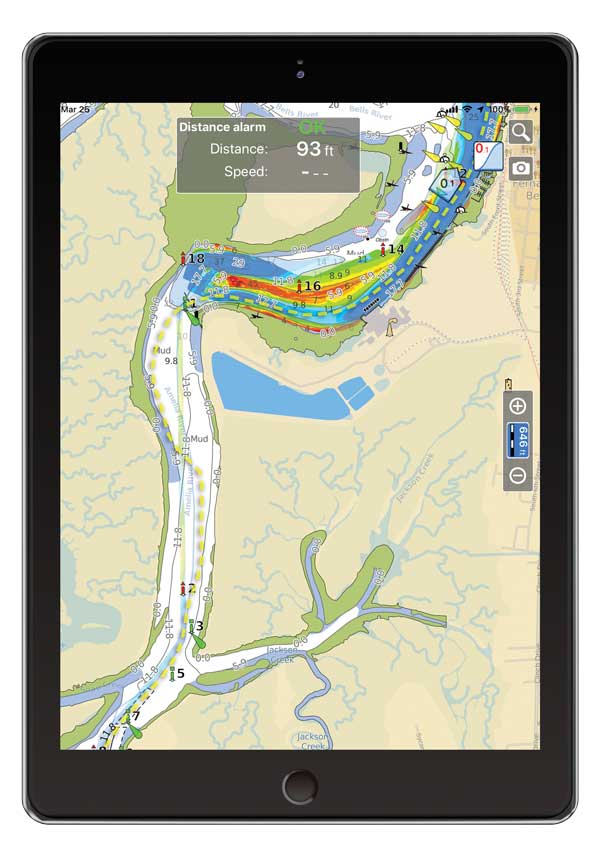 In screenshot three, I have colorized the Navionics Sonar chart (one of the many tools available in Navionics). It quite clearly shows the shoal in the middle of the river south of G1A and a seven- to eight-foot shoal growing out towards G1A, which is handy information as you approach that point.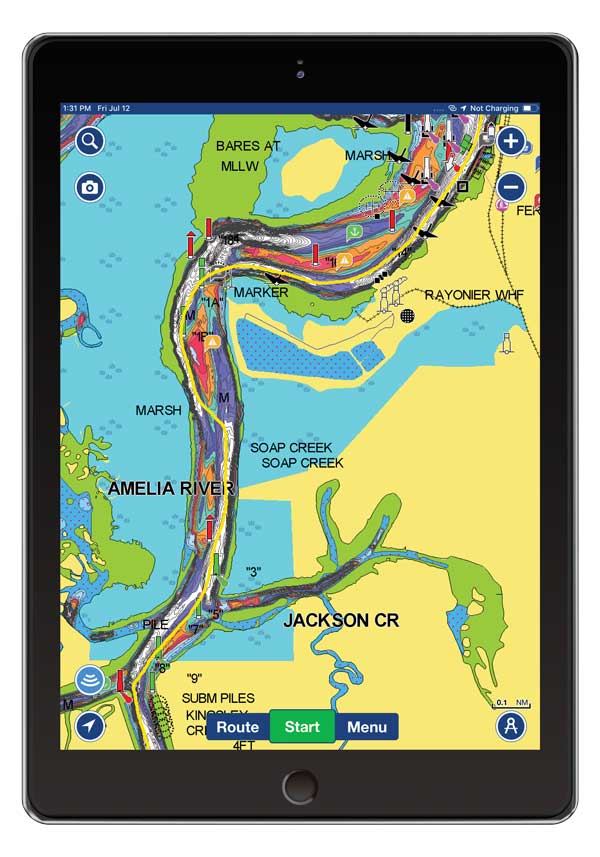 Which is Better?
Both Aqua Map Master with USACE surveys, and Navionics with Sonar Chart crowd-sourced bathymetry, are excellent programs. Although we have run the east coast from Florida to New England many times with the Navionics charts, having access to the USACE surveys adds another layer of useful content for route planning. Each time we transit the ICW we are very glad to have access to the USACE surveys (NOTE: the surveys can have a significant delay in updates post dredging.) 
Clearly boats travelling the ICW must have charts with updated depth data not available on the standard NOAA issued charts. Navionics is providing chart updates almost continuously so you will want to take advantage of any new information. All boats on the ICW would be well advised to have both apps.
About the Author: Tom Hale is a sailor, cruiser, and retired boat-builder. Previously an Annapolis resident, he is now a full-time cruiser, traveling the East Coast on a 38-foot trawler with his partner Christina and their beagle Aurora. They have made 11 trips along the ICW.