The Southern Maryland Boat Club (SMBC) seized a last-minute opportunity to put on its annual Vintage and Historic Regatta in Leonardtown, MD, in the face of strong and changing headwinds. The original date, July 24-26, was cancelled due to state-wide Covid-19 restrictions, but a later, more relaxed pandemic decision allowed them a window from July 31-August 2, and they jumped at the chance. Strict protocols were observed, including signed waivers and social distancing, while event organizers intentionally avoided the usual local publicity in an effort to keep spectators to a minimum. The result was a resounding success with at least 25 Vintage drivers seizing the opportunity to shake the cobwebs out of their iconic rigs.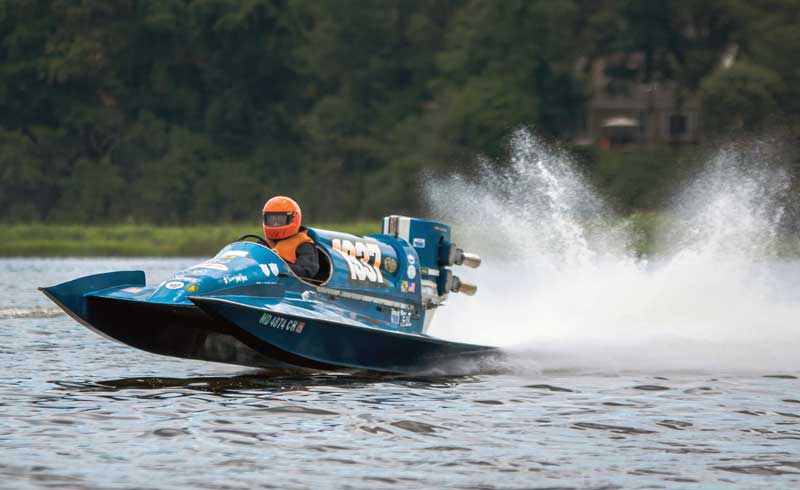 Sadly, a pall was cast over the weekend by the loss of long-time member, Fuzzy Norris, who lost his life in an accident at home two days before the event. A moment of silence was held at the drivers' meeting, and more than a few tears were shed in his memory.
While there were intentions to run two events this year, one featuring a crane and Inboards for the first time in the region, SMBC was forced to postpone those plans until 2021 for obvious reasons. However, the Outboards put on a great show and smiles were seen everywhere, albeit in many cases through a mask. There was a total of seven classes run with a few boats stepping up to maximize running time, and each class was granted two heats on Saturday and one on Sunday. I was really impressed with the discipline and safe driving skills demonstrated, and pleasantly surprised that no one displayed any "over driving," given the pent-up frustration we have all experienced this year.
Driver of the weekend had to be 83-year-old Bill Edwards, who helmed no less than three boats in varied classes, and he did so flawlessly. His new-to-him SJ Baja was the surprise of the weekend and looked well balanced and quick around the turns. His brother, Jon, did similar duty with his own two hulls, one of which, an original "flat bottomed" Allison, turned more than a few heads, including mine. These hulls have not been seen on any racecourses since the mid 1960s, and it brought back many memories. So many other drivers and boats did themselves proud both on and off the course.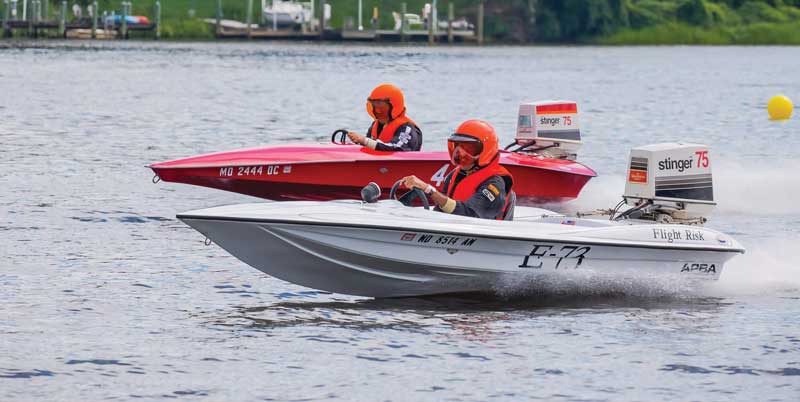 Kudos to the race committee, especially Brittanie Long Adkins, Rayner Blair, Chris Mayor, the officials under referee Jim
Berry's direction, Robin Hammett the pit boss, Andy Bell who not only drove his own hull but spent the rest of his time hip deep in water voluntarily helping to launch and retrieve most of the boats in the event. There were countless other volunteers, without whom nothing would have been accomplished. A shout out to the Coast Guard and EMTs, who are vital to the success of any American Power Boat Association (APBA) event.
Having attended a number of events at Leonardtown, this one ranks right up there with the best of them and proves that Vintage is alive and well, even when covered by a pandemic's blanket. The future looks promising indeed.
This article was originally published in APBA's Propeller Magazine. The author is the vice chairman of the APBA Vintage and Historic Committee. Learn more about the SMBC at southernmarylandboatclub.com.
By Rich Luhrs