The Southern Maryland Boat Club third annual Summer Regatta, held at the Historic Leonardtown Maryland Wharf Park, had to deal with the torrential rains on July 29. The event was planned for all day, but after three and a half hours of action, the race committee cancelled the afternoon heats. No matter, it gave everyone a chance to dry out before enjoying a traditional southern Maryland dinner at Commodore Rayner Blair's Home, overlooking the beautiful Patuxent River opposite Solomons Island.
Sunday morning brought abundant sunshine and favorable winds for the 35 outboard entries from all over the country and Canada. Classes included classic molded plywood Whirlwind and small Allison race boats from the late sixties and early seventies. Mid-sized V-bottom race boats with 75 and 85-hp engines from all brands put on one of the best vintage racing hull showings in the country. Next were the large V-bottom Allison, Hydrostream, and Checkmate racing hulls with 110 hp and mostly 150 hp classic inline 6 cylinder Mercury engines, with representation from OMC V4s, as well. The stars of the show were the large Tunnel Boats with factory racing engines, not available to the public. These engines were made to run wide open and not idle except to proceed to the course. They feed a lot of fuel and will basically choke themselves out from excess fuel at low speeds. These tunnels run up to 120 mph easily when conditions are right.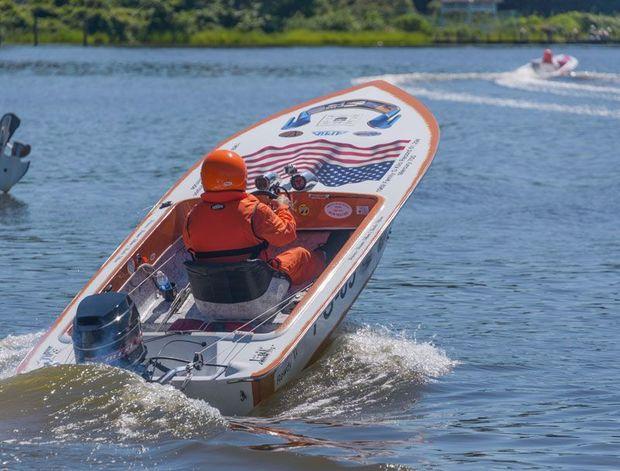 We also had three Switzer "Wing" tunnel boats with dual outboards. Many viewers held their ears as it is an indescribable sound. These boats were designed off of an actual airplane wing profile, attached to two sponsons: one that provided a driver's seat in front and a place for one engine on the stern. Total horsepower for these beasts was from 250 to 600-hp. This year's event exceeded all expectations. A large crowd, increased entries, and an enthusiastic club made for a very nice event. Stay tuned for a bigger and better 2018 SMBC season.
by Jim Berry
Brief History of the Southern Maryland Boat Club
The Southern Maryland Boat Club sponsored powerboat races in Southern Maryland from 1957 through 1979, but after the 1970s, the club "went into hibernation" for almost 40 years. Then, in June 2013, the Calvert Marine Museum opened an exhibit highlighting the "Golden Era of Powerboat Racing in Southern Maryland." To celebrate the opening of the exhibit, nearly 300 members of the former Southern Maryland Boat Club reunited, and the Club officially came back into being in 2015 with plans to revive racing in southern Maryland. Jim Berry, one of the club's principal members, tells us: "After being reunited because of the museum display and a book that was written about us, we began pulling the old championship producing boats out of the garages, barns, woods, fence rows, and yes, one had become a sandbox, to get them back into shape to run in the American Power Boat Association's (APBA) Vintage and Historic division." Learn more at southernmarylandboatclub.com.