Don't let wintry weather stop you from exploring the quaint waterfront villages of Chesapeake country. The following seven Chesapeake holiday destinations will help you get into the spirit of the season. Find more holiday activities up and down the Bay in our calendar, and click to our lighted boat parades article for all the details on spectating on-water parades in Maryland and Virginia.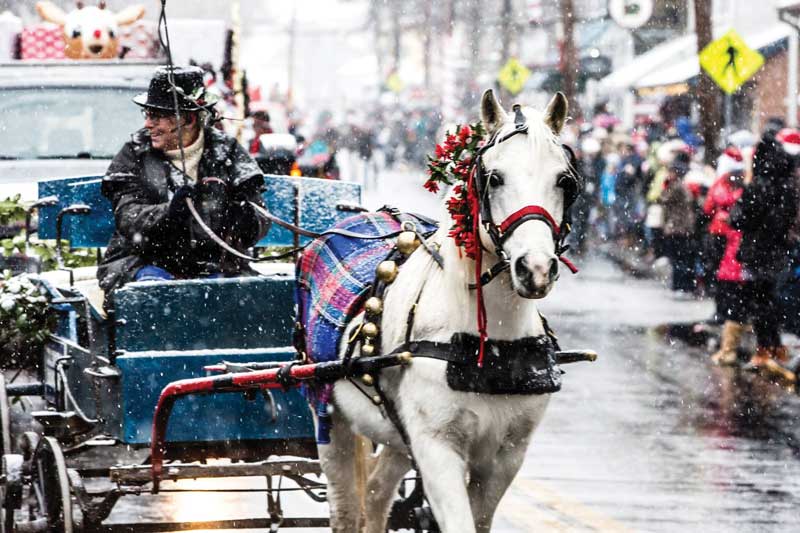 1. North East, MD
At the top of the Bay, for the Cecil County Christmas Parade December 7, Main Street North East is packed with visitors and locals for a day of shopping, eating, and the holiday parade that starts at noon. It takes more than an hour for all the bands, cars, marchers, and floats to pass by, with Santa at the end. Santa heads straight away to his post-parade duty at the North East Santa House where he welcomes kids and families. It's free to see Santa and take photos. Town parking is also free. 
2. Chesapeake City, MD
Step back in time in this picturesque 19th Century village along the banks of the C&D Canal off the Elk River in the Upper Bay for Chesapeake City's Winterfest of Lights, December 1 through January 4. This event includes a Victorian Candlelight House Tour, horse-drawn carriage rides, Dickens carolers, ice-skating, holiday lighting, and a Christmas Tree made entirely of crab pots. 
3. Cambridge, MD
One of the oldest colonial cities in Maryland, settled by the English in 1684, Cambridge is now the seat of Dorchester County and is known for revitalization in recent years; boaters recognize the Choptank River Lighthouse on the waterfront, which is a faithful replica of an earlier screwpile-style structure that guided boats up the river.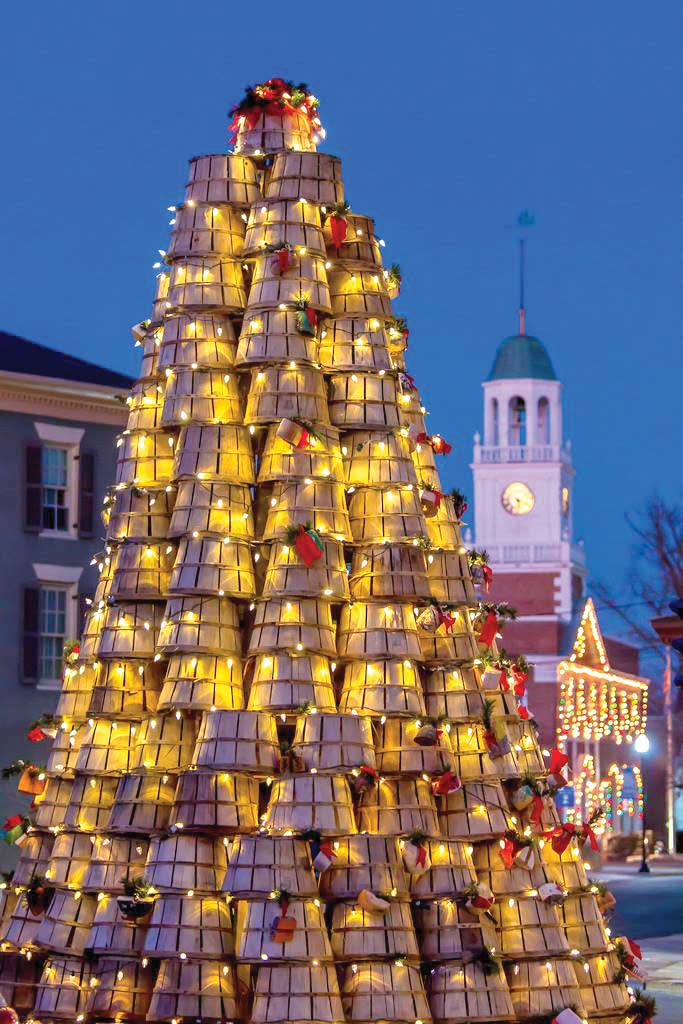 To ring in the season, the Cambridge-Dorchester Christmas Parade begins at 4:45 p.m. December 7 in Downtown Cambridge, MD. Live music starts at 4 p.m. at the tree. Marching bands, floats, classic cars, horses, and the official lighting of the Crab Basket Tree (located at the corner of Race and Gay Streets). Parade begins on High Street near Water Street.
4. St. Michaels, MD
Known for its history of shipbuilding and oystering, as well as for its role in the War of 1812, the picturesque "Town That Fooled the British" is a favorite Eastern Shore destination of Bay boaters in all seasons; so it should not be a surprise that it hosts a Christmas parade down Talbot Street worthy of a Norman Rockwell painting: December 14 beginning at 10:30 a.m. on Talbot Street from the Inn at Perry Cabin south to Seymour Avenue. Other festivities include tours of decorated homes, a "Santa Dash" start to the parade, breakfast with Santa, holiday music, and more. Proceeds from the ticketed events for Christmas in St. Michaels December 13-15 benefit 28 Bay Hundred nonprofit organizations.
5. Solomons, MD
Boaters who visit Solomons know the sound of fighter jets practicing overhead, as the U.S. Naval Air Station Patuxent River stands at the mouth of and across the river. A town known for its shipbuilding and fishing history, Solomons was also home to an amphibious invasion training center that proved valuable in World War II. Today, visitors in all four seasons enjoy the riverside walkway, boat rentals, shops, and restaurants on Main Street.
Holiday revelers look forward to the Solomons Christmas Walk December 7, which includes judging of the best decorated homes and businesses, a Christmas market, a lighted boat parade, and more.  
From November 29 through January 1, check out Annmarie Garden in Lights, a holiday light show that takes visitors on a walk through the glittering woods. As you stroll the protected path, you will be surrounded by spectacular "light sculptures" depicting sea creatures, wintry wonderlands, princesses, superheroes, and much more.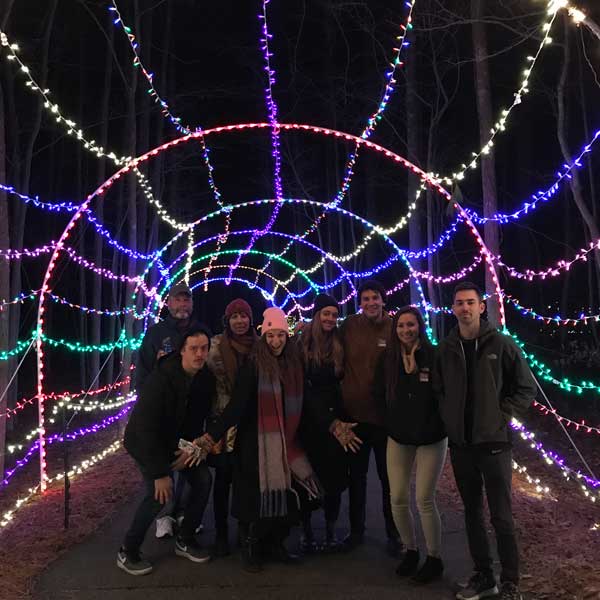 6. Alexandria, VA
Conde Nast Traveler voted Old Town Alexandria one of the Best Small Cities in the U.S. Located along the Potomac River, the town's bricked streets, boutiques, and variety of restaurants attract visitors all year long.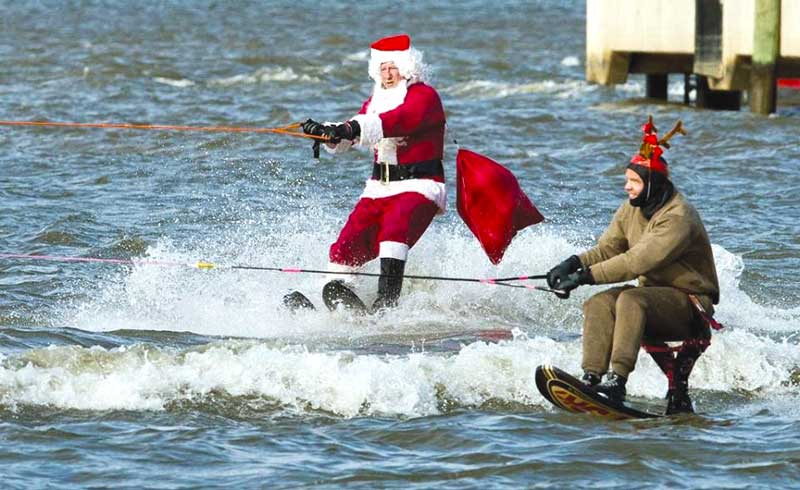 On Christmas eve, Old Town visitors may witness a unique and well-loved event: Waterskiing Santa. What started as friends drawing straws to see who'd waterski in a Santa suit has become the longest running waterskiing Christmas show. Its only goal is to spread holiday cheer! Visitors may view the show anywhere from Founders Park to Point Lumley Park. 1 p.m, December 24. 
7. Yorktown, VA
Located along the York River, Yorktown is best known for the British defeat during the Revolutionary War. It also acted as a supply port during the American Civil War. Year-round, boaters may dock at the Riverwalk Public Landing Piers to stroll, find a bite to eat, do some shopping, or attend a waterfront concert and other seasonal activities.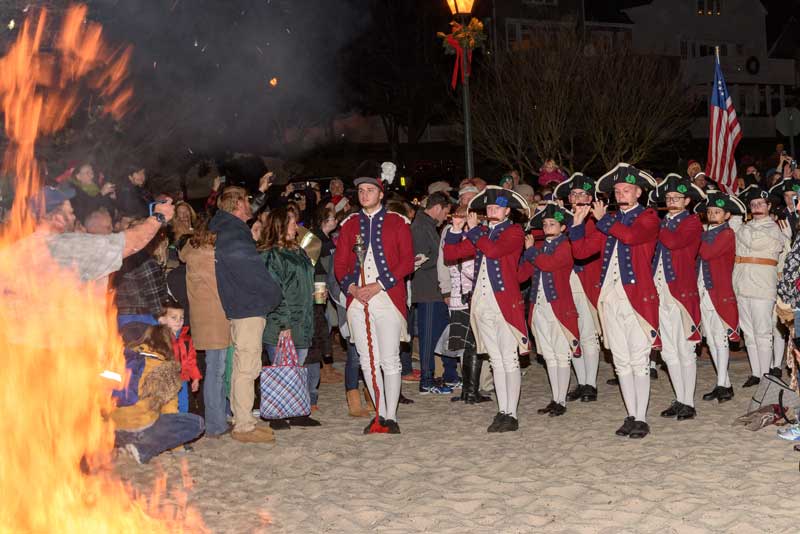 Holiday visitors may choose from a full array of festivities: a Christmas Tree Lighting on December 6, the Christmas Market on Main and Lighted Boat Parade on December 7, and Cookies with Santa on December 8. The following weekend visitors may eat Breakfast with Santa and attend a Toyland Market and Parade Saturday, December 14.