While some of us might be thinking about winterizing and hauling our boats for the season, there is another kind of a boater; the boater that braves the cold to parade around in a lighted boat spreading holiday cheer. Up and down the Chesapeake lighted boat parade enthusiasts compete for the best in show while spectators line the shoreline, sipping hot cocoa, taking in the spectacle. Whether you're participating or spectating, you'll want to put these 2019 lighted boat parades on your calendar!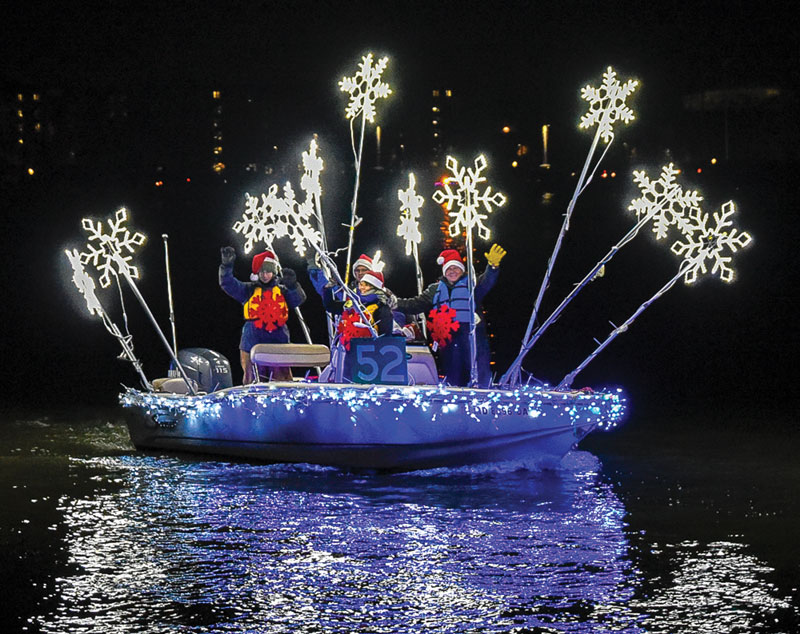 Maryland
November 30: Pasadena Lighted Boat Parade
The parade will leave the Broken Oar in Glen Burnie, MD, following the send-off party from 3 to 5 p.m. Parade begins at 5 p.m. and will head down Stoney Creek, over to Rock Creek, and ends at PYY Marine for the first set of judges. The awards party begins at 7 p.m. at Maryland Yacht Club with a buffet, music, and cash bar. Tickets cost $30; can be purchased at MYC or PYY. Ticket proceeds benefit ClearShark H2O. 
November 30: Middle River Lighted Boat Parade
The Mid Atlantic's largest lighted boat parade! Boats will parade along Wilson Point waterfront restaurants in Middle River, MD, beginning at 5:45 p.m. Boats will parade past Carsons Creekside/Dark Head Cove/Hawthorne (approx. 5:45-6:15 p.m.), Middle River Yacht Club/Crazy Tuna/Riverwatch (6-6:30 p.m.), Middleborough/Norman Creek/Crescent YC (6:15-6:45 p.m.), Bauernschmidt Manor/Eastern YC (6:30-7 p.m.), Rockaway/Turkey Point (6:40-7:10 p.m.), Bowleys Point/Bowleys Quarters (6:50-7:20 p.m.), Frog Mortar Creek/Sunset Cove (7-7:45 p.m.), and back to Stansbury for parade disbursement (approx. 7:45-8:15 p.m.).
To register your boat, simply text your name, address, and boat size to (410) 463-2686. Captain's package valued at $325 per boat for parade participants.
December 5: Deale Parade of Lights
6:30 to 8 p.m. on Rockhold Creek in Deale, MD. There will be two staging areas: Hidden Harbor Marina and Happy Harbor Restaurant. Commercial and recreational boats of all sizes are welcome. Spectators are encouraged to get to the parade viewing location by 5:30 p.m. due to the high traffic. 
December 7: The District's Holiday Boat Parade
6 to 9 p.m. at The Wharf in Washington, DC. Sip hot cocoa and make s'mores at the fire pit, visit the lighted Christmas tree, and enjoy other activities like live music, an ice rink, and a waterfront wine and beer garden as the lighted boats pass by. 
December 7: Baltimore Parade of Lighted Boats
Vessels lit up for the holidays will parade past Baltimore's Inner Harbor and Fells Point beginning at 6 p.m., and the parade marshall's boat should reach the Inner Harbor by 6:30 p.m. The parade is visible from any area where you can see the harbor water. Presented by Fells Point Yacht Club and Anchorage Marina; benefiting Toys for Tots. Starting at 4 p.m., there will be a pre-parade party with caroling and a tree lighting at Anchorage Marina (Anchorage Marina is offering dockage Friday and Saturday). A new unwrapped, non-plush toy to benefit Toys for Tots is your admission to the party!
December 7: Solomons Lighted Boat Parade
Held at 6:15 p.m. along the Riverwalk during the Solomons Christmas Walk. All boats of any size, shape, or make, are welcome to participate. All that is required is to decorate your ship's starboard side; decorate more if the moment strikes you. Watch the parade from many of the restaurants and establishments on Back Creek or the Patuxent River Boardwalk.
December 14: 2019 Eastport Yacht Club Lights Parade Presented by LONG & FOSTER Real Estate, Annapolis Eastport Office
6 to 8 p.m. in Annapolis, MD. Skippers circle the waterfront in two fleets: one circling in front of Eastport, City Dock, and the Naval Academy Seawall; the other circling the length of Spa Creek inside the bridge. Rain or shine. Skippers may register their boats until December 10.
Virginia
December 7: Alexandria Holiday Boat Parade of Lights 
Alexandria's historic waterfront shines as dozens of brightly lit boats cruise the Potomac River. Enjoy dockside festivities as part of the 20th anniversary celebration. 
December 7: Colonial Beach Holiday Lighted Boat Parade
The grand topper to the Colonial Beach Winter Festival. Boats of all sizes sail down the Potomac decked out for the season. Spectator viewing at Town Pier (the Corner of Hawthorn St. and Taylor St.) and the beach front in Colonial Beach, VA.
December 7: Yorktown Lighted Boat Parade
6 to 8 p.m. on the York River waterfront in Yorktown, VA. Enjoy hot apple cider and caroling around the beach bonfire while awaiting arrival of festively decorated powerboats, sailboats, and Chesapeake deadrise workboats. 
December 13: Downtown Hampton Lighted Boat Parade
6 to 8:30 p.m. parade of illuminated power and sailboats visible from anywhere along the Hampton River in Hampton, VA. Spectators wanting to hear the narration will want to find a spot near the Hampton Maritime Center. 
---
Be sure to check event websites as some parades could be affected by inclement weather. If you noticed a parade we missed, email [email protected].
For tips on watching a parade, check out our Spectator's Guide to Lighted Boat Parades.
If you're thinking of participating, check out our Tips for Building Your Lighted Boat Display.