It seems hard to believe but summer is slowly slipping away. Chesapeake boaters are already anticipating the return of the Annapolis fall boat shows. If the record setting Bay Bridge Show in April is any indication, the fall shows should be bigger and better than ever. Until then, enjoy the late summer weather, low humidity, and smaller crowds. We still have lots of time to enjoy our boats.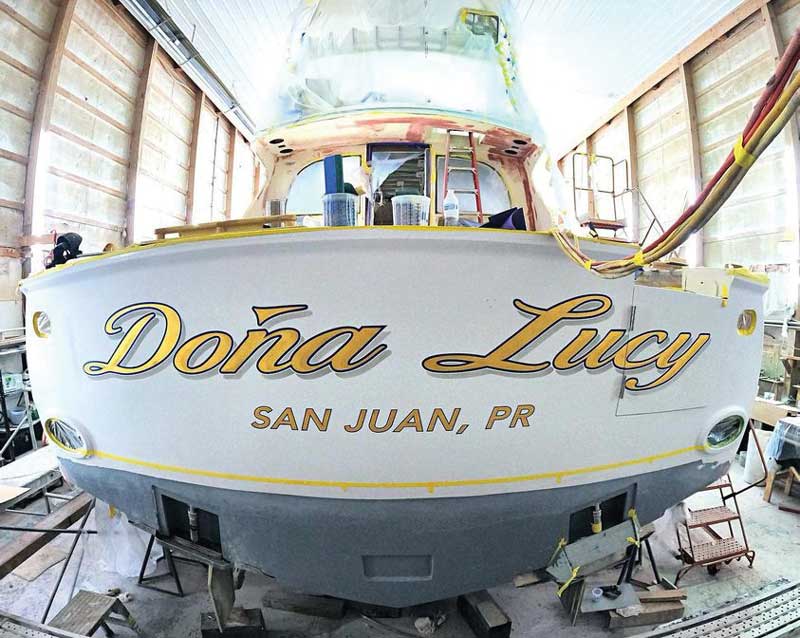 F&S Boat Works in Bear, DE, checks in. "Who doesn't love a good progress post? A little update on F&S Hull #32, the 58-foot Doña Lucy. This week we will be completing the exterior paint process including nonskid and boot-stripe. The interior finish work is done. The Whisper Wall and headliner are being installed this week. Everett Nautical is currently working on the name. Coming soon, stay tuned!" 
According to shipyard manager Christian Cabral, the end of summer means the conclusion of Chesapeake Bay Maritime Museum's (CBMM) railway season in St. Michaels, MD, with shipwrights having successfully hauled, repaired, serviced, and launched each of the 13 vessels that make up its floating fleet of historic vessels over the past few months. "As fall approaches and colder temperatures start to arrive, CBMM's floating fleet shipwrights then begin the process of downrigging and winterizing the vessels, an annual tradition that culminates in moving them to their winter storage berths. As the needs of the floating fleet begin to diminish, CBMM's shipwrights turn their attention to the long-term projects.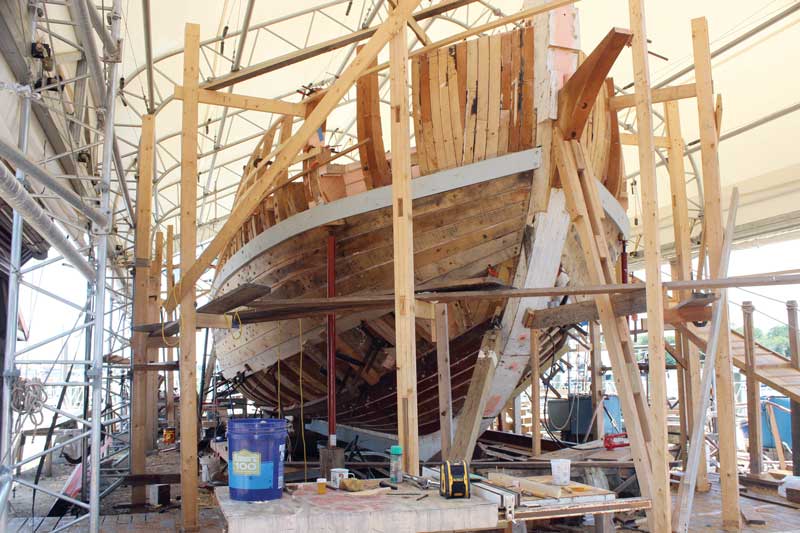 "This winter, the focus of the entire shipyard team is on the completion of the Maryland Dove. On the docket for the 2021 fall and winter are caulking, fairing the hull, decking, building deck furniture, and installing systems, among myriad punch list items in anticipation of the ship's launch. Each of these items will serve as cornerstones for this winter's shipwright apprentice curriculum. In tandem with the work on Maryland Dove, CBMM shipwrights are continuing work on the restoration of the 1912 river tug Delaware. With framing complete, CBMM shipwrights are starting the process of planking the vessel. In order to install planks, shipwrights have removed every other plank which will be replaced in kind. With the first round of new planks installed, the remaining 50 percent will be removed and replaced."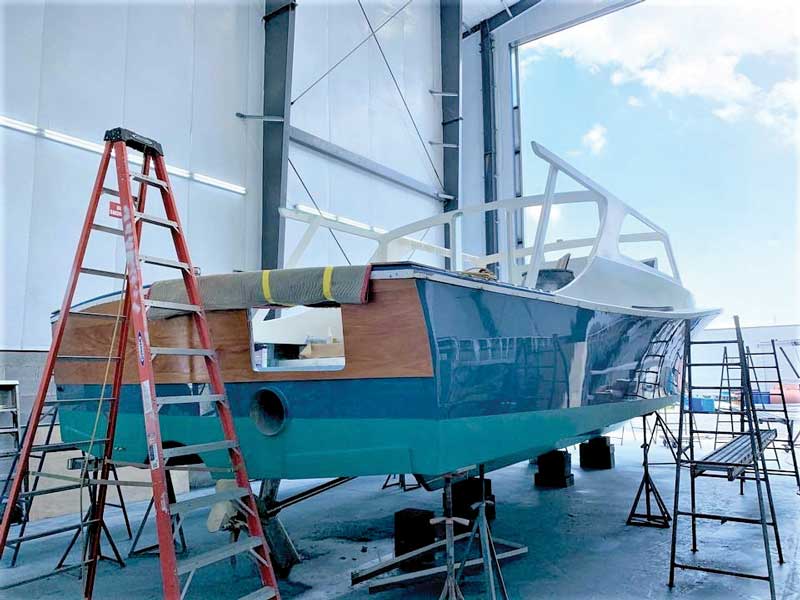 Jake Glover from Ferry Point Marina in Trappe, MD, sends us this update. "We are now offering marine air conditioning and refrigeration service, repair, and installs. We've been busy with the new line of work, performing a number of repair jobs over the summer. Also a few new domestic marine A/C installs have been completed. This is a mobile service, and we can travel to the boat. We have a Zimmerman and Shamrock in for some paint work and a 34-foot O'day in line for a collision repair. The mechanics have been busy as usual. We've got two techs scheduled for continued Yamaha education this fall. We've also been fortunate enough to receive a number of hours of training from a Cummins engineer."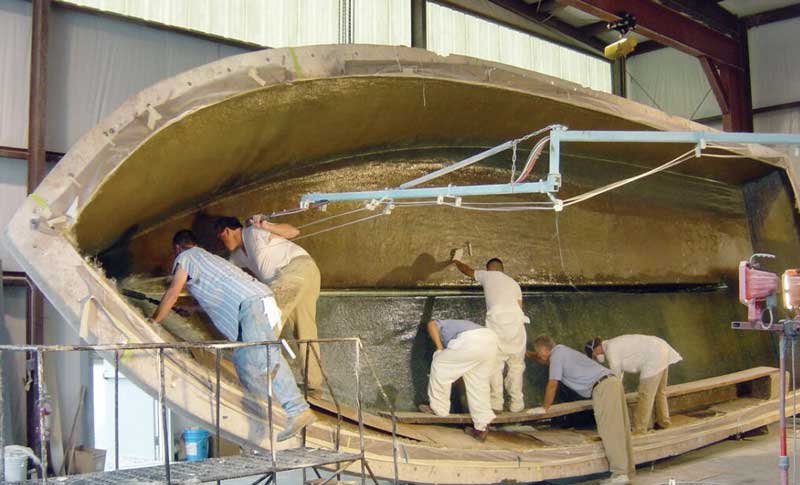 Regular readers of this column know that I have a real weakness for historic or unusual vessels. The following story comes from a publication titled The Maritime Executive Newsletter which often has offbeat and interesting items. "The last remaining Royal Navy Coastal Patrol Boat from World War II, recently rescued with the assistance of charitable donations, has found a new home at the aptly named Explosion Museum, a former naval armory at Pritty's Hard, Gosport, UK. Coastal Motor Boat CMB331, a Thornycroft 55-foot fast launch built at the start of World War II, joined Motor Torpedo Boat MTB71 on a slow journey to their new home. The two boats took a 100-mile trailer trip from their storage site at the Fleet Air Arm Museum to Gosport, where they will be put on display for a special exhibition. Immortalized as 'Spitfires of the Seas' the boats, Coastal Motor Boat CMB331 and Motor Torpedo Boat MTB71, were often deployed in the dark, at incredibly high speeds as small but fast attack motor boats which carried torpedoes.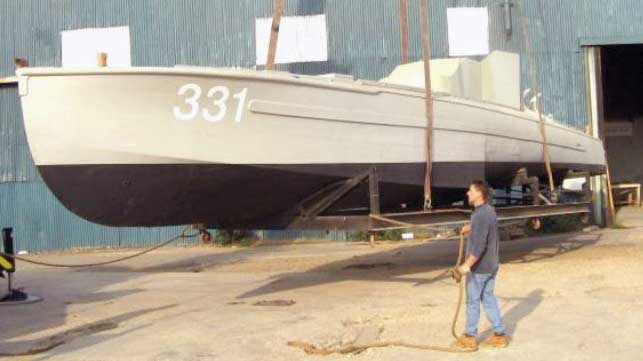 "CMB331 is the last of a class designed by famed boat builder John Thornycroft during World War I. The 55-foot version could carry two torpedoes and a full assortment of other arms while traveling in excess of 40 knots. CMB331 was commissioned in November of 1941 and served until 1945, when she was decommissioned for disposal." 
Vaughn Fountain of Diversified Marine Services and Bay Shore Marine reports on a couple of challenging projects. "We did a retrofit bow thruster installation on a 40-foot Carver. This was a joint project between our technical team and restoration team.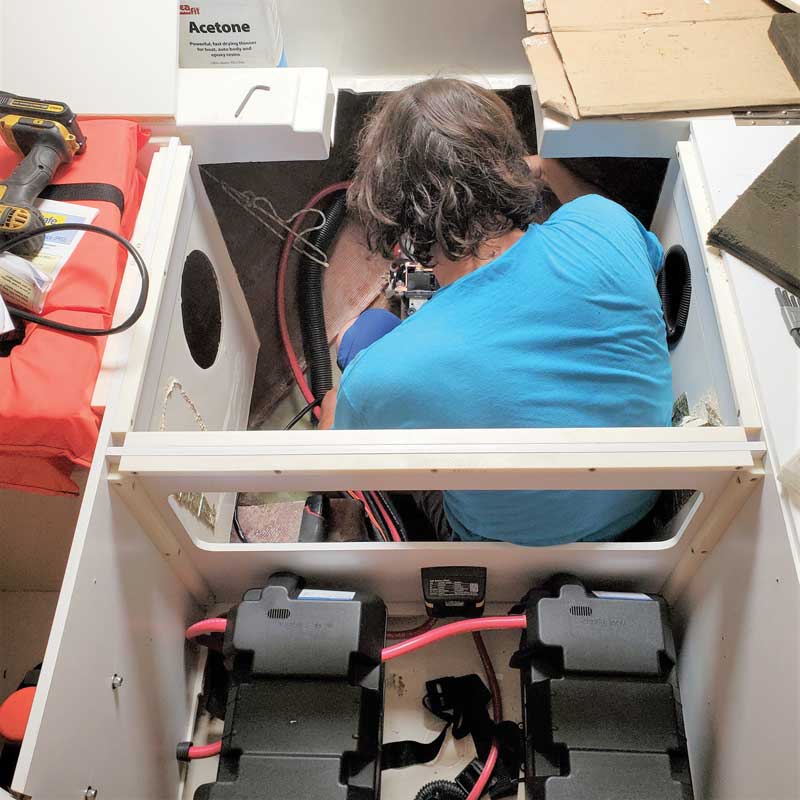 We also did a center console enclosure on an Edgewater 32 with port and starboard wings made out of Makrolon rigid glass and Breakwater fabric. We came up with a creative way to mount the wings which needed to be perpendicular to the console. Other features of this job were bolsters and instrument cover, sink cover, and a seat cover."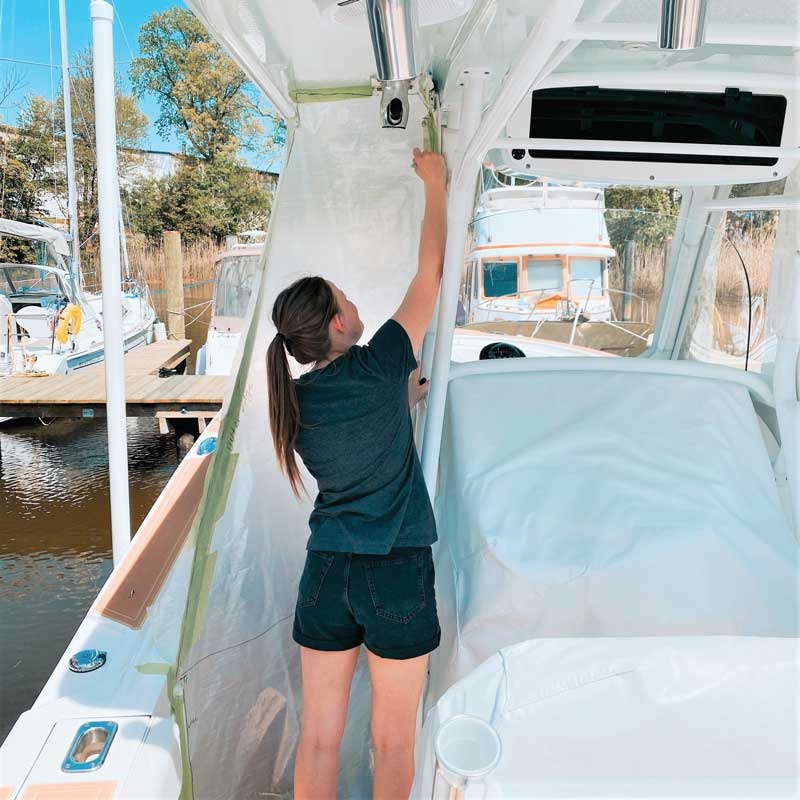 Alex Schlegel from Hartge Yacht Yard in Galesville, MD, brings us up to date with a comprehensive report. "We typically work on a large variety of boats. This month follows suit, from an 18-foot Eastern center console to a 55-foot Trumpy. The Eastern has an overheating 75-hp Honda. I always notice the Easterns as they catch my eye with the New England /Maine lobster boat sheer and round chines. Another Maine/New England-style boat here for work is a Dyer 29 Flush deck. Most Dyer 29s have a trunk cabin and classic good looks. The Flush deck is even better looking. She is here for two coats of Epifanes on the teak windshield frame and coaming. Other boats with the Maine lobster boat influence in our yard are a Legacy 32 and a Legacy 34, designed by Mark Ellis.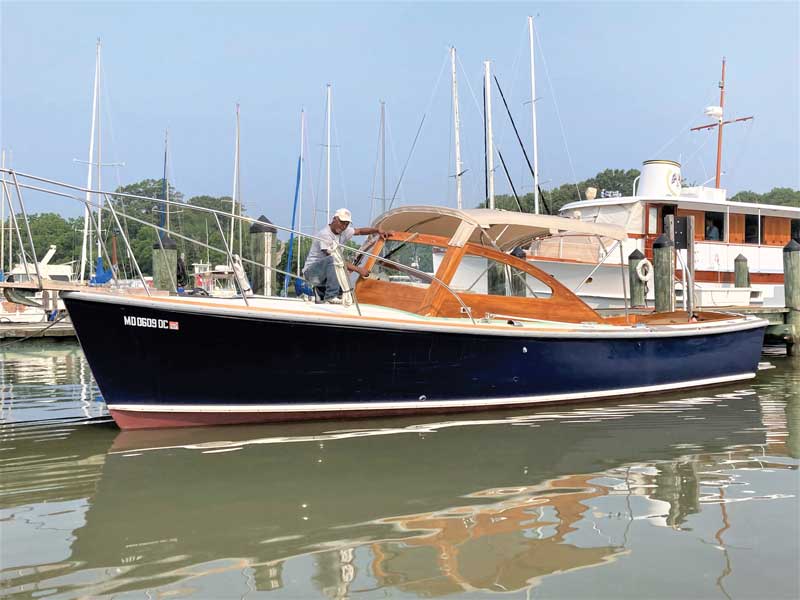 "On a single Cummins QSB 5.9 380-hp in the Legacy 32, we are repairing a small fuel leak, a sump pump, and a bilge pump. On the dual Yanmar 6 LPA STP powered Legacy 34, we are working on the tachometers, exhaust elbows, and shore power wiring. To top off the Maine style boats in our yard is a genuine Maine lobster yacht, a Jarvis Newman 46. On the work list for her is a bow thruster with a hydraulic oil leak, new acrylic in several hatches, steering fluid leak, paint touch up, electric panel upgrade, bow rail stanchion work, knot meter, autopilot, Vacuflush service, bilge pump repair, repacking stuffing box, prop shaft ground repair, windlass service, and checking over the shore power system to comply with marinas that have GFCI's that pop at 30 milliamps. 
"About a month ago, coming in the West River heading for its berth at Chalk Point, a Chaparral 26 suddenly stopped running. A connecting rod broke and punched holes out of both sides of the oil pan. It was just one of those unexplained things that happen. No oil problem, no overheating, a good engine builder, and a good marinizer. Insurance is covering a new engine.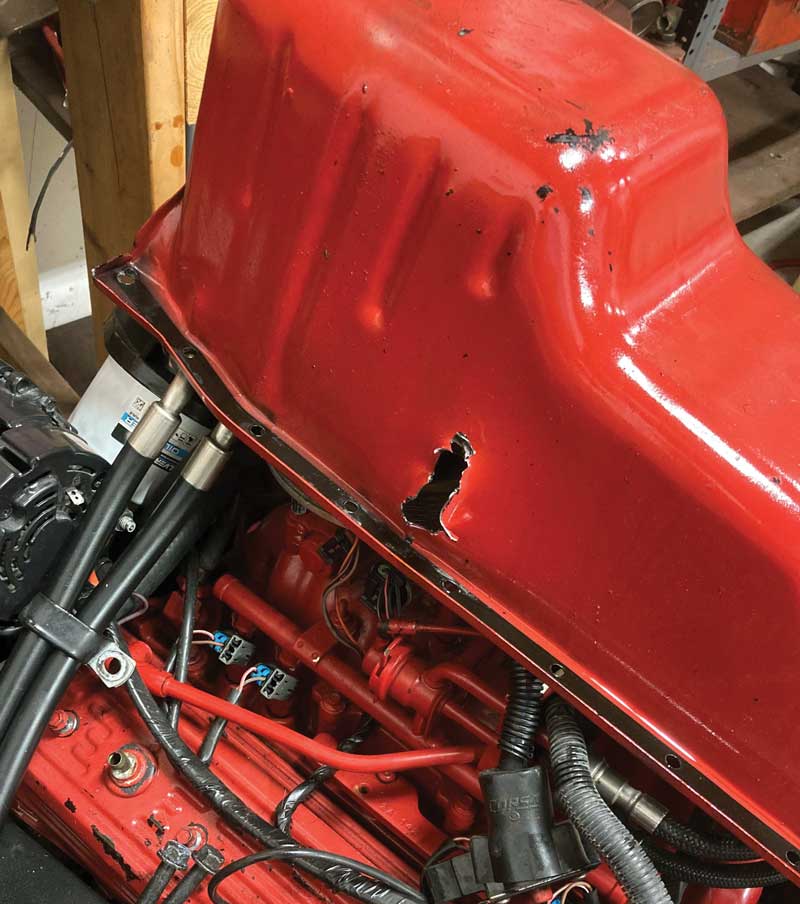 "We are nearing a stopping point on the work to the 1950 Trumpy Manatee. We expect to have all the work done in August so the owner can take her home, but he has mentioned he has another project in mind for later."
Roudebush Yacht and Engine Works in Dundalk, MD, completed construction of a replica canal boat and delivered it to Georgetown in Washington, DC. The following reprint from the Georgetowner Newspaper tells the story. "Over the weekend, a precious shipment arrived near Fletcher's Boathouse at the C&O Canal and Canal Road. Two halves of the canal boat––a contemporary take on a historic packet boat––were assembled for its inaugural trip down to Georgetown. The journey began on Sunday morning, July 11, after the boat was lowered by a crane onto the water. A small, enthusiastic crowd followed the boat to Lock 4 at Thomas Jefferson Street where it will sit on its dry dock for additional work. There were no formal remarks. The new, $1.5 million, more than 80-feet-long motorized boat, replaces the long out-of-commission barge—simply named The Georgetown—which departed in October 2016 to be broken up, when the Georgetown section of the canal began a significant reconstruction.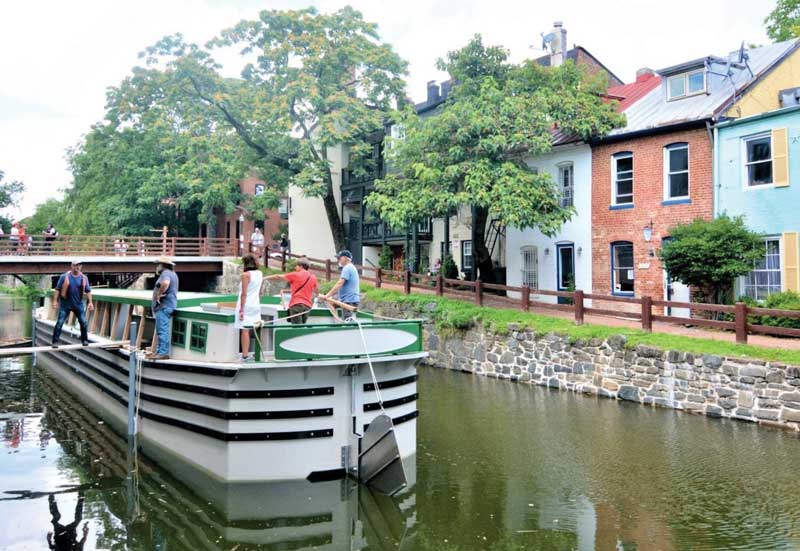 "Georgetown Heritage and the National Park Service are excited to be bringing a canal boat back to Georgetown after nearly a decade!' Georgetown Heritage board chair Jennifer Romm told The Georgetowner. 'We invite the public to visit the boat now that construction and delivery are complete. We look forward to the return of future public programs in 2022.'" 
By Captain Rick Franke