Home of Virginia's Official Oyster Festival
Just up the Rappahannock River, past Deltaville and Irvington, is the historic colonial port town of Urbanna, VA. Established in 1680, Urbanna is one of America's oldest towns. Boasting more boats than folks, this town is sure to please anyone with a penchant for history and a love of the Bay's favorite bivalve.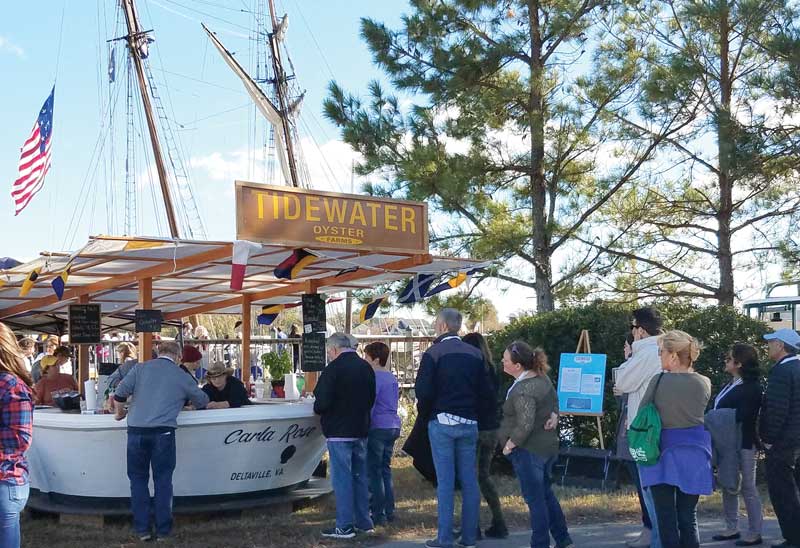 History
According to the town of Urbanna, the town's commercial activities initially revolved around the tobacco trade before later shifting to the fishing industry. By the early 20th century, it was known for its oyster beds and packing plants, as well as being a summer resort community. Today, nearly all of the authentic historical structures remain intact, and the town has retained the irregular grid pattern of streets typical of the time period in which it was founded.
Seven buildings in town have been in continuous use since the colonial period; four of them are on the National Register of Historic Places, and all are located in Urbanna's Historic District. One such building is Middlesex County's original courthouse, which is one of only 11 colonial courthouses still standing in Virginia today. 
Another historic building is the James Mills Scottish Factor Store, which now serves as the town's museum and visitor center. This is a great place to start your tour and to get a feel for the history of the area. Currently on display at the visitor center is the town's own John Mitchell Map, referred to as "the most important map in U.S. history." The Mitchell Map is the most comprehensive map of eastern North America made during the colonial era.
After stopping off at the visitor center, the best way to see Urbanna is by taking a self-guided walking tour. It is recommended that you start your journey on Cross Street next to Bristow's Store. Download the HP Reveal app on your phone, click "OK" for everything to get started, and then scan any of the 18 historical markers around town. The app is free; all you need to register is your email. You can find more information on the walking tour, descriptions, and a map of the historical spots at urbanna.com.
Getting There
By land yacht, Urbanna is about a three hour drive from Annapolis and Washington, DC, a little over three hours from Baltimore, and just over an hour from the Hampton Roads region of Virginia. If traveling by boat, everything you need is within easy walking distance of Urbanna Creek and its three marinas. There is also a town trolley service available Thursday through Saturdays, Memorial Day to Labor Day.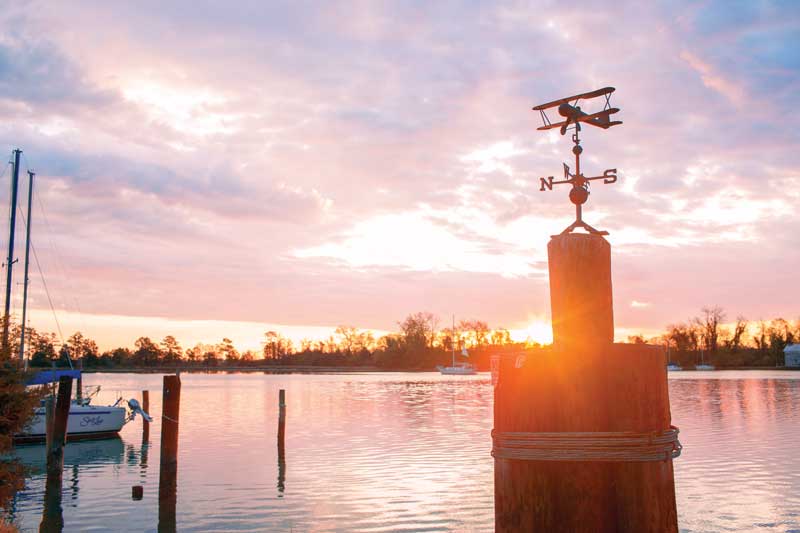 Marinas:
Urbanna Town Marina: The first marina you'll encounter upon entering Urbanna Creek from the Rappahannock River. Over 15 transient slips with 30- and 50-amp service, laundry and bath facilities, dinghy dock, and a sandy beach. Pump-out service and public boat ramp. (804) 758-5440
Urbanna Port Marina: 30-, 40-, and 50-foot floating dock slips, as well as covered boathouse slips. The only covered boat slips available in Urbanna! Contact the marina office directly at (804) 758-000 for transient slip pricing and availability. 
Bridge Marinas: Offers the only fuel on Urbanna Creek! Also operates Urbanna Port Marina; use the same phone number above to call the office for fuel prices, haul outs and service inquiries, and transient slip availability. 
If you plan to come to the Urbanna Oyster Festival by boat, it is highly recommended that you make your reservation in advance.
Urbanna Oyster Festival
For all you oyster lovers out there, Urbanna is the place to be. The townspeople want to help you "shuck your stress and slip into an island state of mind." And there's no better place to shuck your stress, literally, than the 62nd Urbanna Oyster Festival November 1-2. This is the official Oyster Festival of the Commonwealth of Virginia (designated in 1988).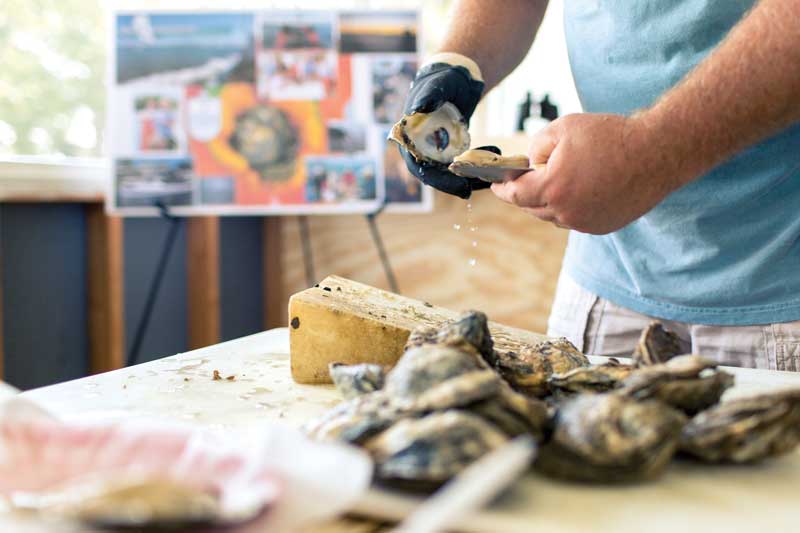 The Oyster Fest is a walking, pay-as-you-go event; admission is free. Parking costs $10 on Friday and $20 on Saturday. If this is your first year attending the festival, organizers recommend starting at the Scottish Factor Store to learn about the oyster industry in Urbanna. From the museum, head down "Community Row" on Virginia Street to the waterfront exhibits where you can see the industry in practice today. At the Town Docks you'll find the bugeye Edna E. Lockwood from the Chesapeake Bay Maritime Museum, the skipjack Claud W. Somers of the Reedville Fishermen's Museum, and Living Classroom Foundation's buyboat Mildred Belle. After you've gotten a little hands-on experience, head to the vendors area to try all of the many ways to eat these bivalve delicacies.
Other highlights include a craft beer tasting area at the Festival Village—$10 admission includes four tastings and a souvenir glass, and wine tasting featuring local Virginia wineries (also $10 and includes a souvenir glass). Also in the Festival Village you'll find a variety of food options from over 50 vendors, and arts and crafts for sale, including handmade furniture, stained glass, wood carvings, jewelry, and more.
Saturday morning don't miss the antique car show, beginning at 9 a.m. on the corner of Waverly Road and Virginia Street. Also on Saturday is the Oyster Festival Parade at 2 p.m. with a variety of special floats crafted for the event, local high school bands, the 2019 Oyster Festival Queen and Little Miss Spat and their Courts, and much more. Best viewing is on Marston Avenue or Prince George Street. 
And since this event is Virginia's "official" Oyster Festival, it wouldn't be complete without an Oyster Shuckin' Contest: November 2 at 11 a.m. in Fireman's Field behind the firehouse. Some of the best shuckers in the world practice their craft in Urbanna. If you think you've got what it takes, sign-ups are at 10 a.m. behind the firehouse.
This is just a sampling of some of the food and events that can be found at the Urbanna Oyster Festival. This town goes all out for these bivalve delicacies, so if you're hankering for some oysters and crisp, fall weather in a beautiful colonial town, Urbanna is the place to be this autumn.
Find more details, directions, and maps of the various events around town at urbannaoysterfestival.com.