These three Virginia-based vineyards are all within a stone's throw of an anchorage or marina making them easily accessible by boat.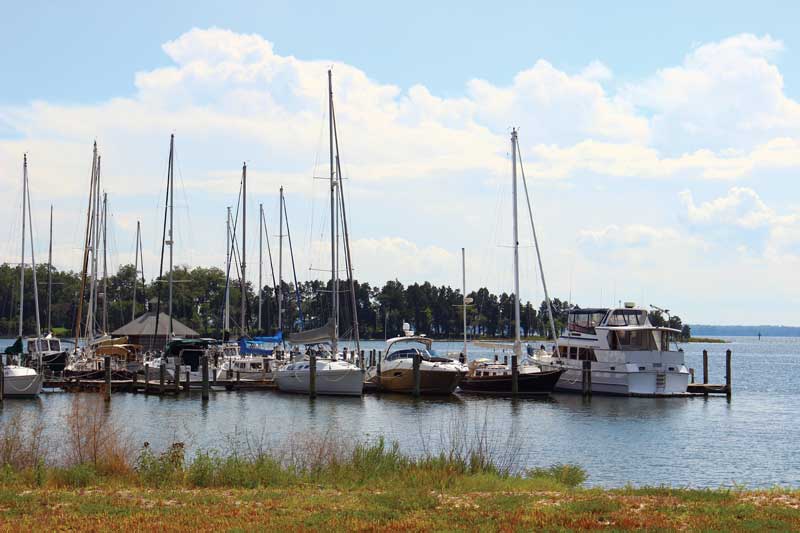 Cruising the Chesapeake Bay with two young daughters, we often had kid-focused trips like the "Ice Cream Cruise" where every stop required a visit to a local ice cream parlor or even a convenience store for frozen Eskimo Pies.  
Fast forward a few years and we've traded in rocky road and mint chocolate chip for chardonnay, charcuterie platters, and merlot. And although there seems to be a micro-brewery at every post of call, finding Virginia-based vineyards accessible by boat, takes a bit more work.  
Enter the Chesapeake Bay Wine Trail, a part of the Virginia's Tourism Corporation. Move over Napa Valley; Virginia is for wine lovers and boaters. Voted the number one wine trail in Virginia by readers of Savor Magazine, the Chesapeake Bay Wine Trail encompasses ten wineries on the Northern Neck and Middle Peninsula. (Well, nine wineries and one Cider Works.)
Most are reached by car and are a hike from any waterways. But a few are within a stone's throw of an anchorage or marina and make a great boating destination. 
The Dog and Oyster Micro-Vineyard and Oyster Bar, Irvington, VA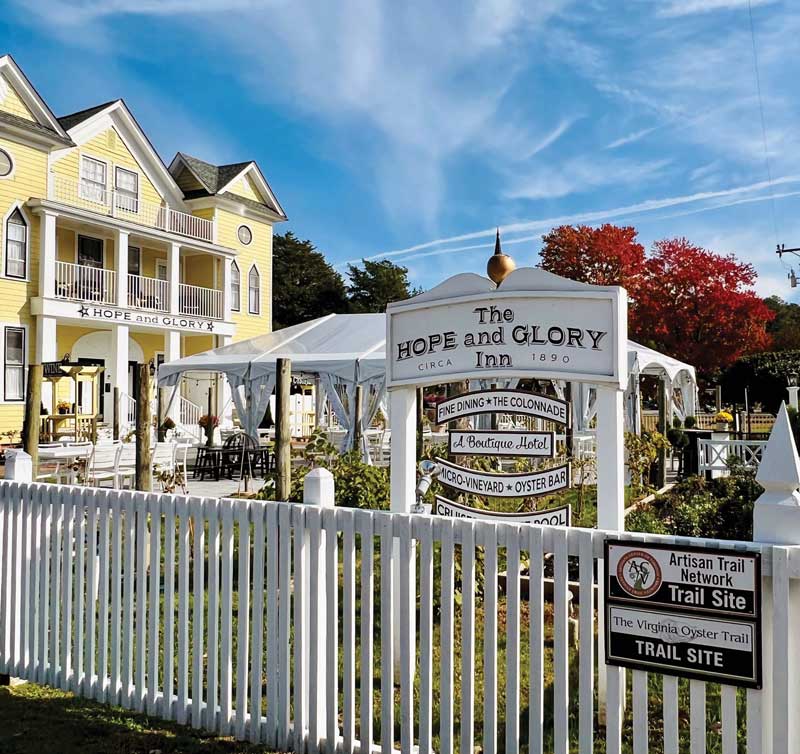 You know that 40-foot corkscrew outside of Irvington, VA, that marks the Dog and Oyster Vineyard? Well, you no longer need to travel north of town to savor the offerings from the acclaimed vineyard. Peggy and Dudley Patteson, the owners of both the vineyard and Hope and Glory Inn in Irvington, decided last year to revamp the larger vineyard into a micro-vineyard located at the Inn right in downtown. They planted a small selection of Petit Manseng vines, added a front yard tent for al fresco dining, and began offering an upscale experience for both their wines and locally grown oysters.  
Reaching the micro-vineyard by water is a snap. Irvington is situated at the head of Carter's Creek off the Rappahannock River. Just follow the markers into the creek and aim for the red-roofed Tides Inn. Boaters can easily grab a slip at Crocket's Landing or the marina at Rappahannock Yachts. Or drop an anchor, dinghy ashore, and walk the half-mile into town.
The Pattesons invite visitors to both sip (wine) and slurp (oysters) where "the terroir of the grape matches the merroir of the oyster." They pride themselves on their 100 percent estate-grown grapes: chardonel and vidal blanc which are used for their white wines and chambourcin for red. Instead of tastings, the Dog and Oyster offer flights of three different wines for $9 a flight.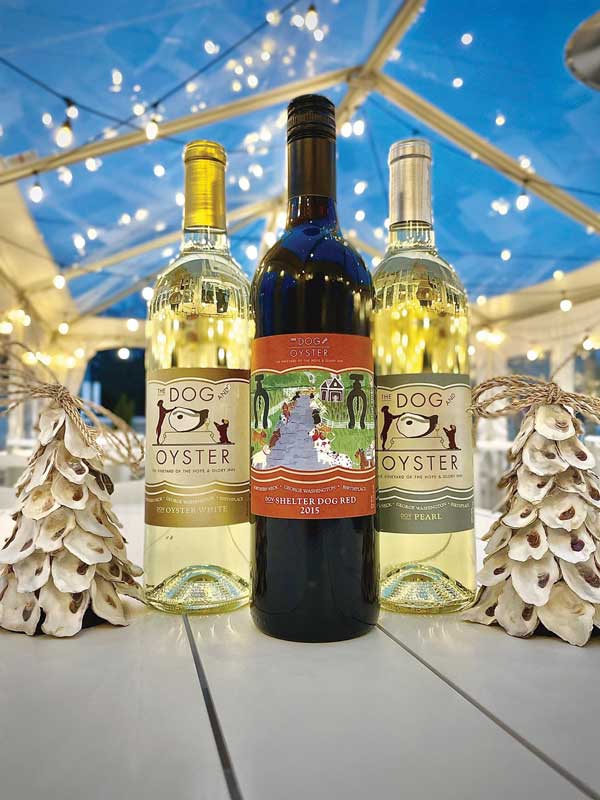 Dog and Oyster claims to be the nation's only vineyard that crafts its wines to accompany local oysters. And if you're a wine connoisseur, you'll appreciate the many medals they've won—from competitions in San Francisco to Virginia's Governor's Cup, earning acclaim for their 2014 Merlot and Shelter Dog Red, a chambourcin.  
The micro-vineyard and oyster bar is open on Saturdays and Sundays during the season and offers house-made charcuterie and Bloody Mary oyster shooters. If you're looking for a little more upscale dining experience to go with your wine choices, you must make reservations well in advance for the Inn's Colonnade Dining room or Colonnade Patio, currently open Thursday-Sundays. Better have plenty of room on your credit card!
For more information visit hopeandglory.com or call ahead at: (804) 538-3721.
Jacey Vineyards, Wicomico Church, VA
One of the most accessible vineyards for boaters is Jacey Vineyard in Wicomico Church, VA. Our first trip to Jacey was a few years ago when our yacht club organized a private dinner for about 40 people. Located up Mill Creek, south of The Great Wicomico River and north of Dividing Creek, Jacey Vineyard is geared to welcome boaters who venture into their idyllic cove. There is plenty of swing room to anchor out deeper draft boats and docks for weary boaters eager to sample their homegrown varietals.  
The staff at Jacey welcomed us with a lovely, catered dinner and multiple offerings of their homemade vintages including vidal blanc, petit verdot, and zinfandel. Although it was a short stroll from their dinghy dock to the tasting room, the staff was happy to fetch folks in their golf carts and give us a lift up the hill. Recently, their most popular vintages included sauvignon blanc and cabernet sauvignon.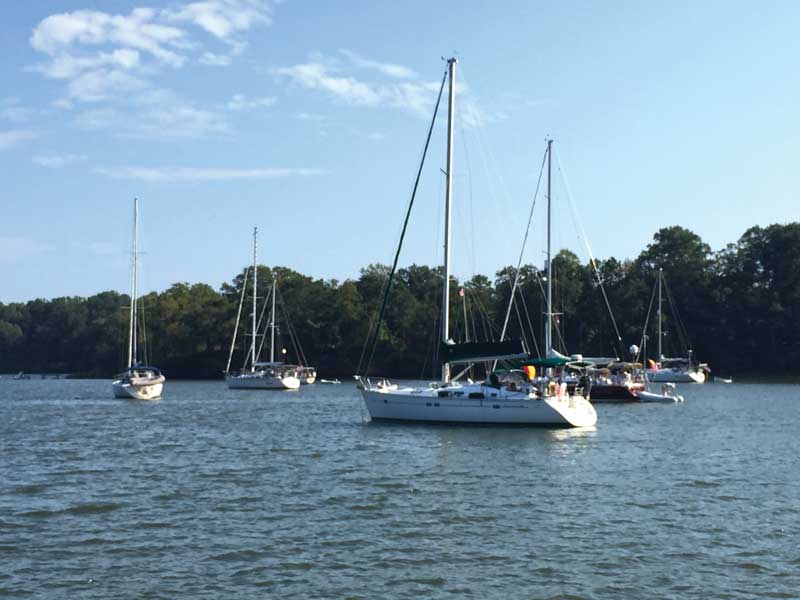 You don't need to arrange for a private dinner to visit Jacey. Individual boaters can drop in on Saturday afternoons from noon to 5 p.m. when the Jacey tasting room is open to the public. Powerboaters, depending on their draft, can tie up at one of three docks marked with the Jacey Vineyards signs. 
Rio Sprague, the general manager of the vineyard, notes that boaters are welcome to bring a picnic lunch—and their pets—stake out a table and enjoy a bottle of wine. "We also offer wine tastings that consist of six 'hefty pours' of different vintages, all grown and bottled here," she says. "Visitors are welcome to roam our 28 acres of grapes and if you call ahead, Dr. Jacey, the owner, would be delighted to give you a private tour." If you prefer to leave your picnic basket for a later visit, Jacey offers homemade pizza and charcuterie boards.
Private reservations are available for larger groups of six people or more on other days, and the vineyard is often the venue for private events. Check them out at jaceyvineyard.com or call: (804) 580-4053.
Rivah Vineyard at the Grove, Kinsale, VA
To visit our next vineyard, you'll need to head up the Potomac River to Kinsale, VA, on the Yeocomico River. The Rivah Vineyard at the Grove is the ancestral home of the William Taylor family. It's a low-key, laid-back venue that's working hard to establish itself. Son Bryce Taylor notes that he's the youngest vineyard and winery owner on the East Coast and has spent years preparing fields, selecting grapes, and planting vines to establish the brand.
Their grounds are home to a number of in-demand grapes including Cayuga white, petit manseng, chardonel, cab franc, and chambourcin.
Reaching this vineyard by water requires just a little work... and a shallow draft boat! Once you've made it under the Kinsale Bridge, (duck!), turn right and you're almost there. Or if you're driving something deeper—and taller—you can get dockage at The Slips at Kinsale. It's a short half-mile walk up the road to the vineyard or folks at the marina or vineyard itself will be happy to give you a lift. Just ask.
Once there, you'll be treated to an easy-going afternoon on the lawn and tasting room. They are open Thursdays through Sundays from 11 a.m. to 5 p.m. The Taylors invite you to bring your picnic lunch, play yard games, and enjoy their fire pit on chilly days.
Just opened in 2019, the Rivah Vineyard at the Grove is also interested in developing other experimental varieties. So, stay tuned to see what this young vintner develops. You can learn more at rivahvineyards.com.
The Chesapeake Bay Wine Trail includes numerous other wineries and continues to promote these local vineyards with their Passport Program. Each visit to one of the ten locations garners a "stamp" in your passport. Seven stamps earn you a 10-percent discount on any wines for a year; nine stamps earn you a 15-percent discount. For more information, visit the Chesapeake Bay Wine Trail. 
All these local Virginia vineyards are working their way through the Covid pandemic and continuing to carry on, growing their grapes and producing the best wines they know how. It's good to support their efforts. 
By Karen Soule
---
For more Virginia destination features, check out our recent articles on Urbanna and Onancock.