A thin scrim of ice might coat the creek in Urbanna when the temperatures drop below freezing, but that doesn't stop the vibrant canvasbacks and soaring bald eagles from visiting this historic Virginia town. And it needn't stop you either.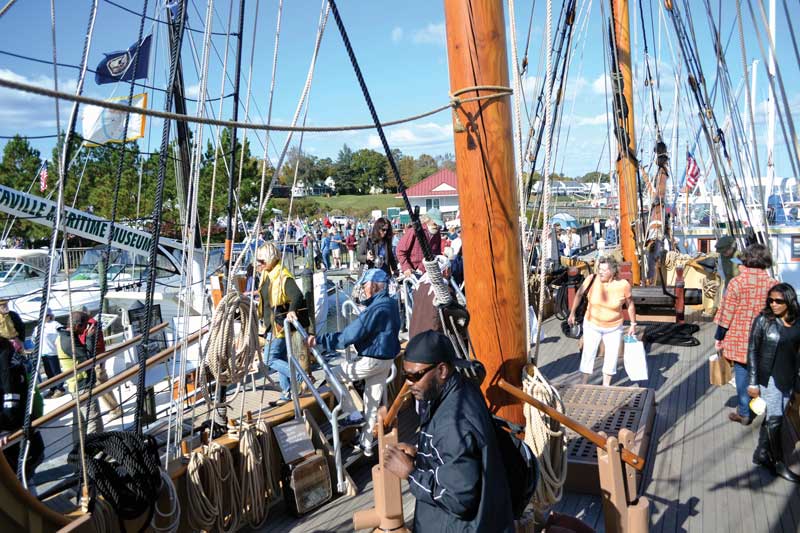 Just 15 miles up the Rappahannock River from the Chesapeake Bay, Urbanna is better known for its annual oyster festival each fall when masses of bivalve lovers come calling. But the Borough of Anne, as it was originally named, can enchant visitors during the other seasons as well and a winter weekend is a perfect time to be caught under its spell.
Winter
Urbanna's history runs as deep as its natural harbor and the Urbanna Museum and Visitors Center details the town's origin story, beginning in the mid-1650s. The museum, housed in what was once a general store, was run by the Scottish Factor Company and its first proprietor, James Mills. (The building is believed to be the only Scottish Factor Store still standing in the U.S.) Once inside, visitors will be immersed in the town's 350-year legacy and marvel at the restored John Mitchell Map drawn by a Lancaster County physician almost three centuries ago (see below).
The museum is generally open Friday through Sunday, 11 a.m. to 4 p.m. But if you visit mid-week, just call ahead and museum docents will eagerly try to arrange a private tour of their hidden gem. Visit urbannava.gov to learn more.
Leave the museum for a walking tour and head over to the new Urbanna Trading Company, opened in August 2020. Well-known residents Riki Brumley and Megan Brockman wanted to offer both locals and visitors a "plethora of stuff" including unique wines, beer, oils and vinegars, herbs, coffee, and carefully chosen gifts. The shop is open off-season Wednesday-Sunday and seven days a week during the season.  
Cap off your day of history and shopping with a short hike to Bubba's Shrimp Shack, a long-term established eatery where casual dining is the norm and shrimp is sold by the pound. Just what Urbanna's first doctor would have ordered to warm up on a cold winter day.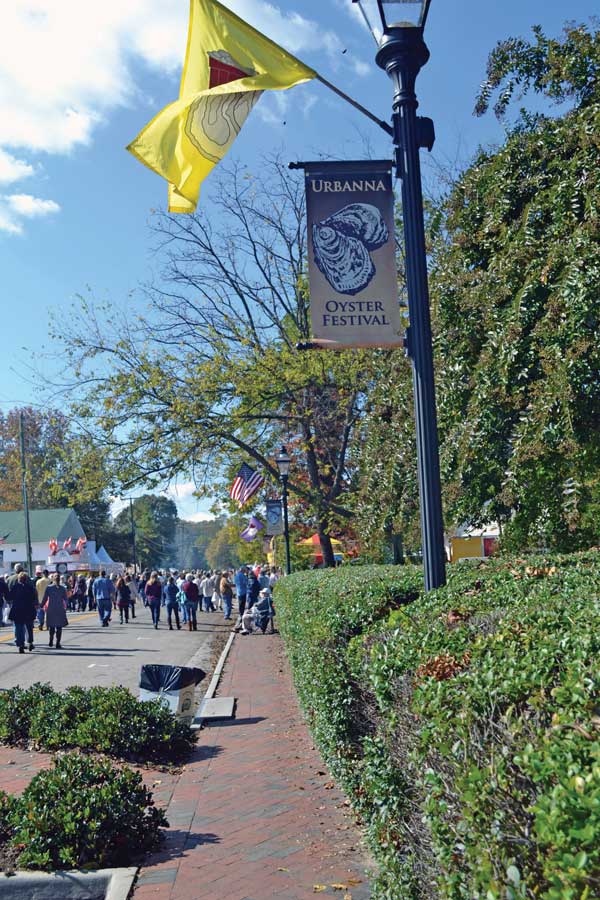 Spring
With the flowers and trees in full bloom, spring and Urbanna were meant for each other. The Urbanna Farmer's Market in Tabor Park begins in May and is held on the second Saturday of each month through September. Follow up a visit to the Farmer's Market by attending the Urbanna Cup, a classic wooden boat race where miniature vessels in the Cocktail Class Wooden Boat Racing Association (CCWBRA) are named after a libation. The action is fast, furious, and fun and best viewed from the Town Marina and dock at Upton Point. Bring a picnic and speculate which boat will emerge the winner.
Warm spring breezes also welcome visitors to the Annual Arts in the Middle Festival, a juried art fair, held at the nearby Hewick Plantation. More than 100 artists showcase their talent, while live music draws listeners to several venues, and multiple food vendors keep everyone sated and happy. Follow the news for this year's festival at: artsinthemiddle.com.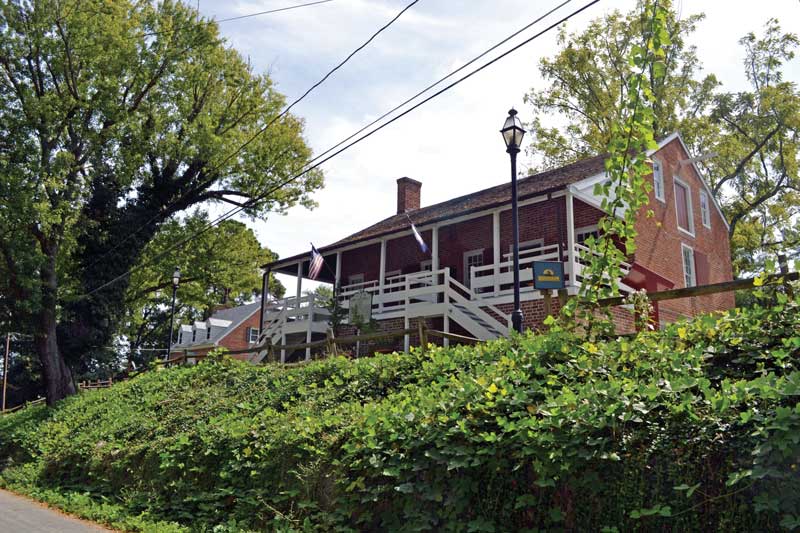 Summer
During the summer Urbanna really opens wide its doors. Small sailing dinghies, kayaks, and paddleboards will cruise up and down the creek. Visiting sailboats and powerboats can grab a transient slip at the Town Marina or drop a hook in the harbor. (Holding can sometimes be iffy, so be sure your anchor's well set!) And if you're eager to go fishing, visit gooutdoorsvirginia.com to purchase licenses and learn all the necessary regulations.
Accommodations here are limited—there are no major hotels and just a few local inns—so folks wishing to kick back and stay a while frequently check out the Airbnb and VRBO listings. Those looking for an historic stay can make a reservation at Rosegill, a 700-acre farm first settled in 1649 by Ralph Wormeley who received rights to the land from the English king. Rosegill's stately manor house affords a bird's eye view of the Rappahannock and Urbanna Creek, has two freshwater lakes, and a whole fleet of kayaks for guests.
Summer is also the ideal time to ride The Pearl, the local trolley, for a tour of the town and surrounding sights. Trolleys run Fridays and Saturdays from July through Labor Day. They are family friendly and free.
Autumn
Raw oyster lovers long anticipate September when the upcoming months all contain the letter 'r' and cooler water temps spell oysters on the half shell. And the high point of every oyster connoisseur is the Urbanna Oyster Festival. This year's 65th annual event, slated for Friday, November 4, and Saturday, November 5, attracts more than 50,000 people each year. From the Virginia Shucking Contest to the Festival Queen and Miss Spat Competitions to the beer and wine tasting events, there's something for everyone. Between slurping raw oysters or crunching oyster fritters, festival goers can visit the numerous local vendors while moving and groovin' to the live music performances.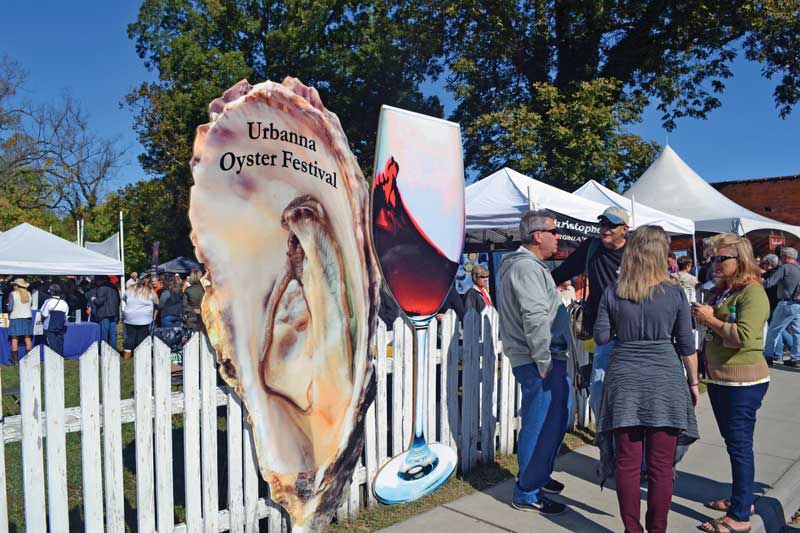 There is no admission fee to the oyster festival, but anyone wanting to splurge can get a VIP ticket in advance to attend certain hospitality tents and have preferred seating for various events.  Learn more at: urbannaoysterfestival.com. 
John Mitchell Map
The year was 1734. John Mitchell, a Lancaster-county native son had just returned home from studying medicine at the University of Edinburgh in Scotland. At the young age of just 23, he opened a practice in Urbanna. But only 12 years later, he became ill and with his wife returned to London to seek treatment. On their voyage across the Atlantic, their ship was boarded by pirates, and everything they owned was plundered.
Now broke but healthy, Mitchell developed another skill—that of cartographer. In 1750, he was commissioned by the British government to create a map of the new world. It took him five years and was called the Map of the British and French Dominion in North America. Years later, because of its accuracy, it was used to establish borders at the end of the American Revolution.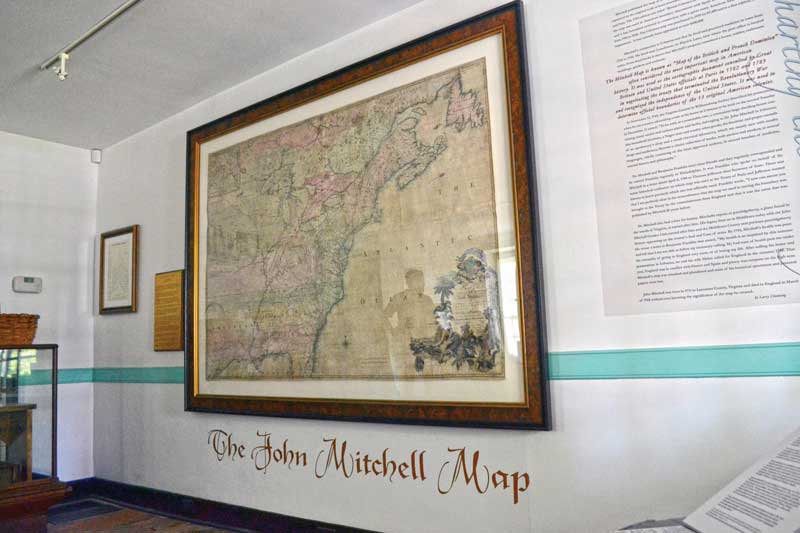 Today a first edition/third impression of John Mitchell's Map hangs in the Urbanna Museum and Visitors Center in a tucked-away building that's easy to miss but delightful to find.
The map was first discovered years ago by officials from the Bank of Middlesex who purchased it for $7500 from a Pennsylvania antique dealer. It remained in storage for the next 30 years.  Then just a decade ago, experts in Richmond, VA, restored the five- by six-foot map and returned it to his rightful home. John Mitchell's masterpiece is currently valued at more than $550,000. Looks like the bank made a pretty good investment, one that everyone can enjoy
By Karen Soule