What makes the Chesapeake Bay so special is that all the rivers, coves, and creeks have beautiful scenery, abundant varieties of wildlife, and superb fishing. However, five rivers in the Upper Chesapeake Bay—the Susquehanna, North East, Elk, Bohemia, and the Sassafras—are unique compared to virtually all the others in one aspect. Unlike in the Lower Bay, in the months of July and August when Mother Nature delivers those sweltering days marked by little rainfall (except for last summer), getting in the water to cool off is not a potentially tortuous act due to the noticeably absent sea nettles. If you happen to do your boating in the Lower Bay, you just might want to consider giving this area a visit, especially if you like getting into the water to cool off and relax!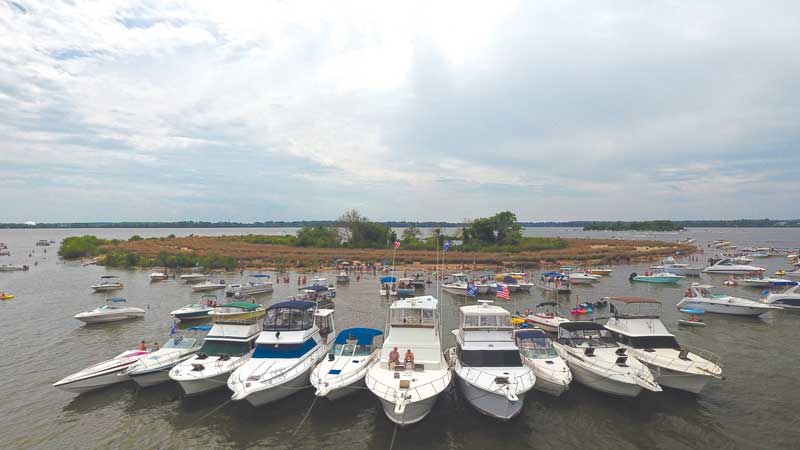 Another great feature of these rivers, especially if you like to get out of the busy channel and cruise close to shore, is that with only a few exceptions, they are extremely easy to navigate and possess very few obstacles such as rocky shoals or submerged jetties that might either harm the boat and/or the Captain's pride and reputation. You don't have to venture too far from shore before the hard sandy bottom transitions into a soft oozy mud, which is very forgiving to any boat bottom, propeller(s), and the Captain's ego. However, if you are not sure, double check your intended course with a nautical chart. 
Susquehanna River
One of the above mentioned exceptions would be if you launch your boat in the Susquehanna River or if you are traveling to it from the Bay. It is critical to observe all channel markers. The vast area of water north of that channel is the Susquehanna Flats, which has a hard sandy bottom that rapidly rises to knee-deep water in many areas the minute you venture out of the channel.  Equally important is to know that the entire body of land to the south is the Aberdeen Proving Grounds and landing on any of those enticing beaches is strictly prohibited. 
However, don't be deterred by the above information, because one of the most popular places to swim and hang out on those hot summer days is at Fishing Battery Island. It has recently been expanded, providing a nice sandy bottom with a very gradual drop off if you happen to have small children that are eager to get in the water. Strictly adhere to the signs on the beach and do not walk or place beach chairs or coolers past those signs as it is a designated wildlife refuge enforced with substantial fines. On any given summer day, hundreds of boats anchor around the island. If you're having so much fun that you happen to eat and drink too much, you can get some fun exercise by walking completely around the island as long as you are willing to wade in chest deep water across a 25 yard stretch that juts into the island on the southern side.  
North East River
If you are looking for another great spot to anchor and swim, travel out onto the Bay and head towards the Turkey Point lighthouse. From that point head up the North East River until you reach buoy #2. Along that stretch of shore are high forested cliffs, all of which are part of Elk Neck State Park. Before cell phones were common, local boaters using some imagination and perhaps some adult beverages named the shape of the two distinct bare spots on those cliffs "The Turtle" and the "The Horse" to let their boating friends know exactly where they intended to go. The bottom is all sand, and the beaches are uninhabited making them great for treasure hunting strolls between dips in the water.
Elk River
Leaving the wide open Bay and traveling north east on the Elk River is another popular spot that is frequented by boaters who like waterskiing, wakeboarding, and tubing. Cabin John's Cove is a 3/4 mile long narrow body of water on the east side of the Elk River that offers protection from wind driven waves and most boat traffic. Be advised that it is well known for that attribute, and on the weekends you'll be sharing that area with many other like-minded water enthusiasts that will offer you a chance to show off to the others, just how good you really are.
Bohemia River 
Travel a couple more miles up the Elk and you'll find the mouth of the Bohemia River on your starboard side. Turning east towards the head of the river you will reach the no-wake zone where you'll see dozens of boats enjoying what locally is referred to as the "Left Bank." Go further up the river and pass under the bridge and the Bohemia splits into two creeks. Straight between those creeks is a sandbar affectionately referred to as "The Duck Blind" or "The Ski Beach" (depending on which local you talk to) that is another popular swimming spot. The great Bohemia Creek, like Cabin John's Cove, is another protected stretch of water that is great for waterskiing and wakeboarding.
Sassafras River
Not to be forgotten, the Sassafras is yet another great river in the Upper Bay for swimming. The most popular gathering area, Lloyd's Creek, is located less than two miles from the mouth on the southern shore of the Sassafras. The entrance is not obvious as you are riding eastward up the river however, if you hug that shore you will no doubt see other boaters entering and leaving the creek through a narrow yet deep entrance. The current does flow briskly on an ebb tide but does not present any hazards as long as you are aware. There is a crescent shaped beach just inside the opening and traveling further into the creek the water becomes increasingly shallow where you will see many anchored boats with lots of people standing on the sandy bottom in waist-deep water keeping cool.  
When you are finished with your swim at one of these great spots and you've worked up an appetite, need fuel, or a slip for the evening, the chart below shows the many choices you'll have to make your Upper Bay experience a great one. The best news is that I've only identified some of the more popular swimming spots to visit because of space constraints and I know there are countless others. If I have missed one of your favorites please know that it wasn't intentional.  It would be great if you would please take a moment to drop PropTalk a line ([email protected]) and let our readers know about the other great spots to visit in the Upper Bay area (unless you prefer to keep it a secret!). If you haven't ever been in this area before, plan your first visit now, and I'll bet that it won't be your last.
By Dave Nestel
---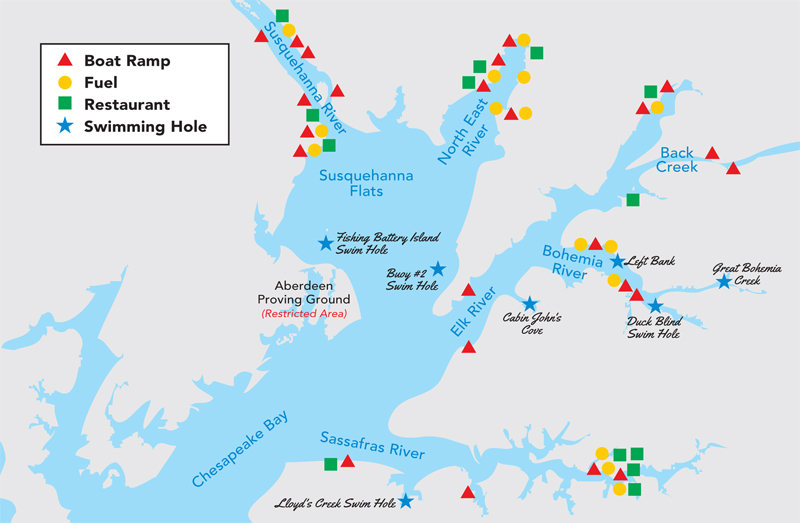 Author-suggested stops. This is not a comprehensive map of amenities on the Upper Bay. For a complete list of boat ramps, visit Maryland's online Water Access Guide.
Boat Ramps and Marinas with Fuel
Susquehanna River
Tidewater Marina (ramp & fuel)
Havre de Grace City Marina (ramp & fuel)
Perryville Public Ramp (ramp only)
Tome's Landing marina (fuel only)
Jean S. Roberts Memorial Park (ramp only, under railroad bridge)
Lapidum Boat Ramp (ramp only)
Port Deposit - North Marina Park (ramp only)
Port Deposit - South Marina Park (ramp only)
North East River
Anchor Marina (ramp & fuel)
Charlestown Public Boat Ramp (ramp only)
Bay Boat Works (fuel & ramp)
McDaniel's Yacht Basin (fuel only)
Shelter Cove Yacht Basin (fuel only)
Charlestown Marina (fuel only)
North East River Marina (ramp only)
Elk River
Rogues Harbor @ Elk Neck State Park (ramp only)
Stemmers Run Boat Ramp (ramp only)
Triton Marina (ramp & fuel)
Elk River Park (ramp only)
Chesapeake & Delaware Canal
U.S. Army Corp. of Engineers Landing Facility (ramp only)
Schaeffer's Canal House (fuel only)
Bohemia River
Bohemia Vista Marina (ramp only)
Bohemia Bay Yacht Harbor (fuel only)
Two Rivers Yacht Basin (fuel only)
Long Point Marina (fuel only)
Hack's Point Marina (ramp only)
Richmond's Marina (ramp only)
Sassafras River
Fredericktown Public Ramp (ramp only)
Duffy Creek Marina (fuel & ramp)
Turner's Creek County Ramp (ramp only)
Skipjack Cove Marina (fuel only)
Georgetown Yacht Basin (fuel only)
Betterton Boat Ramp (ramp only)
Waterfront Restaurants
Sassafras River
Kitty Knight House
Signals Grille and Deck @ Skipjack Cove Yachting Resort
The Granary
Barbara's on the Bay
Sassafras Harbor Cafe 
Elk River
UnWined On the Water @ Triton Marina
Sunset Cafe Marina Bar & Restaurant @ Harbour North Marina
North East River
The Nauti Goose
The Wellwood Shack
The River Shack
Susquehanna River
The Tidewater Grill
Lee's Landing Dock Bar
The Promenade Grill @ Havre De Grace City Yacht Basin